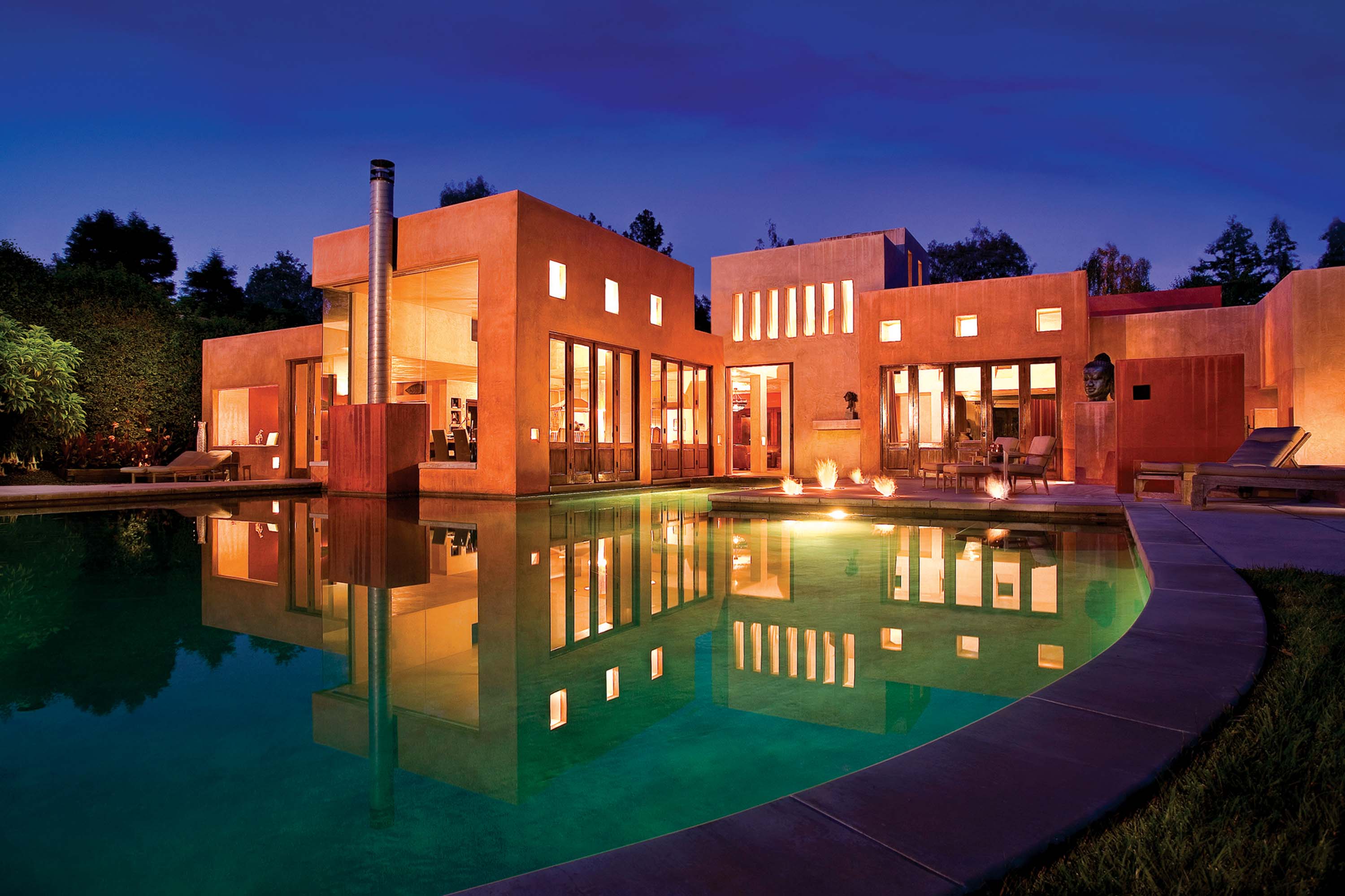 01 Feb

Rendering: Broad Strokes
---
Among the tenets of Los Angeles-based Whipple Russell Architects is a promise to fully listen to the client's wishes and needs. Nothing unusual there — except that Marc Whipple appears to really do so. Each of his houses has a distinct personality — you can almost conjure up the people who commissioned them. Whipple's art is equally evident, but he has that rare ability to mold his vision into other people's fantasies.
He's the master of instilling Modernism into a variety of styles, from Provençal to Prairie. Rooms flow into one another, glass walls are sliding doors, soaring ceilings and skylights add to the blurring of the lines between what's indoors and out.
Listening to the clients, Whipple says, is an art he first developed doing more than 30 projects for museums, including the Natural History Museum of Los Angeles, the Museum of Contemporary Art and the Los Angeles County Museum of Art.
"We needed to listen carefully to the curators to understand their needs for preserving, studying or displaying artifacts," he says. "More recently we've focused on the residential sphere, so now we're listening to individuals, couples and families. We bring the breadth of our experience to the table, of course. But mainly we listen to the client."
As an exhibit designer, Cyrena Nouzille collaborated with Whipple at the Natural History Museum and the Peterson Automotive Museum. When it was time to build her own home, the designer was drawn to Whipple because of the way they communicated. "He got it instantly. … It was hard (as a designer) to back off and say 'Okay, you do it.' But he so … clearly understood the aesthetics I was imagining that we began to feed off each other. It was one of the best collaborations I've had. I learned so much from him."
He's the master of instilling Modernism into a variety of styles, from Provençal to Prairie. Rooms flow into one another, glass walls are sliding doors, soaring ceilings and skylights add to the blurring of the lines between what's indoors and out.
Whipple's experience is international. The son of an American diplomat who took his family to Europe, Africa and Asia, Whipple grew up with a wide appreciation of architectural history and styles. He was educated in England and began his career in Los Angeles, working for George Vernon Russell, architect of storied properties such as the Trocadero nightclub in Los Angeles and the Flamingo in Las Vegas, as well as of airy, elegant Modernist homes, office buildings and the plan for the University of California Riverside. Russell was such a profound mentor that when Whipple opened his own firm in 1985, he called it The Russell Group in tribute, later renaming it Whipple Russell Architects.
"I was drawn to his modern lines and his devotion to simplicity, clarity — a clean approach," Whipple says.
A clean approach perfectly describes the 7,000-square-foot house built on a horse ranch in Mandeville Canyon above Los Angeles' tony Brentwood neighborhood that's among Whipple's most lauded designs. The clients were admirers of Mexican architect Ricardo Legorreta, who fused Modernism with his country's indigenous and Moorish-influenced Spanish Colonial design. Whipple used Legorreta's terra cotta-colored angular plaster-covered exteriors, creating dramatic, constantly changing shafts of light through a grid of windows and a skylight. In what's become a Whipple trademark, the pool is flush with a large section of the house walled in glass, creating another mesmerizing play of light.
The famed architectural photographer Julius Schulman called the house "cellular architecture," describing the way each room has its own quality of light, yet blends into the whole. Sierra Mar, there is a Japanese feel of clean-lined serenity. Behind a slatted wood gate framed by leafy bamboo, the walls are wood-framed sliding doors, the ceilings are beamed and the roof swoops out in a wood overhang. The pool runs flush along the living room with its polished mahogany floors and open floorplan with the kitchen. The house is completely modern, with sweeping views, but it seems contained and private.
More recently, Whipple has designed spectacular Modernist aeries clinging to terraces in the Hollywood Hills. They share openness, the play of light and water and contrasting ele- ments from slate to wood, stone to concrete. For all their clean, no-nonsense lines, they are deeply romantic.
One of these is Hopen Place, once occupied by the actor Matthew Perry. It's the remodel of an existing Mid-Century Modern house with the addition of a master bedroom with a home theater below. It has Whipple's signature elements: an open floorplan and walls of glass with sweeping views of the city lights stretching out for miles. The house is U-shaped, with the infinity pool running across the view-line, ending flush with the master bedroom. The theater below has a thick acrylic window in the wall shared with the pool, so the room is constantly bathed in blue. The crushed velvet seating was also designed by Whipple. A wet-edge waterfall contributes to the drama of the walkway to the master bedroom.
The clean lines of the single-story house are warmed by contrasts in texture, including gleaming walnut floors, wenge wood shelves and shiny custom tiles. Pops of color — such as lime green — further warm the open space.
Asked if he has signature materials, Whipple's response is: "Light. You might not think of light as a material, but I feel it is. We extrude skylights so the natural light becomes a shaft constantly changing angles through the day."
Each Whipple-designed house has an important outdoor living component. Since the early California Modern designers used walls of windows to blur the line between indoors and outdoors, exterior living rooms have become common, and Whipple creates striking versions of these. At Hopen Place, for instance, a sinuously curving purple Modernist couch has pride of place in a covered outdoor space by the pool. An oversize floor lamp and a fire pit warm cool California nights. At a site in Beverly Hills that was built nearly to the edge of the property, the outdoor living areas for the multistory house are on roofs and terraces.
Whipple often uses large cement bowls, sometimes filled with flowers, sometimes serving as fire pits. The round shapes soften the modern lines, as do stacked slate exteriors and wood doors.
"I like a contrast in textures: rough stone, stacked slate, smooth tile and water," Whipple says. "There are always water elements in our designs. Water and also a bit of fire."