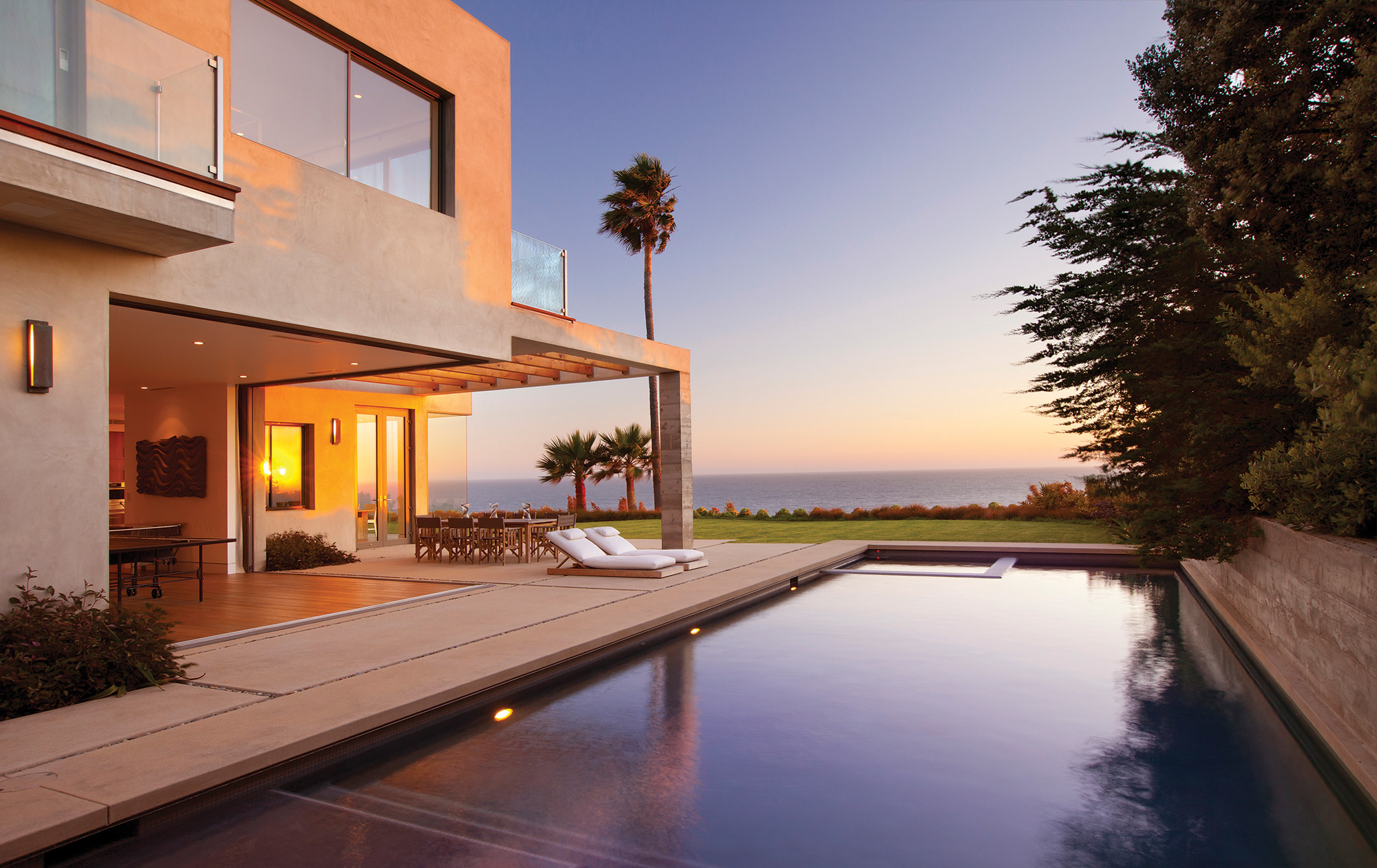 High on a bluff over the Pacific, this contemporary house is set at the tip of Point Dume, north of Malibu.
05 Jan

Rendering: "Call it Rustern"
---
If there's a king of Malibu, he's not a movie star. No, that title goes to an architect — Doug Burdge of Burdge & Associates — who has designed more than 250 houses, touching every corner of the fabled Southern California coastal enclave. That number, of course, doesn't include the impressive list of future projects already lined up (around 80), nor the houses he's built around the West, in places such as Ketchum, Idaho. He's licensed in Montana, Wyoming and Idaho as well as California.
Burdge operates out of cramped and decidedly unglamorous offices on the second floor of a weathered, half-block-long commercial strip along the Pacific Coast Highway, just south of Malibu proper. It's hardly a space where you'd expect to find an architect whose clients include movie stars, titans of business and an array of people who are just, well, filthy rich. It's been many years since the beach shack met extinction (it costs about $1,000 a square foot to build on the beach in Malibu). These days, Moondoggie would have to commute.
Ask Burdge about his firm's philosophy and he'll respond that since he's been working and living in Malibu for more than 25 years, his firm deals with all the ins and outs of local regulations and the dreaded Coastal Commission. Malibu is littered with blueprints of projects never built, or that have taken a nightmarish number of years to wend their way to approval. Burdge Associates doesn't just design houses; it gets them built.
"It's very difficult in California, not just Malibu. All the layers of rules and codes and agencies with high governmental controls over these projects — health codes and earthquake codes and planning codes, let alone a disgruntled neighbor who just doesn't want to have a project built next to their house," he says. "We play by the rules, we push the rules. Like every architectural firm, we're paid to be clever. We look at every job as a challenge, a chance to go beyond the norm.
"We like to joke," he adds, "that when it comes to an architectural practice, our clients don't want us to practice, they want us to perform."
That said, Malibu has no aesthetic restrictions. Unlike Santa Barbara, where the style is restrictive and cohesive, Malibu is open to design of all varieties. In that respect, Burdge laughs, "it's kind of the Wild West."
He prides himself on the number of vernaculars in which he works, including what he calls "rustern," a term he coined and copyrighted when he designed a line of rustic-modern furniture, exemplified by the table in his conference room, which is scaffolding planks on barn-wood legs. He's designed a number of rustern houses, including an angular modern house softened by a rough stone exterior, and another with a barnlike exterior with breezy, modern interiors. He's also designed what he calls Hampton-style traditional, Cape Cod, Mediterranean and, lately, sleek modern houses. There was a period in the 1980s when he built so many houses in Mexico's Los Cabos that he was getting to be known as "the hacienda man." He woke up one day and realized he didn't want to be confined to one style.
While other firms may be known for distinctive projects, Burdge revels in his freedom: "Are you hiring an architect because it's his way or the highway? We have that diversity of design style. You hire an architect ultimately because they can produce you a beautiful house."
There is a certain Malibu style. It's open to the views, the light, and incorporates casual indoor-outdoor living. Right on the beach, the floor plans are sometimes reversed, putting the living areas upstairs where the views are best. On smaller lots, a roof may become an outdoor living space.
Burdge believes that interior designers — he's worked with the likes of Martyn Lawrence Bullard and Kathryn Ireland — and landscape architects must be brought on board from the beginning. Choosing the builder is equally important.
He says in this world of savvy clients who surf the Internet, follow blogs and spend hours on Pinterest, people come in with a good idea of what they want. He works with them to hone their visions. Even years into his practice and with all those projects behind him, he's lost none of the enthusiasm he feels for working with clients.
"Doug is an artist at heart," says artist Wendy M. Hughes, owner of a rustern house, the second Burdge project she's inhabited. "He can sketch on the spot and bring even the most innovative ideas into reality while he's brainstorming with clients."
And here's the core of how passionate this man is about his job: "I get up every morning at 5 a.m. and I just start drawing," he says. "My brain wakes up and is solving problems. I just love the whole process."
Burdge is adamant that drawing is essential to the process. The firm works with state-of-the-art computer programs, but he feels working on a computer from scratch is too rigid. Drawing may be old-school, but it's still the core.
As for celebrity clients, who've included Barbra Streisand, Dick Van Dyke, Matthew McConaughey and "a Red Hot Chili Pepper," Burdge says, "It's just part of the business; you live in Malibu, you're going to get famous clients and Fortune 500 billionaires. It takes all kinds." He grins. "The end goal is to be invited to their house for a barbecue."
Like many architects, Burdge feels travel is key to design. He's inspired by everything he sees, and it's also humbling, he says, because no matter how brilliant you think your idea is, someone somewhere has already done it. And his clients are equally well-traveled.
Recently, on a "Coastal Chic" panel at WestEdge Design Fair, Burdge had a laugh describing the shifting ground designers trod with McConaughey. "He traveled a lot for work," Burdge said. "The house started out Balinese. Then he'd go to Africa and bring back masks and beads."
The others on the panel smiled wanly.