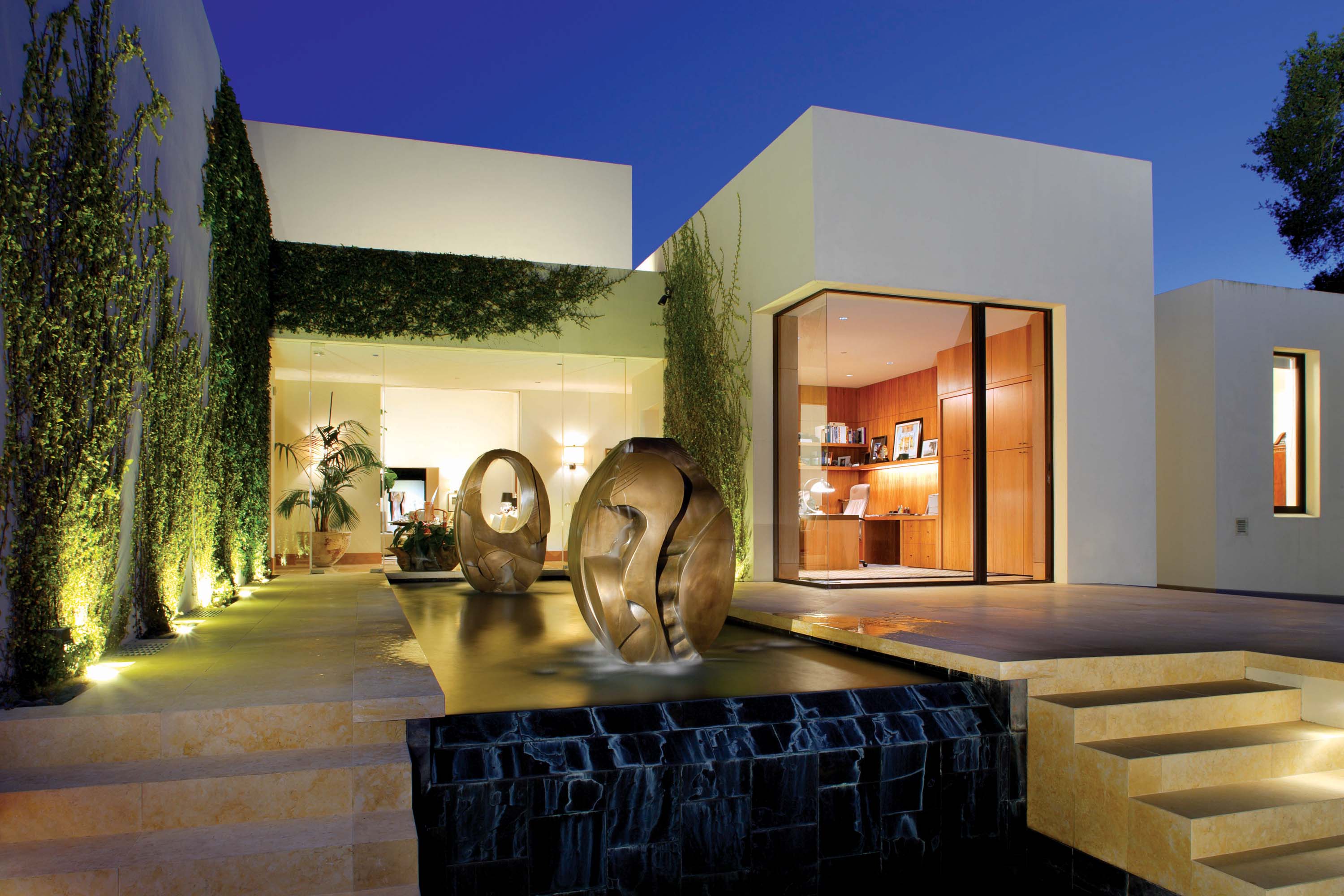 This 7.200-square-foot Montecito residence has a floor-to-ceiling glass wall showcasing an infinity edge reflecting pool with a "His and Her" sculpture by Aristides Demetrios.
04 Aug

Rendering: Conquering the Spectrum 
---
When the celebrated sculptor Aristides Demetrios and his wife, Ilene Nagel, began envisioning an expansion of their 1920s-era stone cottage in Montecito's Birnam Wood Golf Club, two things were certain: The new space would be a showcase for Demetrios' artwork and Thiep Cung, CEO of The Warner Group Architects (WGA) was the man who could pull it off.
Their yearlong collaboration became an alchemy of art and architecture around a single motif and yielded a space that's both dazzling and comforting to the senses; a marriage of logic and whimsy that brings to your lips the word "wow."
After ascending to a giant white limestone patio drenched in California sun, a few steps take you to a great room that's all about expansive living, freedom and play. Any hint of seriousness or formality is put to rest here. You gaze from a 12-foot-high glass pocket door across the room to its mate and then out to a sloping lawn where Demetrios' sculptures invite you to abandon linear thinking and just imagine. Even the breeze flowing off the adjacent golf course through the tucked-away doors carries instructions for letting go.
"It's really an evolving process," said Cung about the act of creating mature designs. Sometimes, he added, the simpler the design, the more complicated the process.
"When you get half done, that's [where] you should have started," said Demetrios, whose bold, Modernist and often monumental sculptures grace university campuses and the entrances to government office buildings and museums throughout California and other parts of the country. Along the way there was a shift in axis, an abandonment of a swing door for the giant glass pocket-door option and all the while, ideas and the refinement of ideas were traded between them.
"That's what every project should be," Cung said about the collaboration. "This is not like flipping hamburgers, it's a process."
Warner Group Architects, located in Santa Barbara, has been designing high-end residences, private resorts and golf courses around the world since 1966. That's when the late Jack Lionel Warner converted an old lemon-packing house into an elegant clubhouse for the newly established Birnam Wood Golf Club, the project that launched the company. It has since experienced a couple of partnership and name changes, with Cung assuming leadership in 2005. It's received AD's 100 Top World Architects and Interior Designers award four times and The Robb Report's Top 30 Architects award once. While 80 percent of WGA's designs are residential, its country club designs include the Monterey Peninsula Country Club at Pebble Beach and the Bel Air Country Club in Los Angeles. With a staff of 14 and projects ongoing in China, Panama, Hawaii, Kuwait and California, the Warner Group's hallmark is its proficiency across the design spectrum, from modern to traditional, to eclectic blends of design traditions.
"Deep down I'm a Modernist. But I think the root of modern architecture rests in the traditional," said Cung. The two years he spent in Florence, Italy, completing his architectural degree are at least partly responsible for that view. His immersion in the brilliance of the Italian Renaissance masters, including his idol, Filippo Brunelleschi, left an indelible mark. Take the 20,000-square-foot mansion he designed for clients in Laguna Beach. Its grand travertine terrace, columns and arches scream Tuscan villa. Yet there's that massive single pane of glass just inside the arches and a guesthouse made almost entirely of glass. (That one was inspired by the pyramid at The Louvre.)
Cung's affinity for Modernism is evident in the soaring sculptural quality of WGA's numerous modern homes. A 2008 Santa Barbara residence uses striking corner windows to frame a sequence of cube-like volumes that all pull together with squeaky-clean lines. In the Demetrios home, besides the artwork (which, in addition to his own, includes pieces by the likes of Roy Lichtenstein and James Rosenquist), the only color present is white. Nagel said that was done in large part to set off the art. She also recalled the couple's wish for a passageway connecting the old and the new structures, one that could double as a gallery. Cung situated it to receive the more subtle northern light. From one end to the other, Demetrios' pieces are arrayed in a gauntlet of whimsical, thought-provoking bronze and steel shapes and forms. No matter where you turn, something interesting or beautiful will catch your eye.
The firm also specializes in interiors. A newly completed interior design of a ski lodge in Deer Valley, Utah, uses a massive stone fireplace and a rainbow of brown and beige hues to create a softly elegant ambience with just a hint of rustic.
Cung was born in Vietnam. He moved to San Francisco with his parents and three siblings when he was 10. His first impression of America was William Pereira's Transamerica Pyramid, seen on the drive away from the airport. He says he loves his work because of the amazing diversity of issues and challenges required of him. But, apparently, he also loves the people he gets to work with.
"Best of all is the ability to meet the most wonderful clients like Aris," said Cung, referring to Demetrios.
Indeed, the day I interviewed Cung, we were zooming towards Birnam Wood in his car when he took a call on his iPhone.
"Hello Aris," he said. "I have a writer from Western Art & Architecture here who wants to do a story on us and I thought your home would be the perfect setting." With barely a pause, he added, "We'll be there in five minutes." Then he turned to me and laughed. "We have a wonderful relationship with all our clients."