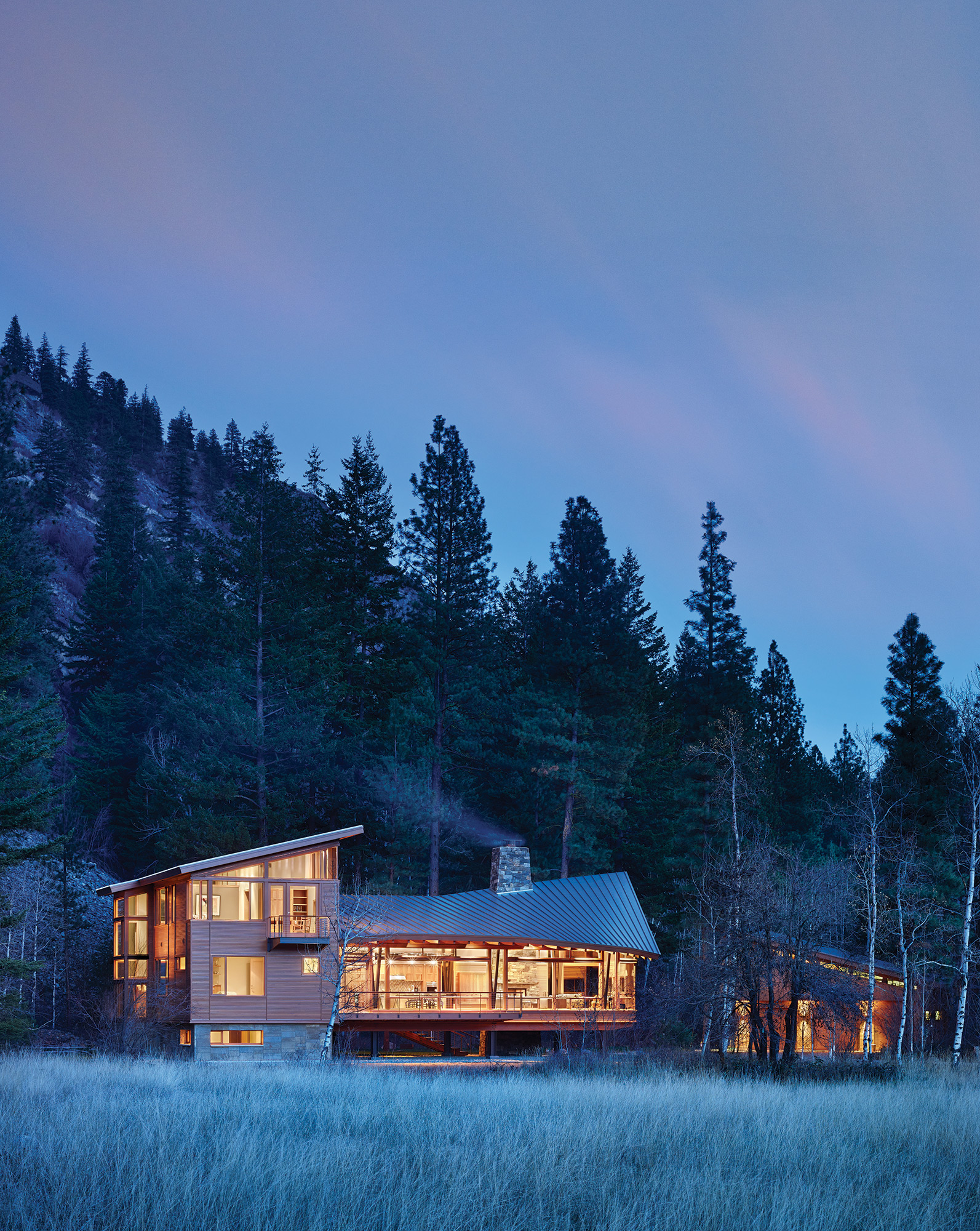 Finne spends a lot of time designing roofs, referring to them as "the fourth façade, the façade to the sky."
11 Nov

Rendering: Crafted Modernism
---
Nils Finne can coax a few rays of the winter sun to light an entire house. He can design a home so an increasingly interesting view is presented around each corner. He can insert a thick piece of milled aluminum into a wooden table to mimic a stream. His handrail designs are reminiscent of rails worn down over decades of use until they perfectly accompany the grip of a human hand. These outside forces of light, nature and history are brought into Finne's program as he designs not only the structure of a home, but its inner landscape as well.
Finne's mentors and clients have guided his philosophy on design. While working for Richard Meier on the Getty Center in Los Angeles, Finne refined his skills manipulating light when the design team positioned a painting so that it was illuminated by natural light in precisely the same way it had been during its creation in the studio. It was Sverre Fehn, the renowned Norwegian Modernist and Finne's valued friend, who guided his thoughts on materiality and construction, and the Finnish architect Alvar Aalto who inspired his thinking about a building's inner landscape.
Finne's love of furniture design was rekindled when clients lamented that none of their existing furniture would work in their new homes. In describing his home in Washington's Methow Valley, longtime client Jeff Cysewski says that Finne worried about "every appliance, every detail, every color, the knob of the cabinets, and the texture of the wood. This created a spectacular final product, completely coordinated and integrated," he says. The architect's ability and desire to craft every last detail is something Cysewski refers to now as "the full Finne treatment."
While designing the tables, lights, rugs and seating that populate the space between his high windows, sloped roofs and radiant flooring, Finne takes his cues from nature. Thinking about a home's inner landscape "is a very Scandinavian thing," he explains. "For six or seven months you are inside most of the time. It's dark, it's really cold, and you are dealing with these interiors." The solution is to bring a sense of nature inside. Finne describes creating an inner landscape "by making things that almost appear as natural objects that you would encounter while walking around the forest or a natural landscape. [Alvar] Aalto liked to say that he hoped his interiors would feel populated even if there is no one in the building. So you make things like furniture or light fixtures or carpets that have a presence to them, complemented and amplified by people being there and using them."
Finne's interior furnishings are not replicas of exact rocks or outside landscape, but abstractions. "The movement of the line, the sensibility of the line is something that you recognize in nature," he says. Finne's goal is to represent natural forms in new and unexpected ways. His creations include a coffee table with interlocking shapes inspired by rock forms, cabinet paneling reminiscent of the flow of a river, and a table inspired by a boulder half-submerged in water. When entering a space filled with Finne's creations, your first impulse is to touch everything.
"The material is the continuity with the past," says Finne. "Materials have beauty, memory and poetry." The interlocking coffee table is made of leather, practically begging guests to rest their feet on it. The beauty of his cabinet panels can be experienced even in the dark, by touch alone. The table inspired by the boulder was manifested as several planes of glass, light shining through the entire boulder.
Nothing is more natural to the outdoors than sunlight. Typical of someone with a Norwegian upbringing, Finne is obsessed with capturing natural light. He now lives in the Pacific Northwest and constantly fights the battle against winter gloom. "I try to balance light as much as I can," Finne says. "Light is almost malleable. You shape it with your hands, bring it in, lure it to cut out the direct glare, and bounce it off walls." His homes feature high windows that bring in unexpected pieces of light, glass walls that borrow light across the width of the building, and thoughtfully chosen materials that absorb or reflect light as needed.
The final element that Finne brings to his work is history. While working on remodels, he attempted to drill down to the reason why people are so appreciative of older buildings. He concluded that when people walk into an older home, they have an immediate connection with the person who crafted it hundreds of years ago. In applying a traditional level of craftsmanship to a modern aesthetic, Finne shuns a reductive approach. Instead, he embraces the detail, texture and materiality that often come with older homes and buildings. Making that obsession with details and materials part of a new, modern design lies at the heart of what Nils Finne calls Crafted Modernism.