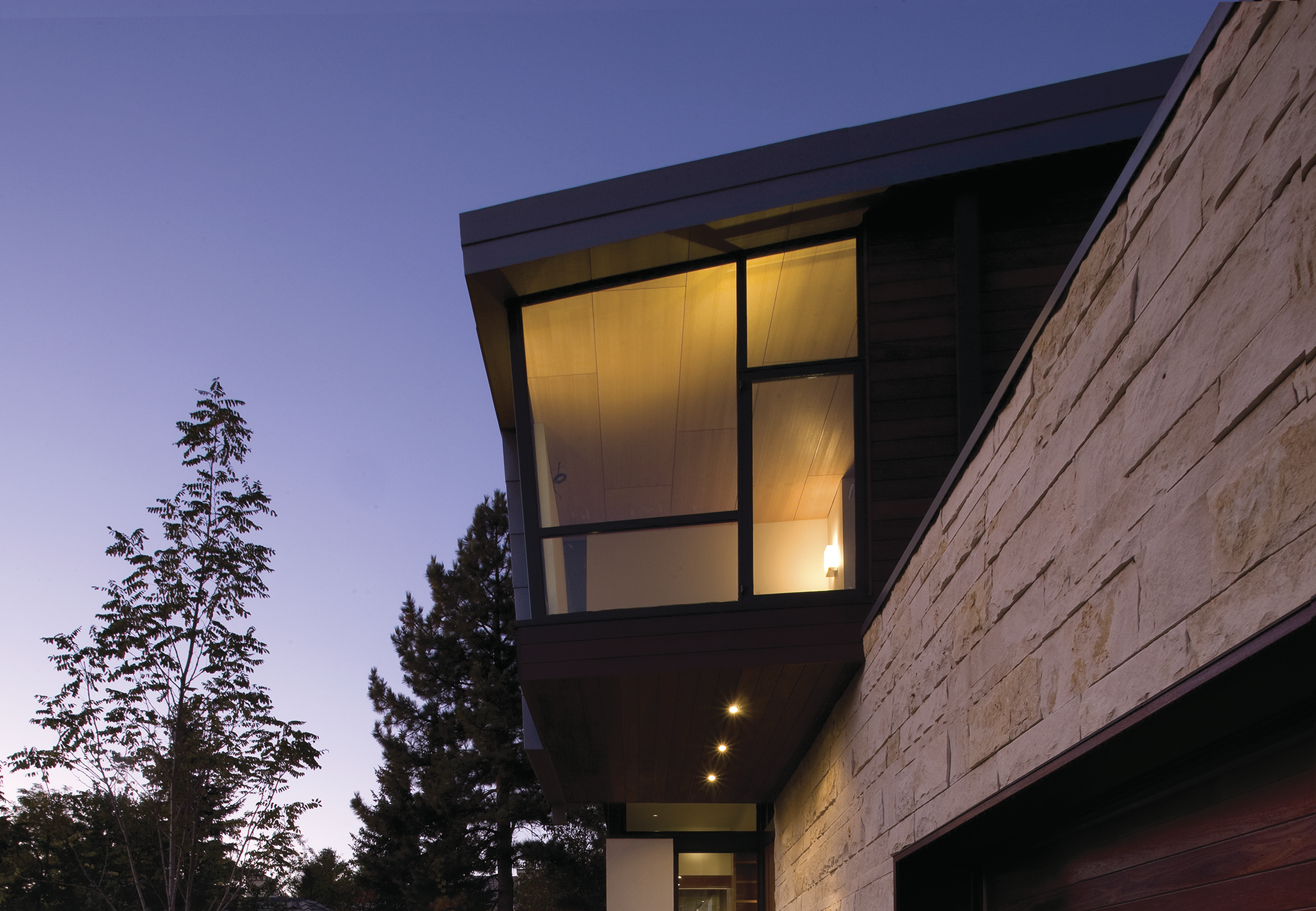 Not only did Arch 11 apply its fine eye for craftsmanship to the Syncline House, the firm also applied its eco-conscienceness: the home is LEED Gold certified.
29 Dec

Rendering: Crafting Great Design

Architects and builders aren't supposed to get along. "They've designed something that can't be built," builders say about architects. Architects retort, "Builders don't have any imagination." The end result? The finished project doesn't live up to the dreamed design. It's a story as old as houses.

But never one that has played out at Boulder-based Arch11. The award-winning firm was founded by two architects who were craftsmen long before they began their formal studies of architecture. E.J. Meade worked as a trim carpenter and builder with New England craftsmen for six years. James Trewitt built boats, homes and furniture. Senior associate Ken Andrews worked his way through college (after working as a framer for four years after high school) as a project manager for a homebuilder in Aspen.

"The advantages of being an architect with building skills are twofold," says Arch11 founder and principal Meade. "There is the ability to stretch building convention rather than be a servant to it." The second advantage is less tangible. "There is an ethos in the transcendent qualities of craft and assemblies. The Japanese term Shokunin refers to a craftsperson and also to one with an ethic to improve the human situation through their craft," explains Meade. "Hannah Arendt describes this same ethos and specifically that the act of making is by its nature an optimistic act. It is not designing that is optimistic, but making."

Andrews agrees. "I am most interested in seeing something come to life and be built." Andrews was once told he'd never be a good architect because he couldn't get his head out of construction. "I am the good architect I am because I know the construction side." A home Andrews recently oversaw garnered a 2010 AIA design award and won the Designers' Choice Award at the biennial Sub-Zero and Wolf Kitchen Design Competition.

Of course it's not just Arch11 that benefits, but its clients and also the builders it chooses to work with.

"We have a great deal of respect for what the craftspeople are doing and how they are doing it," says principal and co-founder Trewitt. "They can bring amazing quality to a project, but I think they are so much more capable than they usually have the opportunity to express. Because of our background in building and crafting, we challenge them to raise their game."

Of course, not all builders want to be challenged. When Arch11 was designing Q's Restaurant in the Hotel Boulderado, they came up with a cantilevered concrete bar top atop a curving bar wall. "The contractor threw up his hands at how to do it," Meade says. "James and I worked for 20 hours straight, forming the bar top, mixing, tinting, and working the concrete into place and then tooling and finishing it."

It doesn't take Arch11 long to recognize whether a builder will be able to work with them or not. The builder the firm most often turns to is Hammerwell Incorporated. Six years ago, the two firms actually got a space together. Arch11 occupies one side; Hammerwell the other. Separated by only a single door, the two have worked on more than 30 projects together.

"Arch11 draws things that not only can be built, but that also take into consideration the materials," says Rich Sands, president of Hammerwell. "I don't think that they let these considerations get in their way or limit them; it's just more that they think about."

A recent project Arch11 designed and Hammerwell built is a half-glass, 4,800-square-foot modern mountain home, the Syncline House, abutting open space in Boulder. "Residential buildings are usually wood frame," Meade says. "But this home had to be built as a light commercial structure with a steel frame. Because of our building background, we knew that as we were designing it. And because of Rich's skill level, he got it."

"Not just anyone can build Arch11's designs," Sands admits. "It takes a really good group of skilled tradesmen and craftsmen to pull their designs off well. The Syncline House was a very challenging project. We had to invent new ways of doing things — there is this floating staircase that took all of us working jointly to figure out — to make the design work."

Both Hammerwell and Arch11 consider Syncline a favorite project. "It's the challenge that makes it," Sands says.

"We had no doubt we'd get a home beyond our wildest dreams when we picked Arch11," says Shelley Dunbar, who lives in the Syncline House with her husband, Andrew. "We told them we wanted a house that we didn't just live in, but that completely blurred the line between inside and out. I'm sure any architect could have come up with a design meeting that criteria, but how many of those designs could have actually worked?" The Syncline House is also LEED Gold certified.

"I'm not sure I'd be an architect if I didn't have a building background," Meade says. "There's a tradition and it's been absent from the profession for the last 50 years. There used to be these master builders — Le Corbusier, Mies Van Der Rohe, Frank Lloyd Wright. That's something we still believe in."
---
Dina Mishev has written about travel, art and architecture for Sunset, Via, Shape, Big Sky Journal, Estates West, Luxury Living, TravelSquire and National Geographic Traveler. A resident of Jackson, Wyoming, since 1997, Dina is also a producer/host of the Wyoming PBS series Wyoming Chronicle. Apple named her app for iPads/iPhones, Total Tetons, "New & Noteworthy" when it launched in July, 2010.