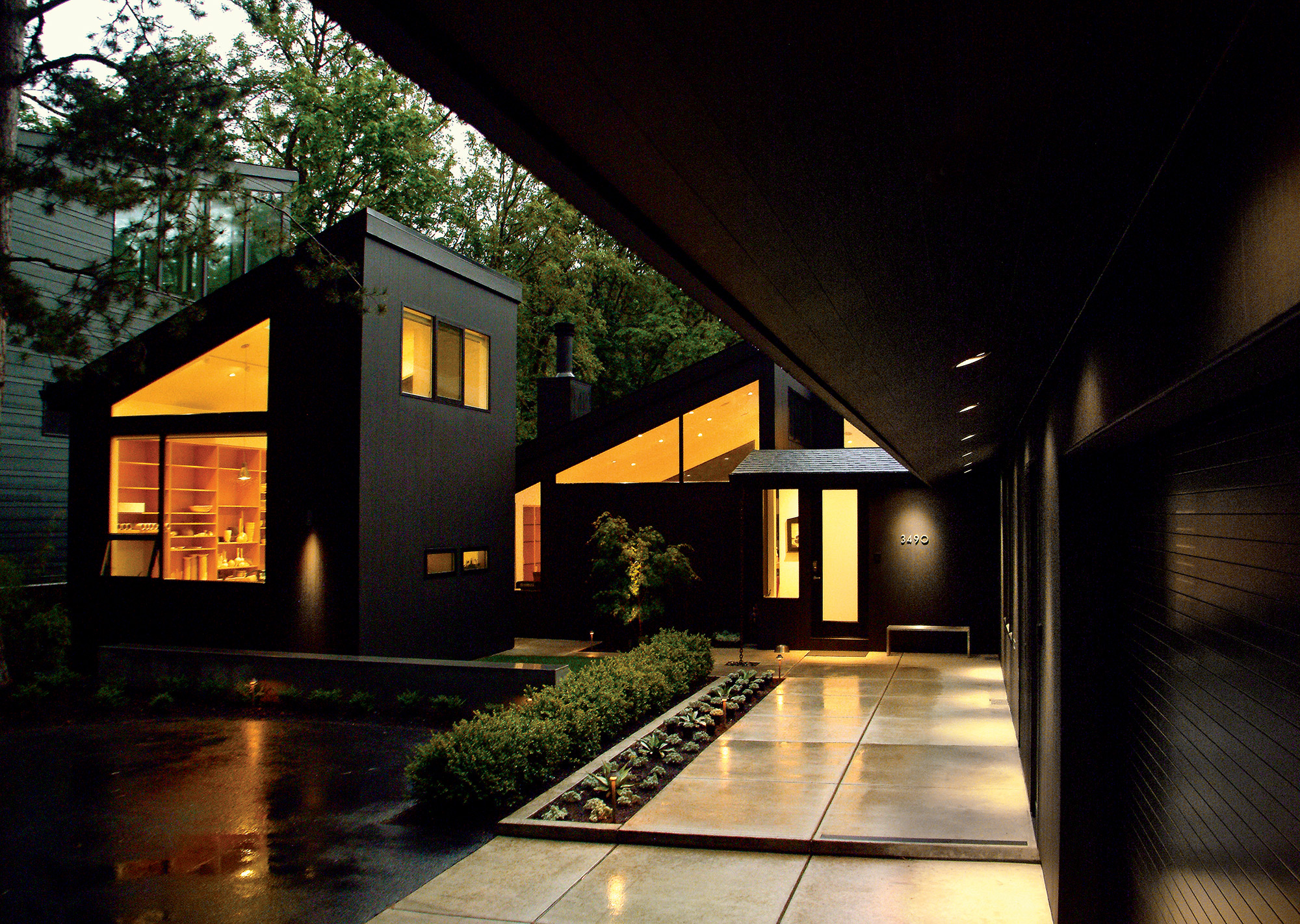 The redesign of this 1970's home in Portland, Oregon, created more practical living space for a family of three.
09 Sep

Rendering: Giulietti | Schouten Architects
---
Lush rainforests and sprawling cities; rolling valleys where green fields meet sandy dunes; coastal views of rocky cliffs tumbling into the ocean — these landscapes make up the dynamic Pacific Northwest, a diversity of forms that create boundless ways for light to dance, cascade and shine.
Architect Tim Schouten has been chasing that light for the last 24 years from his Portland, Oregon-based firm, Giulietti|Schouten Architects. Using brick and mortar instead of a camera or paintbrush, his endless quest to capture the ephemeral has led him from Oregon to Washington to Montana and back again.
"A lot of our projects tend to have more glass than you would normally see," Schouten says. "That's kind of a strong suit in our projects — the sites are always so beautiful."
What his partner, Dave Giulietti, started in 1987, while Schouten was still studying architecture at the University of Idaho, has become a company that keeps both architects flexing their design muscles daily. Schouten joined the firm in 1993, and the company stays small with a staff of six — a choice that facilitates close relationships between staff members and clients.
With hundreds of structures completed, about 80 percent being residential, the client is always the central focus of each project. By adding a quiet spot for meditation or integrating the work of a favorite landscape architect, the specific details of each home reflect the unique personalities of the people who reside there.
In a recent Portland-based project called Watershed, Schouten tackled a 2,500-square-foot redesign of a 1970's residence for a family of three. In addition to creating a more practical living space, the homeowners also wanted a separate art studio, a place where the homeowner could create her pottery, Schouten explains.
The final remodel retained a Northwest design vernacular with an emphasis on natural materials, modern accents and a sloping shed roof. It also added additional office space, two bedrooms and an expanded garage. The requested studio covers 260 square feet, including a balcony for sleeping, half-bath and kitchenette. "I think the idea was it's a work space, but it doubles as a little guest space," Schouten says. The functional remodel brings the family together, and the studio is the perfect place for working, relaxing or hosting visitors.
In other Giulietti|Schouten projects, the site dictates the design's direction, as in the recently completed Walnut House. The 2,995-square-foot home was located on a much-adored, old walnut orchard in McMinnville, Oregon. The primary goal was to take advantage of the space while preserving several large fig and walnut trees.
"[The homeowner] really loved the work of landscape architect Andrea Cochran," Schouten says. Cochran, known for her work on the Portland Art Museum's sculpture garden, was convinced to join the team.
Inspired by the Joseph Eichler houses in Northern California, which typically featured flat or shallow-pitch roofs, exposed beams and expanses of plate glass, the group set to work deconstructing the original home and building a residence to match the client's vision.
The existing home was dismantled and donated to Habitat for Humanity, and the new building occupies the original footprint. The design called for a single-level house with two master bedrooms, three baths and a central office that could also be used as an additional bedroom. From galvanized metal siding to exposed steel framing at the roof, materials for the home were chosen not only for style but also to create a low-maintenance structure.
"At the first stage of construction, it was these massive concrete walls; almost like Stonehenge," Schouten says. By the end, the combination of exterior wood panels and metal siding mix with strong concrete forms to create a modern home that showcases the orchard and valley views.
Combining the unexpected to feature an area's natural beauty taps into the heart of what makes many of the firm's projects memorable. Completing a 2012 remodel named the Black Butte Residence, Schouten was able to bring the surrounding forest indoors by using floor-to-ceiling windows, creating a new entry and staircase where the back door used to be. The new design creates an almost cathedral-like feel, while the focus is undeniably the bright, airy light. "It's a very warm, appealing space that is stripped down of a lot of ornamentation," Schouten says.
That simplicity and attention to detail has given the firm a reputation that keeps it designing projects around the region. As work continues to pour in, Giulietti|Schouten Architects' recipe for success hasn't changed: equal measures of beauty, innovation and just the right amount of perfectly placed natural light.