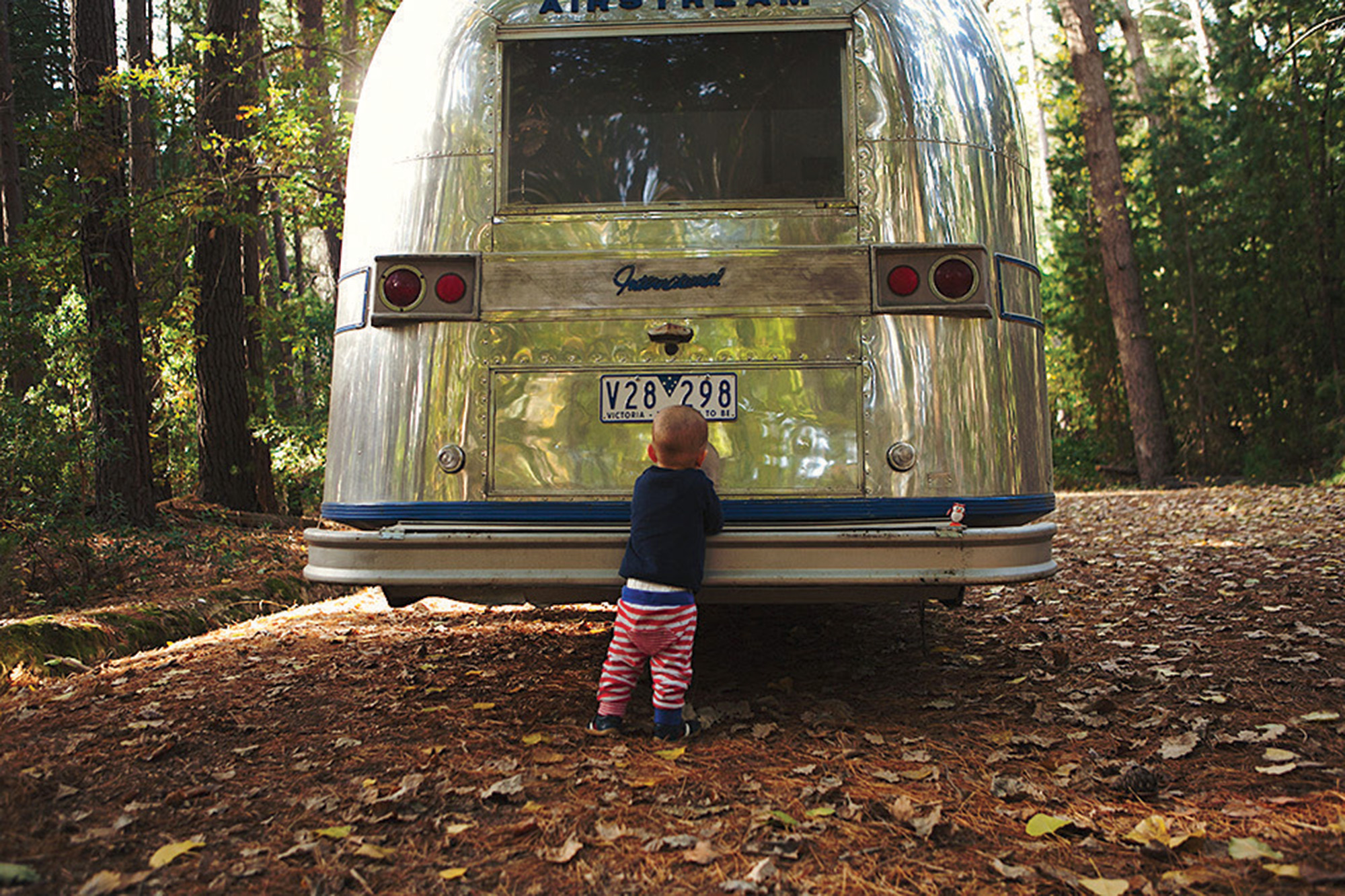 One-year-old Lucas Lear gets a look at himself in the gleam of the Wallabee, his family's Airstream Ambassador and home while they toured the Red Center of Australia.
10 Mar

Rendering: Hofmann Architecture
---
Small is no longer a pejorative in architecture. When a structure's foundation is a chassis and its exterior a shiny aluminum shell, small isn't simply beautiful, it's the whole idea.
Matthew Hofmann, a young architect, stumbled into this phenomenon in 2010 and hasn't caught his breath since. Though his blond hair and lithe frame makes one wonder if he'd prefer a longboard to a drafting table, he's apparently foregone many leisure activities since founding his busy and dynamically growing firm, Hofmann Architecture (HofArc). During the last six years, his company has designed and constructed upwards of 200 projects — every one on wheels, every one custom built on its lower east side lot in Santa Barbara, California.
After a stretch designing high-end residences, Hofmann wanted to strike out on his own. While establishing HofArc, he realized he needed to reduce his overhead, so he bought a 1979 Airstream Tradewind on Craigslist, parked it on an empty lot in the foothills of the Santa Ynez Mountains and began its remodel. Soon, the dilapidated hunk of aluminum was a 150-square-foot habitable jewel box, a breezy, efficient home and office that friends and neighbors ogled.
"I was just a guy living on a hill in a travel trailer," says Hofmann of his humble beginnings.
But, oh, what a hill — in Montecito, on a lot made vacant by a recent wildfire. And, oh, what a trailer — with a pullout, full-size bed, a Cali Bamboo dinette tabletop that collapsed into a media lounge, a Moen stainless steel sink, and a surround-sound speaker system set into the walls. Don't even ask about the handcrafted glass-tile shower.
To attract new clients, Hofmann sent photos of his Tradewind to every publication covering design and architecture. The Los Angeles Times was the first to respond, running a story about his roaming house in its "At Home" column.
When his phone started ringing, one of the calls was from Sonia Lear and Remi Pham of Melbourne, Australia. The young parents of a toddler girl were about to welcome twin boys to the family and were brainstorming ways to live more purposefully with less. Lear is a freelance video journalist, and Pham, an engineer, was about to launch his food truck business, Happy Camper Pizza. They thought a second Airstream would be a grand way to keep the family together while Remi's business ventured far and wide.
In six months, HofArc turned a 28-foot Airstream Ambassador into a sleek, sun-filled tandem domicile. With the bathroom in the center and beds at opposite ends of the trailer, the parents had privacy once the kids nodded off. When the twins were 18 months old, the family set out on a three-month adventure, visiting places such as Uluru, Katherine and Quilpie.
"Our dream was to just keep traveling around … [to] use the [one] Airstream to make a living and the other to explore and be together as a family," says Lear.
Today, the couple uses its rolling second home on holidays and for shorter trips with Happy Camper Pizza so they can all stay together. When Pham's mother visits from France, the Airstream (nicknamed "Wallabee") becomes a guesthouse. "I actually prefer the Airstream to the house, because you've got one bag of toys and it takes you 10 minutes to clean up," Lear says.
As his company grew, Hofmann realized he wanted a partner with business acumen. He asked his dad, Wally, a former newspaper publisher, to come down from the High Sierra and serve as HofArc's co-founder and sales director. Gradually, and with the help of social media, word spread of the firm's ability to turn tarnished old hippie trailers into chic, efficient adventure vessels. As projects rolled in, the main challenge was managing growth.
America is having a resurgent love affair with the vintage Airstream, originally designed by Wally Byam in the 1930s after his wife reportedly vowed to never camp without a kitchen. Although 80 percent of HofArc projects are Airstream renovations, the company will work on any mobile vessel. Give the HofArc team a bus, a standard RV or a van and they will make it beautiful, highly functional and fit for the road. The firm will also outfit brand new Airstreams, an item HofArc refers to as shells. A benefit of a new shell is that one can determine where to place the windows.
At the nadir of the Great Recession — when the notion of doing more with less was germinating as a cultural ethic, particularly among Millennials — Hofmann's timing was prescient. The tiny homes movement, in which people ditch their houses and possession-filled garages for homes roughly the size of a Kardashian closet, was also gaining traction.
"If you want to boil it down, the tiny homes movement is just an expression of the new American dream that is, 'Do what you want, where you want and how you want,'" Hofmann says. "It's freedom."
Requests for business-oriented vessels have been almost as plentiful as the recreational and second-home projects. HofArc has designed Airstreams and buses for mobile hair salons, retail-clothing stores, food trucks and marketing ventures. Consider the 34-foot Airstream HofArc designed for Zappos CEO Tony Hsieh, used during the cross-country promotion of his book Delivering Happiness.
"It's great. It's like playing house," says Ann Brady of the 19-foot Airstream Globetrotter HofArc remodeled for her and Ed, her husband of 54 years. A year ago, they drove it from California to Florida — 3,000 miles of close-quartered adventure — rolling happily along behind their Range Rover. With solar panels, a propane stove, skylight, plasma-screen TV with cable, and a custom foldout bed, they'd probably still be roaming if they hadn't hit the ocean. That freedom is what attracts clients.
"I don't know what it is, but the kids are just so content when we go out," says Lear, reflecting on their sojourns in Wallabee. "They play better. They don't get bored. I guess they're just really excited to be going to new places."