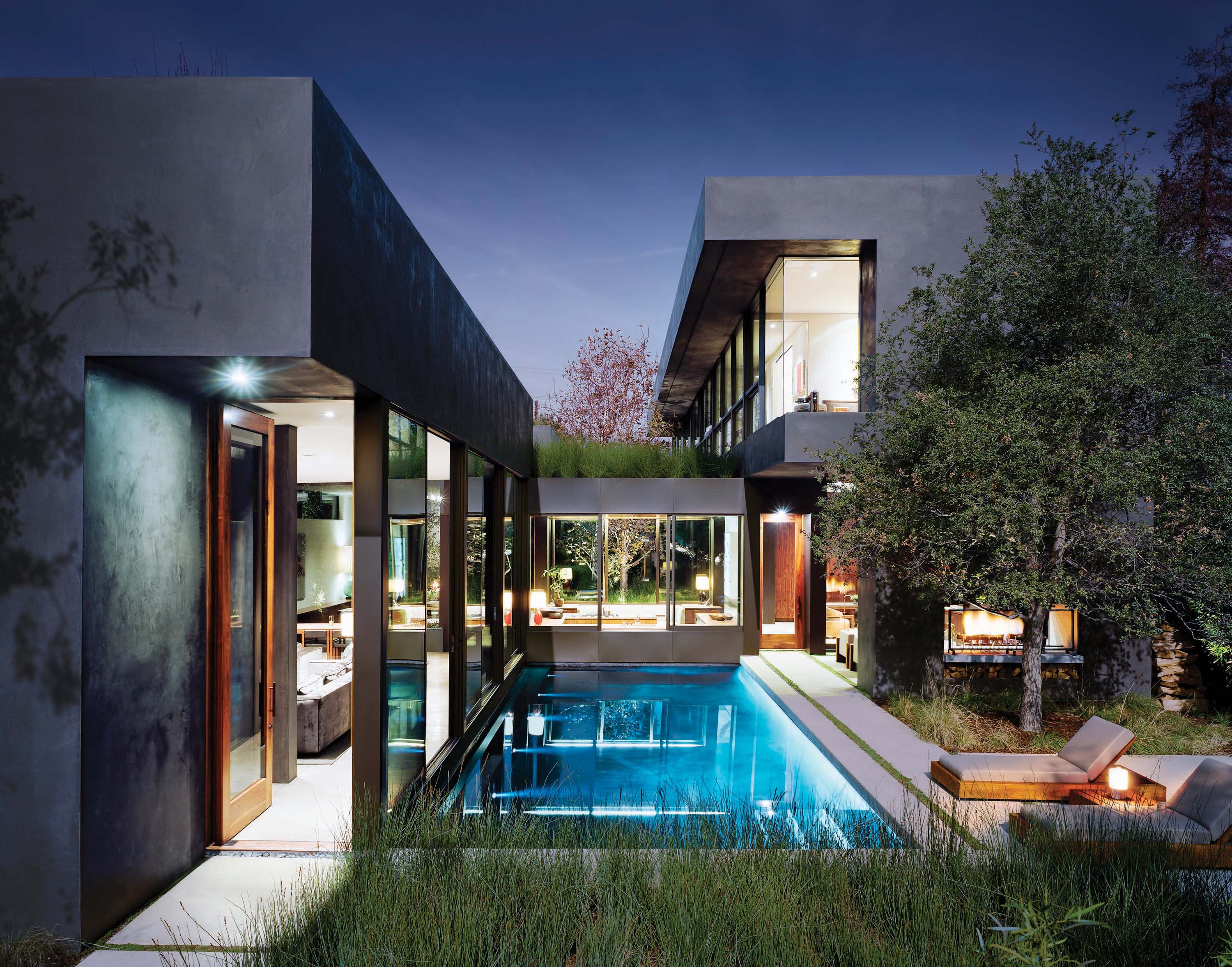 The entrance to Ron Radziner's Venice, California, home gives little indication of its range.
04 Apr

Rendering: Marmol Radziner
---
On a nondescript street in Venice, California, where squat houses serve as the backdrop to car-filled driveways, architect Ron Radziner's home seems like an act of subversion. Behind high hedges and a heavy wood gate, his stunning Modernist haven is another world. The house is a significant step beyond its California Modernist and international style inspirations; a mix of elegant geometry with natural landscaping and a warmth that's led his young daughter to describe her home as "cozy."
Leo Marmol and Ron Radziner met as students at Cal Poly San Luis Obispo and opened their firm in 1989. Today there's tremendous excitement around Marmol Radziner and Associates. They are architects' architects, innovators on many levels. They are pioneers in a burgeoning design-build movement, a full-service firm that does everything from design to construction to interior design, cabinetry, furniture and landscaping. In 2005, the firm launched a prefabricated housing division. In a factory in Vernon, California, it constructs fully finished rectangular modules in graduated sizes that are then shrink-wrapped, transported by truck, lowered onto already-finished foundations and connected together. This minimizes significantly the environmental impact of construction. And the homes are ambitious — one in Las Vegas is 12,000 square feet.
The firm has always been occupied with environmental concerns, whether the clients are particularly interested or not. As Radziner puts it, the client probably doesn't care that walls are insulated with recycled denim, but they are. "If we can use formaldehyde-free plywood, why not just make the choice?" he asks. That carries over to elements such as recycled steel frames and photovoltaic panels.
The firm itself occupies a sprawling space in a warehouse on Los Angeles' west side. The office has no cubbyholes, no dividing walls, just a sea of desks that promotes a muscular synergy between the firm's many creative workers. Because Marmol Radziner is a builder, it's able to keep the standards on construction extraordinarily high. Building experience keeps the designs, however innovative, practical. Most of its construction crew has worked for the firm for years.
The buzz around Marmol Radziner has drawn celebrity clients such as designer and filmmaker Tom Ford. But oddly, its first renown came not for design but for its brilliant restoration of Richard Neutra's famed Kaufmann Desert House in Palm Springs.
Marmol Radziner was a three-year-old firm mainly occupied with small projects when it got the call from Beth Harris, who, with her husband, Brent, had bought the house (which was built as a vacation home for the same family that commissioned Frank Lloyd Wright's masterpiece, Falling Water).
"We were excited just to get a chance to see the house," Radziner says. As they learned, the house had more than doubled in size through a series of additions by a succession of owners, and was unrecognizable. In addition, there were no construction plans in Neutra's archives at UCLA — they were probably lost in a fire in the 1960s.
"I always remember one day after we'd taken all the additions down and all that was left was the carcass, really, but boy! Was it a beautiful skeleton! Just a beautiful piece of architecture from every side, the proportions, just the scale of how that piece sits in the desert is magnificent."
The five-year project was a trial-by-fire education that has informed every project since. Not the least of their issues was hiding structural improvements and the addition of new heating and cooling systems. They capped the restoration by designing a pool house that complements the Neutra house but is completely its own.
Today Marmol Radziner has a wide-ranging practice that includes everything from an innovative inner-city school to high-end boutiques and the San Francisco offices of advertising agency TBWA/Chiat/Day, but homes remain a passion.
"Whether it's a home or a business, the goal is to go beyond fulfilling the client's practical needs and bring them some delight and joy and awareness of space. I enjoy being able to do that," says Radziner. "Homes are what we do most, and what I enjoy most. It's an intimacy that's fulfilling. When an individual or a family comes to you to build a home, it's a physical expression of their life, and there's something important about that. There's something fulfilling about being able to create that."
Like Neutra, Marmol and Radziner believe that well-designed spaces can improve people's lives. Nowhere is this more evident than at Vienna Way, the second house Radziner has built for his family. The long, narrow plot might have been a problem, but it's solved through two successive rectangular wings set on either edge of the property. They are connected by a warm wood kitchen that's recessed to allow the flow of the views to be uninterrupted. Along the formal living room in the front wing, sliding glass doors open flush to the edge of the pool, which also abuts the copper-clad kitchen wall. The rear rectangle is two stories, containing a family room, an office and utility rooms, with bedrooms above.
Everywhere the division between indoor and outdoor is blurred, and the roof of the kitchen is planted, connecting the front courtyard to the back garden and its oak and sycamore trees and grasses. Light plays on glazed walls and pool reflections play across the wood ceiling of the kitchen. There's always something engaging going on. It's a house that makes you happy, and Radziner's wife, Robin Cottle, says she's still awed to enter the house and realize anew … it's her home.