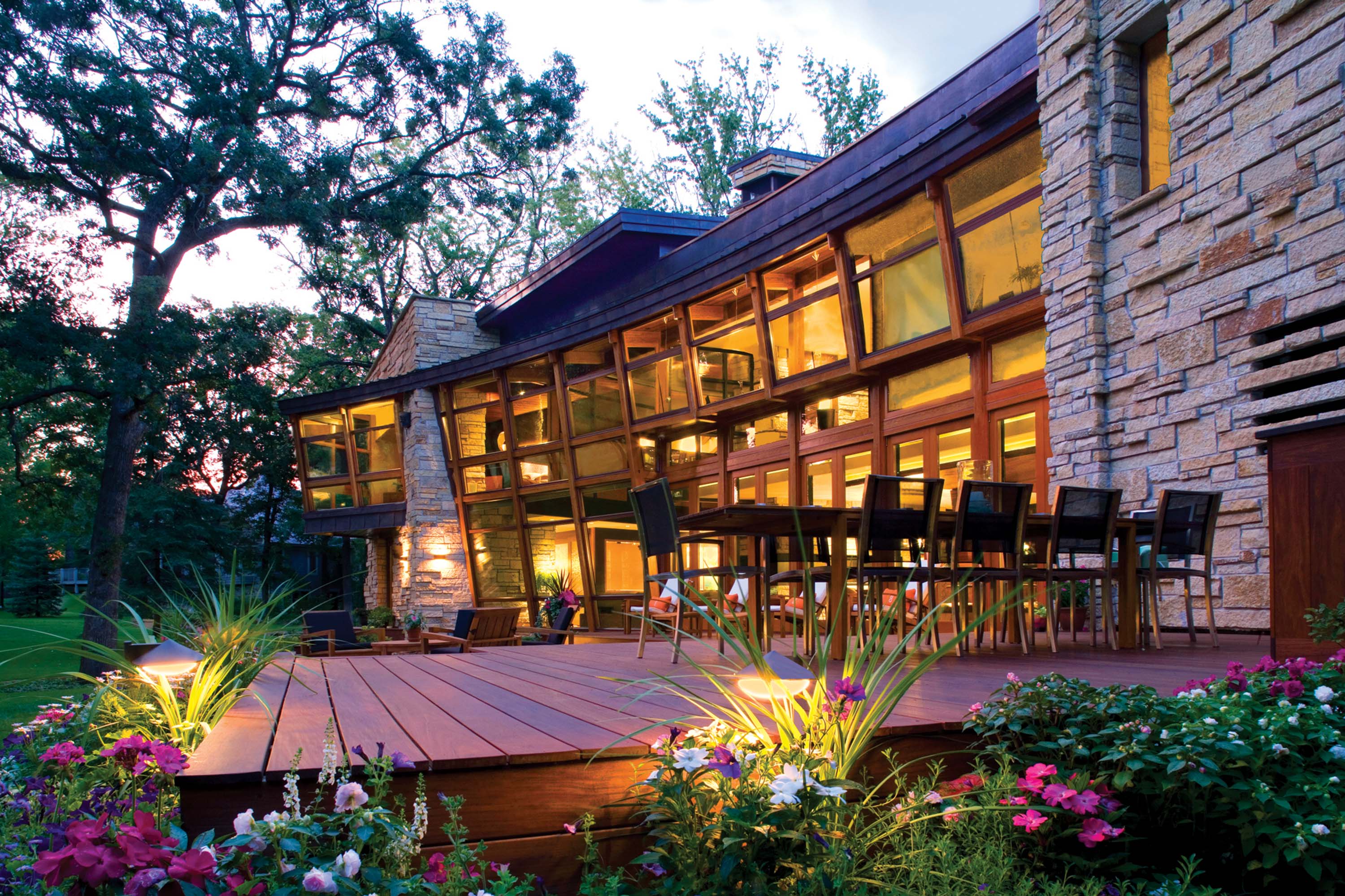 This home is called the Green Finn. Green because of all of the extra details snow took to ensure the home was as sustainable and efficient as possible; and Finn because of the architectural element of the finned curve to the exterior glass wall. Completed in 2009, the home was the subject of a documentary on Minnesota television called "Blueprint for Green."
04 Aug

Rendering: Outside the Box
---
Jack Snow isn't interested in the small stuff. Instead, he is enticed by big, bold and far reaching. "If it's worth doing, it's worth overdoing," he says. Small ideas don't interest him, either.
On a spring afternoon high in the mountains of western Colorado, Snow walks through a home, his home — a series of large, battered, stacked stone blocks, bound by concrete, giving the residence a strong profile to stand against the high-alpine elements. Snow and his wife, Sally Brainerd, his partner at the firm, talk about designing around the concept of "home." But this subject is too specific and restrictive for Snow, who is less concerned with the human need for the structure as much as the natural destination for his next "sculpture."
"We design for the site," he says on more than one occasion while traveling up and down hillsides along Colorado's I-70 corridor, which divides the Vail Valley, visiting a series of residences designed and some built by RKD. "Every site tells a different story. We don't know what we are going to design until we see the land, the views, see where it drops off or rises."
Snow and Brainerd have been owners and principal design architects at RKD Architects since they were 20-something kids, more than 30 years ago — she, a native Coloradoan, he from Philadelphia. They met in Denver where they were graduate architecture students. Although drawn to city life, the couple "fell into" architecture in the mountains, even if it may not have been part of their "master plan."
These mountains have been good to RKD. A firm recognized for creativity and range, Snow offers no apologies when it comes to his individualized approach that has become his firm's calling card. "You don't see two of our projects looking the same," he says. "There is shared DNA in one or two, elements of design connection through different projects. … Some people look though our portfolio and say they don't see what they want, and I respond by saying, 'That's because we haven't designed it for you yet.'"
Today their work is found within many of Colorado's tony ski towns, as well in other areas where a strong sense of place and interesting sites can be found, including Lake Tahoe; Minneapolis, Minnesota, and Park City, Utah.
As Snow visits his Vail Valley homes, words such as urban, raw and rough surface. These are exposed structures with only a small percentage given over to "spit and polish." He's talking about other homes, but he's talking about his home now, too. It was a decade-long project for the family that not only reflects their interests and influences on space and time, but also the growth of a family, changing needs, and fluctuations in the economy. For Snow, it was as if these elements are simply factors to rearrange, like a puzzle in his creative mind, and as each puzzle was solved, so the house evolved.
After the economic collapse of 2008, Snow and his wife condensed the firm and found themselves without the clutter of managing a large architectural firm. They actually got to sit down and create architecture again.
Inspired by artists such sculptor Jesus Morales, painter and architect Fay Jones and environmental sculptor Andy Goldsworthy, Snow is interested in anything that challenges boundaries.
"New modern architecture is exactly what I want not to do," he chides. Instead his modern has more to do with technology than profiles that simply harken to Mid-century design. He uses the latest modern engineering, building practices and computer design programs to create spines, cantilevers and angles that might not have been possible 60 years ago.
"We have the capabilities to model it up-front, and apply the structure to it," he says. "That technology is more accessible today, and it's silly not to use it. We get set in our ways of square boxes, but these other forms are now almost as easy to create. Why not embrace it?"
This is never more evident than at Puesta del Sol, a custom home recently completed by RKD that welcomes guests through an off-hinge main entry. Inside there are great vaulted ceilings varying in heights ranging from 16 to 20 feet, with glass everywhere for light and views of Beaver Creek Ski Resort in the distance. The eye is constantly drawn upward to the expanse of the ceilings, and exposed joints and hinges that keep the structure solid.
Snow likes to see the infrastructure of things. "To see," as he puts it, "what's holding it up." Trusses and exposed metal, large bolts and railings that seem to float in air. "I don't think our work is like anybody at all."
Another of Snow's Colorado projects is at the end of a road, set against the mountainside. The structure erects from the hillside, establishing itself proudly in place. This home is different than the last and it stands out from its neighbors. As if hiking a mountain, it takes 76 steps upward to arrive at the living room.
Snow's attraction to "monolithic concrete forms" again comes into play off the surrounding landscape. While the site was no doubt a conundrum on which to design, the end result is vertical, open and airy.
"I want to bring simple to the complex," he says.