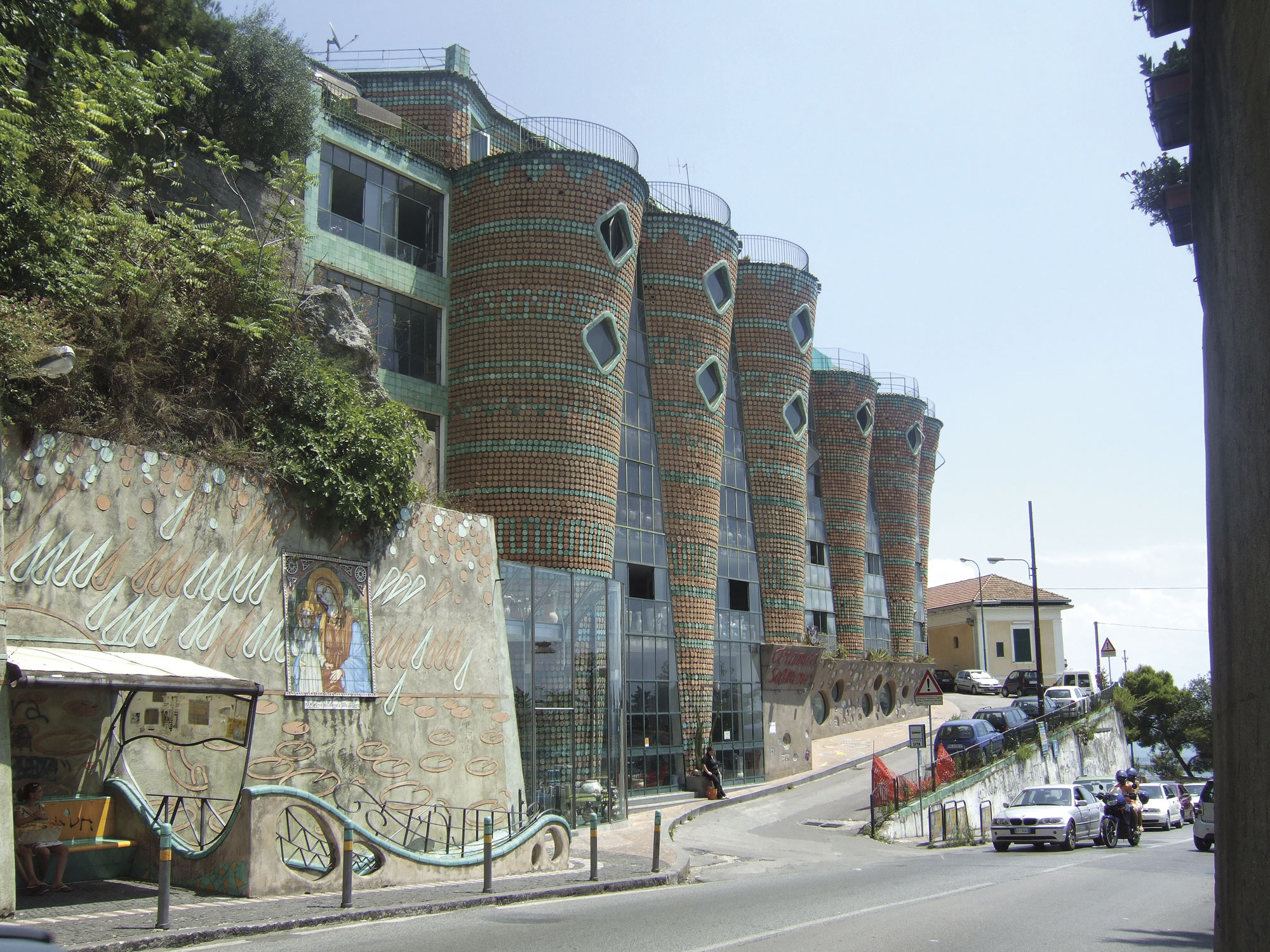 Ceramica Artistica Solimene, Vietri Solimene, Italy (1954): In 1951, Soleri was commissioned to build a large ceramic factory in Italy. Through his involvement with the ceramic factory, Soleri became proficient in the processes of the ceramic arts. Later, these experiences proved instrumental with Soleri's designs for his ceramics and bronze windbells, and siltcast architectural structures.
30 May

Rendering: Paolo Soleri – A Retrospective
---
"The fate of humanity and the ultimate goal of society are inseparable from the fate of the animal kingdom and the good of the environment of the natural world."
— Paolo Soleri
Paolo Soleri wants to redefine the "American dream" as we know it.
His life's work has been an uncompromising search for the transcendent in the design and creation of self-sustained human habitats. For decades, Soleri has urged mankind to change its way of thinking and let go of the perception of the "American dream." It is a myth, he explains, in the sense that we've thrust upon the world an ideal of materialism and hyper-consumption, resulting in lack of fulfillment and wastefulness. Soleri calls for a radical change in attitude and action toward the conservation of land, energy and natural resources. Given the economic, social and environmental crisis, Soleri's concepts of "Arcology" and "Lean Alternative" have become increasingly relevant to our current dilemma; and his ideologies, prophetic.
This June 21, 2009, on the summer solstice, the visionary turns 90. Aptly, "Soleri" translates to "You were the sun." A weekend birthday celebration reuniting family, friends and alumni will be held at Arcosanti, one of his most well-known projects, to honor the life of its founder, Paolo Soleri.
Born in Torino, Italy, in 1919, Paolo Soleri received his doctorate with highest honors in architecture from the Torino Polytechnico in 1946. He was initially inspired by Frank Lloyd Wright's philosophy of "organic architecture," and came to the United States in 1947 to apprentice with Wright at Taliesin West, Arizona. Within a short period of time Soleri became well known for his innovative architectural designs and progressive ideas.
Though he could barely converse in English, Soleri made a strong impression on everyone at Taliesin, including Mr. Wright. (Eventually, he would learn English by listening to the Arthur Godfrey radio show.) Many of the Taliesin architectural fellows considered Soleri somewhat of a guru; he was much admired for his diligent work and beautifully rendered prolific drawings.
"He was very dignified and quiet," reflects architect Charles Montooth. "He drew a lot and was always busy. He was obviously very talented and had lots of ideas. He stood out," continues Montooth, a protégé of Frank Lloyd Wright and a Taliesin fellow. As a result of their philosophic differences, the maestro and soft-spoken student parted ways in 1948, and Soleri embarked on an original course of his own.
Within the next year, Soleri produced a series of architectural drawings titled Arizonian Portfolio, and soon landed his first commission and national acclaim for the Dome House in Cave Creek, Arizona.
In 1950, he returned to Italy where he was commissioned to design a ceramics factory, Ceramica Artistica Solimene. Through his involvement with the factory, Soleri became proficient in the processes of the ceramic techniques. Years later, the experiences would prove instrumental in Soleri's designs for his ceramics and bronze wind bells, and silt-cast architectural structures.
Soleri and his late wife, Colly, settled in Paradise Valley, Arizona, in 1956. It was during this prolific period that he began research and experimentation in urban planning. The following six decades would see the building of several groundbreaking Soleri structures, as well as worldwide exhibits of his conceptual cities and urban models. Of all his creations, Cosanti and Arcosanti have become the best known.
Arcosanti, Soleri's prototype urban habitat has been under construction since 1970. The project is based on Soleri's fundamental concept of "Arcology," merging architecture with ecology. Arcosanti also reflects Soleri's "Lean Alternative" philosophy by incorporating elements such as solar greenhouses and multipurpose buildings to demonstrate ways in which urban settings can have a less detrimental effect on the environment.
"When I was a kid, one of my first architectural experiences was visiting Arcosanti. It was a pivotal moment and an original catalyst which led me to pursue the study of architecture," remarks architect Victor Sidy, Dean of the Frank Lloyd Wright School of Architecture. "I look at his work and he continues to amaze me … how uncompromising his vision is, how powerfully he has used architecture to exemplify his ideas on society and culture; how mankind has the possibility to live together with the land differently."
Soleri has taken the future of urban planning many steps further by boldly hypothesizing his thoughts through thousands of sketches and writings regarding the advent of the future. He views the city as ever transforming, with the evolutionary process of "Arcologies" eventually reaching into the cosmos and outerspace. Lean Linear City is the culmination of these "Arcologies," a complex balance between technology and nature.
Dr. Soleri's legacy as an architect, environmentalist, writer and philosopher has been an unprecedented artistic quest. He has received highest honors from around the world: AIA Gold Medal, Gold Medal of the World Biennale of Architecture, Golden Lion Award of the Venice Biennale, Arizona Governor's Award, Knighted by the Italian Government, 2005 Retrospective of Soleri's Life Work Rome, Italy, and the Smithsonian's Cooper-Hewitt 2006 National Lifetime Achievement Award for Design Excellence.
Today, Soleri's influence in the fields of architecture and design theory remains significant and far-reaching. Jeff Stein, AIA, Dean of Boston Architectural College, and Cosanti Foundation Board of Trustees Chair, expounds on Soleri's universal relevance. "We are living at a critical moment in human history. It is a moment when we might be induced to wake up to what suburbanization has done to our culture, before it does the same to a culture whose population is five times larger than ours. The philosopher Soren Kierkegaard insisted that our ignorance of ourselves is often willed. We have a tendency to talk ourselves out of our 'ethical religious' knowledge, he thought, because of a natural distaste for the kinds of sacrifices that such knowledge demands. Urban design is just the sort of 'ethical religious' undertaking that Kierkegaard had in mind. For the sake of the 7 to 10 billion people who will be housed on the planet in the next generation we might take a look at what Soleri's ideas might mean to our shared future, and what little we must sacrifice to achieve them."
Soleri has stood alone for decades encouraging mankind to wake up and embrace our environment before it is too late. Possibly one day mankind as a whole will embrace planet Earth, if from the distance of the outer reaches of space.
Though always thoughtful and circumspect, Soleri has an unmatched ability to simplify even the most complex concepts: "Ultimately, the cities that we build are like pianos and people are the music. Without good compositions and skilled musicians, the piano is useless."