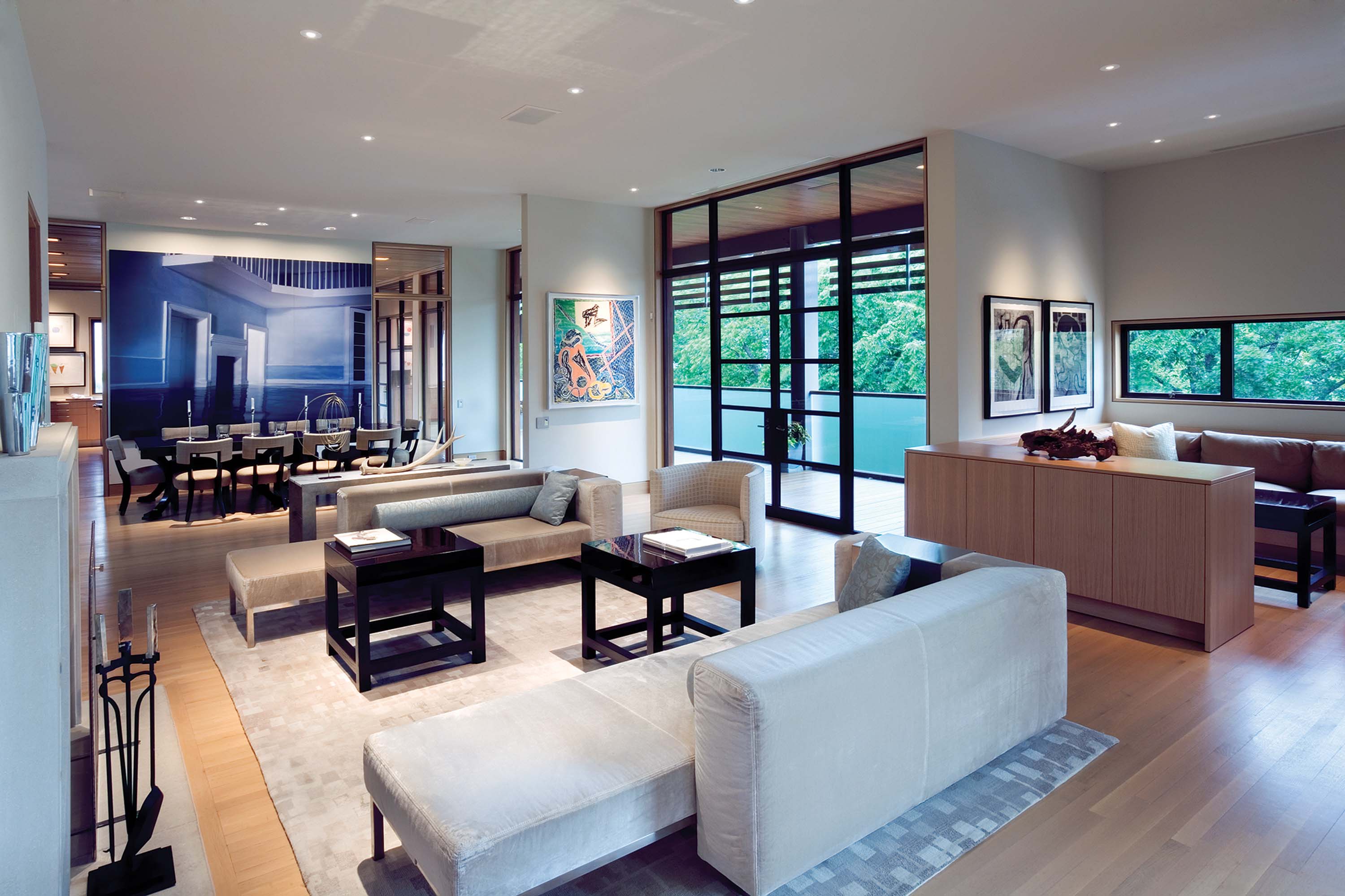 The Dillon house living room features an open floor plan flooded with light, a hallmark of Welch designs.
19 Oct

Rendering: Pared Down Elegance
---
Like the powerful, pared-down prose of Ernest Hemingway, Texas architect Frank Welch creates buildings of exceptional elegance and functional purity. Considered by many to be the father of Texas Modernism, Welch will be center stage this November when the Dallas chapter of the American Institute of Architects features several of his homes in their annual house tour.
His designs are concise, carefully calibrated to encompass not only the physical site, but also the optimal space required for a family's lifestyle. Historical references abound, especially the ubiquitous echo of the old stone houses built by German settlers to Texas Hill Country.
"My style is very restrained and on the simple side," he said. "I like simple vernacular; it is the basis of my work." It also stands as the foundation of Texas Modernism.
The simple stone-and-wood structures found around Fredericksburg inspired the straightforward, open floorplans that would become a hallmark of Welch's work. An understanding of the elements — heat, rainfall, wind — dictated small structural variations and the view of the surrounding countryside was inevitably incorporated into the siting of the homes in this part of Texas.
"When people talk about Texas Modernism they mean a style very simple in appearance," said Welch. "Not dumb, just very simple articulation — the openings, the fenestration, the massing are all very simple. I achieved that in 95 percent of what I did. I have designed over 100 houses, schools, office buildings and even a community theater in Midland."
Welch seamlessly folds the terrain into the structure of his homes. In the case of the Dillon house in Turtle Creek, large limestone outcroppings not only anchor the three-story vertical structure to its urban landscape, but also create a unique juxtaposition to its smooth adobe exterior. Windows frame city views and abundant light adds warmth.
While a Frank Welch house may resonate with Bauhaus fundamentals, it is also noteworthy for its humanity obtained through a mastery of light and unexpected materials. For example, the Dillon house kitchen features the largest surface area of Bulthaup cabinetry in North America. Beautiful, but sleek in its stainless-steel fabrication, it is tempered by a ceiling constructed of three-quarter-inch strips of white oak that reference the designs of Alvar Aalto.
The Ward house, a two-story structure in a bucolic setting, combines the elegant simplicity Welch is known for with a historical reference that recalls rural farm buildings.
The almost-9,000-square-foot L-shaped structure spreads before a ravine and is surrounded by old-growth oak and elm.
"Everyone loves this house," Welch said. "The interior is very clean, crafted from white oak. The stick ceiling extends from one end of the house to the other, opening over the three main rooms like a tent with skylights."
One of his most recent commissions, an imposing limestone structure in Preston Hollow, Welch has dubbed Texas Palladio for its classical symmetry reminiscent of the Italian Palladio of the 1500s. The 7,000-square-foot home has a square floorplan and each corner is anchored by a fireplace.
"It is very striking," Welch explained. "There is a central grand room and atrium with 30-foot ceilings and then four quadrants — a dining room, master suite, library, entry — situated around this center area. Everything is sort of axial. The three-car garage with glass doors is anchored to the sloping site and its roof is planted with Texas wildflowers."
A native of Sherman, Texas, Welch, 85, was drawn to both art and architecture at an early age. "My mother would drive me from Sherman to Dallas through all the neighborhoods pointing out the impressive homes and public buildings," he said.
When he enrolled at Texas A&M he took a liberal arts course because he feared the technical requirements for architecture. But by the end of his first semester he had flunked algebra and decided to avoid the draft by joining the Merchant Marine. He only served six months and when he returned to the States after a tour of the Pacific he was drafted and sent to Williamsburg, Virginia.
When he was released 18 months later, a more confident Welch re-enrolled in Texas A&M, this time in architecture. The school had changed a great deal while he was gone. The school of architecture had moved from the Beaux Arts model to become "an outpost of Modernism — the first architecture school in the region to adopt the bare-bones Modernism developed at the Bauhaus in prewar Weimar, Germany."
And while Welch embraced this new design aesthetic, he also became aware of great music and literature.
"A lot of my education was clearly taking place off-campus, certainly outside the architecture curriculum," he said. "I was learning that fine literature was representative of its age and I was learning the same thing about the timeliness of architecture. It was easy for me to relate Hemingway's stripped-down prose to the lean, unadorned International Style Modernist structures of that Mid-Century era."
It was around this time that a blind date to Katherine (Bittie) McGar led to lifelong love, and an interest in photography led to a Fulbright Scholarship in Paris. Upon returning to the States, another life-altering event occurred.
"It was a watershed moment," said Welch. "I was 24, living in Houston. Bittie and I were invited to dinner by two artist sisters to meet O'Neil Ford. We went up to their creaky garage apartment and had cheap red wine and stuffed tomatoes with rice. We drank a lot of wine and Bittie and the two sisters slept on the floor while O'Neil and I talked until 3 or 4 in the morning. He offered me a job and we moved to Dallas."
Ford had helped to establish a regional Modernism and pioneered experimental structures. He took the young architect under his wing.
"I learned a lot from O'Neil Ford," said Welch, who worked with his mentor for five years. "He was known as the preeminent regionalist. When Ford and his partner won the commission for the first Texas Instrument building, he sent me to Richardson to oversee construction. It was quite an experience. I had no knowledge of industrial architecture. But Ford trusted me and liked me."
A request by a friend for an addition on his Midland home led to more commissions and finally a move to Midland and the opening of Welch's own firm in 1959. "We settled there and lived there for 25 years," he said. "But my practice was always a statewide practice."
Welch came back to Dallas in 1985 and continues to lead his small but influential architectural firm.
His favorite building and the structure he is best known for is, ironically, "The Birthday," a small overnight shelter located on a rock bluff in West Texas ranch country. Featuring stacked limestone piers, it is created from locally sourced materials such as untreated cedar siding and oil-rig timber from an abandoned lumberyard.
"My client wanted to build a little structure on a hill with a fabulous view of the emptiness of West Texas," Welch said. "This little structure struck a nerve with architects because of its modesty and scale. It is just a square space with a fireplace in it. The front and rear walls open up to decks. The walls all roll open like sliding doors but clad in cedar. You open them and have a porch in the summer or close them and have a cave in the winter."
Prominent Texas architect Max Levy has been a friend and admirer of Welch's for more than 20 years. Succinct as a poem, he sums up the architect's influence: "Frank's words and works and presence have taught us all about refinement without haughtiness, the satisfying coexistence of worldliness with locality, and the capacity of architecture to quietly give our lives a lift."