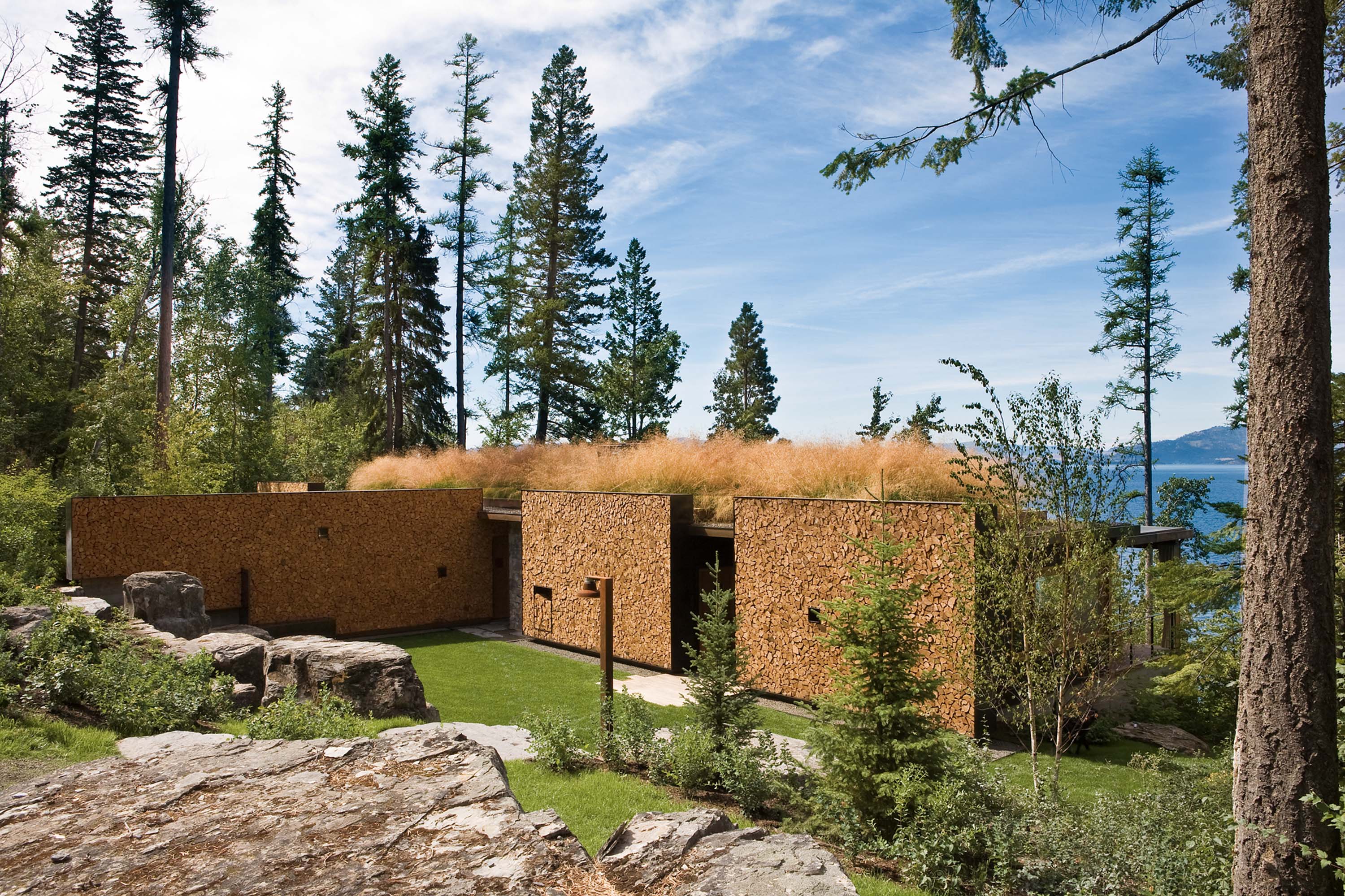 The stone-and-stacked cordwood façade of the main house in a Montana compound is designed to let people feel the natural environment.
01 Dec

Rendering: Shaped by Place
---
If you are compiling a list of the greatest hits of Austin-based architects Arthur Andersson and F. Christian Wise, it would include a seemingly disparate collection of structures such as the house in Montana with a wild swath of grass on the roof; a resplendently blue three-story tower exclaiming its location at an otherwise non-descript intersection in Austin; and the elegant Chihuly bridge in Tacoma, Washington, with the artist's shimmering sea creatures packed tail-to-tentacle along the 500-foot illuminated glass ceiling. The varied buildings all have characteristics in common — they are up-to-the-minute, but they also seem to have been in place for a very long time. There is something deliberately elemental about them, expressing variously the earthy landscape, the blue sky and the sea.
Andersson has been designing buildings for more than 30 years — first as a principal in Moore-Andersson Architects, a firm he and the late Postmodernist Charles Moore founded. Moore died in 1993 and Andersson continued the legacy as Moore/Andersson Compound, housing the firm out of Charles Moore's home and studio in Austin. Many of Texas' best young architects interned or worked in the compound, and one was Chris Wise, who helped Moore and Andersson design Microsoft co-founder Paul Allen's estate in Seattle. In 2001 Wise joined in the practice now known as Andersson-Wise Architects. Both Moore and Wise share a devotion to Moore, whose humanist insistence that houses are for people endures. "Moore's materiality and connection to the nature of place never wavered," says Wise.
That sense of place is evident in everything Andersson and Wise create. "Our architecture," says Andersson, "is shaped by place — by climate, geology, biology, sun, wind, temperature and terrain." Empathy with Moore's joyous approach to architecture was presaged in both Wise's and Andersson's early lives. "My father was a preacher," says Wise, "and we lived in a 19th-century American Gothic parsonage, which was my first architectural memory." The youngster would often sneak away to the stone – and – wood church next door when no one was there: "I'll always remember the feel of space and light." No coincidence that now some of Andersson-Wise's most resonant structures are churches, such as the painted white Prairie Gothic Gethsemane Cathedral in Fargo, North Dakota, or the upcoming renovation of a much – loved chapel built in the 1950s for St. Stephen's School in Austin.
Arthur Andersson came to his opinions as a result of a childhood that was basically one long road trip through the American West. His father, a geophysicist for Sun Oil Company, moved the family from the Powder River Basin to Casper, Wyoming, to pre – freeway Los Angeles to Anchorage, and finally to Denver. The architect-to-be wasn't thinking much about buildings then. He was drawing. His mother encouraged the habit by taking him to all the missions strung the length of the California coast, which he sketched. "I was struck by the sense of absolute permanence of the adobe buildings," recalls Andersson. "Entering one was like walking into a mountain."
The experience was to re-emerge in one of the architect's later projects — a remote Montana compound completed in 2008. Situated along a sloping hill that overlooks a lake, the three buildings — a master house, the main lodge and a guest house — are meant to let people immerse themselves in the natural environment. "We pulled the landscape back to make a lawn," notes Wise, "so that you can experience how the house emerges out of the hill." The main house is faced with stacked cordwood 2 feet thick and its roof is topped with grasses that undulate in the wind. Walls slide open to connect indoors and outdoors. The setting is wild, but is perceived as unthreatening when viewed from the solidity of the houses. "The materials themselves become part of the excitement of these buildings," says Andersson.
Also in Montana, in a forested setting that epitomizes the classic image of the American West, Andersson-Wise designed an 800-square-foot cabin that rests on six steel piers anchored to concrete foundation blocks set into a steep slope. It seems to float over the rugged terrain. Completely hand-built so as to have the least possible negative impact on the environment, the building resembles a summer camp. Its living area is enclosed by large screened walls, and wooden slat floors extend outside to porches. It's a simple structure that achieves maximum effect.
The architects are just as deft at discovering ways to best encounter the challenges of the urban scene. A recent renovation of a 1930s-era, two-story Georgian reveals how they define the original brick structure as if it is part of the landscape, in this case an established neighborhood in central Austin. "The homeowners wanted to keep the house," explains Wise. "But they also wanted it to be different." Those were the magic words. "We've never shied away from opening a house up," says Andersson about the gracefully modern addition with its glass-walled family room and kitchen that open onto a grassy plaza inset with Lueders limestone pavers. The gray brick façade morphs into modern gray poured – in – place concrete in back. Most important, the plan allows the house not just to shelter its residents but to introduce them to a previously inaccessible realm in the backyard.
If there is a single motif in the Andersson-Wise credo, it's the idea that buildings should celebrate place. Perhaps no other structure does this more rhapsodically than a boat dock on Lake Austin. The rugged two-story structure is approached via a bridge constructed of sinker cypress. The water, however, is always beckoning, and the dock is there to promote a response. Some of the slatted screens pop open, others slide apart; the metal hand-rail is meant to launch oneself into the lake. The Andersson-Wise design makes engagement irresistible, to assure that a jump into the watery world is the missing link between the lake and its ever-present invitation to plunge in. But that's what the dock is for, explains Andersson. "Buildings," he says, "should, in a sense, complete nature."