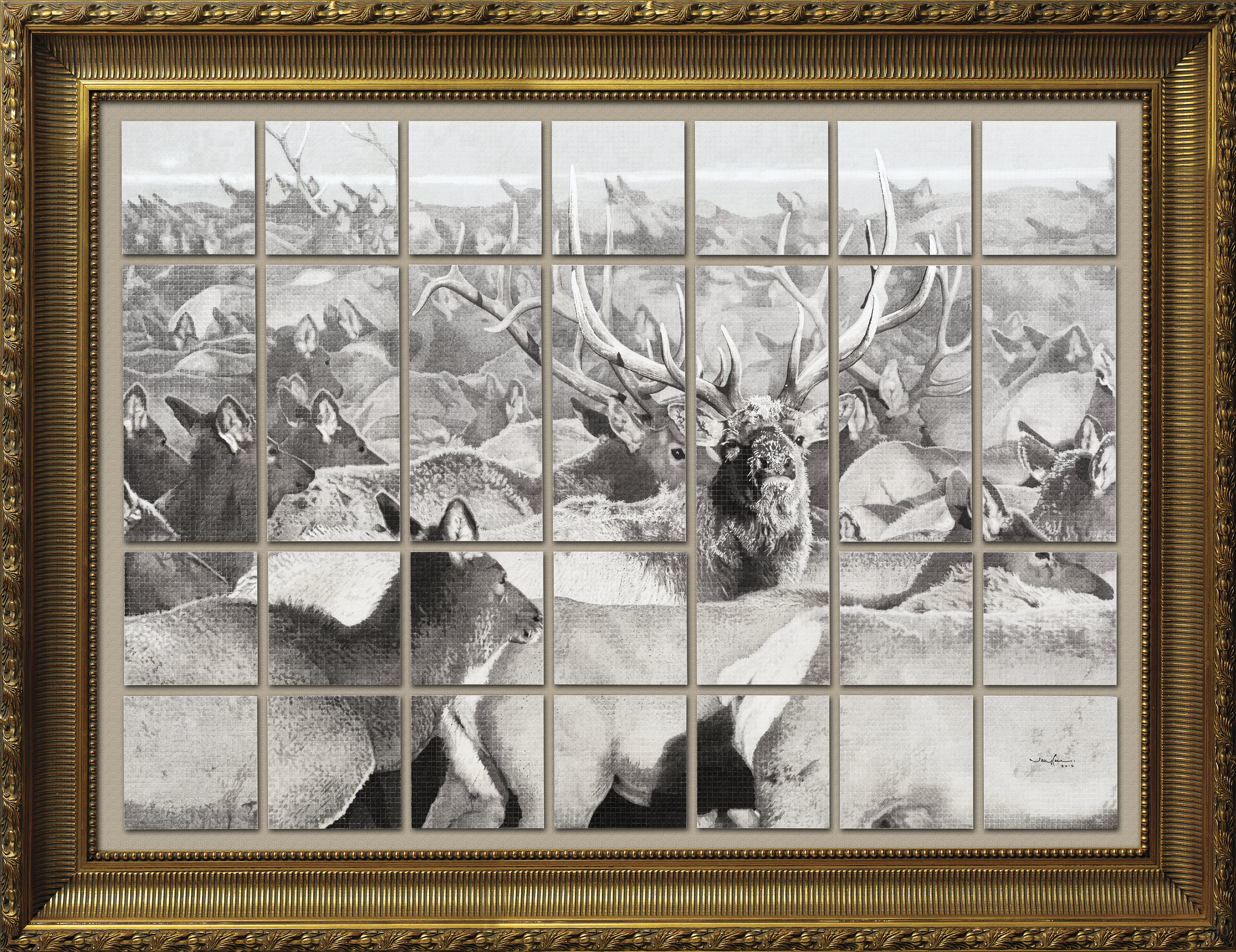 "Winter Gathering" | Graphite on Paper
01 Dec

Rendering: The Fine Art Behind Architecture

In every home designed by the Montana-based firm Locati Architects, there is a common theme: connection. Whether in a stately Western ranch house or a substantial mountain retreat, the elements of reclaimed timber, stone and glass that bring the outdoors in all work because of an intricate relationship to the site, the client and the materials. With that in mind, one might assume that principal and founder Jerry Locati designs each project with the big picture in mind — a fully formed 10,000-square-foot dream home; a great room that flows effortlessly to outside living areas; a kitchen that draws people together.

But the truth is that Jerry Locati thinks small to create large-scale designs. He sees every detail — the substantial sweeping trusses that have become a signature for the firm, the expansive open floorplans, the exquisite interior finishes and the focus on the surrounding landscape — and how they will relate to one another to become the whole design. It all starts with a rendering. Whether it is the intricate architectural detail in a home he designs or the way he captures the subtle shading in his figurative drawings, the edge between architecture and art is a fine line.

"Architecture is based in art," says Locati. "I grew up drawing and it didn't take me long to realize I wanted to create art in the form of buildings. Now I find equal inspiration from both."

A Montana native, Locati was raised in a family of artists. His passion for drawing led him to Montana State University's architectural program where he completed his master's degree in architecture and quickly applied his artistic ability and drafting skills to the business of designing buildings. In 1989 he went on to establish Locati Architects in Bozeman, Montana, growing an internationally recognized architectural firm over three decades. Ultimately, that experience as a successful architect has fostered a unique artistic perspective that influences his work today.

Returning to his drawing roots, Locati has put pencil to paper to create works that celebrate composition, light and texture in a new form. Focusing his eye on figurative subjects and wildlife, he renders large-scale images to depict the beauty of the human form or the inspiring intricacy of nature. Utilizing blocks to focus the viewer's eye on a central point, he lets an intricate puzzle unfold subtly within the frame of each block. The technique isolates complex details in a larger scene, at once simplifying an image for the viewer, yet deepening its interpretation.

"To me there is a fine line in art," muses Locati, "that intangible point in which the artist can convey a known subject differently and make others see it too."

As an artist, Locati dissects the minutia of each subject, letting each image unfold with 1,000 tiny drawings. He begins with a photograph, maps out the blocks, selects a focal point for the composition and dissects the image with microscopic detail to portray what individually appear as abstract shapes into a broader, compelling figurative scene that teems with life, movement and intention. This approach allows the viewer to rediscover the subject within each block, or the composition as a whole.

Locati's architectural client list is quickly spilling over into his roster of collectors who have acquired his fine art drawings.

A case in point is Hollywood producer and art collector, Burt Sugarman, for whom Locati Architects has designed several residences. Presently Sugarman owns one work by the artists, Winter Gathering.

"Besides being beautiful, it's also unique and well-thought out," says Mr. Sugarman. "We love it and we are looking for more from him as they come our way."

In his figurative work the face of a young woman is blocked out. The light catches in her hair. That line leads the eye to the sensual form of her body, the contrast of shade and shadow. Even in the simplest medium, graphite on paper, the detail is striking.

Envision the mass of an elk herd in winter. The texture of a tiger's stripes. The variation of line and consistency in the hair of a zebra herd. Locati conveys the awe in every detail, scaling the proportion of an image so that the viewer can absorb the subject one piece at a time. He sees these forms in shade and shadow, grid and proportion, very similar to how he would dissect the intricacy of a building.

Just as in his architectural work, Locati directs the viewer's experience, beginning with one focal point and letting the image unfold organically. Leaning in with the same philosophy he incorporates into his architectural approach, every block of a design evokes a response, whether it's the welcoming element of a foyer or the expansive sense of place in a great room that connects to an outdoor vista. In his graphite work he isolates elements of a complete picture, adding new emphasis to individual elements, while depicting the fullness of the whole image.

"Art has to speak to you, just like architecture," says Locati.

Whether it is fine art or fine architecture, the process of creating is part of the same story for Jerry Locati.