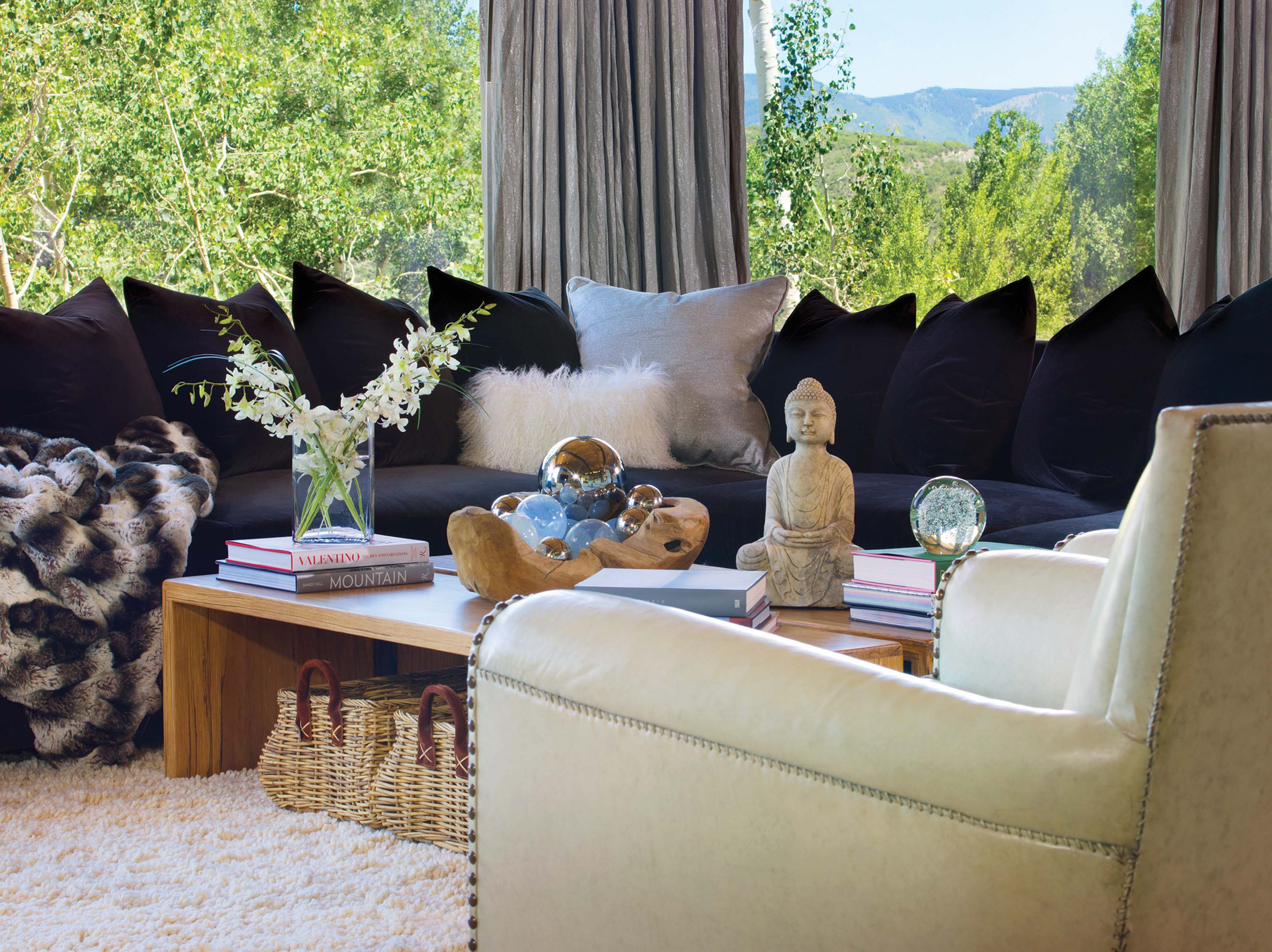 Jacobs chose soft, textural, family-friendly furnishings for a modern living room. Ralph Lauren brown velvet covers the sectional sofa, and Ralph Lauren's cream leather 'Colorado' chair is accented with nailhead trim. The custom draperies are washed linen, and the buddha figure is from strange imports of Glenwood Springs.
19 Oct

Collector's Notebook: Responsive Design
---
"I love to make spaces look beautiful, but I don't like everything to be too perfect or overdone," says Yvonne Jacobs, president of Slifer Designs in Edwards, Colorado — a design firm known for its high-profile work in mountain resorts. "To mix things up I might add a funky lamp or a sculpture; I love using things made by hand."
The arts have always been a prominent part of Jacobs' life. She grew up in Pueblo, Colorado, and fondly remembers spending time with her great-grandmother, Georgina, who was part Navajo. "She was an artist, painter and sculptor," says Jacobs. "Going to her home and being in her realm with her garden and weavings and art pieces, I really caught the creative bug."
After getting an interior design degree from Colorado State University, Jacobs headed to Manhattan and landed a job with Clarence House at the New York Design Center. "It was a wonderful opportunity, because I got to know and work with all the designers who came in for textiles," Jacobs says.
She felt a special affinity with Elissa Cullman — co-founder of the renowned firm Cullman and Kravis — where Jacobs landed her next job as design assistant. "Elissa has such an artful eye and she was known then for her imaginary integration of folk art. She'd put rustic, handcrafted items in a $10-million-dollar house, and that appealed to me. Elissa taught me about working with antiques and how to source things."
When Jacobs and her husband-to-be decided to leave the city and head west, they eventually landed in Colorado. During her work on a living room for the Junior Symphony Guild Designer Show House, Jacobs met Slifer Designs' owner and founder, Beth Slifer.
"We just hit it off," says Jacobs, who moved to Vail to work for the company. The year was 1997 and Slifer Designs was poised for growth just as the area exploded with a building boom. "We hired a lot of good designers and architects, and we just went for it. We were doing a lot of million-dollar residential jobs and commercial projects for hotels like the Ritz."
Beth Slifer, who still owns the company, retired from the day-to-day operations and handed over the reins to Jacobs in 2008. "Beth and I have always shared a common vision for the company, for the people who work here, and for what we want to do for the community," says Jacobs.
Since then, Jacobs says high-country design has evolved to a more clean, modern aesthetic. "We tend to work in a more relaxed style because living in the mountains is so often about being with people we love and having family experiences. We don't view the house as a showcase; the living room should be lived in, and you should be able to eat in the dining room. It's about being together. We carefully consider the architecture, finishes, art and the client's lifestyle before we ever begin furnishing the home. I like rooms that are easygoing, with a little whimsy, and I'm big on texture. I could have a whole room in the same color palette, but with varying textures."
Jacobs favors jeans and cowboy boots for her personal style and says comfort is key. "I'd describe my fashion sensibility as Western-casual, but I do like to dress up and tend toward polished, tailored pieces — and I love handmade jewelry," she says. "I have a deep appreciation for handcrafted things, and I enjoy working with local artisans. Fortunately, we have a lot of extremely talented artists and craftspeople living and working in these mountain towns."
Among the boutiques, coffee shops and restaurants of the Riverwalk in Edwards, Slifer Designs' headquarters occupies three floors. "Our top level is a design studio and library that's filled to the hilt with fabrics, furniture and samples," Jacobs says. "We can have a full-on design meeting with our clients without having to drive anywhere."
Offices are housed on the second floor and a spacious main level retail store opens onto the street with furnishings creatively arranged in ever-changing vignettes: a fully furnished living room complete with a stone fireplace, a dining room, bedrooms, walls painted in different colors such as lime green, lavender and charcoal, and a variety of accessories.
"We change the vignettes out every Wednesday, and we actually have design 'groupies' waiting at the door to see what we're going to do every week," Jacobs says with a laugh. For Slifer Designs' most ardent fans, one thing is certain: What they see will be fresh, interesting and beautiful, but not too perfect.