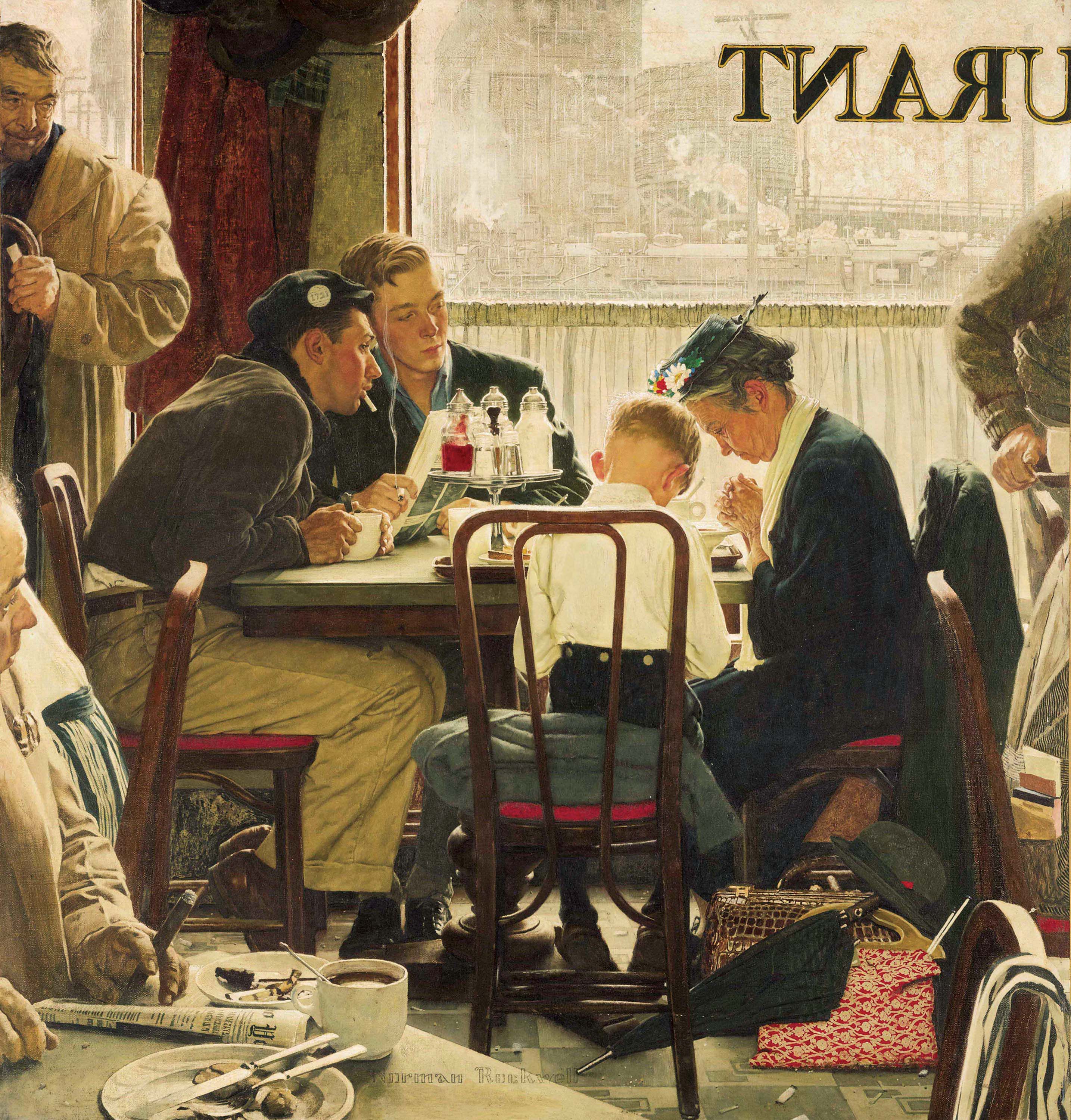 Norman Rockwell, "Saying Grace" | Oil on Canvas | 43 x 41 inches | 1951 | Estimate: $15 to $20 million Sold: $46,085,000
01 Feb

Auction Block: Setting the Pace
---
The nation's largest auction houses rounded out the art year in December, with exciting results that will undoubtedly set the pace for 2014.
Big-name artists — Norman Rockwell, Edward Hopper, Georgia O'Keeffe — made the headlines at Sotheby's, Christie's and Bonhams auctions in New York. The December Sotheby's American Art sale totaled $83,915,500. No other events posted such impressive figures, yet the quality and interest in the works up for bid were strong. A case in point is Dallas-based Heritage Auctions, which hosted its first New York City American Paintings, Drawings and Sculpture sale, attracting a target audience with an eye on the rarest lots up for sale in the current market. American art's younger sister-genre, Western art, left its mark with a niche of collectors as well during a special one-day Sotheby's Arts of the American West sale of American Indian works and Western art from the David J. Brown Family Collection. On the West Coast, Bonhams' two auctions — California and Western Art, and Native American Art — further refined the pool of collectors with successful sales.
All are proof that the American art market continues to steadily thrive when high-quality works are presented to engaged buyers.
---
Bonhams Native American Art Sale, December 9, 2013
---
Bonhams Native American Art Auction in San Francisco, brought $2.1 million. Leading the sale was an important Okvik Eskimo carved, fossilized walrus ivory human female head, 200 B.C.– A.D. 100, which achieved $197,000. A second rare and important Okvik Eskimo ivory head, that of a man, and also dating to 200 B.C.–A.D. 100, brought $87,500. These phenomenal art objects were consigned by two St. Lawrence Island families, who discovered them where their ancestors left them 2,000 years ago.
Apart from these, weavings stood out as the major strength of the sale. From the Hicks Family collection of Oklahoma, were classic Navajo examples, including a manta that realized $125,000 (est. $80,000 to $120,000), a third phase variant chief's blanket that claimed $100,000 (est. $40,000 to $60,000) and a second phase chief's blanket that took in $93,750. Other Navajo highlights included a classical sarape that drew in $68,750 (est. $20,000 to $30,000) and a late classic/early transitional chief's blanket that achieved $13,750 (est. $9,000 to $12,000). Special Navajo highlights in the sale from the Ruth K. Belikove collection of Alameda, California, included a large Teec Nos Pos rug that brought $15,000 (est. $8,000 to $12,000) and a late classic sarape that drew in $13,750.
Two bronze works by Allan Houser, This Was Our Home, 1993, and Like the Eagle, 1991, sold particularly well in the paintings and sculpture portion of the sale, achieving $52,500 and $31,250, respectively. Also of note, a Fritz Scholder acrylic on canvas, The Last Pueblo, 1973, took in $10,000 (est. $6,000 to $9,000).
Additionally, basketry, jewelry and silver works, pottery, traditional Southwestern crafts, as well as Plains Indian artifacts drew significant sales figures.
---
Christie's American Art, December 5, 2013
---
Though the hefty sum total of $76.8 million for the recent American Art Sale could not hold a candle to the frenzy of Christie's November Contemporary Art Sale that posted $691 million, it's obviously a milestone of the season.
Setting a record for an Edward Hopper work sold at auction, his oil on canvas, East Wind Over Weehawken, realized $40,485,000, well beyond the $28 million high estimate.
Likewise, Georgia O'Keeffe's Two Calla Lilies sold for more than double its high estimate, at $1.8 million. Albert Bierstadt's Rocky Mountain Waterfall posted nicely within the $1 million to $1.5 million estimate at $1,325,000. These highlights were a few among many impressive works up on the auction block.
Elizabeth Sterling, head of American Art, commented, "A saleroom filled with collectors eager to acquire rare museum-quality pieces led to a sale total of $76.8 million, the highest ever for an auction of American Art at Christie's.
This, combined with the record-breaking price of Edward Hopper's East Wind Over Weehawken underscores the rising strength of the market for American Art, particularly for Modernist works."
---
Heritage Auction's American Paintings, Drawings & Sculpture Signature Auction, December 5, 2013
---
Heritage Auction's New York event spanned two sessions, which totaled $2 million. The first portion was Heritage's inaugural The Art of New York Signature Auction, timed to pay homage to the seminal 1913 Armory show, which introduced New York to Modern art. Masterful street scenes by famed New York artist Guy Carleton Wiggins took top-lot honors as Just Off 5th Avenue at 53rd Street (à la Childe Hassam), 1939, ended at $75,000, and The Library, 5th Avenue, circa 1940, sold for $53,125. Wiggins' classic Wall Street storm image, Financial Center, realized $21,250 later in the sale.
The second session, American Paintings, Drawings & Sculpture, was punctuated by the top-selling offering, Torch Bearers, by Anna Hyatt Huntington, which realized $315,000. In addition to the Huntington monument, Moonrise, Chioggia, Venice, by Thomas Moran, sold for $155,000; and Moran's A Bit of Acoma, New Mexico, 1911, rocketed to $81,250, more than four times its estimate.
---
Sotheby's American Art Auction, December 4, 2013
---
Setting records and heralding the highest-selling lot of the season's events, Sotheby's New York American Art Auction posted the stunning sale of Norman Rockwell's Saying Grace, which sold for $46 million, soaring past the $20 million high estimate and going on record as the highest-selling price for the artist. The painting, which was voted by The Saturday Evening Post readers as their favorite cover, was sought after by two phone bidders who competed for more than nine minutes. It was just one of an extraordinary selection of seven paintings by Rockwell from the family of Kenneth J. Stuart Sr., the artist's longtime friend and art editor at The Saturday Evening Post; the collection all sold for a total of $59,663,000 and contributed to the bulk of the sale's ultimate total of $83,915,500.
Other highlights of the Stuart Family Collection included The Gossips, which fetched $8,453,000 (est. $6 to $9 million) and Walking to Church, which brought $3,245,000 (est. $3 to 5 million). Also, up for bid were two striking landscapes by Albert Bierstadt and Thomas Moran, which present magnificent views of the vast and untamed American West. But of course, the highest prices drew the lasting attention for the event.
---
Sotheby's Arts of the American West: A Collection from the David J. Brown Family, December 4, 2013
---
Smartly separated from the high-profile bulk of the main American Art Sale, Sotheby's brought attention to an important art collection from the David J. Brown family that celebrated the American West in an individual offering. The smaller auction brought more than $1.2 million for a collection of outstanding American Indian works and Western art, led by Ernest Blumenschein's painting, Arizona Dam, which achieved $365,000. Also performing strongly was a rare Mesquakie bearclaw necklace and turban, which sold for $75,000, well over the high estimate.
The special sale celebrated intrinsic themes found in the arts of the American West, and reflects multiple views and interpretations from the Mandan and Cheyenne to Ernest Blumenschein and Ansel Adams. Rare examples of Native American beadwork, from moccasins to cradle boards, were included in this comprehensive collection. Of the 43 lots offered, only six did not sell.
---
Bonhams American Art Sale, December 4, 2013
---
In New York, Bonhams American Art Sale realized excellent prices for some of the field's most influential artists. The auction was 81 percent sold by lot and an exceptional 95 percent sold by value, bringing the final sale total to more than $5.2 million.
Interest in the sale was international, with participants from as far as Hong Kong taking part online and via the telephone. According to Bonhams, bidding war after bidding war ensued, with attendees taking home the lion's share of the top lots.
"We are seeing the market respond to quality pieces with desirable estimates and pristine provenance," said Kayla Carlsen, Bonhams American Art specialist and head of sale.
Two Norman Rockwell illustrations tripled pre-sale estimates after lengthy bidding wars. Girl Choosing Hat, which was the cover for the January 31, 1931, edition of The Saturday Evening Post, realized $1,205,000, while another Post cover, The Facts of Life, from 1951, brought $941,000.
Sculpture on offer was also well received. Hiram Powers' serene marble bust, The Ideal Christ, reached $137,000, while another marble, Undine Receiving Her Soul by Chauncey Bradley Ives, brought $87,500. Bronze sculpture also saw success, especially Alexander Phimister Proctor's Stalking Panther, which sold for $60,000, five times its pre-sale estimate.
---
Bonhams California and Western Paintings & Sculpture, November 25, 2013
---
In Los Angeles, the fall sale of California and Western Paintings & Sculpture generated total sales of $3.4 million. With strong bidding spread between the auction room, Internet and phone bidders, works by numerous important California Impressionist plein air artists, Society of Six land-scapes and cityscapes, as well as two significant sculptures that rarely make appearances at auction created strong rallying bids.
Bonhams was proud to offer two important works by the preeminent California Impressionist painter Guy Rose. San Gabriel Road sold for $665,000, including premium. The second Rose painting on offer was Spring Rain, which sold for $149,000.
The notable highlight of the sale was John Frost's Spring, which sold above its high estimate for $269,000. The painting illustrates an area near Pasadena, beneath Mt. Wilson, and is the second-highest auction record for the artist. Furthermore, Bougainvillea, by Joseph Kleitsch, proved to be a hit and sold for $305,000. Of the top plein air artists on offer, William Wendt's Mt. San Antonio and Quiet Brook found new owners for a price of $106,250 each.
Finally, surprising results came from Maynard Dixon's Great White Throne and Frank McCarthy's Under Surveillance, which each sold for $112,500, more than twice their high estimates. In particular, the McCarthy painting achieved the second-highest price for the artist.
Overall, Fine Art Director of Bonhams, Scot M. Levitt, said, "Although there was robust bidding throughout the sale, the top offerings generated the most attention, virtually all of which sold. The Western market continues to storm forward, as multiple phone and absentee bidders filled the auction sheets in the latter portion of the evening."
---
Santa Fe Art Auction, November 16, 2013
---
The annual Santa Fe Art Auction, organized by Gerald Peters Gallery, furthered a tradition of classic Western art that has become an essential mainstay to the community of Santa Fe. Drawing collectors and art lovers from around the country, the event was held at the Santa Fe Convention Center and featured several works from historic Taos Society of Artists in addition to a broad range of works from contemporary artists including Roy Andersen, Martin Grelle, Kenneth Riley and Jim C. Norton, among many others.
The auction highlights included a dramatic oil on canvas from De Cost Smith [1864–1939], entitled Horse Stealing, which sold for $175,000. A work by Taos Society member, Oscar Berninghaus [1874–1952], Winter in Taos, sold below the $120,000 to $180,000 estimate for $75,000. The catalog cover art by Bert G. Phillips [1868 –1956], Indian Hunter, an oil on canvas, attracted collector interest and was the high-seller at the event with a hammer price of $240,000. Other strong sellers included works by Charlie Dye, Eanger I. Couse and Fremont Ellis. A final sales total was not available at press time.
---
The West Select Sale & Exhibition Phoenix Art Museum, November 8, 2013
---
The annual West Select Sale & Exhibition returned to Phoenix Art Museum, showcasing 34 of today's leading artists in an expansive look at the American West. Organized by the museum and presented by the museum's Men's Arts Council, The West Select raised nearly $500,000 on opening night, a portion of which will benefit the museum.
The Phoenix Art Museum honored participating artists with an awards ceremony to kick off the event. The judges were Jeff Mitchell, executive director of Mitchell Brown Fine Art, and Alan Petersen, curator of fine arts at Museum of Northern Arizona. They selected seven awards for exemplary work among the highest caliber of talent.
The Western Art Associates' Kieckhefer Award for Best in Show for 2013 West Select was awarded to D. LaRue Mahlke for her pastel painting, Connectivity. Many other artists were recognized in various media. For painting, Benjamin Wu (Silver) for Amilia, oil on canvas; and Merrill Mahaffey (Gold) for Los Alamos Cliff, acrylic on canvas. For sculpture, Walter Matia (Silver) for The Rebel Angels, bronze; and Steve Kestrel (Gold) for Fracking, sandstone, slate and bronze. Works on paper went to Dean Mitchell (Silver), Dry Heat, watercolor on paper; and D. LaRue Mahlke (Gold), Connectivity, pastel. Finally, Tom Palmore's oil on canvas, Majestic Cat, was purchased for the museum's permanent collection by the Western Art Associates, a museum support organization.