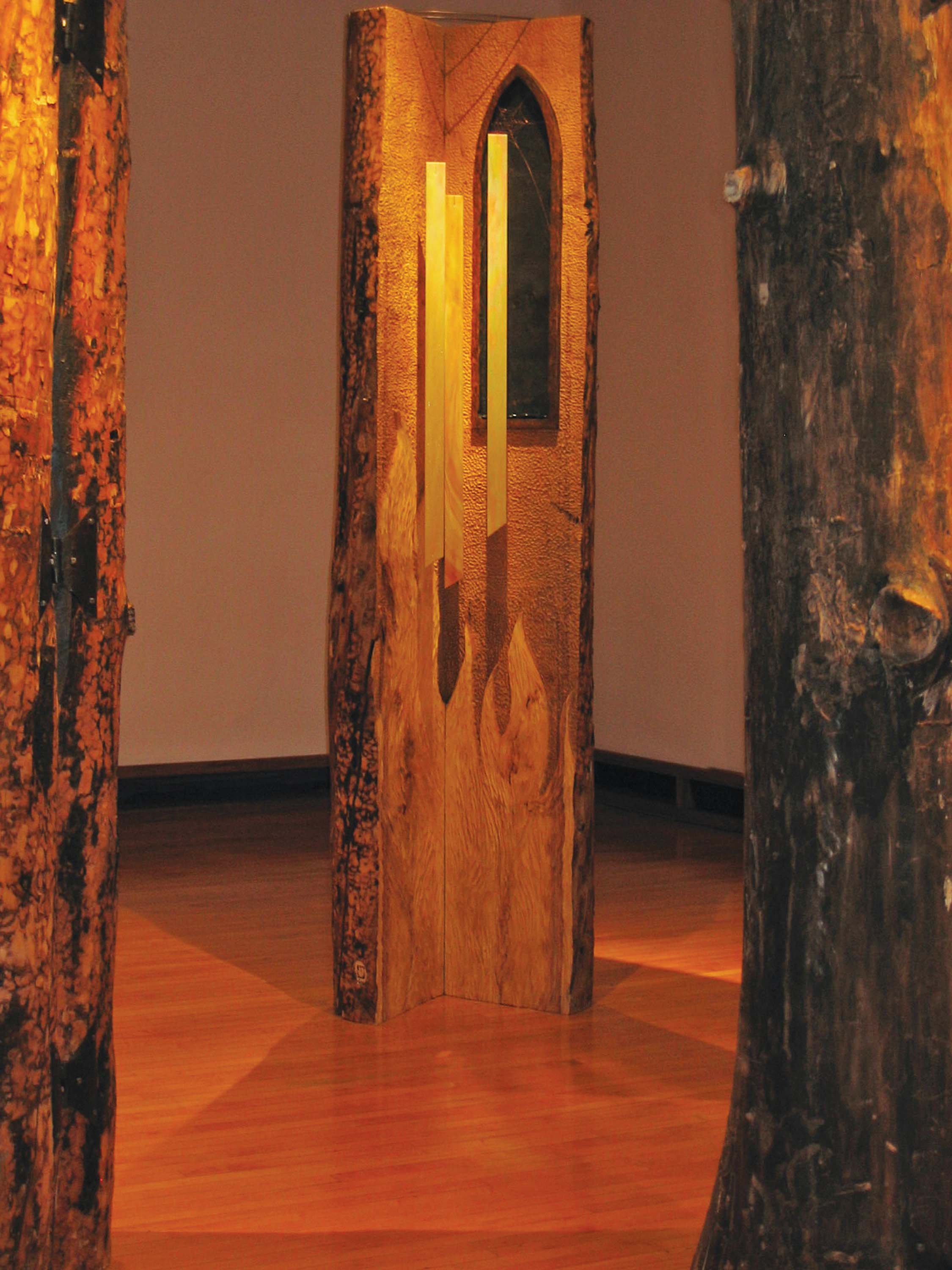 "Live it Gently" from the "Reliquaries" series
01 Apr

Ones to Watch: Amber Jean
---
On a mountainside overlooking the valley where the beautiful town of Livingston, Montana, sits quietly against the banks of the Yellowstone River, a dirt road winds and eventually ends at amber Jean's dream studio.
It's a large building, open and sun-lit, complete with a loft for napping and a hoist system to help maneuver her large sculptures. She's currently working on a reliquary series inspired by the feeling of sacredness and a saint's knucklebone she saw at age 17 in a German cathedral. Sawdust covers the ground below an 11-foot tree, split lengthwise, its halves laid side-by-side like a patient in a prolonged operation. Its organs are painfully chiseled to life, fleck by fleck.
Amber Jean Reinhard (she uses a shortened name professionally) is a multimedia artist creating works that are influenced by the natural world and her personal history. Over the years, she's built a creative portfolio that even includes sculpting thousands of pounds of chocolate for Nestle. She writes, is a public speaker, paints murals, creates monoprints and beautiful bronze sculptures, but she'll quickly admit that wood is her primary passion. In her work, she mixes wood types to achieve tonal and grain variations, and sometimes carves and stains the wood until it looks like hammered metal.
"It was one of those relationships where it just grew. I love the smell of wood, I love the wood grain, I love how much it lives decades after its dead. It's so compelling."
Amber's creative process is grounded in her active life. She's been shipwrecked on a Mexican island, stepped on by a bear while sleeping alone in the backcountry, nearly blown off Mount Rainer and flipped in class-V rapids. She worked seasonally as a backcountry ranger and firefighter in college. On her days off, she still goes ice climbing.
"For me, the strongest spiritual moments I feel are often outdoors … and I wanted to bring that back into my work," she said.
Drawing upon those experiences, she takes her life's stories and pares them down to the elements, like a poem or haiku, pulling the few lines with impact and transforming them into art. She spends time on each detail until the animals she sculpts become lifelike characters in the plot. Finally "giving birth" to her work and handing it to her audience, it develops a new life and story based on their experience, she explains.
By continuing to seek adventures and possibilities, Amber Jean will also continue to sculpt a creative life, sharing moments along the way for others to enjoy.