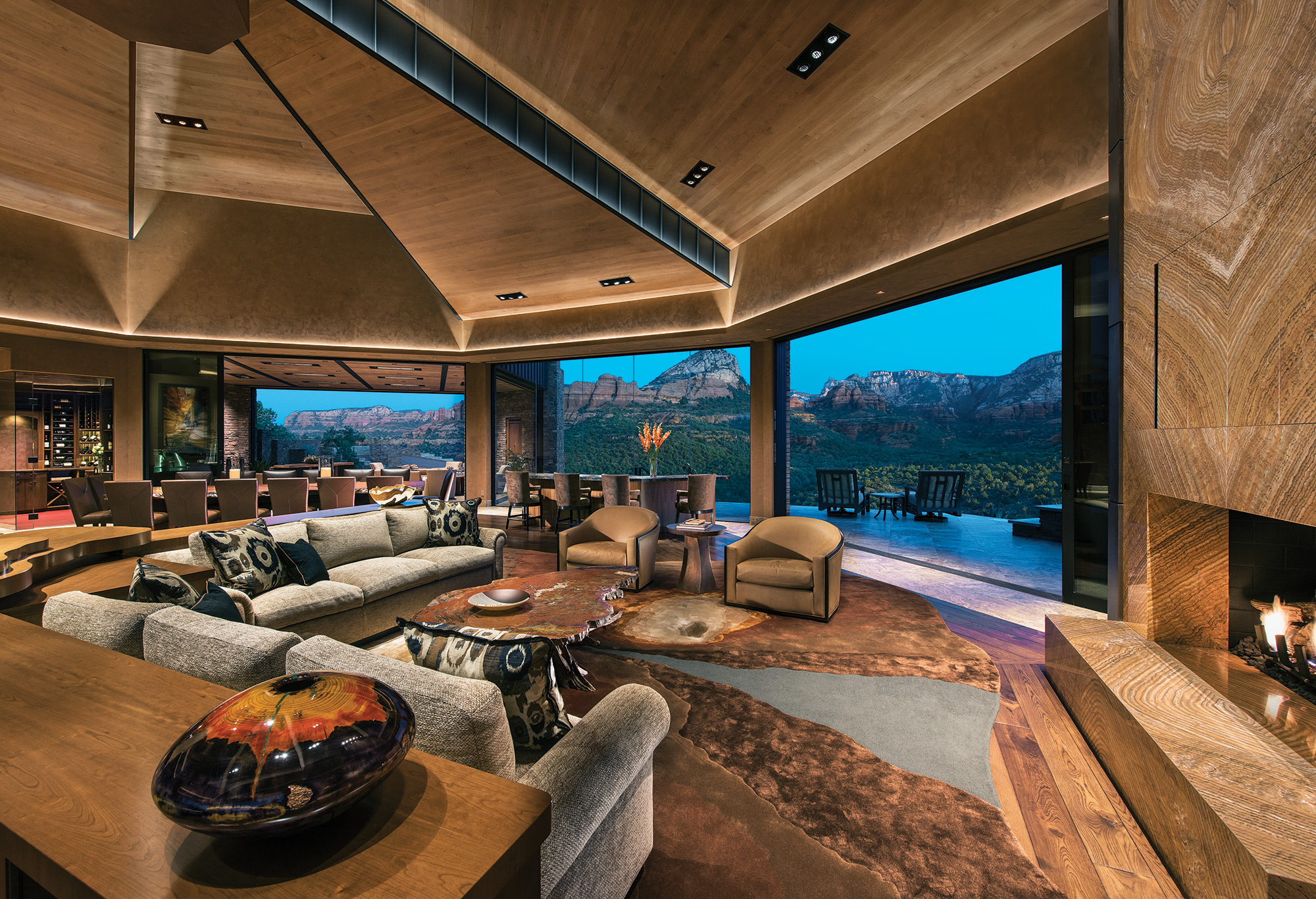 To create a sense of intimacy in the great room, Hersker designed a table-height divider that surrounds two oversized A. Rudin sofas. The multifunctional piece provides space for display and storage in addition to creating a sense of separation in the room. Pocketing glass doors retract to extend the living space to the outdoors.
14 Sep

Designing the West: Staying Power
---
Design trends, like fashion styles, tend to change every season. Yesterday's bell bottoms become this year's skinny jeans, and Tuscan textiles give way to Ikat prints. This is precisely why Scottsdale interior designer Susan Hersker makes a point not to invest her clients' money in the latest fads. Instead, she steers them toward classic lines, good quality and lasting craftsmanship.
"You don't want people to look at your home and know the year you designed it," she says. "Creating a sense of timelessness is very important to me. Trends come and go, and I never want a space to look dated. I might use a fabric that's currently in vogue on a sofa pillow, but never on the whole sofa."
From a young age, Hersker was always drawing and making art. Encouraged by her parents and teachers, she attended Arizona State University and earned a bachelor of fine arts degree in interior design. After early stints as a design assistant and retail staff designer, she started her own company, Design Directives, in 1981.
Influenced by the beauty of the desert, Hersker says she likes to blend materials, stones, metals and textiles that reflect the surrounding environment. "Southwest style has evolved a lot over the years, and it can range from more traditional Santa Fe to Palm Springs Modern. I help each of my clients interpret and visualize their personal style sense. As we work together, I'm able to help narrow down the hundreds of thousands of different options to just a few carefully chosen selections."
Hersker might begin the process by taking her clients shopping for slab stone. "It's like choosing a piece of art, and I start to get an idea of what they like. Then we can begin to determine what their furnishing needs are. We might begin at the design center, or travel to Los Angeles or San Francisco. I've shopped all over the country with my clients."
Depending on the scope of the project, Hersker often gets involved at the architectural design stage. "We'll do all the specifications and help source the various materials and everything that's attached to the house — the appliances, flooring, lighting, shower, ceiling treatments, you name it."
Hersker and her team prepare a big specification book that's passed out to all the subcontractors so that everyone is on the same page. She and her team visit the job site regularly, and Hersker is known for solving problems on the fly. "When a challenge comes up, I'll sketch out ideas of what can be done until we come up with a great solution," she says. "Really neat ideas evolve from days like that."
Client Jo Anne Harper and her husband, Steve, worked with Hersker for their Scottsdale home. "We appreciate Susie's versatility and how she bends with our style," Harper says. "For example, we have collections of African baskets, Navajo and Hopi pieces, and large abstract paintings by Pablo Antonio Milan in brilliant colors that she was able to incorporate in our home. She has a great eye for color, and she created spaces that are eclectic with a Southwest flair. Her ability to resource things is amazing. We wanted a light fixture over a very large dining table, and couldn't find the right piece. But Susie said, 'We're not going to settle,' and she found a glassblower in San Francisco to make a stunning custom fixture. From a budget standpoint, we appreciated her advice about where it pays to spend more and when you can spend less."
Serving on the Contemporary Forum with the Phoenix Art Museum, Hersker enjoys helping her clients showcase art in their homes. She and her team create a master list with dimensions of every available wall space to guide her customers' buying decisions when they're at galleries or auctions. "Some clients have very important art collections, so we might create a quieter environment that lets the artwork star in the space," she says. "We also spend a lot of time and effort getting the lighting just right, because good illumination is critical for showing off fine art."
Hersker and two employees share an office in north Scottsdale, and although the company has designed commercial spaces, such as offices and banks, the majority of its work is residential, and much of it is for homeowners who live out of state part of the year. "Because our environment is a little different, many clients are gone from late spring until October. But that doesn't slow our work; I'll mail them fabric samples and e-mail them photos and questions as we progress."
The designer often helps her customers with their second, third and fourth homes. "We become friends and develop trust," Hersker says. "There's nothing more satisfying for me than designing homes that my clients love for many years." And that's a design philosophy that seems unlikely to ever go out of style.
---
WA&A wants to know:
---
Scottsdale interior designer Susan Hersker shares some of her favorite inspirations, spaces and sources.
Q: Who are some of your style icons?
A: Sally Sirkin Lewis' design aesthetic speaks to me and is always timeless. She's known for her California style, and her look exemplifies clean-lined, elegant, contemporary design. She touts furniture as an art form, and I've always enjoyed designing furniture for my clients. When I think of Bunny Williams, I think of timeless, livable luxury. She loves to blend modern elements with antiques, and her work is not trendy.
Q: Describe your own home.
A: It's definitely eclectic, with a blend of things from contemporary furniture to beautiful antique pieces that were my grandmother's. No designer is ever 100 percent happy with our personal spaces, because we're constantly flooded with the latest and greatest products and overexposed to so much. I'd like to have seven homes and design each one differently.
Q: What's one of your most treasured possessions?
A: My piano. It's a dark walnut baby grand that I play to relax. I appreciate it because in addition to being a wonderful instrument, it's a beautiful piece of furniture.
Q: Tell us about one of your favorite interior wall colors.
A: I was told once that there are 738 colors of white, and I really believe it. When I choose a paint color I usually have other elements in place like the stone, fabrics and rugs, so I'll pull the correct white to go with those elements. Dunn-Edwards Whisper is a great, all-around light white that goes with almost everything.