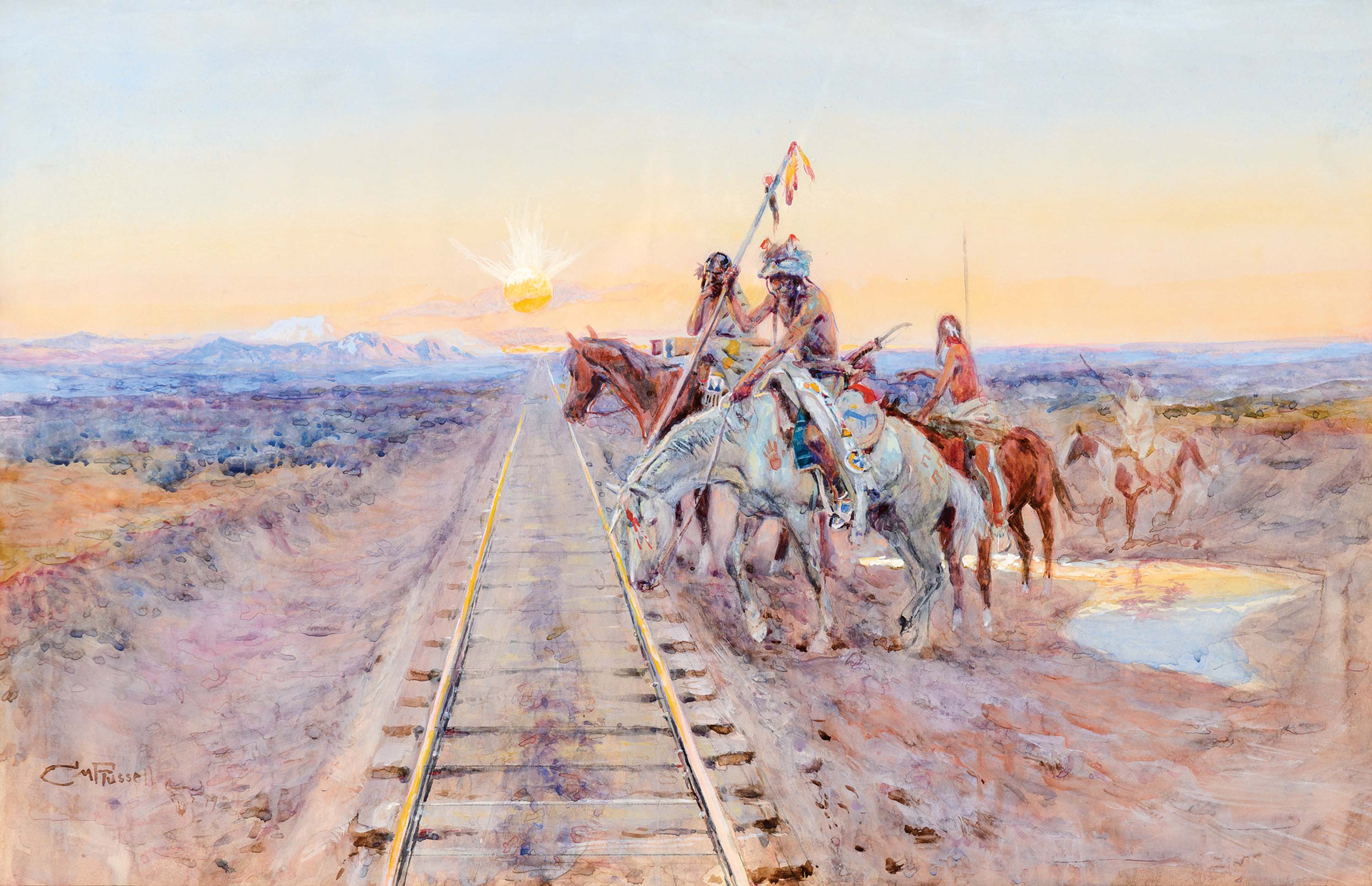 Charles M. Russell [1864–1926] | "Trail of the Iron Horse" | Watercolor on Paper | 17.5 x 27.5 inches | 1924 Sold at Auction: $1,929,000
19 Oct

Auction Block: Summer Sweep
---
The big news of the summer art season happened at the Coeur d'Alene Art Auction (CDAA) in July. Topping $30 million in sales for the second year in a row, CDAA shows that it remains the best and biggest auction house for Western art.
The rest of the action was in Santa Fe, New Mexico, centered on the weeklong celebration of Native culture at the annual Santa Fe Indian Market. From Manitou Galleries' and Altermann Galleries' auctions to countless art openings in the bustling historic city of Santa Fe, the Western art mecca delivered on its tradition of celebrating the visual arts with flair. Thousands of art enthusiasts from all over the world converged there to experience the best of Native American art, film, couture fashion and indigenous music. The event culminated with a gala and art auction to benefit the Southwestern Association for Indian Arts. The success proved to be a landmark for the organization.
---
Santa Fe Indian Market, August 23, 2014
At the 93rd annual Santa Fe Indian Market, tradition still stands as the greatest asset for every artist.
During the awards ceremony, Navajo weaver Lola Cody won Best of Show for Sands of No Water Mesa, a rug woven in a "Two Grey Hills" pattern that features the creams, browns and greys that occur naturally in the wool of the Churro sheep she and her husband raise in No Water Mesa, an area in the southwest corner of the Navajo reservation in Arizona. Sands of No Water Mesa measures 8 feet by 13 feet, 8 inches and was inspired by the landscape around her home.
Additionally, Cody's piece was awarded Best of Class for the Textiles Division. Class awards were granted to 10 other top categories, including jewelry, pottery, beadwork and quillwork.
The Jewelry class award went to Gerald Lomaventema, Hopi; Pottery to Chris Youngblood Cutler, Santa Clara Pueblo; Paintings, Drawings, Graphics and Photography class to Norma Howard, Choctaw/Chickasaw; Wood Pueblo Figurative Carving and Sculptures to Bryant Honyouti, Hopi; Sculpture to Marvin Oliver, Quinault and Isleta Pueblo; Diverse Arts to Donald "Babe" and Carla Hemlock, Mohawk; Beadwork and Quillwork to Joyce, Jessa and Juanita Growing Thunder, Assiniboine and Sioux; Youth 17 and under: Alyssa Kohlmeyer, Jemez Pueblo; Moving Images to Sydney Freeland, Gallup; and Basketry to Jeremy Frey, Passamaquoddy.
Culminating with the sold-out gala, hosted by the Southwestern Association of Indian Arts, the live auction achieved record results. Collectors, patrons and artists bid on pieces graciously donated to SWAIA by top Native artists. There were two collaborative concho belts and a significant contribution by famed jeweler Jesse Monongya, which contributed to the impressive live auction total of $280,000.
---
The Auction in Santa Fe, August 17 – 18, 2014
The Auction in Santa Fe organizers, from Manitou Galleries, have built a reputation on bringing high-quality Western and Native American collectibles to market, along with an impressive mix of fine art. With more than 700 lots to sell during the two-day auction, there was something for every collector. High-quality Navajo rugs, intricate beadwork and historic firearms were interspersed with works of fine art at varying price ranges for a total sales figure of $###,###, ###TK Tuesday.
This year's top-selling lot was an oil on board by Birger Sandzen, Kansas Landscape, which realized $43,125, accompanied by another Sandzen painting of the same region, which sold for $20,700. An oil by William Acheff, An American — San Ildefonso, garnered $9,200, and Ken Laager's painting, The Language of Smoke and Fire, sold for $18,400. A series of four chromolithographs by Frederic Remington sold for $9,775 and a gorgeous, large Acoma pot drew $11,495. Other works by Gustave Baumann and contemporary artist Steven Lang sold well, too.
---
Altermann Galleries Santa Fe Auction, August 16, 2014
Altermann Galleries' Santa Fe auction reached $1.9 million in sales, a record for the annual event leading up to Indian Market. Last year's same sales total was $1.3 million.
high estimates are Albert Bierstadt's work, View Through the Trees, at $75,000 (estimate $40,000 – $60,000) and Maurice Braun's California Vista, at $70,000 (estimate $40,000 – $60,000). Other top – selling highlights include Edgar Payne's Mount Alice, which realized $68,750, and Riders, by Ernest Martin Hennings, and At the Hitching Post by Oscar Edmund Berninghaus, which claimed $68,750 and $62,500 respectively.
Scot M. Levitt, Bonhams' director of fine arts, commented, "It feels as though the market is well on its way back to the highs of six to eight years ago. We are always striving to increase the quality of the paintings offered, as sought after by our buyers, and look forward to even more stellar results in November."
---
Coeur D'Alene Art Auction, July 26, 2014
The 28th Annual Coeur d'Alene Art Auction realized an impressive total of $30 million in sales for the second year in a row at the 2014 Auction in Reno, Nevada. The single largest event in the field of classic Western and American art saw more than a 96-percent sell-through rate.
With five lots selling for more than $1 million, the auction floor buzzed with excitement. The top-seller of the two-day sale was the high-profile watercolor from Charles M. Russell, entitled that sold in a lively round of bidding for $1,929,000. Not far behind were Frederic Remington's oil on canvas, The Story of Where the Sun Goes (1907), which garnered $1,705,000, and Thomas Moran's A Water Pocket, Northern Arizona (1907), at $1,481,000.
Other notable works included a bronze from James Earle Fraser, The End of the Trail, that reached $921,000. John Clymer's oil, Water, Water – Overland Astorians – 1811 (1978), sold for $526,500; Bob Kuhn's The Spawning Run (1991), drew $497,250; and Eanger Irving Couse's oil, The Pottery Maker (1923), went for $438,750. More works from C.M. Russell drew high prices; additionally Clark Hulings, Philip R. Goodwin, W. Herbert Dunton, Hermon Atkins MacNeil and Frank Tenney Johnson were standouts on the auction block. Contemporary works that led the sale included paintings by artists Z. S. Liang; Andy Thomas; Ken Carlson; John Banovich; and 16 others who were commissioned to offer works at this event.
Ultimately setting 11 world records for living and deceased artists before a crowd of 750 bidders at the 2014 sale, the Coeur d'Alene Art Auction has now netted its clients nearly $240 million in the last decade alone. Trail of the Iron Horse (1924),
J. H. Sharp [1864–1926] | "After the Hunt" | Oil On Canvas | 30 x 36 inches | Sold at auction: $240,000
Michael Stack, "Waiting on the Summer Rain" | Oil On Linen | 42 x 60 inches | Sold at auction: $26,400
James Earle Fraser [1876–1953], "The End of the Trail" | Bronze | 36 inches (high) | 1918 Sold at auction: $921,000