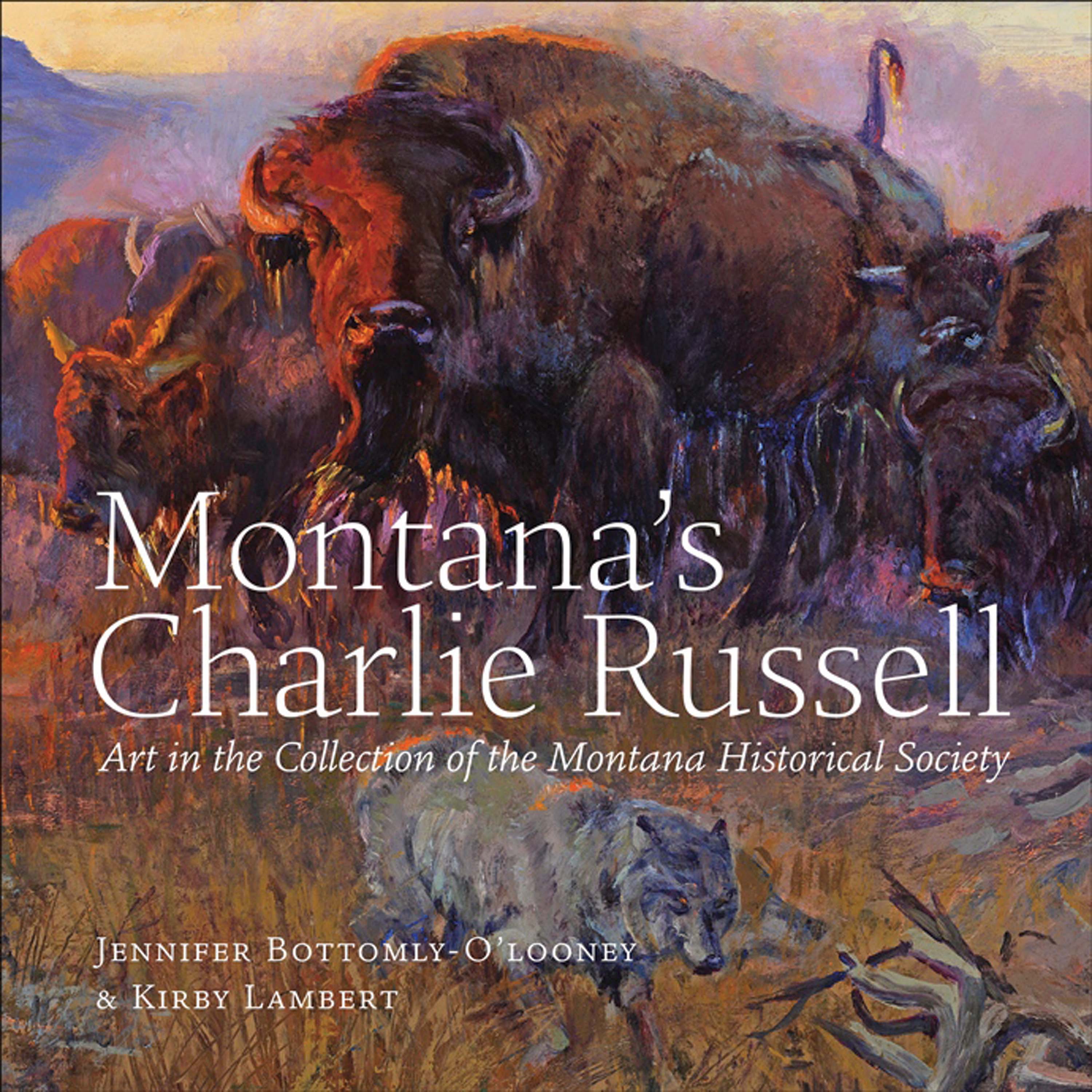 Montana's Charlie Russell from the Montana Historical Society
02 Mar

Details: Things We Love
---
Montana's Charlie Russell from the Montana Historical Society
We have good news for those who love Charlie Russell's storytelling. In addition to his iconic drawings and sketches, the artful letters he wrote to friends are included in Montana's Charlie Russell, a new book featuring the 230 – piece, world – class collection of paintings, bronzes, drawings and illustrated letters of the Montana Historical Society. Authors Jennifer Bottomly – O'looney and Kirby Lambert illuminate the stories behind each piece. Produced in vivid color, a cloth – bound edition is available now. Or you can wait for the leather – bound collector's edition.
$80 | 432 pages | 800.243.9900 | montanahistoricalsociety.org
---
Andy Kirk's Navajo Circular Pin by Palace Jewelers at Manitou Galleries
The late Andy Lee Kirk [1947–2001], of Isleta Pueblo and Navajo heritage, revolutionized Native American jewelry by using yellow gold instead of the traditional sterling silver. Andy's Navajo Circular Pin with Kokopelli imagery will delight lovers of both Native American and gold jewelry. During his lifetime, Kirk's work earned multiple honors at Santa Fe's prestigious Indian Market; he was known for blazing through competitions, inspiring fellow artists and wowing judges. His untimely death at 54 left a gaping hole in the community and in the world of Native American jewelers. This circular pin is a quintessential Andy Kirk piece and an absolute treasure.
$3,600 | 1.5 inches in diameter | 505.986.0440 | manitougalleries.com/jewelry
---
Arts and Crafts Mirror by Holton Studio Frame Makers
The perfect combination of art and craft work together to make this mirror from Holton Studio Frame Makers a thing of beauty. For a Craftsman bungalow or an interior with Mission furniture, this oak – frame Arts and Crafts Mirror, made from select hard – woods, is an artful alternative to mass production. Timothy Holton's love of architecture shows through in each custom – designed piece. Growing up in Berkeley, California, where his family still owns a 1909 bungalow, his knowledge of the Arts and Crafts period has earned Holton a nationwide clientele, including Alice Waters and her legendary restaurant, Chez Panisse. His mirrors are made from a variety of woods and Holton customizes every detail, from staining and beveling to carving.
$969 | 40 x 31 inches | 510.450.0350 | holtonframes.com
---
God's River Brook Trout Lamp by George Northup
An avid fly fisherman and an accomplished sculptor of wildlife, George Northup's bronze and copper lamps are 100 percent made in America. For every fly – fishing fan, the two brook trout on the God's River Brook Trout Lamp are like dreams come true. Each lamp is topped by an impressive buffed copper shade. Known for his bronze portraits of wildlife, Northup's work is in six national museums and private collections across the country. In fact, we know one of these lamps is in the collection of someone who was either president of the U.S. or ran for president.
$6,800 | Edition of 50 32 x 22 x 11 inches | 307.690.1170 | georgenorthup.com
---
Beaver Blanket by Adirondack Beaver Blankets
On a cold, snowy day, the perfect accompaniment to a crackling fire is this luxurious Beaver Blanket by Adirondack Beaver Blankets. Known for dense wool, long guard hairs and rich color, northern New York State beaver fur is some of the finest in the world. Keith Landies and his son turned the fine fur into a business in the mid – 1980s, selecting or harvesting furs for blankets, pillows, throws, vests, hats, slippers and other products. Working together from their Adirondack trapping camp through the coldest winter months, they are dedicated to conservation through the wise use of furbearer resources. The beaver pelts in these blankets are carefully matched for color, density and weight to create uniformity. So snuggle up — even its soft, dark velvet backing assures comfort and luxury.
$5,795 | 72 x 72 inches | 440.286.1998 | adirondackblankets.com
---
Circa 1950s RCA Bakelite Telegenic Aquarium by Paul Leibow
Inspiration came to Paul Leibow one day while surfing south of Asbury Park, New Jersey, Bruce Springsteen's hometown. Leibow, who had been creating cover art for Springsteen, found himself wandering around the town when he came upon a rare 1950s – era Bakelite black – and – white television set in an antique shop. For Leibow, it was a beginning. By fashioning unwanted vintage TVs into Telegenic Aquariums, he created a new art form that, he says, can be watched "with – out the bother of commercials." Each aquarium is unique both in its cabinet design and in the art. One can't help but wonder, knowing Leibow's past, if the Boss meditates while watching one of these beauties.
$3,000 | 19 x 18 x 38 inches | 888.932.5889 | paulleibow.com
---
Hollyhock Fireplace Tie by Art Institute of Chicago Gift Shop
Frank Lloyd Wright's first house in the Los Angeles area, the Hollyhock House, is a National Historic Landmark. Built in 1920, it housed the California Arts Club from 1927 to 1942 and was reopened in 2015 after a $4.3 – million renovation. Built for oil heiress Aline Barnsdall, it is the main attraction of Barnsdall Art Park on Hollywood Boulevard and was named for her favorite flower, which is portrayed throughout the home in details large and small. The fireplace of the living room sports a cast stone mural representing the elements of the earth — fire, water and air — the design of which is tastefully depicted on this silk men's tie from the Art Institute of Chicago where many of Wright's works are housed. We love this tie for the unmistakable Wright design.
$50 | 855.301.9612 | artinstituteshop.org
---
Buccellati Rings at Nedra Matteucci Galleries
With 42 round – cut diamonds expressing 1.02 total carats, Buccellati's 18K yellow gold Romby ring is a dream for the romantic. Three generations of the Buccellati family of Milan continue the tradition of Italian Renaissance crafts – manship, delighting fans around the world. The Macrame 18K white gold ring from the Trina collection is perfect in its lightness, bearing 4.45 grams of gold. Luckily, one doesn't have to travel to its flagship store on Place Vendome in Paris to partake of the pleasures of slipping a Buccellati onto a finger. One of a kind, these rings will make any bride blush or, as an anniversary gift, perhaps rekindle that honeymoon mood?
Romby ring: $5,600 | Macrame ring: $3,800 | 505.982.4631 | Matteucci.com
---
Z Lounger by South of Urban
Relax, renew, sit back and enjoy this Z Lounger. Its angles and tapers are designed to offer a comfortable and quintessential mid – century modern – inspired work of art. With a credo of "modern sustainable furniture built by designers," Jonathon Quinn and his team at Atlanta's South of Urban handcraft each heirloom piece from locally sourced materials that are geared for comfort. The chair is offered in a variety of luscious options: maple, walnut or cherry wood, and its upholstery, from Maharam Fluent, comes in many colors. Through the knowledge of traditional wood craftsmanship and 21st – century manufacturing technologies, this chair is designed to please.
$1,100 | 30 x 36 x 28 inches |404.805.5307 | southofurban.com
---
Wood Pallet and Barn Wood Panels by Sustainable Lumber Company
Voted the best – selling home décor in 2014 on the popular website Houzz, these smartly crafted Pallet and Barn Wood Panels are just the thing for weekend warrior projects. The patent – pending design utilizes recycled pallets and reclaimed barn wood to create prefabricated panels with staggered and interlocking ends and offset top and bottoms so they easily lock into place. Ryan Palma and his staff at Sustainable Lumber Company in Missoula, Montana, created these 4 – foot square panels for every interior use, both residential and commercial applications. Installation is clean and quick. Who wouldn't love that?
$17 per square foot | 4 square feet per panel | 406.642.7120 | sustainablelumberco.com
---
Fixie Bicycle by Big Shot Bikes
One of the most fun of the très chic and trendy bicycles we've seen is this dandy, custom Trina from Big Bikes in Fort Collins, Colorado. Choose your ride in any combination of nine colors. If you want your frame turquoise and your handlebars red, you got it. Wheels yellow? You got it. In fact, you can choose to color – customize your ride right down to the pedals, tires, chain guards, rims, grips and saddle. What more could you want? Oh, a carrier? Would a wooden inlay rack work for you? What, you like to ride bare – foot? Big Shot has a barefoot – friendly pedal. No matter if you are looking for a beach cruiser or a polo bike, Big Shot Bikes likely has the ride for you.
$299 to $449 | 970.775.1233 | bigshotbikes.com