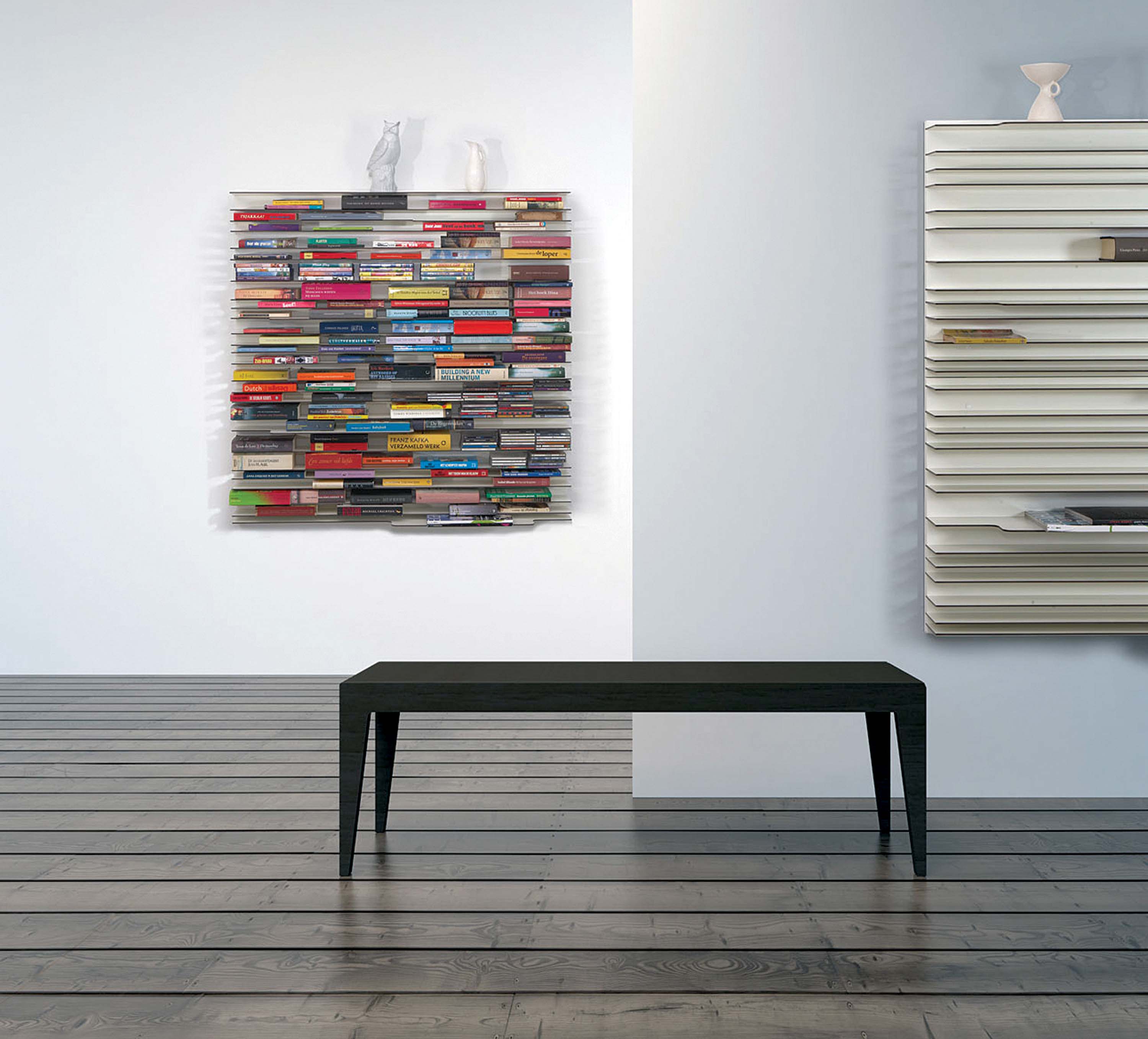 09 Jun

Details: Things We Love
---
Paperback Bookshelf from suite NY
Created as a tribute to the book, the Paperback Bookshelf displays a palette of color while keeping things organized. Designed by Studio Parade, the medium-size shelf holds up to 80 books and includes 13 moveable shelves that allow you to adjust the depth for larger books. Three of the shelves also have a projecting tab for magazines or trinkets. Made from paper and resin that is bonded with pressurized heat and finished in a white or warm lustrous lacquer, the Paperback Bookshelf is available at SUITE NY, a Mid-century Modern and contemporary furniture showroom.
$560 | 47.2 x 23.6 x 4.6 inches | 212.421.3300 | www.suiteny.com
---
Sognare by Toots Zynsky
Toots Zynsky's work is a unique exploration in color and shape. She uses thousands of delicate, light-reflecting glass threads to create her vessels, which are represented in more than 70 international museums and public collections. In 1982, after earning a fine arts degree from the Rhode Island School of Design (where she studied with renowned glass artist Dale Chihuly and participated in the founding of the Pilchuck Glass School in Washington), Zynsky began to experiment with works that fused nests of glass threads with blown glass forms. Since then she has refined her process, developing new equipment and perfecting her technique. To make each vessel, Zynsky first layers strands of multicolored glass threads onto a round, heat-resistant fiberboard plate. She then fuses the threads inside a kiln, slumping the glass and repeatedly reaching into the kiln, wearing special heat-resistant gloves, to squeeze the glass into its individual form. The result is a beautiful work of art that is as distinctive as her one-of-a kind creative process.
$39,000 | 16.25 x 16.75 x 16 inches | 212.239.8600 | www.tootszynsky.com
---
Freshwater Pearl Ring by Randy Polk Designs
A pink, high-luster freshwater pearl sits atop an unusual inlay of opal and pink quartz with diamond accents in this ring by jeweler Randy Polk. Based in Fountain Hills, Arizona, Polk's award-winning designs focus on styles that are expressive and interesting, never typical, traditional or boring. Following the tradition established by Peter Carl Fabergé, who became a historic jewelry designer by embracing bold design concepts and blending exotic materials with gemstones, Polk's work seeks to stage a creative renaissance, offering sophisticated and artful designs that push the boundaries of traditional jewelry design. His jewelry, with its harmonizing color, is often exhibited alongside paintings and sculptures.
$12,000 | 1 x .5 inches | 480.445.0345 | www.randypolk.com
---
Thousand Petal Art Vase by White Earth Ceramics
As a potter for 30 years, Nancy Monsebroten creates delicate, yet durable handmade porcelain pots and sculptures inspired by organic elements. "Although this Thousand Petal Art Vase is extremely time consuming, the process becomes very meditative for me," she says. "The 900 to 1,000 (no kidding, I counted) petals are individually shaped and attached to a wheel-thrown base." The vase is constructed from high-fire porcelain clay and finished with a white, satin matte glaze for durability and water tightness. She prefers glazes with a soft, matte finish. The formulas she uses originated in Japan and were handed down to her. "Like the prairie and the sea, my pieces display subtle hues against large neutral backgrounds — a touch of color or a glint of pearl, like finding a prairie rose in an otherwise green meadow or a single shell on a stretch of sand," she said.
$200 | 15-inch circumference | 608.781.1758 | www.whiteearthceramics.etsy.com
---
Colorado Skinner by Graycloud Designs
Robb Gray's fascination with knives began when he was 12 years old and made his first one. He used an old file, attaching an elk horn handle and creating a sheath by stapling together two pieces of leather. Today, his knives have garnered national awards, including recognition at shows hosted by the Oregon Knife Collectors, the Northwest Knife Collectors and the Montana Knifemakers Association. The idea for the Colorado Skinner was inspired by a mule deer hunting trip in Colorado. The lusciously curved knife is made from a highly polished, stainless-steel blade with detailed and intricate Sheridan-style hand-engraving. The handle is made from camel bone, accented with sparkling rubies in the pins. "I draw my blade and handle shapes using just about anything as inspiration, but, most importantly, each knife I develop has to serve well its intended function," says Gray. In addition to knives, Gray custom engraves guns and creates jewelry and leather goods from his workshop in Seattle, Washington.
$1,545 | 6.75 inches with a 3.75-inch edge | 206.280.7622 | www.graycloud-designs.com
---
Trough Sink by Native Trails
Perfect for sharing, the Trough Sink by Native Trail incorporates sustainable, eco-conscious materials. Each sink — available in an ash, slate or pearl finish — is handmade by artisans using a multistage process resulting in a stylish and durable product for the kitchen or bath that is stain, scratch and crack resistant. The sink's design capitalizes on the inherent durability and resilience of jute, a vegetable fiber traditionally used for making rope, twine and heavy-duty packaging. When mixed with cement, jute helps to produce an extraordinarily strong material, while creating a product that is about 40 percent lighter than a standard concrete sink.
$1,685 | 48 x 19 x 5 inches | 800.786.0862 | www.nativetrails.net
---
Glass Tables by Ona Magaro
Glass artist Ona Magaro creates a variety of light fixtures, sculptures and additional works from her Livingston, Montana, studio. She earned a fine art degree from the New York School of Art and Design, experimented with glass fusing in Venice, Italy, and later earned a master's degree in fine arts from Bowling Green State University in Ohio. "Sculpture for me best defines the changing relationship between mass and space," she explains in her artist's statement. "Full sculptural expression is spatial — it is the three-dimensional realization of an idea …" In the design of this Round Table, she sought to create a visual sleekness with legs that blossom from the base of the structure, creating a sense of weightlessness. The Square Table includes a textured bottom that you can see when you look through its smooth top. "These tables have both a physical and visual presence, and a light yet solid feel," says Magaro. With each of the tables, the tops are created from hot, cast glass that is melted into a mold. Each of the table's legs are handforged from metal.
Round table: $700 – 16 x 18 x 24 inches | Square table: $2,200 – 34 x 30 x 18 inches | 406.220.0699 | www.onamagaro.com
---
In the Shadows of the Tetons by Ward + Blake Architects
In the Shadows of the Tetons by Ward + Blake Architects, documents the residential and commercial buildings created by the firm over the last 17 years. The 265-page monograph includes floorplans, photos and descriptions that provide a unique insight and first-hand account of the intention behind each impressive dwelling. From a sod-roofed home that embraces the land's natural contour to a 1980 Tudor-style renovation to a conception-stage, high-end resort with 250 rooms (each with its own private roof-top garden), readers can examine in detail the placement and functionality of these structural works of art. The Jackson, Wyoming-based firm was built on a distinctive vision: "Be provocative in thought, flexible in nature and disciplined in execution." The Modernist firm also draws upon historical context for its work, which is largely inspired by the rugged beauty of the Rocky Mountains and the Western landscape.
$60 Hardback | 256 pages | 307.733.6867 | www.wardblakearchitects.com
---
Grandpa's Tackle Box by Bear Paw Designs
From his workshop in Stevensville, Montana, Mike Roths of Bear Paw Designs creates handcrafted cabinetry and furniture inspired by the cowboy culture of yesteryear. As a woodworker since 1979, Roths is influenced by the art and mystery of the historic West, with an appreciation for the ghost towns, gunfighters and trappers that first defined its wild aesthetic. When Roths discovered that painter Brent Cotton was his neighbor, the pair collaborated to create this impressive fishing-themed cabinet. Built of sturdy walnut and African bloodwood, its design incorporates vintage wooden fishing lures from the 1920s through 1950s. The center panel displays original artwork by Cotton, whose imagery and plein air painting has garnered national awards and collectors including Oprah Winfrey and Tom Brokaw, among others. Old-world craftsmanship, such as mortise-and-tenon joinery, and the incorporation of fantastic fine art makes Grandpa's Tackle Box a piece to be shared between generations.
$25,000 | 44 x 56 x 21 inches | 406.239.2050 | www.bearpawdesigns.com