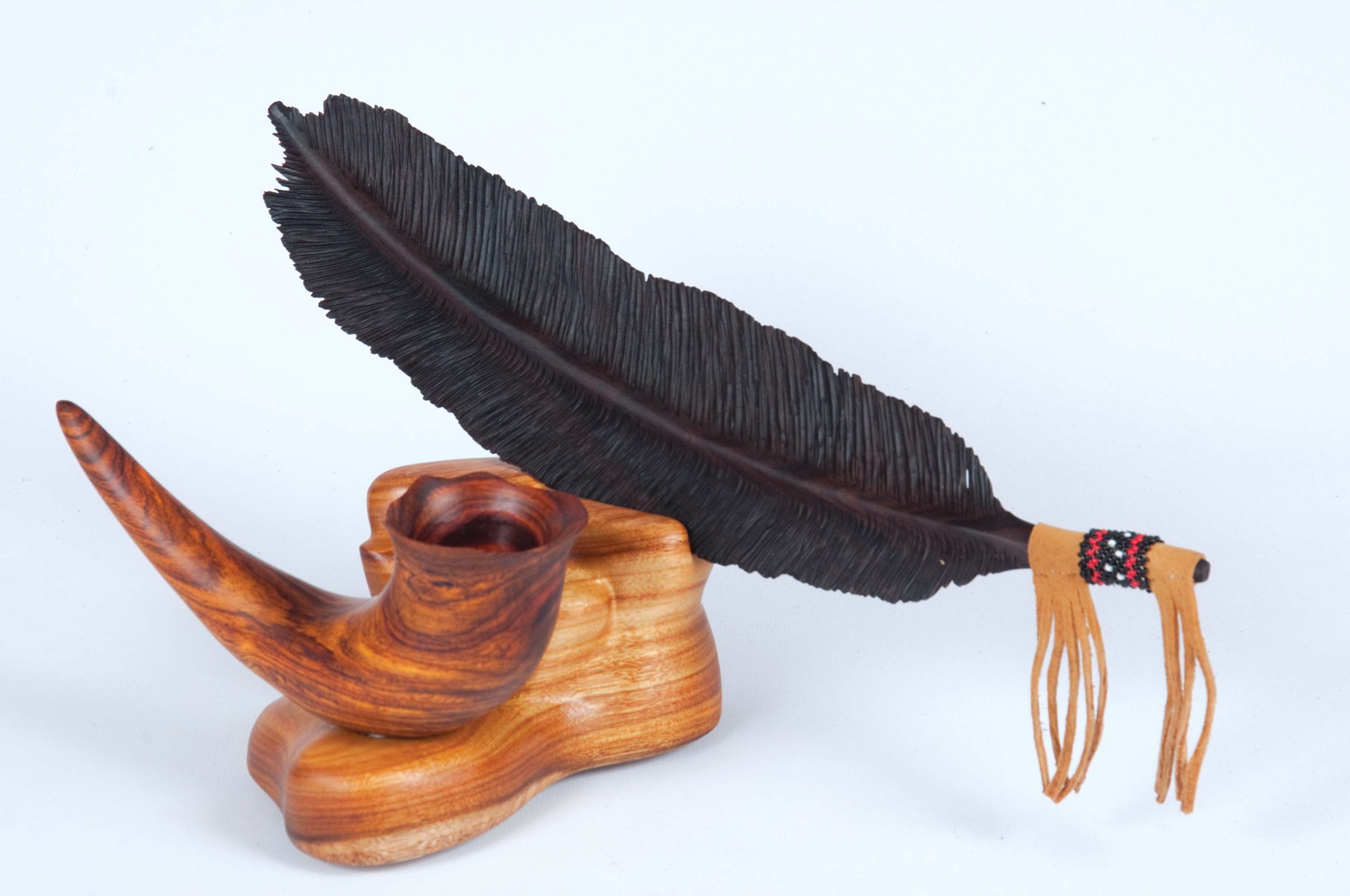 Carved Eagle Feather by Tom Dean
19 Oct

Details: Things We Love
---
Carved Eagle Feather by Tom Dean
Tom Dean is a self-taught artist working with exotic woods from his home in Great Falls, Montana. This black Eagle Feather was carved in exquisite detail from Bolivian rosewood. He created the base for the feather from a block of canary wood found in Ecuador and the attached bison horn is made from cocobolo wood. Dean collaborated with Ennie Raya — another Great Falls artist from the Rocky Boy Reservation — for the black, red and white beadwork found on the feather's tip. Dean creates a wide variety of sculptures from wood including trout in stream settings, frogs, cattails and a full-size bison skull, among others.
$3,100 | 6.5 x 13 x 7 inches | 406.868.8889 | www.milocreekcarvings.com
---
Glory Necklace by Elle Schroeder
Known for the quality of her stones, Elle Schroeder creates one-of-a-kind jewelry pieces that focus on a "dramatic seamless flow of color." From her Dreamtime Collection, the centerpiece of the Glory Necklace is an Australian boulder opal with black opal characteristics that offers layers of brilliant reflective color. Lavender-faceted tanzanite, that came from a gem show in Tucson, Arizona, 10 years ago, and 18-karat gold accents complement the stunning centerpiece stone. Schroeder's Dreamtime Collection of opal jewelry honors the stone's Australian origins and the infinite spiritual cycle that Australia's original inhabitants call "the dreaming." This principle is based on the belief that opals have a spiritual value and represent parts that dreaming ancestors left behind as a sign of their presence.
$3,260 | 18.25 inches | 408.998.2598 | www.elleschroeder.com
---
Stetson Serape Boot
Stetson marked its 100th anniversary in 1965, and while the company built an internationally recognized brand with its cowboy hats, today the Stetson line has expanded to include much more, such as home textiles, belts, wallets and that other cowboy staple, boots. Perfect for a fall look, the Stetson Serape Boot is handmade with genuine leather and serape wool to give these kicks a unique Southwestern flair. Available in deep red with dark brown leather or a canary yellow with light brown leather, this handmade boot is built with the quality craftsmanship one can expect from a company that's manufactured products with "an authentic American spirit" for close to 150 years.
$390 | 866.271.7077 | www.stetson.com
---
Floor Lamp by Elegantly Twisted Furniture
For the last 18 years, Randy Holden has created one-of-a-kind rustic furnishings from small trees, branches, roots and bark that he finds. His inspiration comes from those materials, letting the wood help shape the final result. "Always be ready to head in a new direction when something suggests it," he says, explaining that he once set out to create a grandfather clock, but it became a full-length mirror instead. His Floor Lamp, for example, was inspired by the twisted stem that makes up the lamp's body. The lamp also incorporates treated mica in its shade as well as lacewood, birch bark and maple that is stained and varnished. Two pieces of burl wood comprise its sturdy base. The final product is a unique, functional art piece created from the natural environment.
5 feet, 9 inches x 24 inches | $7,900 | 207.474.7507 | www.elegantlytwistedrusticfurniture.com
---
Diana Bowl by Beatriz Ball
Working with skilled artisans in a foundry near an inactive volcano in Mexico, Beatriz Ball creates unique and elegant metalware vessels for use or as display items. Each piece of fine metalware from her collection passes through 12 sets of hands during its construction. Introduced last year, the Diana Bowl includes graceful curves and a rippled edge of pearls. Using the ancient and precise art of sand casting, molten aluminum alloy is poured into individual sand molds. Once cooled, the piece is polished four times until it shines, creating a sense of character made possible by individualized craftsmanship.
$165 | 15.5 x 5.375 inches | 888.265.1069 | www.beatrizball.com
---
Promise of Spring by Jordan Straker
As a woodcarver for 20 years with more than 200 awards, Jordan Straker will always be passionate about his medium derived of trees. But about two years ago he began to carve gourds, creating detail and texture in the dried fruit shells until they look as if they're crafted from something else. Take, for instance, Promise of Spring, which looks as if it's made of dyed leather. His subject matter ranges from whimsical to traditional, and the gourds take about six weeks to carve. Each piece reflects Straker's talent as a sculptor and his ability to transform any medium into something unexpected and uniquely beautiful.
$3,900 | 15 x 13 inches | www.jordanstraker.com
---
Sir Whitley Trunk by Chuck's Woodbarn
Chuck's Woodbarn specializes in the lost art of steam bending wood to create beautiful hand-crafted trunks and furniture. Showcased at the Calgary Stampede this past July, the Sir Whitley Trunk is made of hand-selected oak, European embossed lizard skin and steam-bent wood bows. Its interior is lined with Weston Pepper designer fabric with quarter-sawn oak accents, and the trunk includes removable trays and three secret compartments. Company owners Chuck and Sherry Zeller design and build each chest with an emphasis on fine craftsmanship. They aim to create heirloom-quality pieces that will be shared between generations. Each chest can be personalized with names, pictures or memorabilia and is signed by the artists.
$7,200 | 36 x 20 x 20 inches | 308.692.3119 | www.chuckswoodbarn.com
---
Natural Stone Belts by Cynthia Bigony
Cynthia Bigony attends gem shows and amid the sparkle, she is drawn to the more organic items on display: fossils, crystals, geodes and petrified woods. As a jewelry designer, she saw the potential to create something beautiful. The result is a line of eye-catching belt buckles. From sliced agates, which are brightly polished and come in various hues, to irregularly shaped druzy crystals, each is uniquely handmade. Buckles are interchangeable on their accompanying leather belts to easily adapt to the wearer's mood and the moment. The buckles are as versatile as they are varied, switching readily from a blue-jeans-and-boots ensemble to a little-black-dress outing. These wearable artworks infuse nature into fashion.
$150 | Sizes vary | 415.888.8796 | www.thestoremillvalley.com
---
Tote Bag by Grace Ann Agostino
Grace Ann Agostino creates one-of-a-kind handbags that blend exotic skins with other fine materials. She's created bags for 35 years, and her designs are inspired by the colors and texture of the Western landscape while focusing on the juxtaposition of old and new. This Tote Bag blends exotic crocodile skin with portions of a recycled Persian rug, Italian leather and a vintage silver-and-turquoise accent that she found at an antique shop. The bag's interior is lined in Italian leather for a sturdy and supple result that's grounded in Agostino's love of the West and her eye for exquisite materials.
$3,000 | 18 x 14 x 4 inches | 610.664.7114 | www.graceannagostino.com
---
Skeleton Pin by Kit Carson Jewelry
As an artist that has picked hand-engraved jewelry to illustrate his fascination and love of the Southwestern desert, Kit Carson creates wearable sculptures through carefully planned details. "It's the nostalgic freedom of the Western landscape and a return to a natural and simple life that I want to capture in my art," Carson said. Themes in his work include cowboys, desert animals, Art Nouveau, dragonflies and a Day of the Dead series. This Skeleton Pin includes dainty butterflies, a bandanna, cowboy boots with spurs, and a raven, all delicately etched in silver and gold. With moonstone, turquoise and fine-gem accents, this little vaquero muerto is a dazzling work of art that pays tribute to the American West.
$4,300 | 3.5 x 2.7 inches | 623.465.2680 | www.kitcarsonjewelry.com