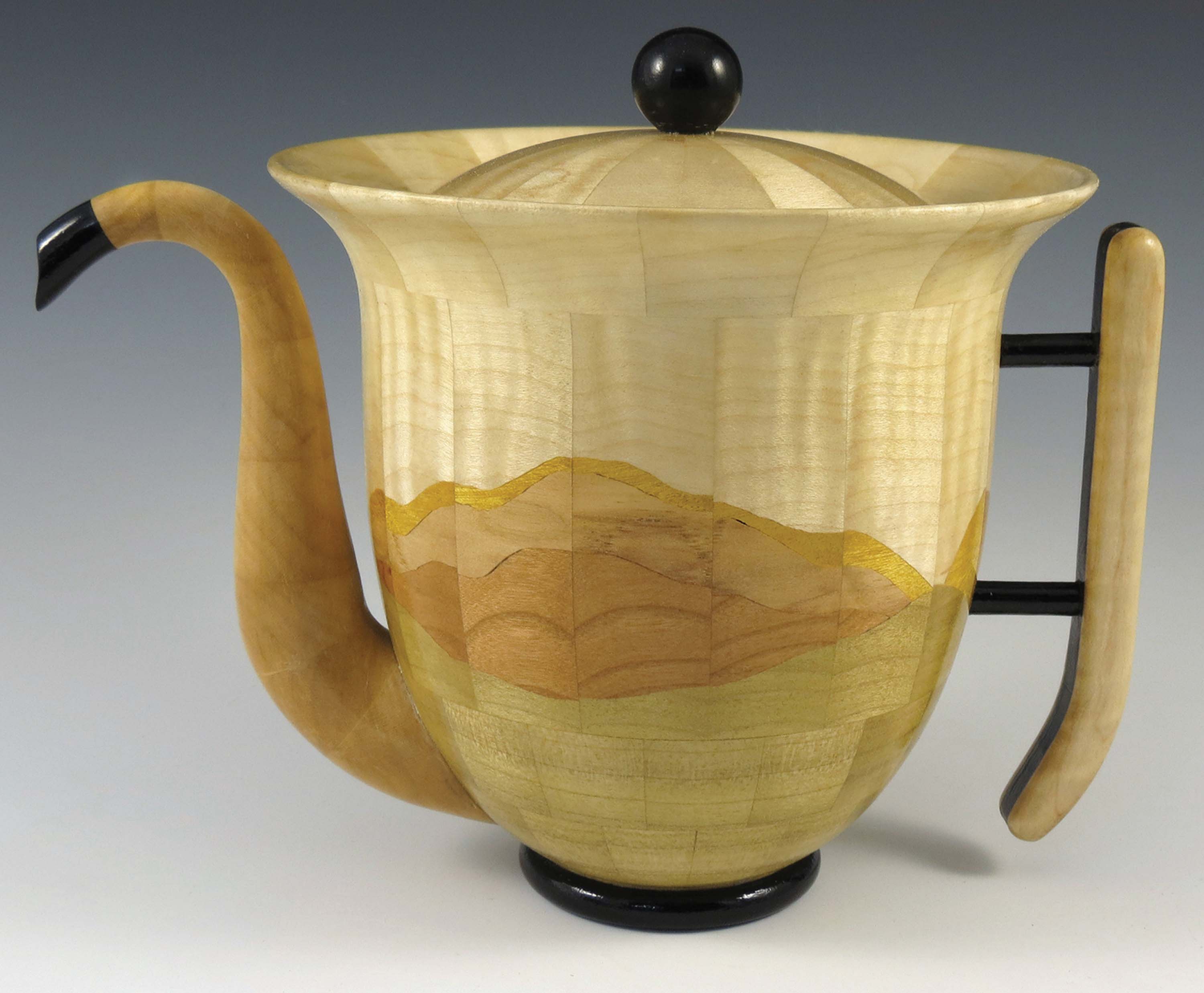 04 Aug

Details: Things We Love
---
Sunrise by Larry Marley
As a woodturner for nearly 20 years, Larry Marley's technique involves cutting and gluing hundreds of pieces of wood together to create a form that he will turn on a lathe. This style of "segmented turning" allows him to create designs by incorporating different wood types as his color palette. Unlike traditional marquetry, which is created as a veneer, Marley's technique builds the design into the vessel's wall, resulting in a pattern visible on the interior and exterior of the piece. Traditionally, segmented designs tend to be geometric, but Marley favors landscapes. The Sunrise teapot uses a color palette made from seven wood types — curly maple, cherry, pecan, walnut, poplar, pau amarillo and ebony — and is constructed from 170 pieces of wood. His work is on display throughout August at the Festival of Arts of Laguna Beach.
$2,800 | 9.25 x 6.25 inches | 949.412.6710 | www.marleyturned.com
---
Three Drawer Table by James McNabb
McNabb & Co. is a design studio dedicated to developing high-quality home furnishings and decorative arts. The Three Drawer Table — from their Classic series, a contemporary response to traditional furniture archetypes — is made from African mahogany and steel. It features a cantilevered top with three drawers, lined in velvet. Most of McNabb's work begins with preliminary drawings in his sketchbook and he found something particularly engaging when he sketched the shape of this table. He envisions a furniture series based on this modern-stone concept. We love the The Three Drawer Table for its merger of clean lines and natural forms, for craftsmanship that stays on balance.
$5,200 | 53 x 21 x 23 inches | 973.229.6034 | www.mcnabbstudio.com
---
Pub Table and Chair Set by Denice Langley
Colorado-based leatherwork artisan Denice Langley finds no end to her creative outlets. In addition to chaps, show collars, belts and a dazzling variety of bags, she applies carved leather to furniture, stoneware tiles, clothing and accessories. A self-taught artist, Langley's first projwas born of necessity: She needed great-looking but affordable show chaps for cutting competitions. Practically before she'd completed her first pair, she'd taken orders for several more. Silver work, a natural accent for leather items, followed. A ceramicist friend sparked her interest in stone-ware, and she soon learned to make her own custom tile. Langley says she gets many ideas from customers, and sees each new project as a collaboration. This recent Pub Table and Chair Set speaks to her range of ideas. Designed by Langley and crafted in conjunction with local woodworker Craig Borders, the set is comfortable, beautiful and extremely well built from knotty alder. From the stoneware tile top to the inset leather designs on the eather designs on the backs, we love that this set is utterly unique and also provides the perfect place for a quiet tête-à-tête or a lively card game.
$8,500 | 36 x 32 inches (table) 46 inches (chairs) | 970.739.1118 | www.denicelangley.com
---
Pottery by Karen Sebesta
Nearly 30 years ago, Karen Sebesta started taking pottery classes, using the traditional method of throwing pots on the wheel. Her style shifted in 1999 after studying with Michael Wisner of Colorado. Under his tutelage and that of master potter Juan Quezada of Mexico, Sebesta learned the tradition of making clay, coil building, polishing and pit-firing. While labor intensive, Sebesta clearly loves her work. She spends hours on each piece, burnishing every pot with steel and deer bones for a high-gloss finish or nylon for a satin finish. She incorporates horsehair to create singed lines on some of her pieces, and by experimenting with her process, she achieves rich earth-tone finishes that fit well with her organic style of pottery.
$1,550 | 4 x 15 inches | 612.889.6607 | www.sebestapottery.com
---
Hand-beaded Accessories by Kathleen Brannon
Kathleen Brannon designs and hand-crafts each of her beautifully detailed beaded accessories. Inspired by the Southwest, with its wide open spaces, distinct colors and free-spirit lifestyle, and stemming from a deep appreciation for Native American artisans, she begins her work on a loom, carefully adding each bead by hand and then hand-stitching her designs into place, on either a card holder, belt, hatband or cuff. She creates custom works that accommodate different sizes, colors and can include ranch branding. This color palette was inspired by the Arizona and New Mexico desert landscape and each piece is decorated symbolically. For example, the symbols in the Storyteller Beaded Belt include whirlwinds found in dust devils and the ever-present mountains outlining desert floors. And the imagery in Paths Crossing expresses the cardinal directions.
Starting at $200 | 775.425.1339 | www.desertsagebeadart.com
---
Bronze Rabbit Sink by Cecil Humphreys
Using the lost wax casting method, Cecil Humphreys creates beautiful sculptural bowls, vessels and a variety of custom sinks, hardware and bathroom fixtures in bronze. Each of his custom
pieces can be finished in a different rich patina, from a soft mossy green to a luxe gold or copper. Although trained in painting and printmaking, Humphreys' appreciation for three-dimensional forms and materials grew after he visited a bronze foundry near Memphis, Tennessee. He was captured by the warmth and depth of bronze and the intricacies of the casting process. His Bronze Rabbit Sink was a commissioned piece and includes a valve, two rabbit handles, a fallen log spigot and a third rabbit playing off to the side. We love this beautiful sink for its ability to bring playfulness and fine art to an otherwise utilitarian fixture.
$3,400 | Custom sizes | 901.452.8174 | www.cecilhumphreys.com
---
Cirque by Hubbardton Forge
Aspiring artists and entrepreneurs George Chandler and Reed Hampton fired up their first blacksmithing forge in a drafty old Vermont barn in 1974. Using tools from a bygone era, the two set out to revive the nearly forgotten craft of hand-forging raw metal into functional art. Their designs became recognized for their simplicity and integrity, and today Hubbardton Forge is one of the oldest and largest commercial forges in the country, with a team of more than 200 people creating lighting fixtures. New to their 2013 line is this Cirque chandelier. Designed as a contemporary take on the globe or orb chandelier, the Cirque is elegant and sculptural. Made of steel, the chandelier comes in two sizes and is available in a choice of finishes. It is just one of many innovative designs that emerge from the heat at Hubbardton. From wall sconces to table-top lamps to outdoor fixtures and many more, the diversity of styles and designs offers something of beauty for everyone.
$550 | 20.7 x 19 inches | 802.468.3090 | www.vtforge.com
---
Modular Wooden Tiles by Moonish
Handmade in Brooklyn, New York, by husband-and-wife team Matt and Giovanna Taylor, these decorative wooden tiles are both stylish and reusable. Their interesting patterns are made by dyeing and silkscreening ply-wood that's then sealed with wax. The tiles are temporarily installed using a magnetic backing that allows for easy placement and they can be rotated or rearranged to create a variety of compositions. The wood provides a warm texture and is marine-grade so the tiles can be applied in moist environments. And with soft colors and many interesting geometric patterns to choose from — 1977, music, diamonds, sunspots, black-and-white, solid tints and many more — Moonish Tiles are a unique décor item that personalizes and brightens any space.
$28 per square foot | 6 x 6 inches | 646.508.8289 | www.moonishco.com
---
The Shield Mirror by Antèks Home Furnishings
Constructed entirely from naturally shed deer antlers that are puzzled together and mounted on an oak frame, The Shield Mirror would make a stunning focal point in any room. This impressive handmade mirror is one of many showpieces found at Antèks Home Furnishings, a full-service home furnishing and design firm specializing in sophisticated rustic furniture in Dallas, Texas. With nearly three decades of experience in designing furniture and rooms for clients across the United States, Antèks knows a showstopper when they see one.
$3,979 | 64 x 48 inches | 214.528.5567 | www.antekshome.com