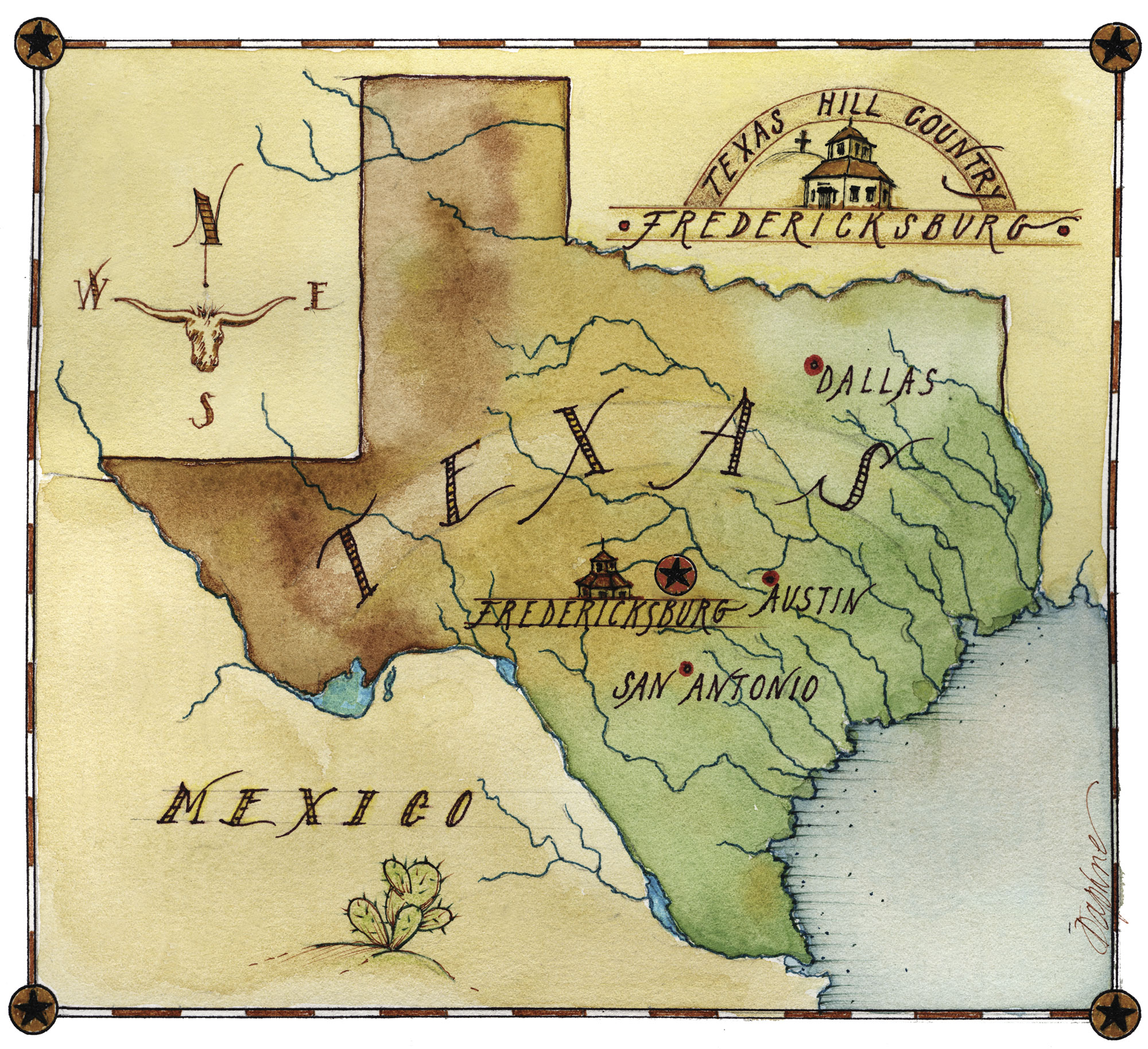 29 Dec

Wanderings: Fredericksburg, Texas
---
There are not enough places on earth like Texas Hill Country. In this peaceful, rural place everything from cuisine to fine art is ratcheted up a creative notch. The culture, however, remains unapologetically and enthusiastically connected to the past.
On the trail of art and adventure, we stage out of Fredericksburg (pop. 10,000), a place loaded with history, originality and small-town heart. German settlers immigrated to these hills and the accents, customs and appreciation for art and music linger.
Our first window into the heart of Fredericksburg is the Rather Sweet Bakery and Cafe just off Main Street. Rebecca Rather's bakery has been written up in more than a dozen national publications. We catch her just before she sweeps out the door to a book signing in Dallas. As her customers stream by, they exchange warm greetings.
"We enjoy life here. People care. This book is my love letter to Fredericksburg," Rather says.
Balancing my generous slice of cream cake, I ask a table of five locals, "Are you ladies from Fredericksburg?"
"That's why we're smiling," one of them says. They all agree the Key lime pie is the best-loved pastry in town and suggest I try it next time. As they leave, one returns with a slice of the Key lime. "You have to taste this. It's to die for." She plonks it on our table with a flourish and a smile.
Miles of vineyards roll along the back roads of Hill Country. With that famous Texas hospitality, 21 wineries host enticing Texas Wine Trail events with musicians, artists, chefs and entertainers. It's become the number two wine destination in the country. As folks gather on these trails, you see everything from limos to T-shirts with: 'Friends don't let friends drink California wine.' Becker Vineyards, whose wine is served at the White House, is a favorite.
Just 11 miles north of Fredericksburg on US 87 is an old service station turned roadside diner. Owner Johnny Nicholas has a passion for food mixed with bluesy music. The result: Hill Top Cafe. The menu is an unusual marriage of Greek and Cajun that turns an eclectic diner into fine dining.
Though food is an expression of a region's identity, art, music and architecture are its soul. Hill Country architecture reflects a lifestyle bound to a combined culture — think Texas frontier meets European Old World and Spanish Mission. Heavy hand-hewn timbers, rusted tin, limestone walls and Saltillo tile create a solid, comfortable, casual approach.
As for fine art, it's not surprising that some of the country's leading artists and collectors live here. Whistle Pik Galleries features work by artists with worldwide followings including Fredericksburg's own G. Harvey, who was chosen by the Smithsonian to paint The Smithsonian Dream commemorating its 150th anniversary; Nancy Bush who paints the luminous essence of nature; John Austin Hanna, who, with bold color, captures the light and life in these hills.
On the opposite artistic spectrum is contemporary artist, Benini. There's a fresh and fearless edge to the Benini Gallery and Sculpture Ranch near Johnson City. The Italian artist and his wife, Lorraine, a photographer, make a significant contribution to the contemporary arts at their 140-acre drive-through sculpture ranch near Johnson City, which provides a natural gallery for large pieces from well-known sculptors.
Photography 414, a remarkable gallery dedicated to the art of photography, is located in an old stone house on Main Street. Owner Dr. Lopez makes his own contribution to the artistic synergy.
In the tradition of going outside to play, we head to the hills on bikes and experience what the artists have found: Nancy Bush's evocative hills, G. Harvey's longhorns and cowboys and the celestial skies that inspire Benini's Face of God series. A haven for cyclists, there are mountain-bike trails for the rugged at heart or farm roads for soft adventure. We rent from Hill Country Bicycle Works and ride the country roads at a leisurely pace.
With World War II on the radar screen, we visit The National Museum of the Pacific War, an historic experience we didn't anticipate. Two old gentlemen move slowly — one in a wheelchair, the other eroded by years — and share war stories. A Pearl Harbor survivor shows us a photo of the USS Bagley, saying, "I was fortunate to serve aboard this lucky tin can."
Frank Lloyd Wright would have given a wink and a nod to the Hangar Hotel — it is so right with its environment, which happens to be the airport. Met at the front door with swing music, you enter the hangar and find the nostalgia and romance of the 1940s with a focus on aviation and the war in the Pacific. Seductive photos of Gable and Leigh, Garbo and Cooper mingle with posters of old WWII aircraft. Owner Richard Estenson, an engineer with an inquisitive mind, meticulously researched every detail of the period from the floor tiles to the paint color. The result is a clean, masculine, luxurious hotel to which you can taxi up in your airplane.
The warmth and hospitality in the more than 300 country inns and historic guesthouses around Fredericksburg is reason enough to go. We found Settlers Crossing to be the perfect country inn. Historic homes with cozy fireplaces are tucked in 35 acres of peaceful, rolling pastures with old oak trees, birdsong and Settlers Creek winding through.
Twenty-three years ago Bill Varney and his wife bought 14 acres six blocks from Main Street and planted herbs. Now, voices soften and brows unfurrow in the tranquil surroundings of the Fredericksburg Herb Farm. Stone-lined paths lead you through gardens of geometric herb beds. Varney teaches herb classes at universities and forums from Tokyo to New York City, but his passion is unchanged. Through herb-based food and products, he brings calm to people.
Our senses are filled and we need to kick back, so we jump into our boots and jeans and drive down the road to the dance hall in Luckenbach for a little Texas two-step, live music and a ton of local charm.
Hill Country folks have a history of connecting with each other through food and culture, from grape stomping parties to art galas. They have a giant, generous spirit, a powerful sense of place and are quick to tell you, "That's why we're smiling."
---
IF YOU GO…
Lodging
Settlers Crossing
800.874.1020 | www.settlerscrossing.com
Hangar Hotel
830.997.9990 | www.hangarhotel.com
Two primary reservation services will help you navigate and match your preferences to a great lodging: 1st Class Bed & Breakfast Reservation Service: 888.991.6749, www.fredericksburg-lodging.com; and
Gastehaus Schmidt Reservation Service: 866.427.8374, www.fbglodging.com.
Dining
August E's
830.997.1585 | www.august-es.com
Hill Top Cafe
830.997.8922 | www.hilltopcafe.com
Navajo Grill
830.990.8289 | www.navajogrill.com
Peach Tree Restaurant
830.997.9527 | www.peach-tree.com
Rather Sweet Bakery and Cafe
830.990.0498 | www.rathersweet.com
The Nest
830.990.8383 | www.thenestrestaurant.com
Galleries
Whistle Pik Galleries
830.990.8151 | www.whistlepik.com
Benini Foundation Galleries and Sculpture Ranch
830.868.5244 | www.benini.com
Photography 414
830.990.1330 | www.photography414.com
Miscellaneous
Fredericksburg Herb Farm
830.997.8615 | www.fredericksburgherbfarm.com
Texas Wine Trail
Hill Country Bicycle Works
830.990.2609 | www.hillcountrybicycle.com
Luckenbach
888.311.8990 | www.luckenbachtexas.com
---
Carleen Milburn documents the landscape, art and people of the West for national and regional publications. She lives with her husband on a small ranch in the Missouri River Valley near Cascade, Montana.