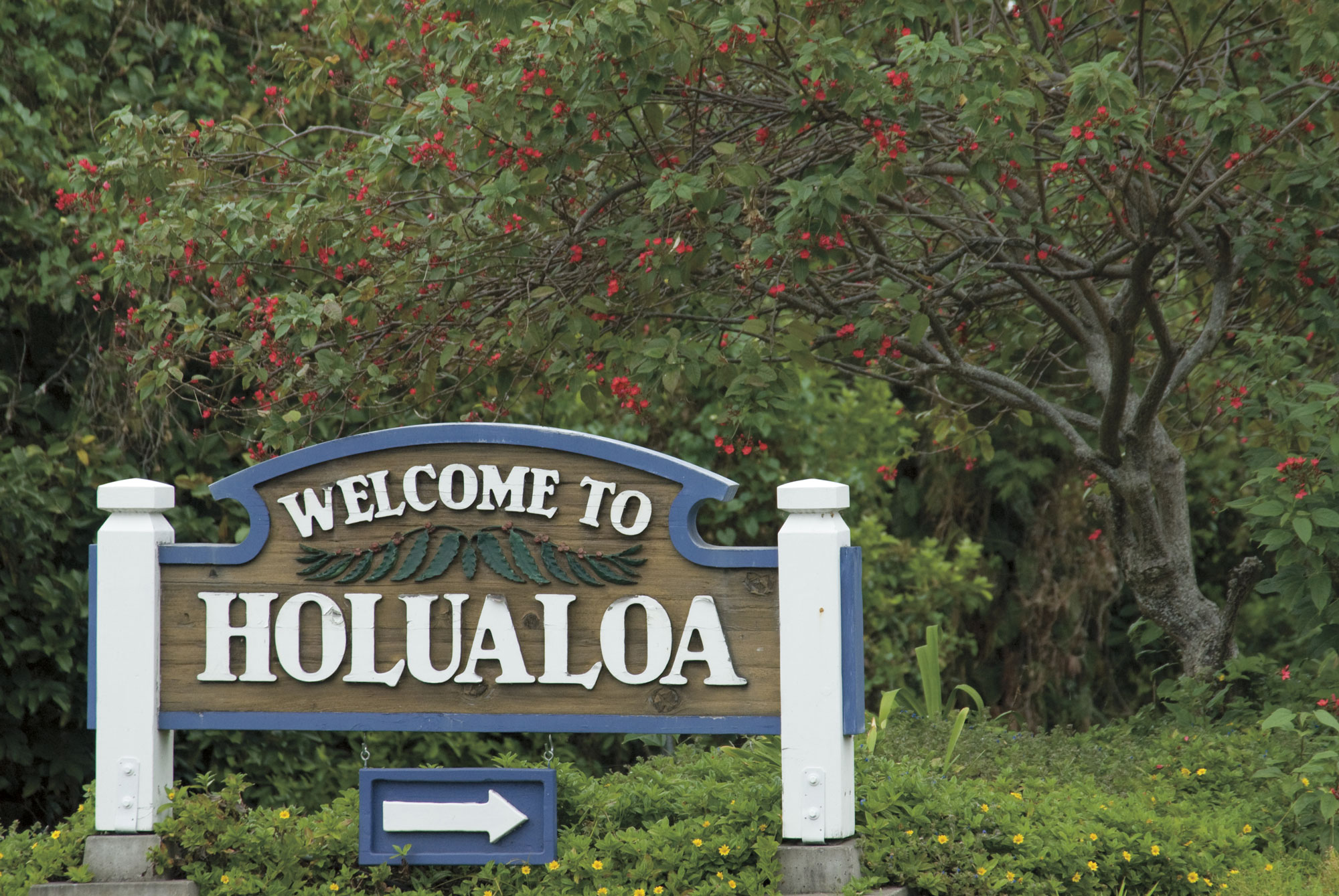 Fourteen hundred feet above sea level, tiny Holualoa has sheltered artists for decades.
01 Sep

Wanderings: Holualoa
---
In Taos, artists praise the light. In Sausalito, the vibe. In Holualoa on the Big Island of Hawaii, you would expect the resident woodworkers, sculptors, painters and potters to raise their eyebrows ever so slightly and whisper the name of the fire goddess, Pele. Or chant about the magnetic forces and red hot lava bubbling beneath an island the size of Connecticut.
But no, a goddess and tectonic plates take second fiddle to serendipity. Holualoa's artists just shrug and tell you long, layered stories of returning to the family home or fleeing the Mainland and falling in love with this mountainside village.
Fourteen hundred feet above tourist-happy Kailua-Kona, the Kona Heritage Corridor winds through Holualoa following an ancient Hawaiian footpath. Rundown wooden houses rub shutters with trimly painted plantation-style homes, and driveways drop into a green abyss, banked by the exotic flora and fauna that give Hawaii its scent and sensation. No doubt about it, this is where locals live.
Before art and Kona coffee gave Holualoa prominence, ancient Hawaiians farmed its slopes. By 1899, sugarcane took hold and Japanese, Chinese, Filipino and Portuguese immigrants swarmed in to work the fields and set up businesses.
For the past three decades, artists have been converting Holualoa's decaying cottages and shops into art and craft galleries. Make the effort to leave visitor-friendly Kailua-Kona 20 minutes down the mountain, and you'll gain the respect of its artists. Ask about their work and they will spend time explaining their passion the way you spend cell phone minutes.
At Ipu Hale Gallery, Michael Harburg and Bill Wright create stunning, featherweight gourds decorated in traditional tattoo designs, navigation symbols, flowers, bamboo, turtles, geckos and geometric shapes.
"Captain Cook was the first Westerner to comment on this art medium [in 1779]," Harburg states. "But the practice was lost at the end of the 19th century. Bruce Ka'imiloa Chrisman researched the ancient method and I learned it from him." Then Harburg leads you out the gallery's back door where gourds litter the table and talks you through the intricate steps of etching, lifting the skin, pouring dye into the gourd, scraping, drying, sanding and sealing.
Down the road, Sam Rosen is keeping another island tradition alive at Holualoa Ukulele Gallery, where artful instruments make sweet music in the town's tiny former post office.
"I wanted to learn to play the ukulele," the 30-year Holualoa resident smiles. "So I thought I'd learn how to build one first. It's not hard to play. It's all in the strum."
Today the sculptor and silversmith not only sells handmade "ukes," he also teaches ukulele building and gives music lessons.
While Ipu Hale and the Holualoa Ukulele Gallery honor Hawaiian traditions, their neighbors celebrate contemporary art in a profusion of ink, paint, wood, stone, fabric, clay, lava and beach detritus.
Gerald Ben and wife Renee Fukumoto-Ben built and run Dovetail Gallery, where they display his exquisite furniture and pottery and her jewelry and mixed media collages, along with stylish work by local artists.
Internationally known Hiroki Morinoue created a serene enclave of stone and bamboo that is a perfect backdrop for his woodblocks, paintings, sculpture and photography at Zen-like Studio 7 Gallery.
A life-sized cutout of a coffee worker stands outside bright blue Holualoa Gallery where Matt and Mary Lovin have sold her realistic oil paintings and his Asian-inspired raku pottery for 17 years.
Sunny Pau'ole's vibrant giclee and oils of Hawaiian flora, fauna and wahines (women) complement husband Mel's custom wood carvings at the Pau'ole Art Gallery.
Big canvases and big color are Shelly Maudsley White's trademark, and her giclees, watercolors and oils depicting Hawaiian vegetation, sea and land creatures dominate the stylish gallery bearing her name.
Gary and Elizabeth Theriault have amassed photography, jewelry and carvings at casual Kona Art Gallery, and you'll find photography and koa furniture at Ed and Grace Kabus' Hawaii Treasure Mill Gallery.
And proving that this is no cookie-cutter art town, you will not find a plethora of coffee shops and high-priced restaurants. Holualoa's only restaurant, the Holuakoa Café, is as rich in tropical sensations as its galleries. Nearly everything on the menu is locally grown, fed or fished from the sea, and as you sit beneath a canopy of exotic tropical trees and dine on grilled ahi salad with organic papaya and Holualoa lettuce, you'll know you have found a special place.
If a visit to Holualoa is a treat, an overnight at Holualoa Inn, a 30-acre coffee estate, is a treasure. Leave your shoes at the door, step onto the gleaming eucalyptus floors and enter one of the most beautiful inns in Hawaii.
Public areas showcase local art and antique furniture gathered in Thailand, Indonesia and the Philippines while six luxurious guest rooms cut no corners on amenities and furnishings. Resident managers Chella Cook and Chad Douglas shuffle about, always ready to "talk story" (Hawaiian chitchat).
Use Chella's colorful hand-drawn map and indulge in a stroll through a coffee orchard edged by a profusion of avocado, orange and plumeria trees, heliconia, bird of paradise, protea and orchids. Follow the holua, an ancient Hawaiian track where men skimmed down the rock and pili grass on toboggans, a hair-raising show of manhood. Only four holuas exist on the island; two are at the Holualoa Inn.
Above the ancient trail, the inn's 40-foot wide labyrinth begs you to take off your shoes and follow its path through the wide-leaf grass. Labyrinths, unlike mazes, deliver you to their center, no dead ends along the way, representing a journey to your own personal center and back into the world. Something like the journey mauka (mountain) to Holualoa.
---
Snorkel with the Big Guys
Snorkeling at night is pretty heart thumping, but just imagine bobbing on the surface while open-mouthed, 14-foot manta rays glide 10 to 30 feet beneath you. Powerful dive lights illuminate the gentle giants who gather just off Sheraton Keauhou Bay Resort to feed on plankton. Sea Paradise's 46-foot catamaran takes visitors out nightly to dive or snorkel with rays, and Jim Wing, photographer, diver and guide, promises they are not aggressive. Remember that when one glides within a few feet of your wet-suit clad belly. $89 for snorkelers, $110 for certified divers. Call 800.322.KONA, or visit www.seaparadise.com.
If you'd rather watch mantas from dry land, visit the observation deck at the above-mentioned Sheraton Keauhou Bay Resort and Spa in Kailua-Kona. With its oceanfront setting, expansive amenities, and the lovely strains of Hawaiian artists performing nightly, you might want to book a room. $350-$900/night. Call 808.930.4900, or visit www.sheratonkeauhou.com.
---
If You Go …
LODGING
Holualoa Inn
800.392.1812 | www.holualoainn.com | $270-$375/night includes full breakfast
Sheraton Keauhou Bay Resort and Spa
808.930.4900 | www.sheratonkeauhou.com
DINING
Holuakoa Café
808.322.2233 | Open 10 a.m. to 2 p.m., Tuesday to Saturday; 9 a.m. to 2 p.m. on Sunday | Dinner 5:30 to 8:30 p.m., Wednesday to Saturday
GALLERIES
Ipu Hale Gallery
808.322.9096
Holualoa Ukulele Gallery
808.324.1688 | www.konaweb.com/ukegallery
Dovetail Gallery & Design
808.322.4046 | dovetailgallery.net
Studio 7 Gallery
808.324.1335
Holualoa Gallery
808.322.8484 | www.lovein.com/holualoagalleryblue.htm
Pau'ole Art Gallery
808.989.2180 | www.sunnypauole.com
Shelly Maudsley White Gallery
808.322.5220 | www.shellymaudsleywhite.com
Kona Art Gallery
808.322.5125
Hawaii Treasure Mill Gallery
808.322.8441
---
Since Linda Hagen Miller spent 20 years in Hawaii and Micronesia, she jumped at the chance to return and write about the Big Island's art colony, Holualoa. Linda contributes to several national publications including Coastal Living, Sunset, Alaska/Horizon and she writes a column for Prime magazine.
When she's not at her Rocky Mountain Idaho base camp, internationally award-winning photographer, Ilona, travels the world in search of the photographic elixir of color, light, texture and form. Whether fine architecture, lush residential gardens, or remote mountain tops and seas, her camera works overtime to push the transformation of image to art.