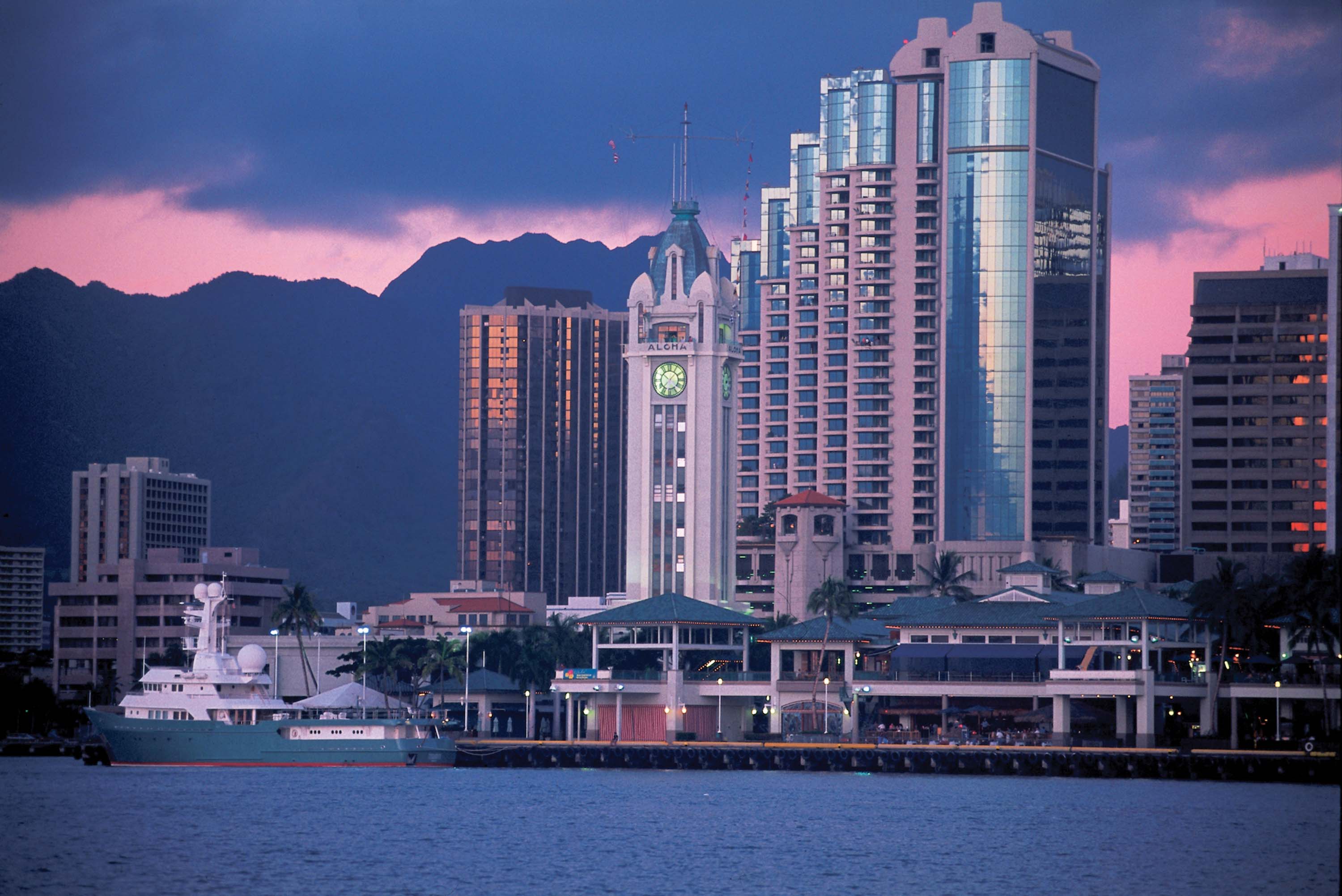 Dwarfed by skyscrapers, Aloha Tower remains an important landmark to historic Honolulu.
01 Feb

Wanderings: Honolulu, Hawaii
---
In every travel brochure, tourism ad or episode of "Hawaii Five-0," Oahu's Waikiki Beach — white sand, crystal-clear water and stacked with luxurious hotels — is touted as paradise. Indeed, the beach lives up to every promise, particularly in the early morning, with the sun rising over Diamond Head, yet there is so much more to this town than sand in your sandals.
Whenever I return to Honolulu (just 15 minutes west of Waikiki), I recall the story my great grandmother shared about her first glimpse of Hawaii when she arrived by steamer from San Francisco in the mid-1900s. "The air smelled like flowers," she said. With a wistful smile she remembered how it seemed as if the whole town stood at the pier, waving, cheering and tossing plumeria leis into the ocean to greet the ships. The happy tunes from a Hawaiian band played and the harbor brimmed with festivities.
Today, massive cruise ships have replaced those elegant steamers, but the legacy of "Boat Days" at Honolulu Harbor remains a moniker of Hawaiian hospitality. The elegance and nostalgia of those bygone days still stand in the harbor's historic Aloha Tower, a landmark that has welcomed hundreds of thousands of visitors since it was built in 1926.
Aloha Tower isn't the beacon for ships that it was in its heyday, but amidst the cluster of towering skyscrapers it is a poignant symbol of a vibrant city with layers of old and new. Restored in 1994, the 10-story clock tower and observatory became the center of the thriving Aloha Tower Marketplace, where a collection of restaurants and shops can launch an art-and culture-lover's excursion of historic downtown Honolulu.
Like any good city, Honolulu is layered with contrast. Ever-present is Hawaii's exotic culture, evidenced most simply by the foreign sounding, vowel-loaded street names, the singsong accents of locals whose ethnicity may be a blend of every Pacific island you can name and/or numerous Asian countries. There is also an ancient culture, which most people don't see, embedded first in the native Hawaiian traditions, then in the complex melting pot (or calabash, as any local would say) population that has evolved into modern Hawaii. The final layer is a thriving contemporary art scene, which simultaneously shrugs off and nods tribute to the past.
After a day of snorkeling and surfing lessons, the perfect casual sunset dinner can be found on the Aloha Tower Marketplace pier at gordon Biersch Brewery and restaurant, where the fresh sashimi or seared ahi tuna go with any local brews. Down the open-air walkway on weekends you'll hear strolling minstrels singing traditional Hawaiiana tunes accompanied by the ukulele. Start the night here and then jump across the street to the arts district of Chinatown, where the monthly First Friday Art Walks light up this slightly seedy neighborhood with modern gallery exhibits and a hopping club scene.
First Friday nights draw a stylish crowd to sample the burgeoning artistic talent, free entertainment and refreshments. Among 20 different galleries in the district, Pegge Hopper Gallery is known for contemporary Gauguin-inspired female figurative paintings. For artful shopping down the street on Nu'uanu Avenue is high-style Owens & Co., where designer gift items sit next to contemporary island-style housewares. Going deeper into avant-garde style is chic La Muse Boutique, where accessories ranging from high-end swimwear to custom "friendship bracelets" with Swarovski crystal closures will dazzle you.
The gallery walk takes on a festive tenor like a street dance, as revelers walk from one gallery to the next in the warm tropical night. Champion of the revival in Honolulu's art district over two decades is the Louis Pohl Gallery on Bethel Street, showcasing artists of Hawaii. The Andrew rose gallery rounds out the scene, with a bullpen of edgy artists.
The Arts at Marks Garage displays rotating exhibits on the ground floor and is the only collaborative, nonprofit, artist-run, multicultural, multidisciplinary community arts center on the island.
Eventually the evening evolves to the art bar scene, for which this area leads the way. In the spine of the district, at night Manifest shifts from coffee bar to swanky cocktail center, while across the street Bar 35 on Hotel becomes a rooftop party with some of the most cutting-edge exhibits, music and a choice of 100 micro-brews. For after-party eats, a seat at Lucky Belly offers a fusion approach to local-style grinds; get ready to redefine your idea of ramen noodles. A belly full of ono (that means delicious) noodles is the perfect finish to the night.
Chinatown can also be the ideal daytime diversion. The architecture here has a wide range of styles (e.g., Renaissance, Florentine Gothic, Beaux Arts, Richardsonian), all within a 20-minute walk. A historic walking tour from the Hawaii Heritage Center, Wednesdays and Fridays from 9:30–11:30 a.m., will help. Break for lunch at the unassuming-looking Little Village Noodle House (try the Peking Duck with steamed buns). Here authentic Hong Kong-style cuisine will trump any other Chinese food you've experienced. For dessert, back in the heart of the district look for one of the oldest operating businesses in Hawaii, shung Chong Yuein, on Maunakea Street, that sells unusually addictive moon cakes and almond cookies. You'll pass fragrant lei shops, cheesy curio booths, intriguing herbalist "pharmacies" and watch artful butchers chop whole duck into perfectly palatable pieces. But don't forget to take note of the small architectural wonders that line these old streets — my favorite are those on Nu'uanu Avenue.
Any time of day downtown calls out to art lovers with a diverse sculpture collection that peppers public spaces throughout the historic district. Notably, in front of the First Hawaiian Bank building two of Deborah Butterfield's bronze horses graze. Two massive carved marble lions stand sentinel on the corner of Hotel and Bethel streets to mark the peaceful Chinatown gateway Plaza. Adjacent to the restored 1920s Art Deco-era Hawaii Theatre, this sculpture garden offers respite amidst the bustle of the city. The most recognizable sculpture in Hawaii is the larger-than-life bronze of King Kamehameha I, which proudly stands in front of the Judiciary Building. Across the street is the Iolani Palace. Built in 1882, the palace is where Hawaii's last reigning monarch, Queen Lili'uokalani, was imprisoned and ultimately overthrown by U.S. representatives who desired the riches of the islands.
To do justice to Hawaii's territorial history, a visit to Oahu is incomplete without seeing both the Iolani Palace and the Hawaii State Art Museum's wide-ranging collection that celebrates the state's multicultural heritage. The two landmarks border Chinatown and the downtown capital district, standing as terrific examples of historic architecture and culture.
Naturally, since my roots remain strong in my home state, whenever friends ask for travel advice about Hawaii I say: If you are only able to visit one island, make it Oahu. Of all the Hawaiian Islands, it is the most accessible in terms of diverse activities, navigable size and culture. In the Hawaiian language Oahu means "The Gathering Place." With abundant beaches, consistent fair weather and a lively population, it's no wonder that it has historically been the most populated of the islands.
When you get there, you'll find everything the travel brochures tout, but beyond that you'll find a tradition of fascinating art and culture. And the air still smells like flowers.