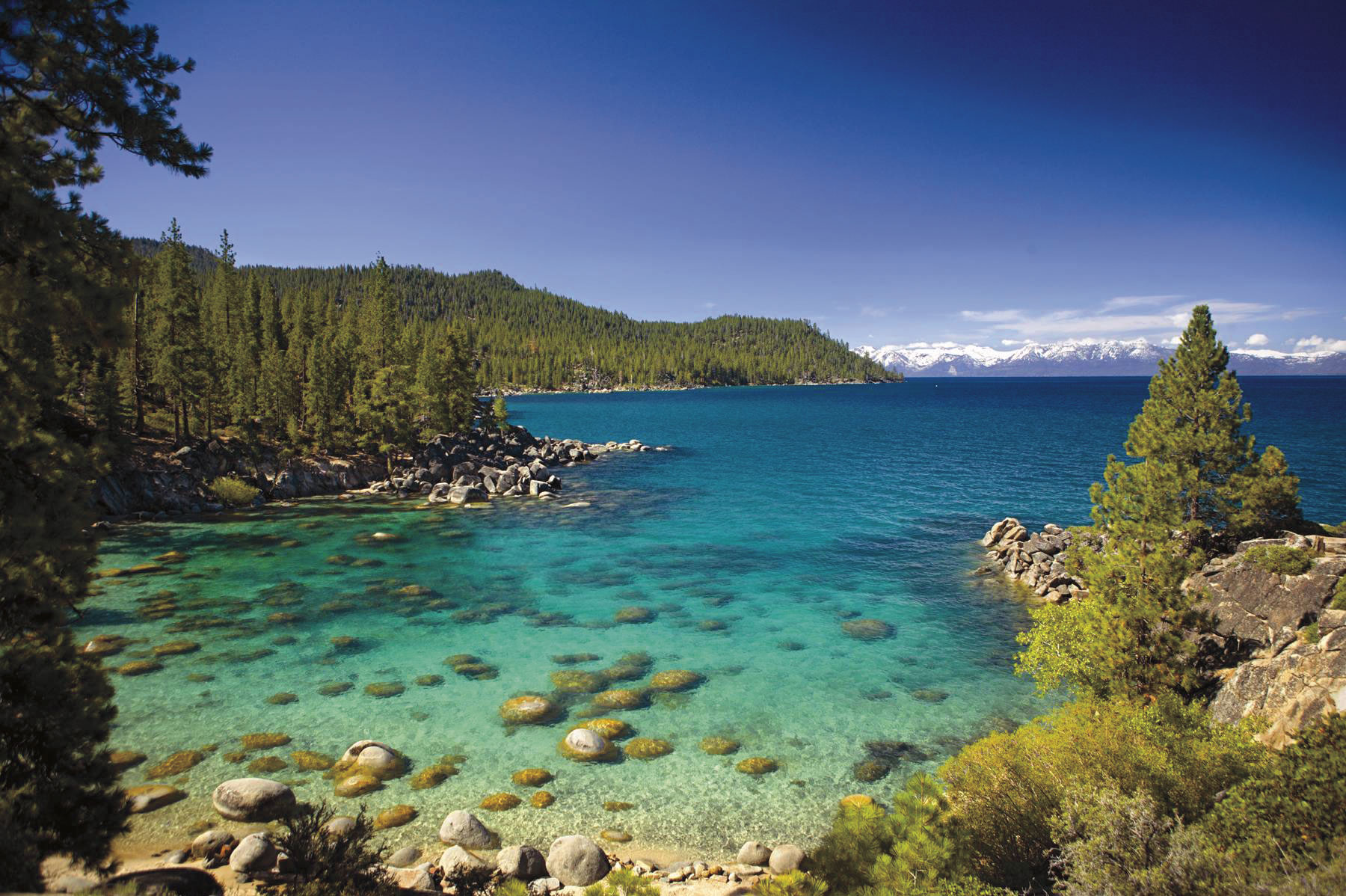 Secluded coves on the East Shore.
24 Jul

Wanderings: Lake Tahoe
---
With a 72-mile circumference crossing two states and five counties, Lake Tahoe is not just any average place to wander. Depending upon where you are around the lake, everything from the topography to the weather can be different. While perhaps best known for its winter pursuits, the region in summer is like escaping to a tropical paradise, busy city, small mountain town and wilderness area all in one fell swoop. Below, we circumnavigate the lake to discover the array:
Hit the Beach: North Shore
The journey starts with but one goal: getting lakeside. With cerulean waters ringed by mountains and studded with beaches and coves, Lake Tahoe is impressive to say the least — it's as if a magnetic pull is urging you to get beside, on or in that 39 trillion gallons of water, stat. Lucky for us, we've just flown into Reno, which is only a 35-minute drive, heading over Mt. Rose Highway to the North Shore.
At Incline Village, a lakeside cottage at the Hyatt has our name on it. Fire pits and hammocks await our relaxation, as well as a long stretch of silky sand so beige — is it getting a tan, too? We sip a Sierra Cloud cocktail on the resort's 275-foot pier, then hop aboard the drink's namesake catamaran for a truly up-close-and-personal look at the lake.
Art's the word in this small town as our two favorite non-lake excursions are to Art's Coffeehouse for a fresh-baked biscuit sandwich and Art Attack Gallery, where owners Chad Jenkins and Mark Desautel showcase one of the most diverse collections around, including loads of Tahoe landscapes to bring the beach back home.
We finish the day lakeside again, with a seat in the sand at Lake Tahoe Shakespeare Festival. All summer long Sand Harbor State Park hosts the annual festival at its shoreside amphitheater, and A Midsummer Night's Dream, with lake as backdrop, is as poetic as the Bard could have dreamed.
Take a Chance: South Shore
Dozens of East Shore beaches peek at us as we head around the lake on Highway 89. Our destination: the casino strip in Stateline.
A dramatically different vista than the 40-minute scenic drive, six towering casinos greet us, with cars and people crowding the streets and sidewalks in between. We opt to soar above it all with a ride on the Heavenly gondola. Hiking trails and a climbing wall await at the top, but we prefer to thrill seek with the new Heavenly Flyer, the longest zip line in the continental United States at 3,100 feet. With the lake spread below like a map, and Heavenly's highest peaks just over our shoulders, this bird's eye view shows Tahoe at its best.
Back down below, numerous galleries in the village beckon a browse, but a block away, the Dr. Seuss collection at Marcus Ashley Galleries and the Sticks art furniture at Fire and Rain Gallery make us smile the most.
Sun's saying goodbye, so we catch its last hurrah from Harveys' 19 Kitchen~Bar. We hear it's where the who's who of the South Shore belly up, so we join them for one of the menu's 19 martinis. We spend the rest of the night, though, at MontBleu. Not only do we love its catchy motto: "cosmopolitan by nature," but thanks to a recent renovation, this resort delivers some of the classiest ambiance in town with its Ciera Steak + Chophouse (try a winemaker's dinner for a real good time), Opal Ultra Lounge and 40,000 square feet of gaming space. We roll the dice …
Find Old Tahoe: West Shore
From bustling South Tahoe, a drive up the West Shore provides a nice respite. Casinos give way to small cabins, which eventually give way to acres of forest. Tucked into lakeside lots along the shore, summer estates of early 20th-century elite remain today. We revel in the history at Tallac Historic Site and Ed Z'berg Sugar Pine Point State Park, but our favorite — though most tourist-filled — sight en route is Emerald Bay. Climbing switchbacks, our car reaches a ridgetop between Lake Tahoe and Cascade Lake. From here, the road horseshoes around the bay, clinging to the mountainside for dear life; if you've ever been on Maui's Road to Hana, then you get the picture. We dodge pedestrians on the narrow road, then join the hordes of hikers down the trail to Vikingsholm, a 1929 Scandinavian-style stone estate.
Continuing north, Tahoe Maritime Museum in Homewood is the next stop. Water skis made out of barn doors? Aquaplanes? Who knew Tahoe's maritime history was so diverse? And perhaps the most quintessential Tahoe craft, the wooden boat, can be found not only at the museum but also down the road in Carnelian Bay, where Sierra Boat Company hosts the annual Concours d'Elegance wooden boat show each August.
Go Green: Truckee
Around the lake in three days, you'd think we'd seen it all, but another facet of Tahoe life awaits us in Truckee, on our way back to Reno. Home to many year-round residents, Truckee offers a thriving mountain community that centers on its railroad history and modern sustainability. We stay at the Cedar House Sport Hotel, where owners Patty and Jeff Baird have built a hip resort on green foundations: on-demand water heaters, hydronic heat, sod roof, low VOC carpeting, to name a few. And best of all, the Bairds live on-site (with dogs Jake and Baxter), so you get that personal touch reminiscent of the European sport hotels that inspired the property.
We hear Old Greenwood golf course is about as green as greens get — they were the first LEED-certified course ever — so we head for a round on the Jack Nicklaus track.
Downtown, quaint galleries, many housed in historic homes, line Commercial Row. Woodcarver William F. Vrooman is perhaps the most jovial gallery owner around, and nearby Carmel Gallery is a local favorite. Off the main strip, the Pogan Gallery specializes in exquisite and original paintings of Lake Tahoe and the Sierras by nationally known artists. We get in with Truckee's young talent at Riverside Studios and its neighboring shops, where pottery mixes with jewelry, fair-trade goods and beyond.
Moody's Bistro & Lounge and Pacific Crest Grill are two of the town's restaurants that are doing it right. Moody's partners up with Sierra Valley Farms, just north of Sierraville, and owner-chef Mark Estee's "whole hog philosophy" leaves nothing to waste. Pacific Crest uses organic beef from nearby Genoa and has its cooking oil recycled into biodiesel. And if that weren't enough, the Pour House on Jibboom Street stocks more than 100 wines from sustainably, organically or biodynamically farmed grapes. A glass in hand, soaking in our last dregs of crisp Sierra air … a sublime ending to a trip in Tahoe paradise.
---
If You Go …
LODGING
Cedar House Sport Hotel
866.582.5655 | www.cedarhousesporthotel.com
Hyatt Regency Lake Tahoe Resort, Spa & Casino
775.832.1234 | www.laketahoe.hyatt.com
MontBleu Resort Casino & Spa
888.829.7630 | www.montbleuresort.com
DINING/DRINKING
Harveys' 19 Kitchen-Bar
775.586.6777 | www.harveys.com
Art's Coffeehouse
775.832.5655
Moody's Bistro & Lounge
530.587.8688 | www.moodysbistro.com
Pacific Crest Grill
530.587.2626 | www.pacificcrestgrill.com
The Pour House
530.550.9664 | www.thepourhousetruckee.com
GALLERIES/MUSEUMS
Art Attack Gallery & Custom Framing
800.637.3183 | www.tahoeartgallery.com
Carmel Gallery
530.582.0557 | www.thecarmelgallery.com
Fire and Rain Gallery
530.541.9300 | www.fireandraingalleries.com
Marcus Ashley Galleries
530.544.4ART | www.marcusashley.com
Pogan Gallery
530.550.9600
Riverside Studios
530.587.3789 | www.riversideartstudios.com
Tahoe Maritime Museum
530.525.9253 | www.tahoemaritimemuseum.org
Vrooman Woodcarvings & Wildlife Gallery
530.587.8104 | www.vroomanwoodcarvings.com
MISCELLANEOUS
Lake Tahoe Shakespeare Festival
800.74.SHOWS | www.laketahoeshakespeare.com
Heavenly
775.586.7000 | www.skiheavenly.com
Concours d'Elegance
530.581.4700 | www.laketahoeconcours.com
Old Greenwood
530.550.2670 | www.oldgreenwoodgolf.com
For more information about art-related events in Lake Tahoe, be sure to see our Events of Note calendar, starting on page 152, and visit our Web site at www.WesternArtAndArchitecture.com.
---
A native of Atlanta, Georgia, Elisabeth Korb left sweet tea and Southern drawl behind to pursue a more snow-filled life in Lake Tahoe as the managing editor of Tahoe Quarterly.