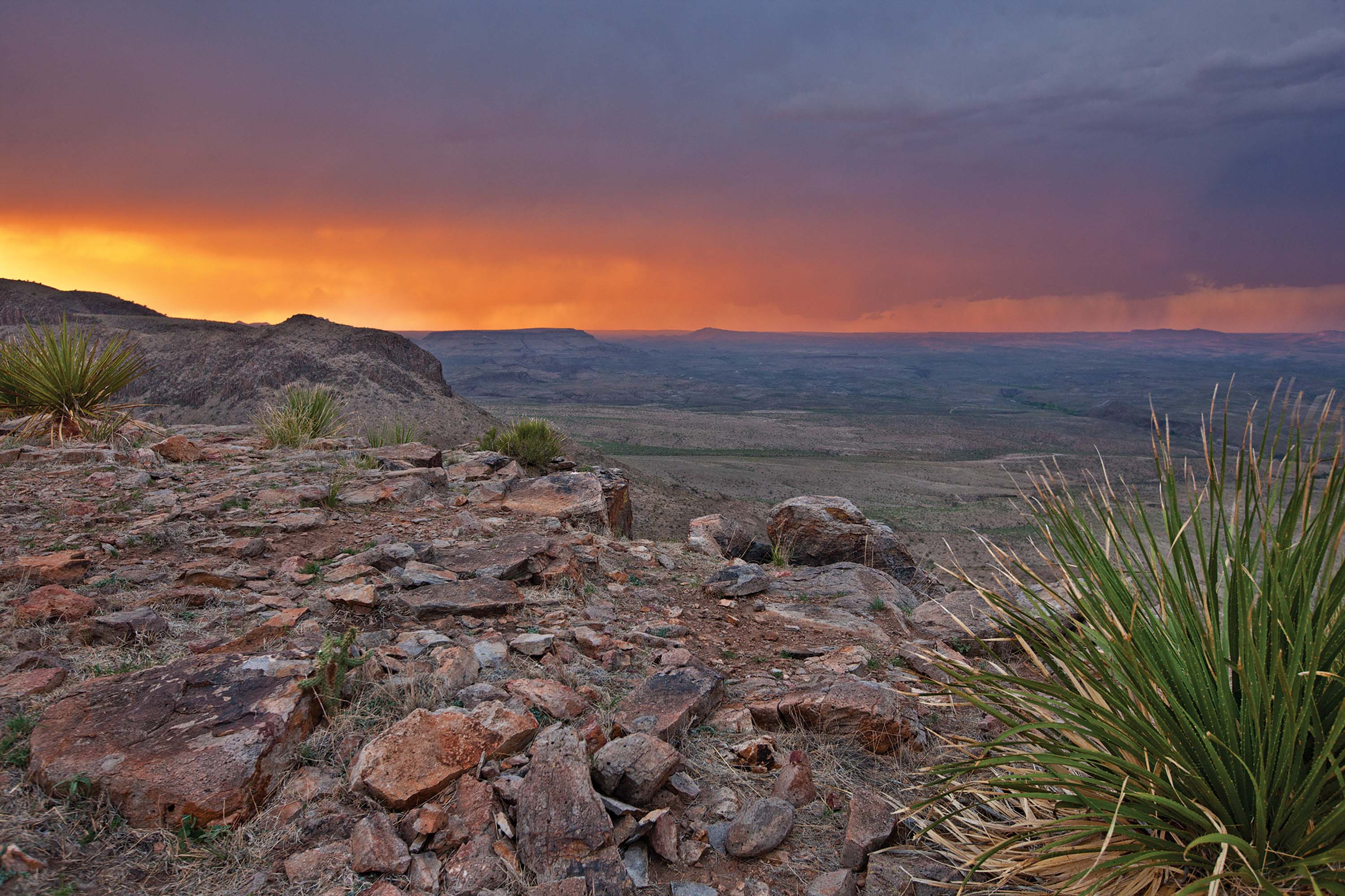 Rising to 7,730 feet, the Chinati Mountains are a rugged amalgam of desert, granite peaks, creosote bush and yucca.
02 Mar

Wanderings: Marfa, Texas
---
If a visit to Marfa, Texas, is to be successful, a traveler must have an appreciation for whimsical things, for enterprises such as the Museum of Electronic Wonders and Late Night Grilled Cheese Parlor, where you can enjoy owner Adam Bork's collection of vintage television sets while eating his grilled cheese sandwiches after 9:30 p.m., but only on Friday and Saturday nights. You also need a plan because, to get to Marfa, you must drive 190 miles through the Chihuahuan desert on a highway as straight as a laundry line where the only traffic you'll encounter will be cows crossing ahead of you… slowly.
Marfa is a West Texas ranching town that has undergone a fascinating renaissance. Over the past 40 years, it's gained national stature as an arts community, replete with an internationally known museum and a growing cadre of celebrated painters, sculptors and musicians. But more compelling is its delightful quirkiness: It's a place where an art gallery can comfortably cohabit with a pizza parlor that calls itself a "foundation," the Pizza Foundation (which plans to reopen in mid-2015 in a larger space). It's a town with one main street, one stoplight, no franchises (besides a Dairy Queen), no pharmacy and a single museum — The Chinati Foundation — which has become a kind of mecca for artists of the Minimalist school. There is an annual music festival here called the Trans-Pecos Festival of Music + Love (Robert Plant showed up in 2011), started by cutting-edge hotelier Liz Lambert at her fascinating property, El Cosmico, an 18-acre nomadic hotel, campground and cultural hub. There is also a recording studio, The Marfa Recording Company, where indie-rock sensation the xx recorded its third album; and a food truck, Food shark, that's been reviewed in The New York Times. And because it's surrounded by vast, privately held ranches, cows appear to outnumber humans roughly 50 to one.
Getting to Marfa is part of the adventure. You can fly into either Midland International air and space Port and drive 182 miles south or you can fly into el Paso International airport and drive southeast for 190 miles. The latter route has some advantages. the city of el Paso has cowboy boot shopping opportunities, and on Highway 90 you'll pass through valentine (pop. 187) and its tiny post office, where people send their St. valentine's Day cards to be canceled. Just outside of valentine, you'll pass the Prada Marfa installation standing by itself against a backdrop of creosote bush, yucca and the distant horizon.
Marfa wasn't always hip. The town began as a water stop for the Southern Pacific Railroad in 1863. Cattlemen set up ranches nearby for the access to markets the railroad provided. In the early 20th century, the Mexican Revolution triggered a U.S. military presence in the form of Fort D.A. Russell, and later the Marfa Army Air Field. These brought more people and economic activity to town; Marfa grew lively and prosperous. But the bases closed after the war and military families left, taking a chunk of Marfa's economic base. Then the seven-year Texas drought arrived, throttling Marfa's ranches. The town withered.
A new thread was woven into the town's history when Donald Judd, the renowned artist and godfather of Minimalism, purchased the vacant Fort D.A. Russell and installed his iconic 100 Aluminum Boxes in two airplane hangars. He invited a few fellow artists to display their work on the base, too. Art collectors from the Houston area began to take an interest in Marfa, some buying second homes in town. Momentum grew. Today, the late Donald Judd's army base is The Chinati Foundation and, in addition to Judd's aluminum boxes, it also showcases the work of Dan Flavin, Ilya Kabakov, Richard Long and several others.
When East Coast gallery owner Mary Etherington arrived in town six years ago, she drove down Marfa's main street and laughed out loud. "It reminded me of Martha's Vineyard 25 years ago," she says. "Everything about it was a fit for me." Her gallery, Etherington Fine Art, serves as a showcase for established, successful artists such as Susan Schwalb, Julie Speed (a Marfa resident) and Jay Gardner, as well as local, up-and-coming artists including Mary Baxter, whose works depict the peaceful beauty of the West Texas landscape. Baxter moved to Marfa 20 years ago to raise cattle and horses on a grass lease south of town. At first, she devoted most of her time to that, but gradually the ratio shifted in favor of painting and sculpting. "There were so many paintable scenes," she says of her surroundings.
"The interesting thing about Marfa," explains writer and historian Lonn Taylor, who lives in neighboring Fort Davis, "is that, at root, it's a ranching community." Its population is a mere 2,000, he says, 68 percent of which is Hispanic. Artists and newcomers comprise only 15 percent. But tourism is gradually becoming a reliable sector of the Marfa economy and a new hotel is reportedly in the works. In the meantime, The Hotel Paisano and the Thunderbird hotel offer visitors an authentic West Texas experience without usurping the lion's share of their budget. The Paisano, built in 1929, served as the headquarters for the cast and crew of the movie "Giant," in 1955, so movie buffs might appreciate the opportunity to stay in what was, briefly, James Dean's room. The Thunderbird, with its classic 1950s décor, updated for a reopening in 2005, is modern West Texas hip — smallish rooms with a vintage and minimalist aesthetic. And Liz Lambert's El Cosmico — inspired by hippies, nomads and bohemians — is a Bunkhouse Group property offering comfortable and unique accommodation in restored trailers, yurts, tipis and tents.
Restaurants in Marfa are not prolific, but their quality and uniqueness compensate for their paucity. Maiya's (founded by Maiya Keck — a painter, naturally) is gourmet Italian cuisine in an unadorned, sophisticated environment. Cochineal, in a 100-year-old adobe house with a garden terrace, was founded by veterans of Manhattan's restaurant scene — Tom Rapp and Toshi Sakihara. With vegetables grown on the premises, the utmost attention is paid to every detail of this American-style cuisine. (The rosemary-marinated rack of lamb is a local favorite.) For rapid fare, and an undiluted Marfa experience, try the Food Shark (open Wednesday through Saturday, noon to 3 p.m., and parked in the center of town). This vintage food truck serving Mediterranean food earned a thumbs up from some of the nation's best food writers. After refueling, stop by the Marfa Book Company, which sells newly published poetry, fiction and art books, as well as art.
Beyond eating and sleeping, there are countless intriguing things to do and see in Marfa. The Chinati and Judd Foundations are main attractions, but don't overlook the other galleries, including Ballroom Marfa, a performance arts space and gallery that uses innovation and accessibility to encourage engagement with art. Its installations often explore varied perspectives and cultural themes through visual art, film, music and performance. Take Prada Marfa, for example, a replica of a Prada store constructed along that desolate highway: The door doesn't open, but there are shoes and handbags in the window. A combination of Pop and land art, it's there in perpetuity, untouched, slowly degrading back into the natural landscape as a comment on consumerism and brand worship.
"Some people get here and don't get it," says Baxter. "They say 'Well, what's the big deal?' And they've missed it. To me, it's the beauty that surrounds the town — the desert and the highlands."
---
DAY TRIPPERS
Though Marfa has a wonderful in-the-middle-of-nowhere-feel, in fact there are a handful of towns — some even smaller — in the outlying areas that are well worth a vist
---
Fort Davis: For History Buffs and Reptile Lovers
Twenty-one miles north of Marfa, Fort Davis is a mere slip of a town; but its historic and restored fort — established in the 19th century to protect mail coaches and freight wagons during the U.S. wars with Native Americans — is one of the best surviving examples of a frontier military post. Nestled in the Davis Mountains, Fort Davis is worth visiting simply for the rugged, forbidding scenery. The McDonald Observatory is also close. The surrounding peaks allow for some of the darkest, clearest nights in the area and McDonald's Hobby-Eberly Telescope is tied with the Southern African Large Telescope as the fifth-largest telescope in the world. For those who like snakes, the Rattlers and Reptiles museum is said to have the largest live rattlesnake exhibit on the planet.
---
Marathon: A Place for Stargazing
On your way to Big Bend National Park, you'll find a town smaller than Marfa and Fort Davis — Marathon. Located in a low-lying, dried-up seabed surrounded by, you guessed it, cattle ranches, it too sits beside the Southern Pacific Railroad. With a population of 470 people and an itty-bitty main street, Marathon feels more classically like the middle of nowhere than the other West Texas towns. Maybe that's why director Wim Wenders chose to locate his film, "Paris, Texas," in the hamlet. And yet, if you stop in at the White Buffalo Bar for one of its famous margaritas on a weekday night, it will be full of life, often with a local band playing and people talking into the wee hours. The White Buffalo is in the historic and newly restored Gage Hotel, where rooms are authentic Texas chic. Cattle skulls hang from walls and terra cotta floors keep your feet cool. If you're a nature lover, Marathon's Post Park is one of Texas' better birding spots. After sunset, get a load of the Milky Way from a place where you can truly see it. The skies above Marathon rate a number one on the Light Pollution Scale, which puts it among the darkest regions on the continent.
---
Alpine: A Modern-Day Cowboy Town
Twenty-six miles east of Marfa, in the Davis Mountains, sits the town of Alpine, which has the flavor of a place where real people live and work — albeit many of them in saddles and spurs. This little town of 5,900 people is also known as the gateway to Big Bend National Park, one hour or so down the road. (In Texas terms, that's close.) Alpine is also the site of Sul Ross State University, which is known for its competitive rodeo club. The university is also the site of the fabulous (and free!) Museum of the Big Bend, an enchanting repository for vastly varied exhibits about the region. It has a minor-league baseball team (the Alpine Cowboys), an annual Texas Cowboy Poetry Festival, and a newly restored historic hotel called The Holland. For a nice contrast to whimsical Marfa, visit Alpine for a peek at life from the perspective of a 21st-century cowboy.