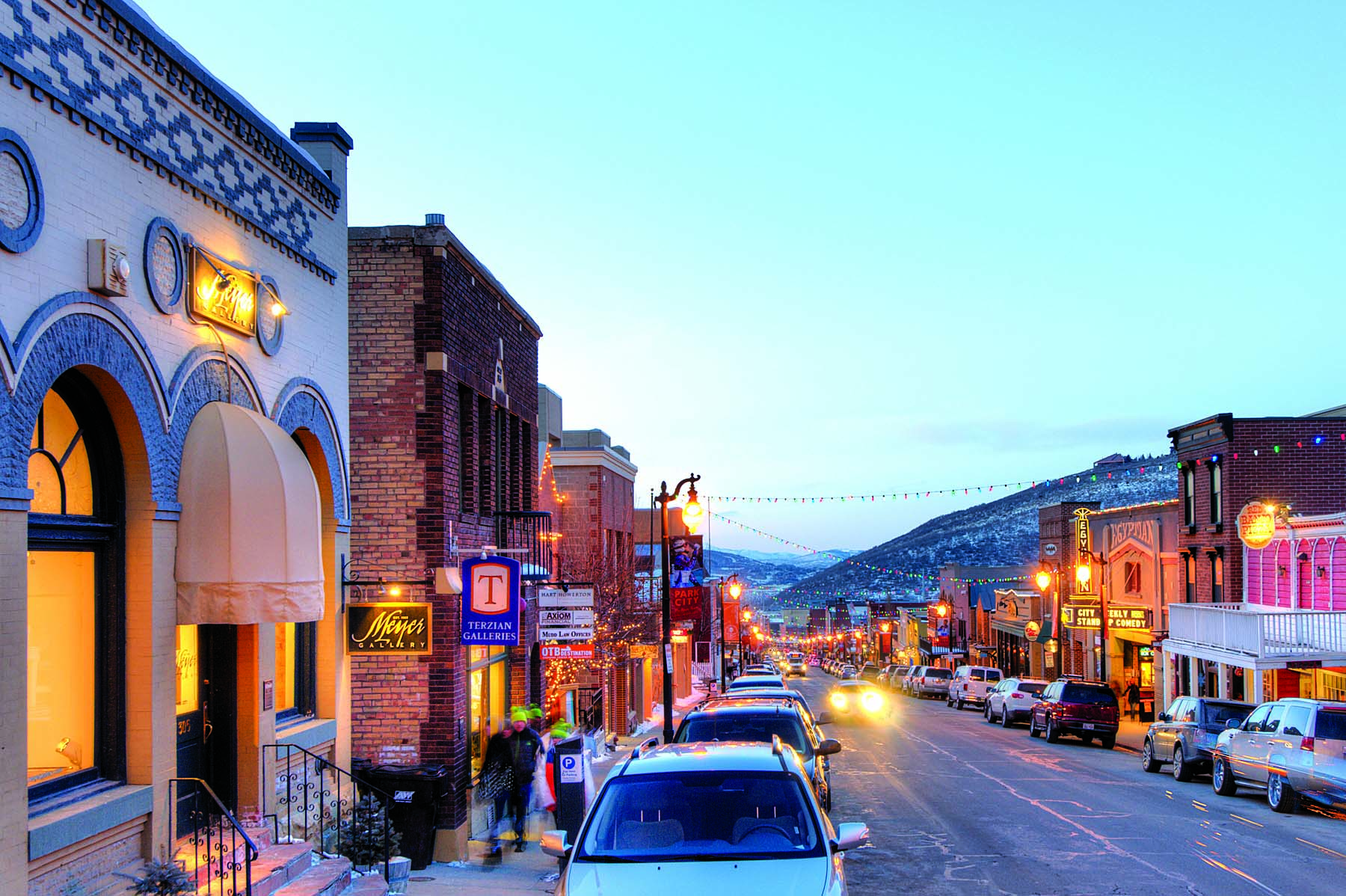 Main street glows at dusk often when venues such as Meyer Gallery come alive.
01 Dec

Wanderings: Park City, Utah

Even people like me, who have a love-hate relationship with the snowy, steep inclines of the Wasatch Mountains, can find at least three reasons to make the 30-mile journey from downtown Salt Lake City to Park City, Utah. Locals claim it has the best snow on earth (and three world-class resorts just minutes from one another). But I'm thinking the better reasons are fine art, fine booze (yes, you can get a drink in Utah, and a mighty fine one at that) and fine food.

For all the glitz and glamour of the Sundance Film Festival, that takes place every year in January, there's a small-scale, very manageable charm about Park City. For every fine-art gallery, there is a cottage industry of trinkets that hearken back to the town's sleepy silver-mining days. For every dive bar frequented by ski fanatic, PBR-drinking locals, there's a trendy lounge replete with designer-clad sippers of Barolos and craft cocktails. In other words, there's a mind-boggling number of pleasurable distractions per square foot in this little mountain town.

There's a reason for all the foot traffic on Main Street. It's dense with art galleries. Sure, there's a surplus of wildlife photography … but once you get beyond the wonder of the fifth portrait of a grizzly bear gorging on salmon, there's an astonishing range of Contemporary, Western, landscape and mixed-media art waiting to be discovered.

For a more organized sojourn, the Park City Gallery Association holds a Gallery Stroll the last Friday of each month that attracts visitors, local enthusiasts and neighbors, who often commute from Salt Lake City to take part. It's a great way to meander between the venues and artistic styles. The glasses of wine and culinary points of interest in between provide further incentive to keep walking.

The town is most famous for its Western art. Mountain Trails Gallery is just one of three opened by Vic Payne and shows off the breadth of Western art. Offering Contemporary and more traditional styles, it's a great starting point for beginning collectors to view the complete range of this genre.

Meyer Gallery sits in a former historic bank building, and features artists whose work appears in the Smithsonian and other notable locales. It's a surprising venue for many — bronze sculptures and classic landscapes by Douglas Aagard share show space with Modern, edgier pieces by artist Brian Kershisnik. It's one of the loveliest stops during an evening gallery stroll.

Sculpture lovers take note: Dancing Hands Gallery features some of the West's best artisans in glass and clay. Interior designers crafting the ambience of their clients' mountain getaways like to use the ceramic pieces as visual punctuations for showcase shelving in hallways, grand kitchens and intimate dens.

For the most whimsical look into contemporary Western art, Gallery MAR is engrossing. For serious artwork, the staff and atmosphere are refreshingly unstuffy with a youthful vibe that really works for young collectors.

In the same vein is J GO Gallery, one of the newest and most exciting contemporary Western art venues with a range of painters, photographers and mixed-media artists in its impressive arsenal of a collection.

In between the art gazing, I also like a bit of caffeine and feline companionship, and Dolly's Bookstore is one of the few places on earth that I can think of getting both while reading up on Utah history. The resident cats are rotund and friendly, and the café next door supplies a quick jolt from hot chocolate or coffee.

For a different type of shopping experience, you can find fashionable souvenirs at Mary Jane's, a clothing boutique and designer shoe store. It's not Western-inspired, per se, but timelessly chic and delightful to peruse between the canvas and sculptures.

Once you make your way down Main Street, the Kimball Art Center is arguably the hub of the gallery stroll and much of the artistic activity in town, thanks to its nonprofit nature and community involvement ranging from public education programs to stunning works. Chihuly Venetians, on display from a private collection, is a winter showstopper. I could spend hours admiring the turns of light and color from each piece.

More off the well-beaten path is what some consider to be a nexus of the contemporary art gestalt of Park City. Julie Nester Gallery requires four-wheel transportation, but it's worth the journey. For nearly a decade this lofty warehouse space on Iron Horse Drive has featured emerging artists throughout the West.

But woman cannot survive on art alone — there's a reason why gallery strolls and shows like to have food and wine at events. All that walking in the winter air is bound to make me hungry, and I've come to rely on a variety of spots to satiate whatever craving I might develop in food and mood.

Just across the street from Kimball Art Center is the High West Distillery. Micro-distilled, award-winning whiskeys and blends are the artistic powerhouse here, but the locale itself is worthy of a tour that happens several times a day. The giant Austrian copper still that produces the delicious libation is a marvelous sight. When it gets a bit cold, I opt in for a whiskey tasting or one of the hot cocktails and a bowl of French onion soup. More adventurous skiers appreciate that the distillery and restaurant is the only ski-in-and-ski-out restaurant in town.

For a low-key spot to rub elbows with off-the-clock locals, the No Name Saloon is the town's unofficial two-story social hall, complete with delicious buffalo burgers and a covered patio during the winter and (thankfully) warmed stone benches. It's very Western and masculine in feel, but it's probably the best place to get tips on backcountry ski routes.

The cold never seems to sway my need for gelato and Park City is now home to one of the best places to get it — Vinto Pizzeria also features wonderful wood-fired pies. The reasonable pricing makes it a hub for locals with families and large groups, but a quick pit-stop for the High West Whiskey caramel gelato or the Salted Caramel gelato at the bar is de rigueur.

As a food writer, I often get requests for dining suggestions on Main Street. And I have to say, hands down, it's Talisker on Main. Though Talisker itself is a private community with its own arsenal of fine-dining options, its Main Street restaurant is open to the public and is unique in every sense.

A sneak peek into the amazing interior reveals design fashioned by the award-winning Denton House. The venue is a feast for the eyes — the main black-and-white dining room mixes modern whimsy with cowhide and plush over-size leather chairs that look over the open kitchen manned by the talented executive chef, Briar Handley.

The food at Talisker on Main is finely crafted from local ingredients and changes seasonally. Sure, there's wild game, but Chef Handley's talent also works wonders with succulent poultry, seasonal vegetables and desserts. The ever-changing menu is a refreshing switch from more static offerings up and down Main Street. Talisker matches the vibe of the newer and fresher galleries in town.

The best cocktail, and perhaps the best accommodation, can be found at the J&G Grill and St. Regis Deer Valley, respectively. New York food lovers will know that "J&G" stands for Jean-Georges Vongerichten, celebrity chef and food mogul known for his blend of Asian and French techniques. But this outpost tucked atop a mountain in Deer Valley (you have to take the funicular up to the resort), also features an amazing house Bloody Mary. Homemade tomato juice, a fresh grating of horseradish and a little squeeze straw of Worcestershire, hot sauce and seasoning is topped with celery wasabi foam, and the stemless goblet is rimmed with black lava salt. After a full day of gallery strolling and nibbling, it is the perfect happy hour wind-down.

Staying a night or two at the St. Regis is like taking the most luxurious vacation ever. Folks who book the suites even have their own butler-valet service to unpack, pack and cater to various requests.

Luxury in a sleepy former mining town? In Park City, it's the most delightful norm.