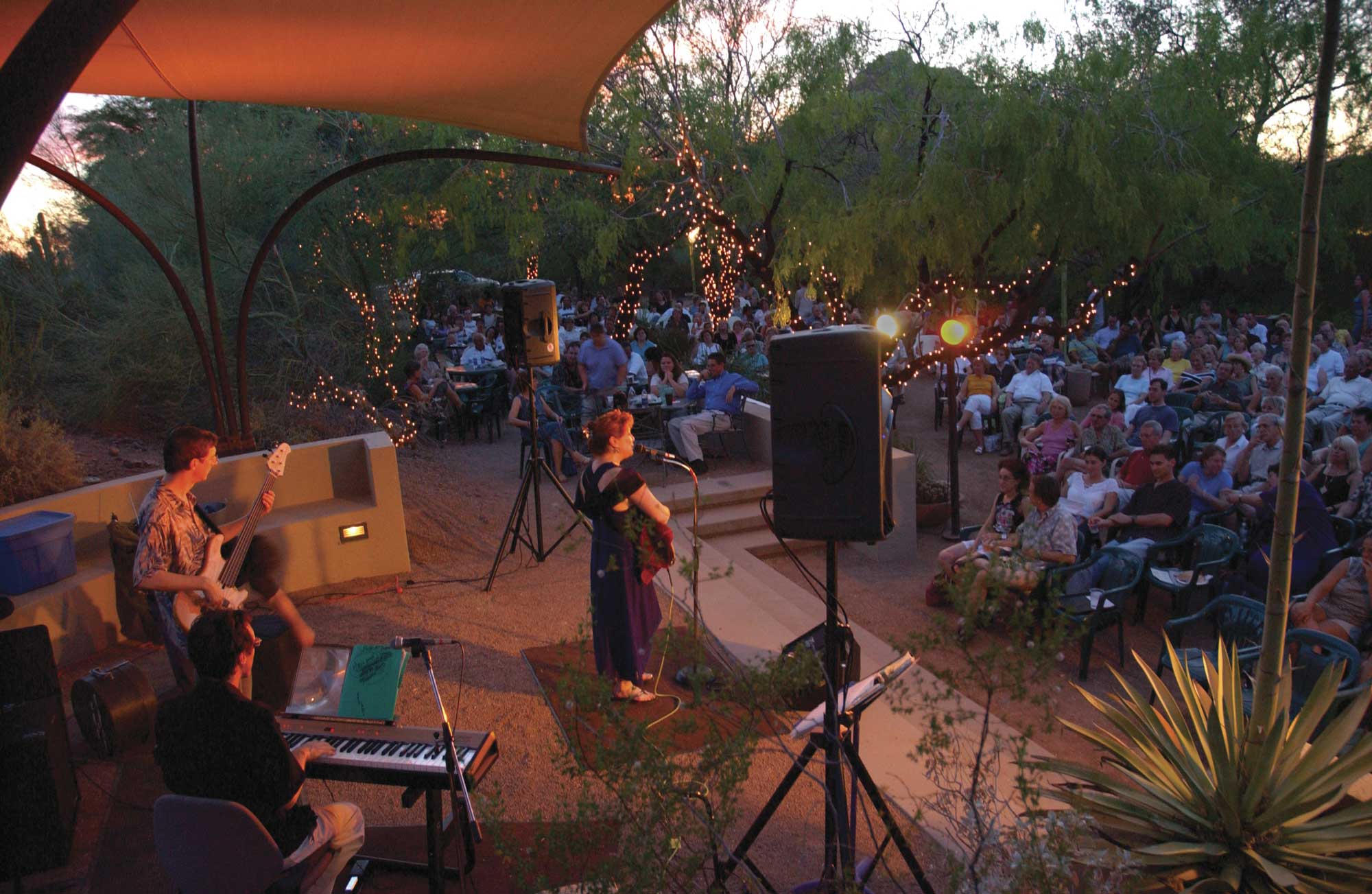 Playing for crowd at the Desert Botanical Garden Concert
29 Dec

Wanderings: Phoenix-Scottsdale, Arizona

The rising sun illuminates an earthy palette at the summit of Pinnacle Peak and spotlights the timid and flamboyant blossoms of the desert botanicals. I stretch in tandem with the giant saguaro to greet a new day. This quiet, early encounter is grounding as we slip into the desertscape of Arizona and begin to mine the regional treasures of Scottsdale and Phoenix. The desert, where the legendary Geronimo, Cochise, Wyatt Earp and Doc Holliday rode, is Arizona's playground on foot, horseback, ATV or hot air balloon.

Surprised by the irony of this region, we found a connection to the Old West, a cosmopolitan edge, echoes of the earliest civilizations, the evident, indisputable architectural influence of Frank Lloyd Wright and a difficult present rich in complexity. These cities, united by a passion for the arts, a shared heritage, airport, desert, climate, and long boundary, have more than a casual relationship.

Phoenix is reinventing itself as a sophisticated and cosmopolitan city. Scottsdale proudly professes to be "the West's most Western town." With a cowboy theme and significant Western statuary on every street corner, it's like the Florence or Rome of America calling across the desert and the sea: "This art defines who we are, where we've been, and why we're tough and individual and capable." With upscale galleries and boutiques, it's become a chic, expensive take on "the West."

In the valley we segue between the cities and their museums, resorts, events and restaurants, finding the boundary blurred. Ironically, we go on a Segway tour (as in the two-wheeled, gyro-operated mode of transportation) of downtown Scottsdale with ContempoRide. I admit, this was something I was never going to do. It looked too, well, unathletic. But I'm converted. Our guide, Monty Anders, knew the heartbeat of the city and shared his tales as we glided through the Scottsdale Arts District, home to the country's largest concentrations of galleries and the nation's first and, arguably, most impressive ArtWalk, held the first Thursday night of each month. We whizzed through historic Old Town Scottsdale where remnants of the wild frontier town include an original blacksmith shop, still in operation.We whirred along to the Civic Center Plaza, where regional American Indians were performing their native dances in an outdoor amphitheatre, and crossed over to the Waterfront with upscale hotels, boutiques and tempting restaurants.

Western art is a tradition in the valley and the Scottsdale Western Art Auction has become a major event in the art world. It attracts earnest collectors from around the globe, with paintings from many of the finest Western artists America has produced. Folks came straight from a round of golf in casual attire to bid seriously on significant pieces of art. That's it! This region is serious — they know art in all its forms, they know Major League Baseball and golf, they know food — but they're casual about it, friendly and unaffected.

"Art alone gives vitality and true appreciation of life to human desire … Without Art and Architecture, civilization has no soul." Frank Lloyd Wright, 1940

Echoes of world-renowned architect, Frank Lloyd Wright, permeate the area. The region is mindful that it holds the grave responsibility and honor of being the primary caretaker of Wright's legacy as the international headquarters for the Frank Lloyd Wright Foundation, School of Architecture and Archives. Wright came to the Arizona desert in 1937 to build a winter camp, Taliesin West, an escape from the Wisconsin winters. He was accompanied by his wife and apprentices who studied, drafted and built in the presence of the master.

Wright believed that architect students or 'apprentices' should integrate intellectual rigor, hands-on experience, farming, gardening and culture. Taliesin West was built on that premise. Sitting in his Garden Room in a Wright-designed chair, you get a clear feel for his philosophy of "organic architecture" — integrating a structure into its environment, drawing inspiration from nature, and pushing ideas of design without ever losing sight of function.

We created a FLW challenge to see as many of his buildings or designs in the region, and those of his fellows or devotees, as possible. Time ran out before his influence, but here's what I recommend:

First, tour Taliesin West, Wright's architectural laboratory. Book a touring Broadway show (or any performance for that matter) at Grady Gammage Auditorium at ASU in nearby Tempe. It was one of Wright's final designs, created during the last two years of his life, and adapted from his design for the Baghdad Opera House in Iraq, which was never built. It's stunning, grand and famed for acoustic excellence. Seated in one of 3,000 seats, you'll know you are in one of the world's great buildings.

The legendary Arizona Biltmore is another architectural landmark. Frank Lloyd Wright was the consulting architect for former apprentice Albert Chase McArthur. No one knows the full extent of Wright's contribution, but his influence is obvious. A large stained-glasswindow, Saguaro Forms and Cactus Flowers, created from a Wright design for Liberty Magazine in 1927, stops you in your tracks as you enter. In the courtyard, check out the Biltmore Sprites — geometric architectural statues with an Asian influence — designed by Wright for Chicago's Midway Gardens, dozed into Lake Michigan during prohibition, only to be dredged up years later, replicated and donated to the Biltmore by Mrs. Wright.

Italian-born architect Paolo Soleri apprenticed under Frank Lloyd Wright. Cosanti — his gallery, studio and residence in Scottsdale — is a fascinating place where cast concrete structures create a futuristic appearance. Still fully engaged in his work at 90, he designs and casts bronze windbells, each a work of art, to fund his life's ambition — Arcosanti — his vision to merge architecture and ecology in a compact, energy-efficient urban design. (Located 70 miles north of Phoenix.)

Besides art and architecture, Scottsdale, with its dynamic restaurant scene, is a destination for foodies. The region's chefs take their inspiration from local ingredients and diverse traditions resulting in adventurous options. Among the best are Cowboy Ciao's Stetson Chopped Salad; Sweet Republic Ice Cream's artisanal treats; and Pizzeria Bianco's acclaimed pies (expect a two-hour wait — the price of fame).

One of the most engaging dining experiences is Lon's at the Hermosa. With a retro-cowboy ambience, it's the epitome of the historic chic that permeates the region. Executive Chef Michael Rusconi trumps the farm-to-table hype with a seed-to-plate philosophy by overseeing a half-acre organic garden that provides minutes-fresh produce. His inventive cuisine blends with the rugged elegance of the historic inn. A nod to its artistic history — the restaurant and boutique hotel are beautifully housed in the former home and studio of turn-of-the-century cowboy artist Lon Megargee — there are artist-in-residence dinners and brunches where celebrated artists, sculptors and actors interact with the guests. The hospitality feels as authentic as we imagine it was when Lon welcomed his bronco-busting friends into this fabulous estate.

That hospitality, it seems, is a way of life in these parts. Take a deep breath and immerse yourself in a luxurious Sonoran Desert resort. The choices are endless, but it does not get any better than the Four Seasons Resort Scottsdale at Troon North. The color scheme of the casita guestrooms, complete with kiva fireplace, mimics the colors of a desert sunrise, sunset and the blossoms of desert botanicals. A stargazer chart on my pillow sealed it as my new favorite resort.

For a colorful and flavorful evening, pull on boots and jeans and go a mile down the road to Greasewood Flats, housed in a 120-year-old bunkhouse. Cowboys, bikers, locals and tourists share picnic tables under the stars to enjoy western music, burgers and libations.

Nine Major League Baseball teams have spring training camps around the valley. Attending the exhibition games is a local tradition — obsession, really. For the outdoor enthusiast there are world-class golf courses that roll over the desert with show-off greens, and desert hiking, biking, ATV and horseback riding. Scottsdale is a spa destination with the highest number of spas per capita of any city in the United States. For shoppers and fashionistas, there's Phoenix Fashion Week in early October, and don't get me started on the shopping possibilities. The only thing they can't provide is enough time to do it all.

With an urban grittiness and determination, downtown Phoenix is recovering and replenishing its soul in an organic, grass roots effort led by a handful of artists, restaurateurs and renovators. The dream for the region, in fact, started a long time ago. Dwight and Maie Heard moved to the area in the mid-1880s and amassed an extraordinary collection of American Indian art and artifacts with an emphasis on Southwestern tribes. Eighty years ago they founded the Heard Museum to house the collection. It has a quiet transformative aura that pulls you into the rich layers of history of indigenous people and showcases current Native paintings and sculptures. Held annually the first weekend in March, the Heard Museum Guild Indian Fair and Market is worth scheduling a trip around. The museum shop and bookstore is a great place to find American Indian textiles, jewelry, katsina (kachina) dolls and art.

The Phoenix Art Museum is the antithesis of the Heard's intimate aura. With expansive, airy, geometric spaces, it tells the story of American art from the European tradition to Modernist, and Impressionistic to geometric abstractions. One of the valley's premier art events, the Cowboy Artists of America Exhibition is held at the museum every October.

In 1939, just 10 years after the Heards started their museum, Mrs. Gertrude Webster, another progressive Phoenician, founded the Desert Botanical Garden. An early environmentalist, she wished to promote an appreciation for the beauty and uniqueness of the desert and to encourage its conservation. The gardens are a tribute to her passion. Go early, in the cool of morning, and allow time to wander leisurely through the winding trails that reflect the flora of the Sonoran desert, high chaparral and mesquite thickets. The garden has also become a desert venue for the arts — musical performances and an outdoor gallery for large installations of sculpted pieces.

When we arrived, I knew the region possessed a strong appeal, as many have wintered and vacationed here since the Rockefellers, Morgans and Vanderbilts of the Gilded Age; movie stars from Clark Gable to Steven Spielberg; every U.S. President since Hoover; musicians, politicians and ordinary folks. After discovering the rich layers of art, architecture, history and events (oh, and did I mention the sunshine?), I understand completely the historic migration of those who came before. We, too, shall return.
---
If You Go: Events and Attractions
Scottsdale Art Auction
April 10, 2010 | www.scottsdaleartauction.com
Taliesin West: 12621 Frank Lloyd Wright Blvd., Scottsdale | 480.860.2700 | www.franklloydwright.org
Grady Gammage Auditorium
Mill Ave. & Apache Blvd., Tempe | 480.965.3434 | www.asugammage.com
Cosanti
6433 Doubletree Ranch Rd., Scottsdale | 480.948.6145 | www.cosanti.com
Phoenix Art Museum
1625 N. Central Ave. | 602.257.1222 | www.PhxArt.org
Heard Museum
2301 N. Central Ave., Phoenix | 602.252.8848 | www.heard.org
Desert Botanical Garden
1201 N. Galvin Pkwy., Phoenix | 480.481.8104 | www.dbg.org
ContempoRide
7118 E 5th Ave., Scottsdale | 480.970.5475 | www.contemporidesegway.com
Dining
Lon's
5532 N. Palo Cristi Rd, Scottsdale | 602.955.7878 | www.lons.com
Cowboy Ciao
7133 E Stetson Dr., Scottsdale | 480.946.3111 | www.cowboyciao.com
Greasewood Flat
27500 N. Alma School Rd., Scottsdale | 480.585.7227
Barrio Cafe
2814 N. 16th St., Phoenix | 602.636.0240 | www.barriocafe.com
Sweet Republic Ice Cream
9160 E Shea Blvd. Scottsdale | 480.248.6979 | www.sweetrepublic.com
Sens Tapas & Sake Bar
705 N. 1st St. #120, Phoenix | 602.340.9777
Pizzeria Bianco
623 E Adams St., Phoenix | 602.258.8300 | www.pizzeriabianco.com
Lodging
Hermosa Inn
5532 N. Palo Cristi Rd, Scottsdale | 602.955.8614 | www.hermosainn.com
Four Seasons Resort Scottsdale at Troon North
10600 E. Crescent Moon Drive, Scottsdale | 480.515.5700 | www.fourseasons.com
Arizona Biltmore Resort & Spa:
2400 E Missouri Ave., Phoenix | 602.955.6600 | www.ArizonaBiltmore.com
---
Montana-based writer Carleen Milburn is a frequent contributor of travel and art features for art, regional and in-flight magazines.