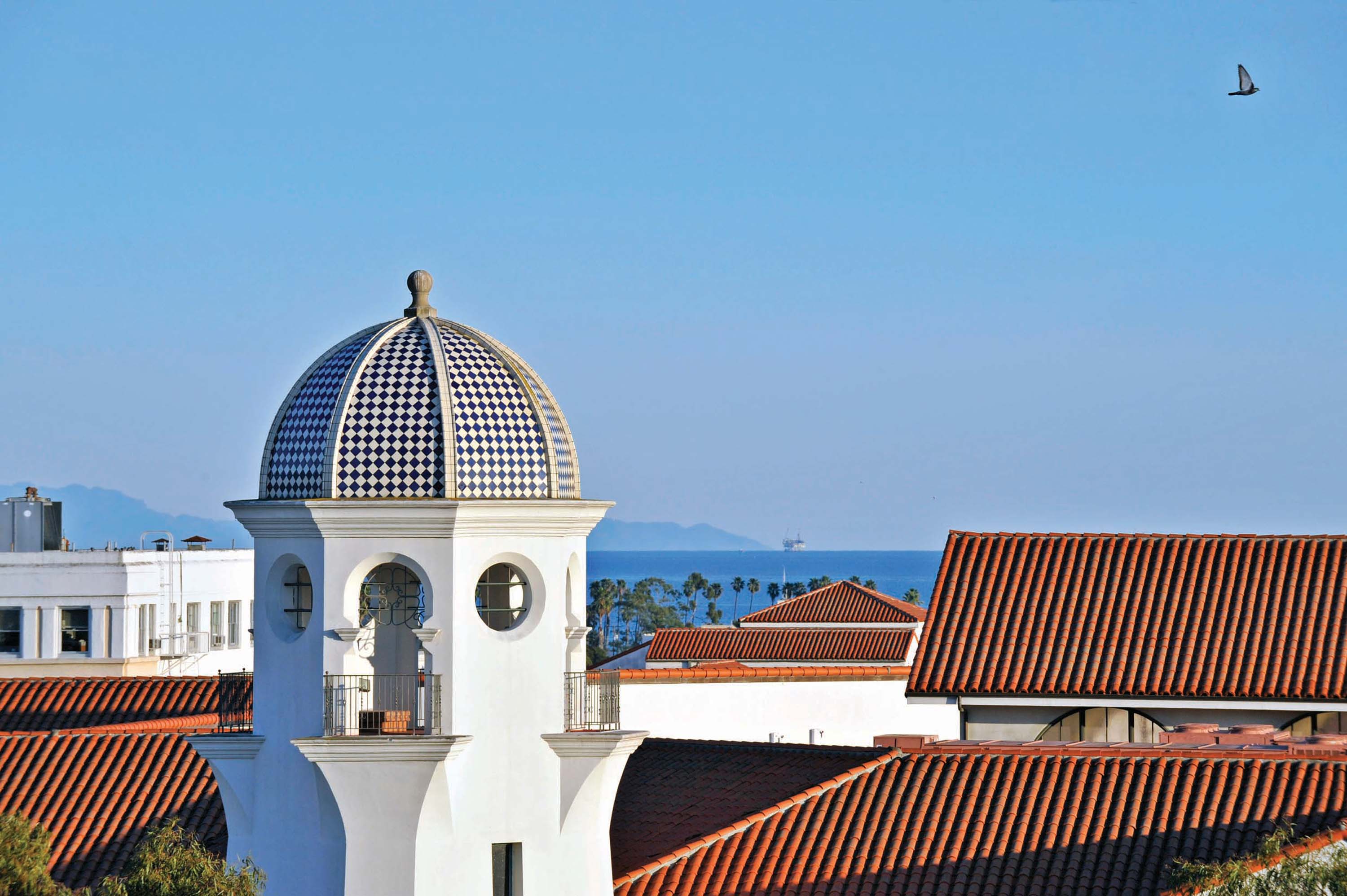 Santa Barbara is known for its beautiful architecture including the famous red tile rooftops. (All photos courtesy of Santa Barbara Conference & Visitor's Bureau)
04 Apr

Wanderings: Santa Barbara, California
---
One can only imagine how the Portuguese explorer Juan Rodriguez Cabrillo felt the day he sailed into a channel along California's Central Coast and encountered this stretch of land cradled peacefully between the mountains and a ribbon of ivory beaches. Breathless, probably. The site so impressed a monk on Cabrillo's boat that he named the land after the saint he believed had delivered them from a horrific storm — Saint Barbara.
Keenness for modern-day Santa Barbara comes from its natural beauty and cultural riches, including its proximity to a community of distinguished winemakers and a university campus with five resident Nobel Laureates. There is also the fact that residents have kept Santa Barbara history palpably alive and visually irresistible. And we haven't even touched on its vibrant art scene … with a world-class museum, numerous galleries, symphony and opera. In truth, when you consider the scores of hiking trails, access to kayaking, paddling and surfing, it's little wonder people call this town a paradise.
Since 1925, when a magnitude 6.3 earthquake damaged or destroyed dozens of Santa Barbara's government and commercial buildings (including its famous Mission), the city has been diligently preserving its Spanish and Mexican heritage. It founded an Architectural Advisory Board that evolved into an official Architectural Board of Review. The board approved plans for replacement structures that would reflect the informal architectural style of rural Andalusia, in southern Spain. Thick white exterior walls (older buildings were adobe brick), red-tile roofs, hand-wrought iron railings, picturesque balconies, courtyards with gurgling fountains, breezeways and corridors that lead to other courtyards and side-streets, and arched stone entryways all became signatures of Santa Barbara architecture. The famous policy — still in existence — evokes the spirit of the city's earliest settlers.
It doesn't matter if you begin at Cabrillo Boulevard (the street paralleling the beach, named for its first European visitor) and head north to the Mission, or the other way around, just be sure to leave your car in the lot and walk. You can stay downtown in one of several cozy bed-and-breakfasts, including the historic Upham Hotel. Or dip into the secluded romance of the San Ysidro Ranch, in nearby Montecito, where Jackie and John F. Kennedy spent a portion of their honeymoon. Just be sure to explore the sights on foot, because there's an endless amount to see and enjoy.
A five-block "Funk Zone," sandwiched between the beach and freeway, offers a fun, organic mix of light industry, residential and tourist attractions. You'll find surfboard makers, bike-rental shops, a fish market, kitschy antique store The Mermaid's Chest and four urban wineries, including Oreana, which is housed in an old tire shop two blocks from the beach. Stroll west on Cabrillo and you'll reach the working harbor, where the famous Brophy Brothers Restaurant & Clam Bar is located and fisherman sell their catch to early risers.
From lower State Street, cut through Stork Placita to De La Guerra Plaza. Set around a big oval lawn, Santa Barbara's many festivals play out here — including the portions of the five-day Old Spanish Days Fiesta, a celebration of the city's cultural heritage that includes Spanish and Mexican dance and music performances, an equestrian parade, a rodeo and much more. Always in early August, the events bring most city business to a halt. Casa de la Guerra, the original home of Jose de la Guerra, the fifth comandante of the Santa Barbara Royal Presidio, sits at one end. With its wide dirt courtyard, thick white adobe walls, columns and low roof, the authentic 1819 structure operates as a museum and is still being restored by The Santa Barbara Trust for Historic Preservation.
Behind Casa de La Guerra is El Paseo, an open mall designed by James Osborn Craig in 1922 that proved to the community traditional Spanish architecture can be employed in a modern structure. But enter from "A Street in Spain," adjacent to Casa de la Guerra, because your attention will be seized by an artfully carved stone walkway and the array of sister city flags. The walls are bright white, boughs of fuchsia Bougainvillea drip from wooden balconies and a large fountain gurgles in the center courtyard. Western artist Ed Borein had his studio in this mall, and the location is identified by a bronze plaque.
The Santa Barbara Royal Presidio, built in 1782 by Spanish colonialists as a military fortress and government seat, is one block up from El Paseo. Originally it was in the shape of a wide quadrangle spanning the whole city block, but only two sides stand today, though they include pieces of its original structure. Rows of adobe bricks are sometimes laid out to dry in the sun here, in preparation for use in the construction of a new defensive wall, part of the reconstruction process. The Presidio Chapel, with its delicate candle sconces, hand-painted walls and original wood altar railing, is Santa Barbara's first church. Spanish soldiers and their families worshipped here along with the Chumash Indians who had been converted. The chapel is used for special celebrations and weddings; history alive and well.
The Santa Barbara Museum of Art is not to be missed. Founded in 1941, it has more than 27,000 works of art displayed in 60,000 square feet of galleries. No West Coast museum has more Monets. Its collection of Greco-Roman figural statues includes a monumental Hermes from the Lansdowne Collection, and a half-dozen other rare marble statues from that period. A distinguished photography collection includes works by earliest American photographers including Marion Post Wolcott and Robert Rauschenberg and California photographers from 1860 forward.
Just down the street from the museum, on the corner of State Street and Figueroa, is the enchanting Waterhouse Gallery, which specializes in plein air, figurative and still-life paintings from leading California artists. Around the corner from the museum is the respected Sullivan Goss Gallery, a dynamic gallery dedicated to 19th-, 20th- and 21st-century American art, including paintings, sculpture, prints, watercolors and drawings.
This Upper State Street neighborhood has plenty of restaurants to feast in after you've indulged your imagination and senses. The Arts and Letters café, in a lovely courtyard of the Sullivan Goss Gallery, serves lunch daily. The upscale Mexican fare at Carlitos will prove there is much more to this cuisine than burritos and quesadillas. If you like Japanese food, Arigato has arguably the best gourmet sushi on the Central Coast.
Whether your visit to Santa Barbara is short or long, whether you delight in its outdoor adventures or take a journey back in time, you will surely depart with a single question in mind: When can I return?