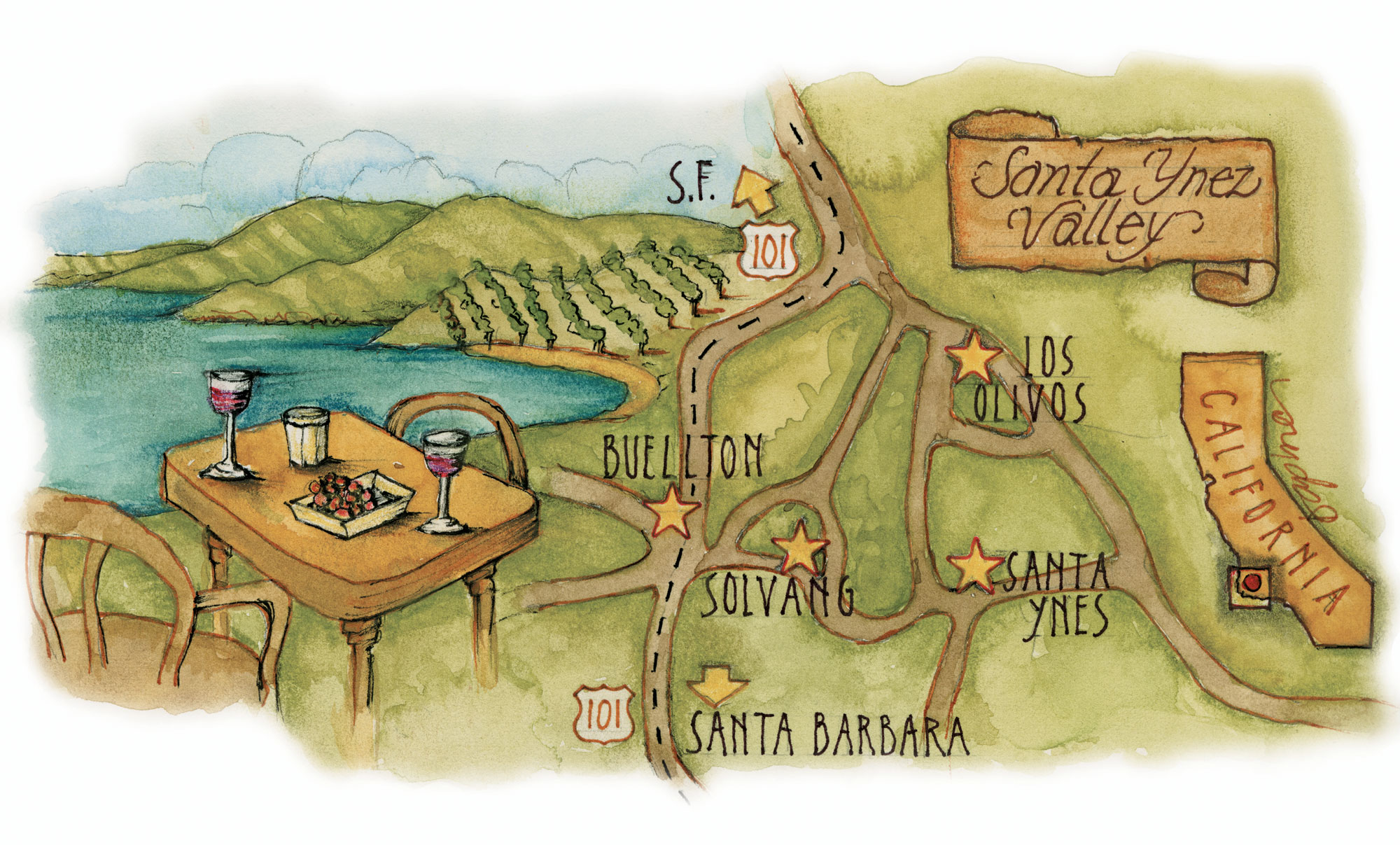 04 Aug

Wanderings: Santa Ynez Valley, California
---
In the 200 years since Spanish missionaries built their 19th California mission in the gold valley that extends north from the Santa Ynez Mountains, vast cattle ranches have given way to pastoral horse farms, vineyards and a handful of quaint towns draw tourists. Descendants of those first ranchers are still on horseback, minding smaller ranches and farms alongside newer arrivals, some of whom are making distinguished wines. Horse trainers, veterinarians, artists and business owners have found their way here, too, and everybody coexists as comfortably as if they were from the same family.
In the Santa Ynez Valley, the contradictions are as pleasing as the Bordeaux. Though director Alexander Payne's "Sideways" made the area a tipsy tourist obsession, visitors were basking in its unpolished, quietly sophisticated offerings long before wine became its signature commodity. Attracted by its temperate climate, its chain of little towns — with distinctive boasting rights — the chance to ride with a real cowboy and get ebelskivers made from scratch, most who come here say it's an oasis of Western pleasure.
Thirty miles northeast of Santa Barbara and 140 from Los Angeles, the valley may be where Michael Jackson resided at his Neverland Valley Ranch and where Ronald Reagan traded politics for spurs, but its culture flows from the era of the rancheros, when parcels of land were bequeathed or sold by the Catholic Church or homesteaded by pioneer farmers. If you're ever in the neighborhood the first weekend of May, you can see how 600 or so modern-day rancheros still ride up Solvang's main street to receive a collective blessing from mission padres before disappearing into the backcountry for the annual Rancheros Visitadores week.
Danish teachers from Iowa founded Solvang in 1911 on a 9,000-acre foreclosed Mexican land grant, in hopes of living out their culture without interference. A hundred years hence, classic half-timber buildings, windmills, a one-third-size replica of the Rundetaarn (round tower) in Copenhagen, and baked, buttery goodness on every block make this a year-round celebration of old-world Danishness. (Do not leave without sampling the almond custard kringle at Olsen's Danish Village Bakery.)
Meanwhile, contemporary Danish style can be found at new boutique Landsby Hotel — blonde wood floors throughout, imported custom-design Danish furniture and a cellar stocked with local wines make this a hip homebase for day-long valley sojourns. One block away, The Wilding Museum exhibits photographs and paintings of wild horses, revealing the creatures' original and dramatic beauty. Proceeds benefit the nearby Return to Freedom horse sanctuary.
Just up the road, at edge of Buellton, Monty Roberts and his family are still gentling abused, distressed or injured horses back to health. On their 164-acre Flag Is Up Farms, Roberts, the original horse whisperer and inspiration for the 1998 movie, also teaches trainers and handlers to break horses without violence by forging cooperative relationships. You can drop by and see the circular pens they use to coax horses into working peacefully with their handler.
All manner of equestrian activities happen here. One hundred six thoroughbred foals were born this spring at Tommy Town Farms in Santa Ynez; other farms breed Arabians, some focus on miniatures.
Keep your eyes open as you drive through Santa Ynez because you'll be on its outskirts without realizing you came close. But small does not reflect Santa Ynez's charm or quality. This is one authentically Western town that's not dying but quietly humming with businesses catering to sophisticated ranchers, vintners and anyone else who ambles by. At K.J. Murphy's, you can get a cowboy hat designed for you. At a saloon called Maverick's, you're guaranteed to see an inebriated cowboy whenever you darken its door. If you're hungry, you can get a prime rib expertly slow roasted by Jeff and Matt Nichols at their Brother's Restaurant at the Red Barn. Maybe their pastry chef Stephanie Jackson will have made her miraculous scratch strawberry shortcake. That kind of treat will prep you for a night at The Santa Ynez Valley Inn, an upscale Old West-style bed-and-breakfast where beveled mirrors and brass beds can lull one into imagining John Wayne tying up his steed out front.
In the mid-70s, when the valley's microclimates and sandy loams were found to be optimal for cultivating wine varietals, horse pastures began transforming into vineyards. At first there were only a few here and there; but soon they were commonplace. Today, more than 110 wineries operate in four distinct AVAs (American Viticulture Areas) in the valley — though some are just industrial wineries sourcing grapes from other vineyards.
Los Olivos, Santa Ynez' chic and nearby sister, is a good place to begin trying local vintages. This more polished town has two art galleries — Gallery Los Olivos, a cooperative owned by area artists, and Young's Custom Frames. Between visits to the plentitude of tasting rooms here, sublime paintings and sculpture can be found in both.
Los Olivos Tasting Room takes pride in showcasing the area's fine Pinot noirs. But venture beyond this tipsy cocoon because Brander Winery is only a stone's throw away at the end of Refugio Road. Fred Brander, known locally as "the King of Sauvignon," bought his property with his parents in 1975 and immediately planted 10 acres of Sauvignon blanc, six acres of Cabernet Sauvignon and five of Merlot. In the years since, he has nurtured his Sauvignon blancs to a level of perfection that is widely acknowledged and the tasting room has many vintages and blends for you to try.
Behind his European, chateau-style tasting room, rows of varietals stretch out in all directions, soaking up the mild air and sunshine. You might even see his chief winemaker, Fabian Bravo, who will happily answer any of your questions. When we visited, he let us get a bug's-eye view of a new vineyard. Surveying the tender green flowers just emerging, Bravo explained the challenges of growing premium varietals without pesticides and in the third consecutive year of drought.
"With less rain, the grapes must be harvested a month earlier. [But] these are fun years to make wine," he says, his smile revealing his passion for winemaking while his small terrier, Yogi, runs back and forth between the rows, scouting for squirrels.