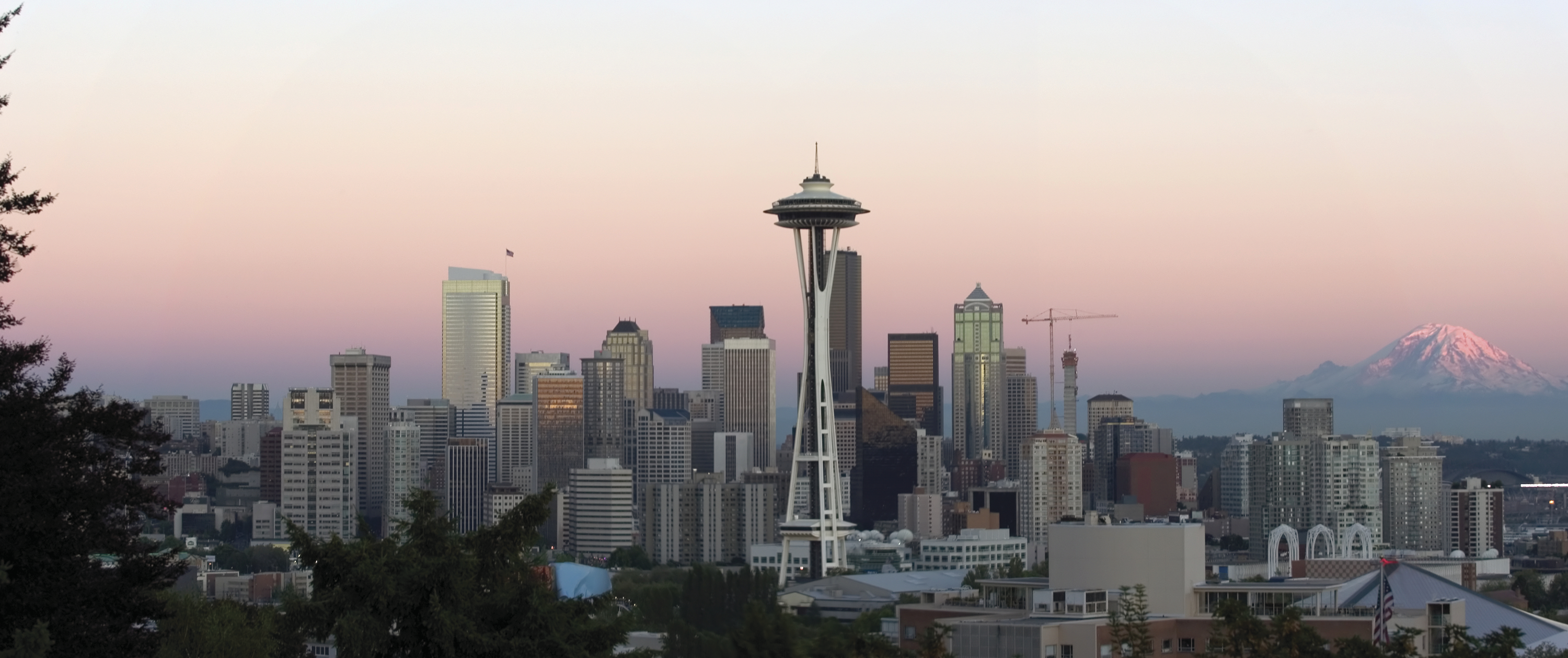 30 May

Wanderings: Seattle, Washington

My husband and I thrive on Seattle's "geeky" individualistic culture. The Emerald City's desire for its own identity invites creativity in its art, architecture and food, all of which make it an ideal spot to visit. Today the city continues to be the futuristic utopia symbolized by the iconic Seattle Space Needle. Built for the 1962 World's Fair, the tower portrays the spirit of the Jetsons as Seattle is programmed by the technology of Microsoft, Amazon.com and Boeing.

With Mount Rainier looming in the distance, our plane curves around the 605-foot spire, brushing by the Columbia Center, the tallest building in Washington, and over Safeco Field toward the Seattle Tacoma International Airport. The moist weather germinates art in unexpected locations. At baggage claim, Norman Andersen's mixed-media kinetic sculpture, Rainmakers Baggage, composed of vintage suitcases, rotates above the beltway. On a nearby wall, a reflective mural by Richard Elliott, featuring radiating geometric diamond forms, is aptly named Eyes on the World.

From the airport, the new Link Light Rail transports us downtown for $2.50. Sound Transit allocates a portion of project construction costs to art, working with local communities to select artwork to integrate into the system. One of the larger acquisitions is a pair of 30-foot stainless-steel abstract sails constructed by Werner Klotz, hanging like wings from the ceiling of the mezzanine level at the SeaTac Airport Station. The wind-activated panels contain the laser inscribed names of Northwest Native tribes. As we step onto the escalator, the rhythmic sounds of Native American drummers pace our ascent.

Steely "ding dongs" signal the closing of the doors, beginning our E Ticket ride. We whiz by a garden with the white statues of Guanyin, the Buddhist symbol of mercy and compassion; a community garden dormant from summer harvest; a group of women wearing hijab headscarves; and a lone woman in a saffron-colored sari.

Eight lyrical African ladies of cut steel dance in the landscape, greet us as we approach the Othello Station. Roger Shimomura's sculpture of stacked found items, including a shoe and a bowl with chopsticks, named Rainier Valley Haiku, offers an interpretation of what it means for a person of Japanese descent to live in America. Stonework by Brian Goldbloom, Stormwater Project, is functionally integrated as eight granite catch-water basins.

Richard Elliott's reflectors shine brightly as we glide by a retaining wall holding 35 panels of his work, running two blocks along Martin Luther King Way. At Columbia City Station, we see a 36-foot-tall bronze sculpture, Global Garden Shovel, cast with hand-carved plants, fruits and vegetables, and then two bronze magnifying-glass sculptures created by Gale McCall, named A Relic in the Garden.

At the Mount Baker Station, Guy Kemper's Rain, Steam, Speed and Seattle Sunrise painted glass offers a sunny splash of color. As we curve into SODO or South of Downtown, through the industrial district, we spy our first glimpse of the city, with Safeco and Quest Fields sporting arched crowns and the torchlike Seattle Space Needle guarding the background. A glance to the other side of the train reveals one of Seattle's most recognizable landmarks, the Old Rainier Brewery building with its mustard, moss and brick-orange walls, now housing commercial and creative spaces.

Graffiti colors every wall on both sides of the train for several miles. Just before arriving at the Stadium Station, the Filson factory appears. This Seattle haberdashery has been in existence for more than 100 years, and seems in odd juxtaposition to the modern edifices of the Seahawks and Mariners sports franchises.

Our ride ends at Westlake Station. We ascend to the street, walking past Seattle's flagship department store, Nordstroms, to board the South Lake Union Trolley, known locally as the "SLUT," and head north to the Westlake and Denny Station. When the doors slide open, Three Women, created by Akio Takamori, a collection of larger-than-life cast-aluminum sculptures depicting a girl, a young woman and another with her baby, welcomes us to the Whole Foods Market and Pan Pacific Hotel complex. The hotel touts itself as a "luxury urban oasis" showcasing sleek modernity designed by hospitality consultant Hirsch Bedner.

After unpacking, we head to Seastar Restaurant and Raw Bar for the "45-Minute Lunch," for $14. A Spicy Ahi Roll fuels our walk down Westlake Avenue. We stop at Designtheory to find vintage, one-of-a-kind "bling" design and wander into Claudio Corallo to taste 100-percent pure chocolate made from African cacao.

We round the two cylindrical towers, nicknamed "the corn cobs," of the Westin Hotel. As we approach Pike Place Market, we pass the original Sur La Table kitchen equipment store, and at the corner, look through the windows of Beecher's Homemade Cheese. Across the street at Victor Steinbrueck Park, we find James Bender's totem pole watching over Elliott Bay. The Bell Street Pedestrian Bridge takes us to the water's edge. Finally arriving at the Olympic Sculpture Park, our day's destination, we follow the paths that lead to more than 20 outdoor sculptures. Wandering through nine waterfront acres, we view works created by artists including Alexander Calder, known for his red steel Eagle and Claes Oldenburg for Typewriter Eraser, Scale X.

Back in South Lake Union, we venture over to Christine Keff's Flying Fish Restaurant, designed by Phillip Christofides, for seasonal seafood, and then chug a porter at Paddy Coyne's Irish Pub.

At the airport, our Seattle experience concludes by securing an art piece at Fireworks Gallery and sipping Pacific Northwest wine at Vino Volo, located at the edge of the Central Terminal atrium where Ralph Helmick's and Stuart Schechter's Landing, a mixed-media sculpture, floats above the glass atrium looking onto the tarmac. We plan to return to the Emerald City soon by plane, explore by train and walk everywhere.