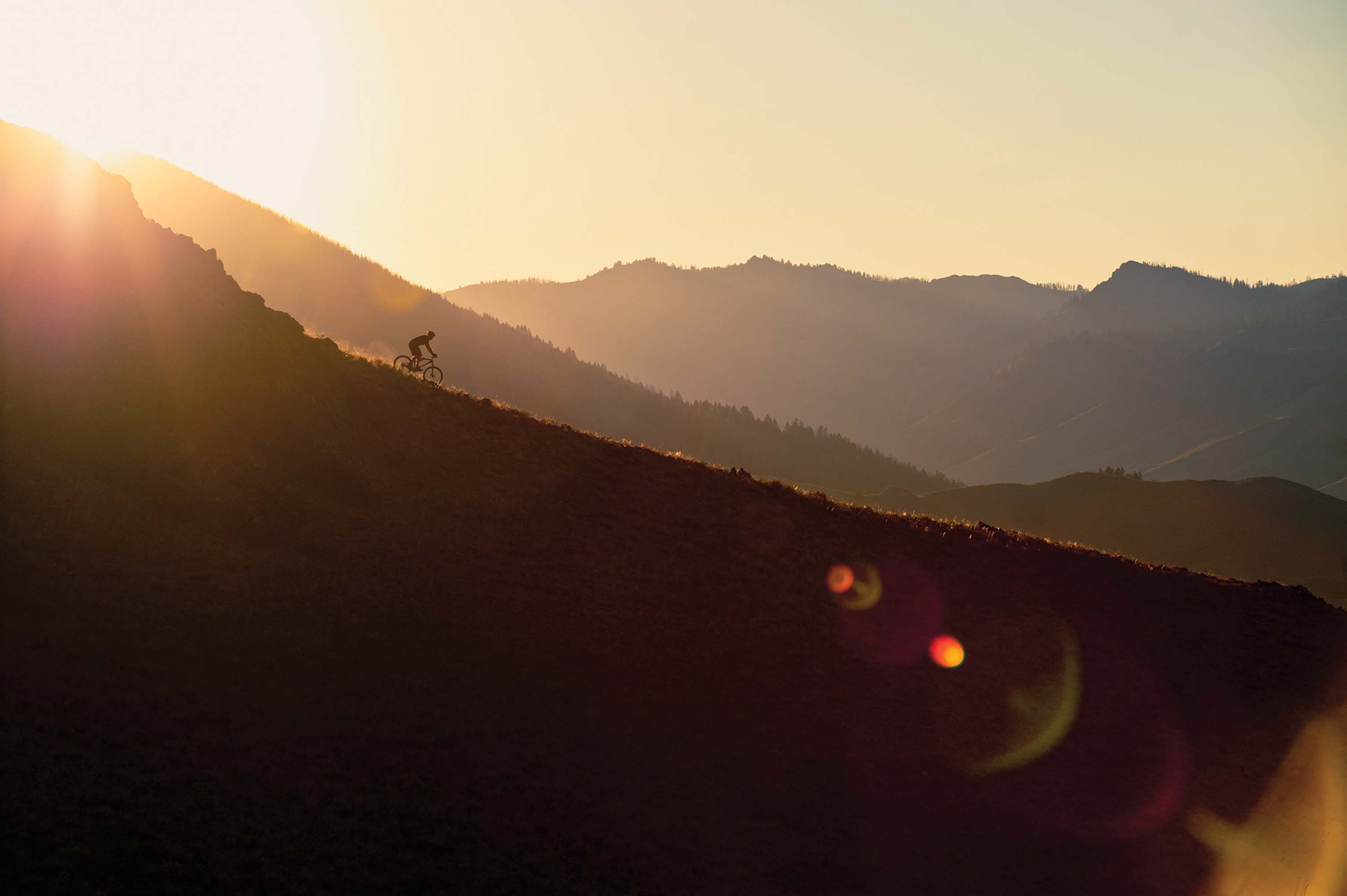 The GailSsevern Gallery has been presenting energetic exhibitions for more than 35 years.
19 Oct

Wanderings: Sun Valley, Idaho
---
A visit to Sun Valley, Idaho, is like being transported to another universe. It's a place to which, once discovered, many return and often settle. "Just another day in paradise" is a common greeting among locals, especially in autumn months when there are fewer cars and a lot more time to enjoy mountain-town life at its finest. You can't bottle this mountain town's vibe — it has to be experienced first – hand.
America's first destination winter resort, Sun Valley's history is shrouded in glitz, glamour, sports and mystique, all of which are very much intact and continuously evolving. Ernest Hemingway is still celebrated here. The Hollywood celebrity appeal that resort developer W. Averell Harriman created in the mid-1930s still hangs in the air.
And today, the snow-making capacity generated by the resort's 535 snow guns is considered the best in the business. This idyllic mountain resort combines the charm of the past with the beauty of the present.
Before captains of industry, Hollywood royalty, dignitaries and trust funders claimed the land, the valley had an extensive mining and ranching history, both of which still shape the community today. A unique and revered festival, The Trailing of the Sheep, takes place every October and attracts visitors from around the nation for a weekend devoted to all things wild and woolly. In addition to being a sight to behold, the festival's sheep parade down Main Street in Ketchum is actually all in a day's work for the sheepherders moving stock from summer grazing to warmer winter climes. The festival was started in 1996 as a response to the rapid loss of farms and ranches in the face of meteoric growth in the Wood River Valley and represents the community's respect for tradition.
But Sun Valley is not a dusty, Western boardwalk town. For starters, it's paradise for lovers of the outdoors. Its sagebrush-covered mountains are soft and its slopes feature glades of pine and aspens whose brilliant flames of yellow beckon fall hikers. The Big Wood, Trail Creek and Silver Creek make this corner of the West a fly-fishing mecca. Fly-fishing guides at Silver Creek Outfitters come for the summer and stay for the winter — always ready to fish.
Sun Valley's backyard is a protected region of the Sawtooth National Recreation Area [SNRA] where the Boulder-White Clouds and the majestic Sawtooth Range have inspired many an artist, athlete and nature lover. With hundreds of miles of hiking and biking trails in and around Sun Valley, some of the local favorites are the 18-mile Harriman Trail, which starts at the SNRA Headquarters and follows the scenic Big Wood River; the trails up Bald Mountain, aka Baldy, a skier's dream; the Proctor Mountain trail, which begins at the Hemingway Memorial and showcases the world's first ski lift; and the 8.5-mile Pioneer Cabin Loop. Visitors heading out to Adam's Gulch, just north of town, are in for a glorious experience, both en route and all along the popular hiking.
Besides being geographically blessed, the town of Ketchum offers a host of activities, dining and cultural amenities, all of which exist within steps of one another.
While summer, winter and spring draw fishermen, hikers and skiers, the autumn shoulder season has advantages all its own with mild sunny days and crisp evenings. "Fall in Sun Valley is the best of all … ," wrote Ernest Hemingway. A host of activities, dining and cultural amenities, all of which exist within steps of one another.
While summer, winter and spring draw fishermen, hikers and skiers, the autumn shoulder season has advantages all its own with mild sunny days and crisp evenings. "Fall in Sun Valley is the best of all … ," wrote Ernest Hemingway. A host of events — including the Sun Valley Harvest Festival in late September and the 25-year-old Sun Valley Jazz Jamboree in mid-October — add to the appeal.
Sun Valley is an arts town with an abundance of ways to celebrate art in all its forms. Ketchum's Fourth Heritage Corridor exhibits public art donated by galleries, artists and collectors who live in the Wood River Valley. And the Sun Valley Center for the Arts has year-round art classes, multiisciplinary exhibitions, films, lectures, concerts and more promoting the importance of art and culture in the community.
The quality and array of art in this hidden corner of the West is a collector's dream. Lipton Fine Arts boasts Modern masters including Chagall and Picasso, plus works by Dine, Calder and others. Harvey Art Projects USA is one of the only sellers of Australian Aboriginal art in the United States, and Wood River Fine Arts has a complete catalog of some of the best Western artists, including bronze works by the late Dave McGary, who made Sun Valley his home.
At the Gail Severn Gallery, contemporary works and the best emerging artists show in an exquisite space. Gilman Contemporary not only has one of the finest collections of photography in the West, it also brings current rising art stars to Idaho. One of the most revered galleries in town is Ochi Gallery, which highlights leading contemporary artists through interactive exhibitions. A Ketchum fixture since 1987, Broschofsky Galleries beautifully combines museum-quality American Indian antiquities alongside spectacular works in all mediums from the 19th to the 21st centuries; think Edward Curtifs, Andy Warhol and Billy Schenck.
Gail Severn, of Gail Severn Gallery, explains that serious collectors choose to buy art in Sun Valley because it's an unforgettable experience, and a far cry from acquiring pieces in Manhattan or Los Angeles. "Our artist talks at the gallery are some of the most incredible experiences for anyone who cares about art and artists," she says.
Whether it's a flavorful glass of wine from Frenchman's Gulch Winery or a classic cocktail at the Cornerstone Bar & Grill, Ketchum has fine dining and eateries for every palate. The re-located Globus features a boldly designed space that contributes to its contemporary world cuisine created at the hands of Chef Ryan Stadelman.
Ketchum Grill and Enoteca restaurant owners Scott and Anne Mason make it a family affair at their popular Italian hot spots. Their newest venture, Enoteca, was designed by Jennifer Hoey, who found inspiration in a blend of mountain modern design and classic Sun Valley style. For traditional Western fare and an authentic Western atmosphere, the Pioneer Saloon will satisfy any beef cravings.
The farm-to-table movement is alive and well in Sun Valley's eateries and this is a community that prides itself on eating local and organic. Glow Café is an organic, vegan and live-food cafe and health-food store with daily entrées, blended soups, juices and smoothies. The bright green Haven food truck is where owner Kellee Havens serves up delicious meals, from brisket sandwiches and grilled cheeses to quinoa salads and tasty homemade soups.
Other not-to-be-missed dining adventures in deliciousness include the inventive Italian fare at Rominna's, which offers a killer wine list and casual ambience. The breakfasts and lunches at Sun Valley's most popular dining establishment, Cristina's Restaurant & Bakery, are simple and delectable.
With full bellies, shoppers will find a vast assortment of boutiques and shops to meet any need. Some favorite local spots include Panache, which carries a plethora of Diane von Furstenberg designs, and local designers, including nationally known and locally made KK Designs jewelry. Sturtevant's, on Main Street, can outfit visitors for any sport with the latest in athletic fashions, gear and accessories. Another hallmark of autumn in Sun Valley are the sales, especially at the Brass Ranch, where gear and fashion collide.
When bodies are weary, accommodations include the beautiful and newly renovated Knob Hill Inn in Ketchum, where service, dining and lodging are held to impeccable standards. Although the Sun Valley Lodge is undergoing a major renovation, the Sun Valley Inn, the resort's "second hotel," remains open. When the lodge reopens in June 2015, it will feature larger guest rooms, luxury amenities and a brand new 20,000-square-foot spa. The project will maintain the character of this historic building designed by Gilbert Stanley Underwood in 1935.
Visitors in search of the ultimate spa day will find bliss at Zenergy at Thunderspring. Offering short-term memberships, this nationally-recognized spa and health club can soothe a tired body and rejuvenate the soul with body treatments, yoga, fitness classes, indoor and outdoor pools with a steam room. The view of Baldy from practically every corner of the spa is icing on the cake.
No matter what takes you to Sun Valley, this mountain town on the rise is sure to intrigue and inspire you with its unique abundance.