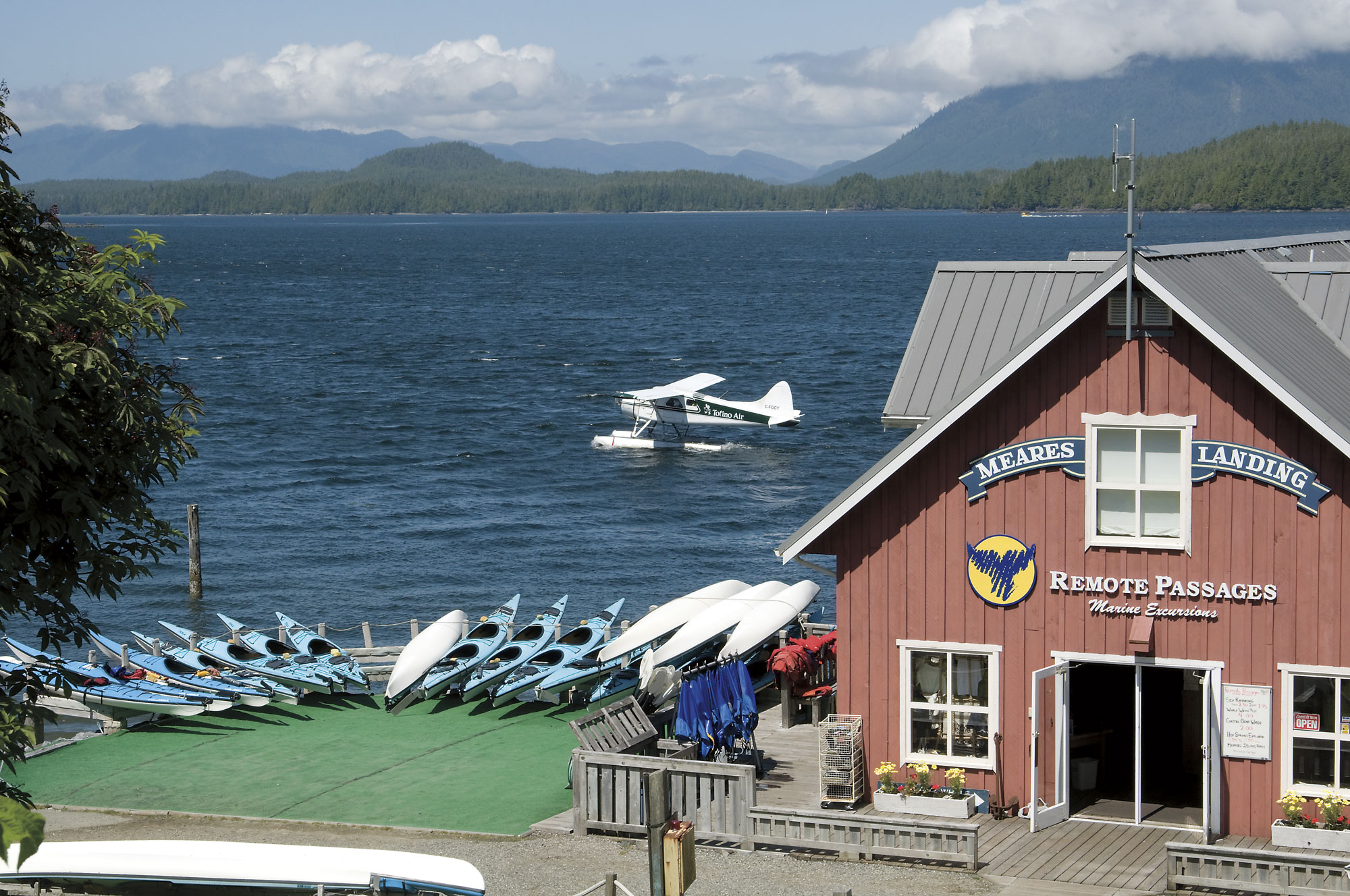 There's more than one way to get on the water in Tofino.
30 May

Wanderings: Tofino
---
Sol Maya turns a long steel rod loaded on the far end with a blob of molten glass. When the 2,400-degree furnace temperature transforms the glass into the consistency of cookie dough, he hefts it onto a table and rolls it in flecks of colored crystals. With oversized pinchers, absolute concentration and deft motions, Maya creates a cobalt sea star, and just for fun, curves one of its arms in a jaunty salute.
Across the way from Maya's Solart Glass Studio, Keith Plumley and Mark Mickey's workshop is a fragrant mess of cedar shavings, logs, burls and works-in-progress. Covered in sawdust, Plumley stands beside a lathe where a 4-foot-diameter burl, or tree knot, is about to be spun, smoothed and readied for carving. Eventually, master carver Mark Mickey will take over, etching deities, masks and animal shapes in the tradition of his native Nuu Chah Nulth people.
Maya, Plumley and Mickey planted their workshops in a clearing called Outside Break, just a few miles from tiny Tofino, an artist hamlet on the west coast of Vancouver Island, British Columbia. Their neighbors include the Wildside Grill "natural food by natural dudes"; Live to Surf, Tofino's first board shop; Chocolate Tofino, a heavenly place for homemade sweets and ice cream; and the Tofitian, an espresso house that sports a logo with skull and crossbones of a surfboard and a fishing pole. Tofino's spirit — a bit rebellious, wholesome, but edgy — resonates at Outside Break.
First Nations people have lived along this densely forested coastline for thousands of years, joined by trappers, miners and loggers in the late 1800s. Accessible only by sea, Tofino remained little more than a settlement until 1959 when the Trans-Canada Highway snaked 198 miles into town from Victoria. At the end-of-the-road, Tofino attracted American draft dodgers in the 60s and 70s, and soon after, year-round surf put the funky little town on every surfer's wish list. Add dozens of artists and craftspeople to the mix and Tofino grew into a mellow community of hardworking, independent, creative souls who relish living on the fringe.
Even though million-dollar homes now overlook Chesterman Beach and the population doubles during the summer high season (from about 1,700 to 3,000), Tofino is still a very small town. The only time the walkable, friendly burg feels "developed" is in the middle of summer when parking spots and restaurant tables are full.
So, go to Tofino in the off season to discover its true heaven-sent, one-stoplight spirit when shopkeepers talk lazy and long about their wares, artists' studios open with a phone call and wait staff are chatty and attentive.
After you've explored Outside Break, head to town and stop at Eagle Aerie Gallery on Campbell Street. In 1986, long before Tofino became a visitor destination, artist Roy Henry Vickers built the dramatic longhouse-style building with a high peaked roof and central "gathering place." Best known for boldly colored serigraphs of his beloved Vancouver Island, Vicker's scenes of ocean, mountain, rivers and spirits echoes his First Nation heritage.
Where Eagle Aerie is a tribute to Vicker's work, Reflecting Spirit Gallery across the street showcases high-quality, reasonably priced efforts by more than 100 Vancouver Island artists. The jumble of treasures ranges from story-piece jewelry to bull kelp baskets, sand sculptures, carvings, watercolors, pottery and a line of delightful bath and body products called Sea Wench Naturals.
A few blocks away on Fourth Street at Shorewind Gallery, a black Lab named Jed lazily guards the goods while gallery owner Jessica Desilets highlights creations of a dozen British Columbia artists, including internationally known Tofino painter Mark Hobson.
More than a dozen galleries and shops showcase fine, funky and functional art, but discerning collectors will discover the creative and the divine in some unusual places. A four-star hotel, for instance. The Wickaninnish Inn wows guests with large-scale artwork like Susan Hare's salmon- and fishing-float mobile, while nudging them like a shy lover into noticing nuances of local art throughout the hotel. A Tofino woman wove the table runners; stone candle holders, now ubiquitous in British Columbia, made their first appearances at the Wick; and the town's former mayor bent and twisted baling wire into the baskets holding fresh bread on your table.
On the edge of wide, wild Chesterman Beach, the Long Beach Lodge loans each guest a priceless piece of art: views from full-length picture windows of frothy waves and surfers attempting to master Mother Nature's playground. In such a setting, you might wish you were a Tofino artist, living at the end of a very long road.
---
IF YOU GO …
Lodging
The Wickaninnish Inn
800.333.4664 | www.wickinn.com
Long Beach Lodge
877.844.7873 | www.longbeachlodgeresort.com
Dining
Tofino has no shortage of dining options, but tops on the list is SoBo on Neill Street. In a transformation that sounds perfectly logical in a place like Tofino, owners Artie and Lisa Ahier (who is the chef) grew into this casually elegant restaurant from a catering truck. Then and now, food is all locally sourced and the menu depends on what "Artie's foragers" deliver that day.
www.sobo.ca | 250.725.2341
Galleries
Spirit of the Fire
250.725.3122 | www.solmaya.com
Keith Plumley, Mark Mickey
Eagle Aerie Gallery
800.633.0669 | www.royhenryvickers.com
Reflecting Spirit Gallery
250.725.2472
Shorewind Gallery
250.725.1222 | www.shorewindgallery.com
Getting There
Drive time from Victoria to Tofino, 4 1/2 hours.
BC Ferries operates Mainland BC/Vancouver Island; www.bcferries.com.
Victoria Clipper runs Seattle/Victoria; www.victoriaclipper.com.
Washington State Ferries provides seasonal transport Anacortes, WA/Sidney, Vancouver Island; www.wsdot.wa.gov/ferries.
Numerous airlines fly to Victoria and charter service is available directly to Tofino.
---
Linda Hagen Miller was an end-of-the-road sort of person for many years and even though she felt connected to Tofino, she now makes her living and her life with her family in eastern Washington. Linda writes for Sunset, Coastal Living, and Big Sky Journal.
When she's not at her Rocky Mountain Idaho base camp, internationally award-winning photographer Ilona travels the world in search of the photographic elixir of color, light texture and form. Whether fine architecture, lush residential gardens or remote mountaintops and seas, her camera works overtime to push the transformation of image to art.