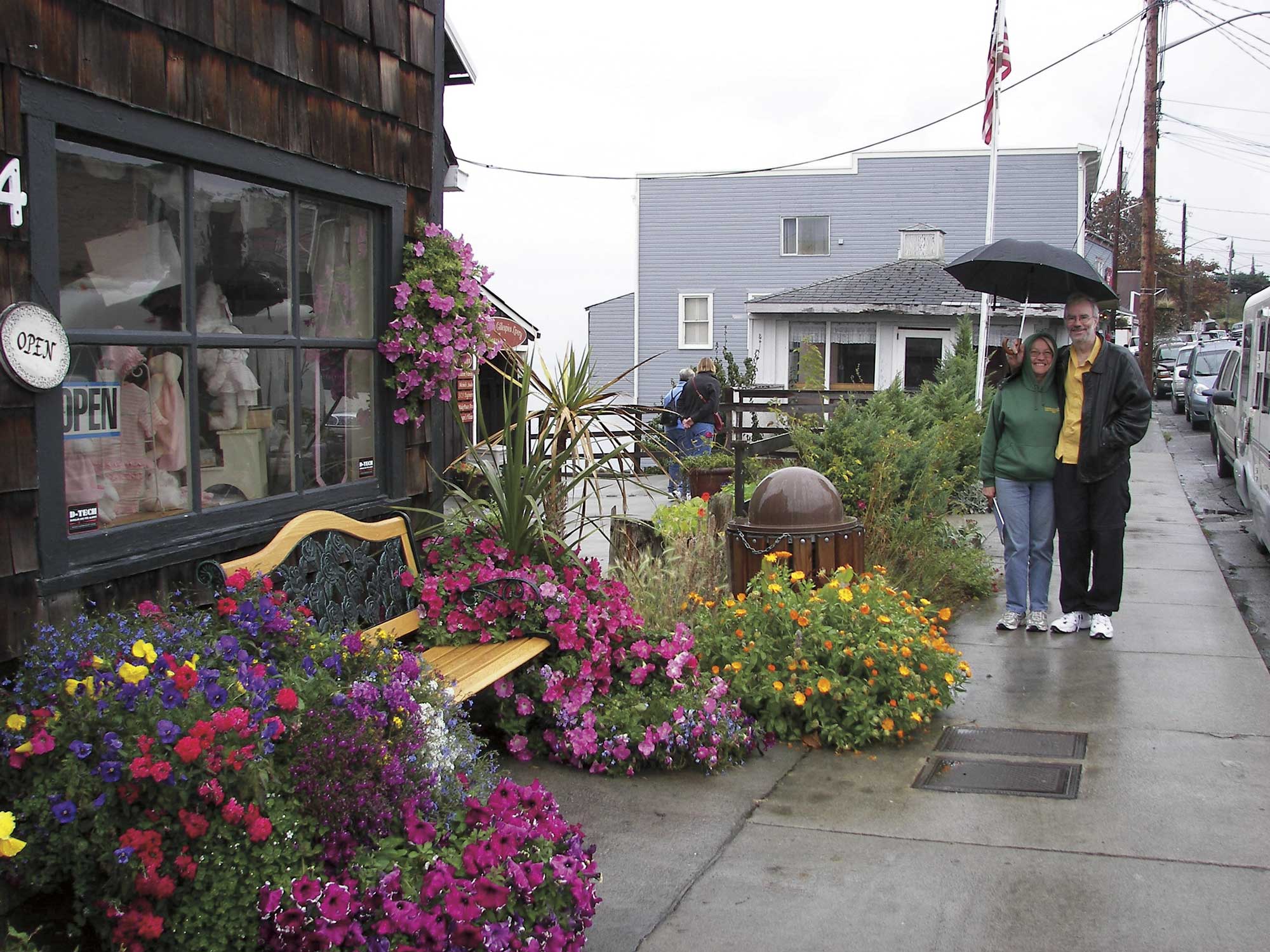 30 May

Wanderings: Whidbey Island, Washington
---
Whidbey Island is the embodiment of island life in the Pacific Northwest, shaped as much by the seasonal rhythms of seafaring and farming as its quirky creative communities. The setting is charmingly rural — you are as likely to drive past a roadside stand selling fresh dahlias as a herd of gated alpacas. Such scenery of the island's gardens, fields and forests is captivating on its own, without being framed by dramatic bluffs and 360 views of the commanding Olympic and Cascade mountain ranges, just beyond the Puget Sound waters. This is the allure of Whidbey.
Almost four years ago, my husband and I were married on Whidbey Island, just north of Seattle. Initially a convenient choice for a nearby destination wedding, it has become one of our favorite spots for family gatherings and weekend getaways. You only need about an hour to drive from one end of this long, skinny isle to the other, but the quaint seaside towns, bucolic backroads, historic sights and lively artist communities can easily keep you here for days. A great way to see all that the island has to offer is to make a loop by driving up or down the island and heading back along the mainland. Visitors can gain access to Whidbey by a bridge at the north end, or a ferry at the south. We'll start from the southern ferry crossing and follow Route 525 north, also known as "Whidbey's Scenic Isle Way."
Just off Route 525 in southern Whidbey is the picturesque town of Langley. Perched on a bluff, its eclectic mix of antiques shops, galleries, book stores and cafes overlooks Saratoga Passage for stunning views of the Cascades Mountains. Art is at the heart of this historic seaport town where merchants offer expertly curated treasures. For the best look at local talent, stop in at Eddy's, where organic T-shirts are pressed with unique images courtesy of local artists. And, you don't want to leave the island without taking in its ubiquitous glass art — Whidbey Island is known as the "Isle of Murano" due to its exceptionally talented concentration of glass artisans. Firehouse Glass Gallery, on Second Street, is a great place to watch one such artist-resident, Callahan McVay, master his trade.
Off Langley's First Street are stairs to Seawall Park, from which gray whales are often spotted. This is also a back way to visit the serene Inn at Langley, which offers visitors luxurious accommodations, spa treatments and dining that features local produce at its finest. But the architecture alone is worth the visit — the award-winning building uses local materials and regional forms to showcase the understated elegance of typical Pacific Northwestern style.
In spring, summer and fall, farmers' markets take place on Thursdays and weekends to offer up the island's most spectacular produce and artisanal goods — from locally grown berries, Penn Cove mussels and fresh flowers to pottery, prints and pies. My favorite is at Bayview Corner, just down the road from Langley. The festive Saturday market takes place amongst a triad of historic buildings (a schoolhouse, public hall and commercial building) recently restored as part of a community revitalization project. Be sure to check out the Open Door Gallery and Coffee, offering outstanding contemporary artwork, community art classes and a noteworthy cup of joe.
Continuing north on Route 525, you'll spot Greenbank Farms, which once housed the largest loganberry farm in the United States. Its signature red barn hosts events and festivals year round, as well as an art gallery, gourmet cheese shop and the Whidbey Pie Cafe. This is a great stop for lunch, especially if a slice of heavenly berry pie sounds good for dessert.
Since the late 1800s, Whidbey Island has played a prominent role in the protection of the Northwest Coast. You can see remnants of this past at Fort Casey State Park, where a defensive fort was built as part of the "Triangle of Fire." Old bunkers and two artillery guns are on display, as well as the pristine Admiralty Head Lighthouse, all overlooking a panorama of the Juan de Fuca Strait and Olympic Mountains.
Equally astounding vistas await at Ebey's Landing, adjacent to Fort Casey. Colonel Isaac Neff Ebey settled here with his family in 1851, and their weathered blockhouse still keeps watch over the fertile prairie and wooded acreage. Whether you choose to relax on the beach or scale the high seaside bluff for the view, Ebey's Landing provides an unforgettable spectacle of farmland sloping out to sea.
As you head north toward Coupeville, you'll see the well-preserved homesteads of Whidbey's pioneering families who arrived in the late 1800s to become a part of the island's emerging seaport. Front Street, lined with galleries, cafes and shops, looks much the same today as it did in the early 20th century. The town sits on Penn Cove, where succulent mussels of the same name are cultivated. Try some for yourself at the informal Toby's Tavern, or for something more upscale, the Oystercatcher.
Deception Pass State Park lies at the northernmost point of the island, crowned by the National Historic Landmark bridge that joins Whidbey to Fidalgo Island and mainland Washington. An easy hike from the visitor's center will bring you to a beautiful stretch of beach below, often overlooked in favor of the enthralling views from the bridge deck.
Undiscovered areas like these are some of my favorite spots on the island, and thanks to its natural beauty and lively communities, there are many more to find.
---
If You Go …
How to Get There
From Seattle, travel north on I-5 and take the Mukilteo/Whidbey Island exit off I-5 (#189/Hwy 525) straight to the ferry dock. From Vancouver, travel south on I-5, take the Anacortes exit (just north of Mt. Vernon) and cross the bridge over Deception Pass.

Don't Miss
Eddy's: 306 First St., Langley; 360.321.EDDY; www.eddysonwhidbeyisland.com
Open Door Gallery + Coffee: 5603 Bayview Rd., Langley; 360.321.3020; www.opendoorwhidbey.com
Greenbank Farm and Whidbey Pies Café: 765 Wonn Rd., Greenbank; 360.222.3606; www.greenbankfarm.com
Fort Casey State Park and Admiralty Head Lighthouse: 1280 Engle Rd., Coupeville; 360.240.5584; www.admiraltyhead.wsu.edu
Ebey's Landing National Historic Reserve: 162 Cemetery Rd., Coupeville; 360.678.6084; www.nps.gov/ebla
Deception Pass Visitor Center: 40751 State Route 20, Oak Harbor; 360.675.9438; www.deceptionpass-info.com

Lodging
Captain Whidbey Inn: 2072 West Captain Whidbey Inn Rd., Coupeville; 360.678.4097; www.captainwhidbey.com
Fort Casey Inn: 1124 S. Engle Rd., Coupeville; 360.678.5050; www.fortcaseyinn.com
Inn at Langley: 400 First St., Langley; 360.221.3033; www.innatlangley.com

Dining/Drinking
Christopher's: 103 NW Coveland St., Coupeville; 360.678.5480; www.christophersonwhidbey.com
Inn at Langley: 400 First St., Langley; 360.221.3033; www.innatlangley.com
Oystercatcher: 901 Grace St., Coupeville; 360.678.0683; www.oystercatcherwhidbey.com
Prima Bistro: 201 First St., Langley; 360.221.4060; www.primabistro.biz
Toby's Tavern: 8 Front St., Coupeville; 360.678.4222; www.tobysuds.com
Useless Bay Coffee: 121 2nd St., Langley; 360.221.4515; www.uselessbaycoffee.com
For more information or help planning your trip, contact the Whidbey and Camano Islands Tourism Information at www.whidbeycamanoislands.com