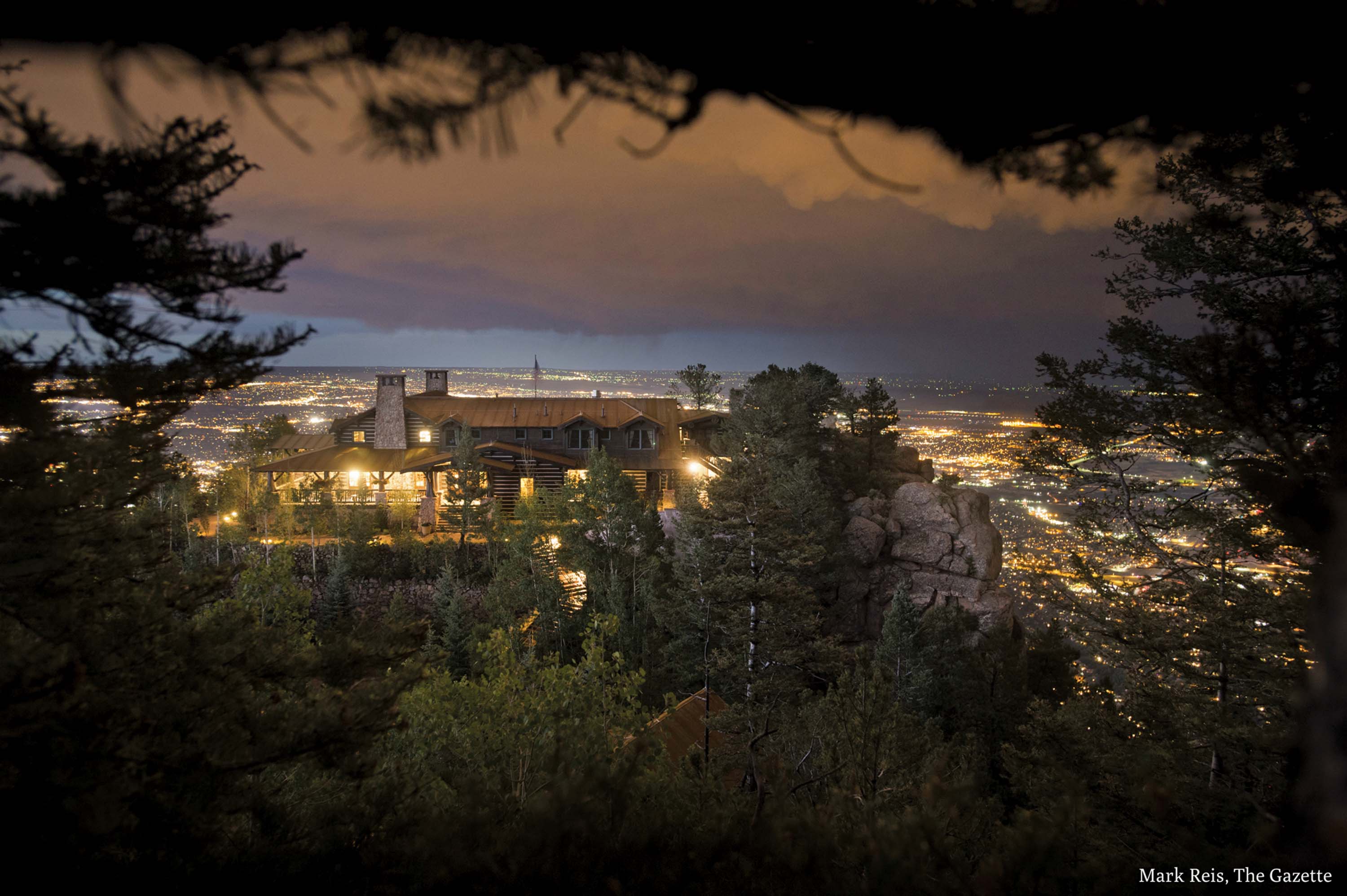 At night, Cloud Camp shimmers at 9,200 feet.
02 Mar

Western Landmark: Broadmoor Wilderness Experiences
---
Call it "dude ranch lite." For those averse to chipping a manicured fingernail, but who hanker for a taste of cowboy living, the Broadmoor has the answer. The iconic, five-star Colorado Springs resort has launched two Wilderness Experiences, all-inclusive escapes that give a reverent nod to history while bundling gourmet fare, luxe accommodations and adventurous outdoor activities.
Both Cloud Camp and the Ranch at Emerald Valley are the vision of The Broadmoor's billionaire owner Philip Anschutz, an acclaimed Western art collector. His goal was to create an environment for guests to sample the rustic West, a la Ralph Lauren, with impeccable service. Parched for another chardonnay? Need the recipe for last night's Trout Meunière? It's yours on a silver platter.
Opened in August 2014, Cloud Camp crowns the pinnacle of Cheyenne Mountain — 9,200 feet above sea level — with astonishing views of the Colorado Rockies. To get there, guests check in at The Broadmoor and are whisked uphill in a Cadillac Escalade. Another option is to go the last mile and a half, with a wrangler, on the back of mule.
As guests arrive, staff cowhands greet visitors. "Welcome to Cloud Camp. What type of wine or beverage would you prefer? Feel free to enjoy a scone." Indeed.
Cloud Camp covers more than 400 acres, but the accommodations can sleep only 56. The forest is dense, with a clearing wide enough for the 11 log cabins and the Grand Lodge. Not far is a hill with a two-story Fire Tower Suite that requires a 145-step climb to reach the door.
While the cabins are luxurious — with smooth hickory floors, fluffy towels and leather furnishings — it's the 8,000-square-foot main lodge that's destined to become an architectural icon. Built with Douglas fir beams, the 21-foot peaked ceilings are painted with yellow, green, red and blue motifs symbolizing Colorado's Native American tribes. Art lovers will delight in the decor of all things Western. On one wall hangs the tribal shirt Kevin Costner wore in the movie "Dances with Wolves." In the breakfast nook, an array of antique moccasins festoons the walls. Antique cowboy spurs surround the flat-screen television. Mounted above are deer heads, antlers, warrior tunics and more life-size portraits of Indian chiefs. Even the restrooms have paintings by the late Charlie Russell. As with the art at The Broadmoor, all paintings are replicas from Anschutz's vast personal collection.
This structure replaces the original Cheyenne Mountain Lodge, owned by Broadmoor founder Spencer Penrose. Built in 1926, it served as a favorite spot for Penrose and his fishing buddies. Once he passed away in 1939, the structure was abandoned and officially demolished in 1976.
Resembling the handsome lodges found in national parks, everything about Cloud Camp's main lodge reflects ruggedness and masculinity. The two stone fireplaces are each big enough to roast an entire cow. In the center of the room, a 30-foot-long alder dining table commands attention. A wraparound porch boasts rocking chairs ready to be rocked, and the bookshelves are stocked with dog-eared novels waiting to be read. Among the abundant menu of activities at Cloud Camp are cooking demonstrations, basket weaving, archery and s'more making under the stars.
Colorado Springs' architect, Mark Nelson, had the privilege of designing Cloud Camp and stayed there with his family last October. "There is no place else like it in the world. The views are so fabulous," he says. "When we came, a huge cloud enveloped the top of the mountain. It was great. The next day was clear and beautiful, and we saw a fantastic sunrise."
In the evenings, everyone dines together over a five-course meal. Maine Lobster Bisque and Diver Scallops Monte Carlo may not have been pioneer staples, but no one complains.
Over at the Ranch at Emerald Valley, guests indulge in a different dining experience, but it's no less decadent. Instead of a communal dinner at a fixed time, lodgers can have their evening meal at their leisure until the kitchen closes. Instead of five courses, the kitchen serves three, sometimes four (buffet style) when there is a special event. (For the sake of this article, this reporter chose Ahi Tuna Tartare as an appetizer, then Roasted Rack of Colorado Lamb, and Chocolate Pot de Crème for dessert).
Up to 32 visitors can be housed in the 10 tin-roof cabins, all of which have been restored with original pine logs and as many existing materials as possible. The cabin interiors are just as lavish as in Cloud Camp, with sumptuous bedding, warmed bathroom floors and separate sitting rooms.
All 16 acres of the Ranch at Emerald Valley sit within the Pike National Forest. The main lodge is smaller and simpler than Cloud Camp's and features a dining room, check-in area and bar. It is filled with Western paintings by beloved artists including William Baptiste Baird and William Tylee Ranney.
When folks arrive at the ranch by Escalade, they take in the scenic beauty of the forest and the two vast reflection ponds. The range of activities here is expansive and includes horseback riding, mountain biking, canoeing, archery and fly fishing. New on the docket for 2015 is cattle roping. Multitalented staff are avid multitaskers, as adept at teaching a fly-casting lesson or guiding a horseback ride as they are at mixing cocktails.
This location, too, is proud of its historic roots. A sawmill in the early 1900s, the property was purchased in 1923 by Penrose to entertain friends. Oz Architecture was hired by The Broadmoor to restore the property. "The site was typical of an historic dude ranch which had little maintenance for the past several years," says architect Bob West. The ranch buildings were upgraded and modernized with water, electricity and septic systems. Logs, metal roofs and native stone were reused and new fixtures were selected to match the "ranch rustic" style. Every building was restored and no new structures added. When all was said and done, the ranch opened in August, 2013.
According to West, guests are elated with the outcome. "They seem to love the place, and they love the Western artwork personally placed throughout the ranch by Phil Anschutz from his private collection."
The staff is looking forward to another season, which runs from May into October. Surrounded by images of the American West, a bucolic setting, and pampered with gourmet meals and expert-led activities, guests can experience the country life taken up a notch… or two or three.