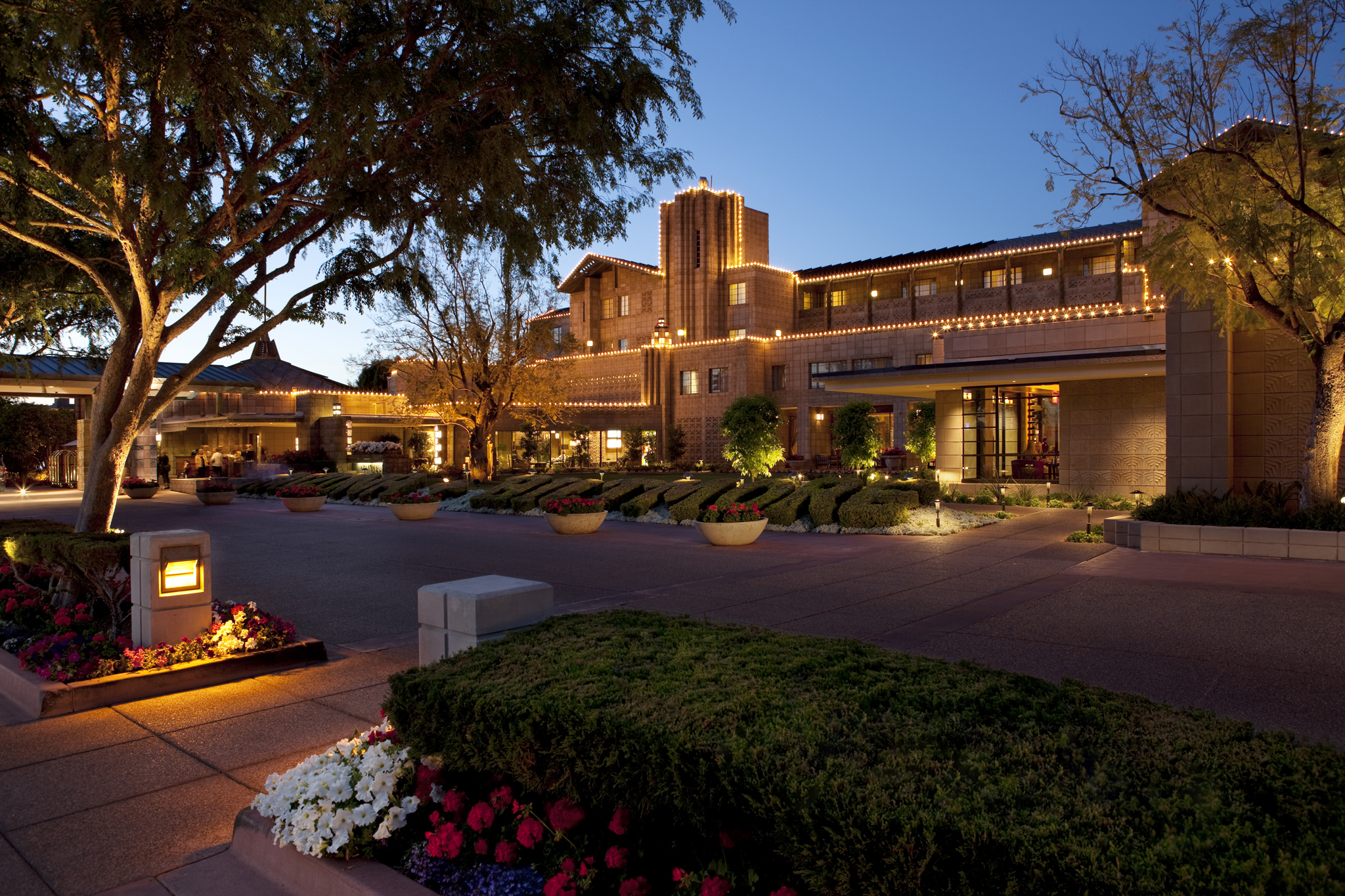 The Arizona Biltmore has set the standard for elegance and style. A Waldorf-Astoria property, the hotel received the "Heritage Award of Excellence" for architectural integrity, landscaping and quality of service.
01 Sep

Western Landmark: Arizona Biltmore

When you hear the Irving Berlin song, "White Christmas," you might picture, in black and white, Mr. Berlin sitting before a log fire in a warm New England cabin, looking out on snow-laden trees. Now fast forward to a picture of him in color, sitting poolside at the famous Arizona Biltmore Hotel sipping something icy cold. Crowned "The Jewel of the Desert" when it was built in 1929, Berlin is one of many celebrities and heads-of-state to make the Biltmore a treasured destination.

Albert Chase McArthur, a Harvard graduate who studied under Frank Lloyd Wright from 1907 to 1909, designed the hotel. Built with pre-cast concrete blocks resembling the cleft of a palm tree, these "Biltmore Blocks" are an obvious homage to Wright. Designed by McArthur and sculpted by Southwest artist Emry Kopta, each geometric block was molded on-site.

Later in its history, in 1973 when the hotel was undergoing reconstruction, a six-alarm fire broke out, ignited when a welding torch singed the gold leaf on the ceiling of the lobby. In the aftermath of the destruction, Wright's influence was once again called upon. Architects from his venerable Taliesin West were hired to recreate the Biltmore Blocks and, following tradition, each one was formed on-site. Restoring the hotel to its original opulence also required meticulous attention to furniture, fabrics and murals.

Much of the hotel's history was written under the ownership of chewing gum magnate William Wrigley Jr., of Chicago. Local lore says that Mr. Wrigley built the Biltmore as guest quarters for visitors who spilled over from his Wrigley Mansion located above the hotel. In actuality, Mr. Wrigley was an investor in the hotel and when the original construction estimate of $1 million was doubled, he stepped up to become the sole owner.

Mr. Wrigley built the hotel's first pool in 1930, an Olympic-size pool that hosted many competitions. Since then, the hotel has continued to incorporate water into its desert oasis of lush gardens, including formal English gardens. The popular Paradise Pool complex, situated amongst the Biltmore's cabanas, was added in 1996, boasting a 92-foot water slide. The newest Olympic-size pool is set amidst the Ocatilla, a "hotel within a hotel," completed in 2009, with 120 guest rooms. A total of seven swimming pools are set within the gardens and palm trees of the hotel.

Décor in the guest rooms, suites and villas pays further homage to Frank Lloyd Wright with mission-style furnishings, a desert palette in tones of beige, sand and ivory, and lamps that recall the 1930s. With a 25,000-square-foot ballroom named after Wright, the Arizona Biltmore has set the standard for elegance and style.

In addition to its luxurious ballrooms, five restaurants and 740 guest accommodations, the Biltmore is home to seven tennis courts and two 18-hole PGA golf courses at the adjacent Arizona Biltmore Country Club. Now a Waldorf-Astoria property, the Urban Land Institute lauded the hotel with its Heritage Award of Excellence, given in honor of its architectural integrity, landscaping and quality of service.

It is precisely these things — its architectural splendor, unmatched amenities and superior service — along with its fabled history that make the Arizona Biltmore such a remarkable destination.
---
Senior Contributing Editor Shari Morrison has been writing about art for more than 20 years. An avid traveler, she visits museums and galleries reporting on national and regional art happenings.