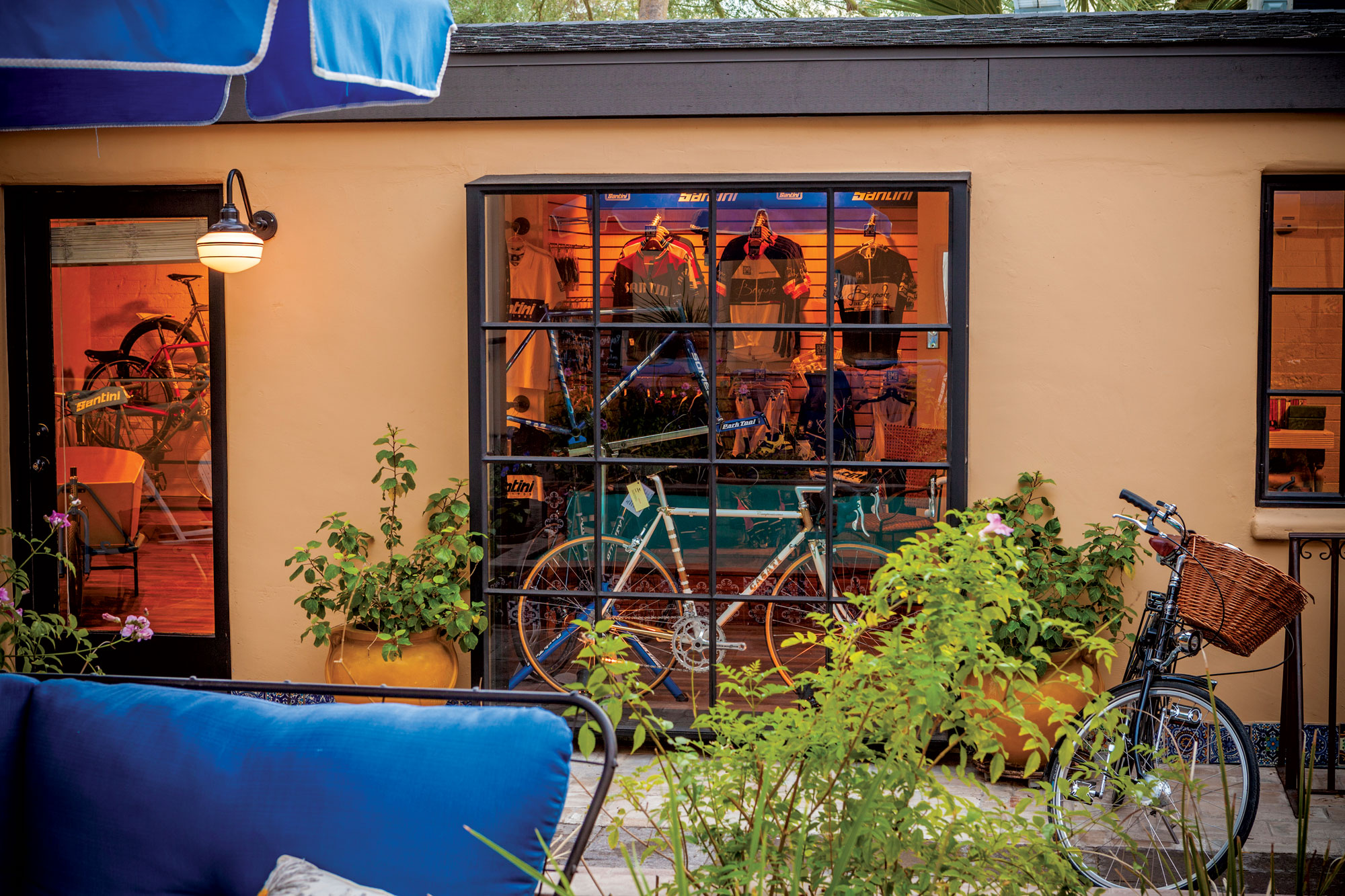 Beautiful bikes are a big part of the experience at the Bespoke Inn. Each room comes with the complimentary use of a British-made Pashley bicycle and guests can get whatever they need in the on-site bike shop.
12 Nov

Western Landmark: Bespoke Inn
---
First impressions often speak volumes. From the moment you darken its doorway, the Bespoke Inn — a small bed and breakfast situated in the heart of Scottsdale, Arizona — reveals a remarkable attention to detail. Exploring the property is like slowly unwrapping an exquisitely packaged Southwestern souvenir.
Reminiscent of a tiny, private Italian piazza, the inn's cozy courtyard features a custom, hand-tiled fountain as its centerpiece amidst century-old olive trees that rustle in the breeze. A rustic farm table invites guests in to a setting that is both bucolic and luxurious. The ambience feels like a million miles from anywhere, yet the inn is just steps from the downtown arts district.
By its very nature, the four-room Bespoke Inn encourages introspection among guests. Every artful aspect has been pondered and painstakingly crafted by the owner, Kate Hennen, who purchased the property in 2007 and has transformed it into an urban oasis. At the time of purchase, the property was vacant and comprised two sides, each about 6,500 square feet. The north side had a dilapidated 900-square-foot house, while the south side had a 2,200-square-foot apartment building.
Drawing upon her background in design and hospitality, Hennen completely renovated and rebuilt the inn into a structure that possesses a Zen-like old soul, one that has traveled the world and returned to share its serenity with friends and guests.
The Bespoke Inn's contemporary style combines Old World warmth with modern accents; every detail was created with precision. French farmhouse and Mediterranean influences are evident in the building materials, which include ultrasmooth stucco; ironwork railings; hand glazed, colorful tiles and decorative pottery. Arches and recessed French doors complement the polished charcoal concrete floors and custom cabinetry.
As with many architectural projects, Bespoke was not always an easy path and Hennen encountered her fair share of roadblocks. In January 2013, Bespoke Inn opened with three guest rooms and a restaurant on the ground floor, plus a splendid "signature flat," a 1,500-square-foot open-concept luxury apartment on the second level, which includes a 43-foot stainless steel infinity pool and a tranquil roof garden.
Guestrooms are airy, with ceilings about 10 feet high and subtle silver-toned walls. The upper flat's floors are reclaimed wood — hickory, heart pine and oak — while the first level's scored ebony concrete is shined to a high luster. An intermingling of new, vintage and handmade, furnishings feature chandeliers, polished nickel bath fixtures, artwork and hand-joined wood pieces.
"My vision is to provide guests with the kind of unique and memorable experiences that I look for when traveling, while creating an environment and lifestyle that guests can enjoy on a daily basis," Hennen says. "It is modern, unique and comfortable … offering the very best in dining, cycling and relaxing."
In 2014, the south building and apartments were renovated. Today, the front three units serve as the inn's office, fitness center, bike shop and Hennen's private home. Virtù, an award-winning restaurant, is now open on the inn's first floor. Along with an innovative menu, it features a 27-foot handcrafted copper bar and attracts food lovers from near and far.
Hennen is proud of the inn's wide appeal. "Our guests enjoy the experience. They tell us they are at once transported to a comfortable, inspiring European destination where we've thought of everything, and that they love all the little touches," she says. "One of the biggest compliments we get is when guests assume the building has been here forever, but yet it's in perfect condition."