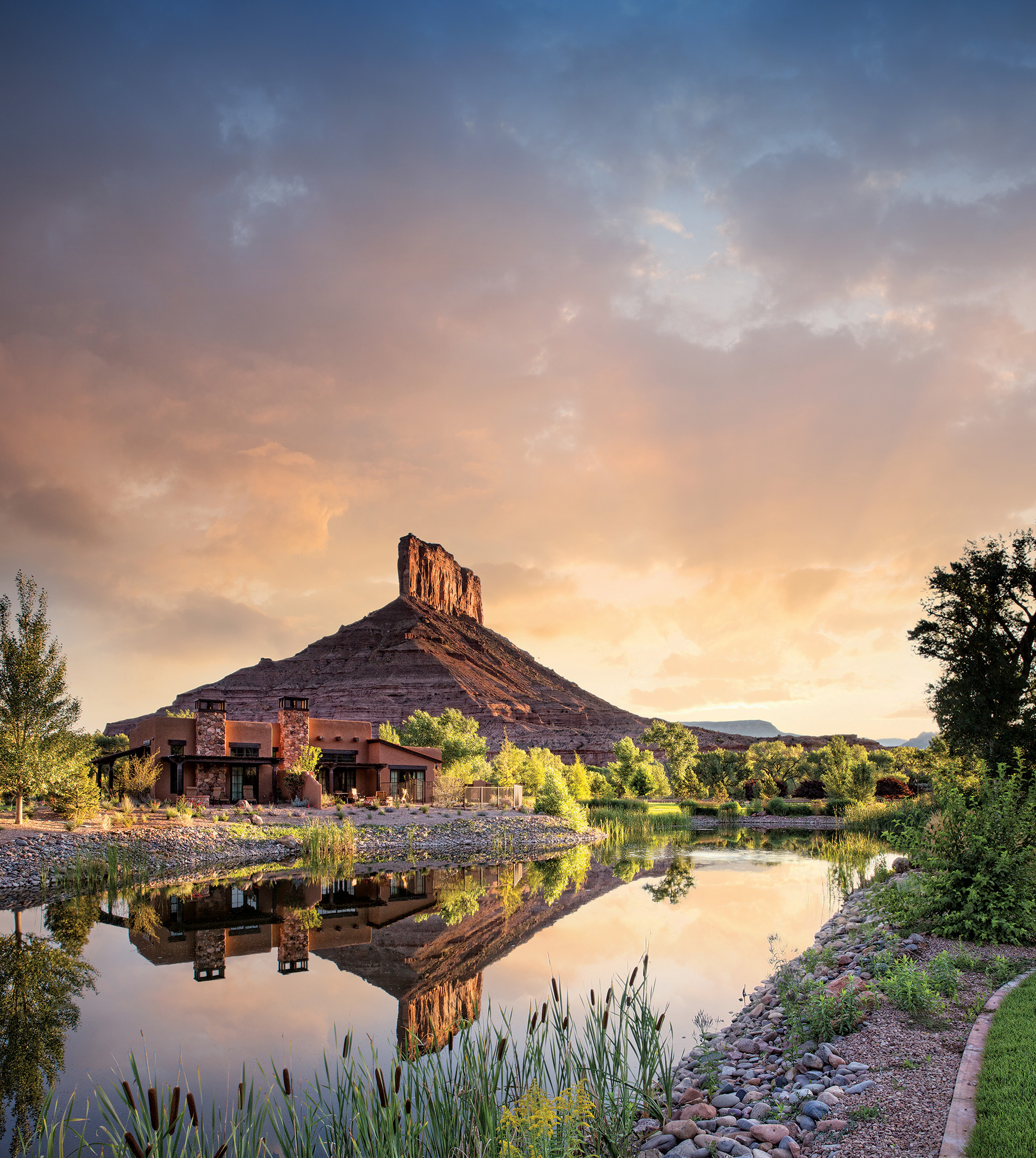 The resort's secluded casitas beautifully reflect the Colorado landscape.
17 Nov

Western Landmark: Gateway Canyons
---
Complementing the vast western Colorado landscape, Gateway Canyons Resort is located about an hour southwest of Grand Junction. Situated at a confluence of five majestic canyons, the resort's adobe-style architecture is surrounded by nature, blending beautifully into the majestic red rock landscape.
Gateway Canyons is the brainchild of John Hendricks, founder of the global media company Discovery Communications, which oversees the Discovery Channel, The Learning Channel, Animal Planet and others. Enthralled by the vistas of western Colorado, Hendricks created a destination with distinctive architecture that respects the natural panorama and encourages guests to interact with the environment. His lifelong mission of challenging people to explore, learn and embrace adventure unfolds as a resort that helps facilitate those very things.
Opened in 2005, Gateway Canyons was first known among car enthusiasts for its auto museum, which holds a private collection of some 60 highly esteemed and well-preserved historic cars. Among them is an original 1954 Oldsmobile F-88 concept car purchased for $3.25 million.
As an exclusive retreat set on 6,000 acres, the resort is large yet maintains an intimate feel. It has expanded over the years and now includes 58 guest rooms and suites, 14 casitas, a spa, an events center, an amphitheater and a number of picturesque indoor and outdoor spaces.
Outside, grassy areas offer tranquil open space and the Palisade pool is tiered and separated into spaces with huge red rock boulders incorporated in the construction. Inside, the suites feature authentic Turkish rugs that accent Southwestern design. Adding a rustic ambiance, solid Peruvian wood doors are hung on iron barn-door tracks. A great deal of intricate stonework and stucco was added by Kevin and Raul Brock of Heritage Masonry of Grand Junction.
Interior designer Suzanne Geibel McCammon, of Suzanne Geibel Interiors, worked closely with Hendricks and his wife, Maureen, to bring the couple's vision to life. Together, they established the tone and décor for the resort's spaces.
"The overall architecture blends into the surroundings beautifully, adding value to the natural, rugged setting — not detracting from it," McCammon says. "For example, we incorporated clay walls in some areas to reflect the walls of the surrounding canyons. We also used a patinated copper wall treatment to depict abandoned mine shafts."
Displayed throughout the resort are photographs by Hendricks, images he spent years collecting from the surrounding area, McCammon says. They include photos from 3 a.m. ventures to capture just the right light on dinosaur fossils found in the La Sal Mountains and a portrait of a bear cub in a tree, among many others.
Maureen, meanwhile, is passionate about thread art and quilting. She has made many pieces of her own and also owns one of the largest collections of famous textile works from top artists. A beautiful example is Hollis Chatelain's Precious Water, which hangs near the library. Additional colorful masterpieces from her collection are found throughout the property.
The resort is also home to the annual Alegre Retreat, a conference offering classes and lectures for fabric arts that attracts instructors from around the globe. Noted artist and quilter Katie Pasquini Masopust organizes the event and has constructed several large pieces based on the resort's geography. On display at Gateway Canyon are Triton, which depicts a land formation seen from Hendricks' office window, and Palisade Triptych, which captures the incredible ridge-like land formation towering over the resort.
This is just one example of how the resort's extensive art collection creates a sense of place. Colorado artist Lyle Nichols has several pieces at the resort, including Horsing Around, made with scrap metal, as well as a large whimsical nest sculpture comprised of peach tree branches. Another local artist, Dix Baines, was commissioned in 2007 to paint several canvasses depicting the seasons, which are displayed in the events center and the library.
Montana-based artist Wil Wilkins also created artwork for the events center. Incorporating local elements, the works are inspired by the rims of the nearby mesas and the vertical stance of aspen trees. Another prominent piece, a kaleidoscope, was made by the Scherer Gallery in Sioux Falls, South Dakota. A delightful viewing experience, it features a colorful mix of stones or flowers.
In addition to finding world-class art in unexpected places, Gateway Canyons has also curated a multitude of adventure experiences, from hiking, sport shooting and off-road touring to mountain biking, fishing and horseback riding. One can even rent a Bentley and drive through the surrounding vistas or take in the area's unique geography from above during a helicopter tour. It's all part of Hendricks' vision to create an outdoor recreation oasis that highlights the beauty of the area.
The property's worldly feel is enhanced by the knowledge of Zebulon Miracle, the resort's official "Curator of Curiosity." He educates guests about the area's history and geography, offering educational programs that bring the resort to life. Guests can discover the remnants of a nearby mining operation, its remains clinging to a wall of the Dolores River Canyon. Or they can learn about the Native Americans who first called the region home, map the stars or discover ancient geology.
With creativity intermingling with curiosity, it's no wonder Gateway Canyons attracts guests with an artistic sensibility. "We are thrilled to share these magical red rock canyons with our visitors," says Miracle. "Our resort fits perfectly into the landscape and allows us to show our guests the true and exceptional beauty of this unique destination."