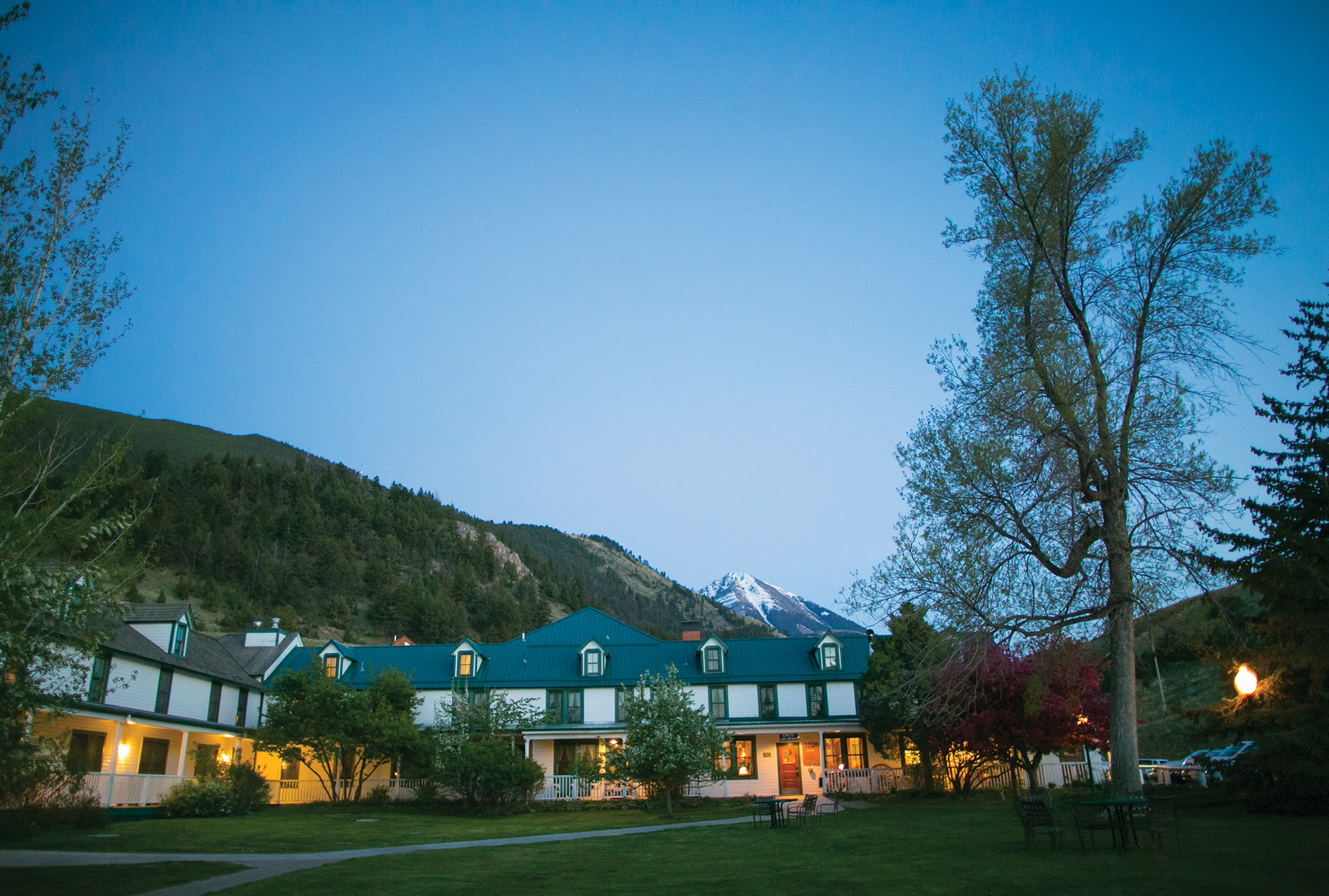 Montana's historic Chico Hot Springs lodge was built in 1900 when Paradise Valley was still a wild Western frontier.
04 Aug

Western Landmark: Through an Owner's Eyes, Chico Hot Springs Resort
---
In the winter of 1996, I was a cocktail waitress in the restaurant at Chico Hot Springs Resort in Pray, Montana. It was Christmas Eve and feather-size snowflakes poured from the sky. Paradise Valley old-timers said this was the harshest winter in 20 years.
Inside, the dining room was warm with candlelight, and rustic barn-wood walls wrapped guests and employees in cozy bliss. Every seat was full. There was the clink of wine glasses, the polite clatter of silverware, hushed conversation with an occasional lively outburst of laughter. Couples mooned at tables set for two. A large family group anchored the center of the long room. Most of the diners were guests at the historic hotel.
"Our family has celebrated Christmas at Chico for four generations," said a rosy-cheeked woman at the big table. She glanced around the group, pointing out her parents, children and grandchildren with pride. They were from Billings, a town more than 100 miles east of the resort. They'd been visiting since the 1950s.
I've heard many stories from visitors during my time at Chico, since my husband began as general manager there in 1995 and up to the moment our family purchased it in 2016. There are so many love stories — of people who have just discovered Montana or who have lived here all their lives, of young lovers who were married on the front lawn and the years they've returned to celebrate anniversaries, birthdays and holidays with meals shared between friends and family. There are generations of stories like these that add to the rich history of Chico Hot Springs.
In fact, Chico started with a love story. In the 1870s, an ambitious fellow named Bill Knowles came to Paradise Valley, Montana, to stake a mining claim for gold in nearby Emigrant Gulch. He met school teacher Percie Matheson in 1888, and the two married. The gold didn't pan out for the Knowles, but Percie saw opportunity elsewhere — at the hot spring where the miners "washed their dirty duds." The Knowles convinced the landowner to sell them acreage that included the geothermal spring for $1.
In 1900, the couple opened their Victorian-inspired inn that offered accommodation for 40 guests, elegant dining, a dance hall and a warm-water plunge. The Knowles were smart enough to see that the newly founded Yellowstone National Park and the tourist route of the Northern Pacific Railroad were assets to their property. Located just 30 minutes from Yellowstone's north entrance, the resort was also a short trip to the railroad hub of Livingston and a brief wagon ride from the Yellowstone River. It didn't take long for Chico Hot Springs to become a popular destination.
Since then, Chico has been a hospital, dude ranch and hunting lodge. It passed from Percie and Bill down to their children, and then on through generations to other families. With each new owner, Chico entered a different era, evolving to become a unique Western getaway with lodging, dining and hot springs that honor its historic roots.
On that Christmas Eve 20 years ago, the snow kept falling outside. The dinner service flowed as I served hard-to-find wines and celebratory bottles of champagne. Plates of robust food — beef Wellington, duck a l'orange and FedEx-delivered fresh king salmon — rolled out from the kitchen to the pleasure of the guests while the snow piled higher.
New guests stood at the threshold of the heavy barn-wood doors, waiting to be seated for dinner, brushing snow off winter jackets. "It's really coming down outside," they'd gush as the host hung their coats and led them to a well-set table.
Once they sat down, they forgot about the winter, ensconced in the warmth of the room and the stories all around them. Guests savored a moment that would become a memory and later a story of their own.
The blizzard reached extremes. The weight of so many inches of snow pulled down power lines, and we had a blackout at Chico. The snowplows couldn't get through and the roads were closed. We were all snowed in. Everyone who wasn't a registered hotel guest was invited to stay for the night. We stoked the fireplaces, handed out flashlights and extra blankets, lit candles and wished each other Merry Christmas.
In the morning, with the electricity restored and the sky a gleaming blue, the whole resort, its green-and-white clapboard hotel and rustic cabins, was blanketed in white. The geothermal hot springs huffed steam in dreamy puffs. A mammoth snowplow finally hunkered up the long road clearing it for travelers. It was the epitome of a winter wonderland that I will always remember.
Today, on any given night the restaurant is full, during the dead of winter, bloom of spring, hottest summer night or shortest autumn evening. It doesn't matter that the place is a little out of the way — people find it and they keep coming back. Forbes Travel Guide ranked Chico's wine list as one of the top 10 in the country in 2009. People drive hundreds of miles to enjoy a meal and a soak at this iconic Montana retreat.
"For over a century Chico Hot Springs has become a ritual for so many people," says owner Colin Davis. "It's their place, and we always try to remember that the resort is for locals who come back time after time as much as it is for out-of-state visitors who only experience it once."
Through the last two decades, I've worked in several departments at Chico; dined next to Hollywood stars and writers; been dropped mid-dip by a cowboy on the dance floor; dipped my daughters in the hot springs in every season of the year and watched them find Easter eggs on the lawn; shared many meals with people I love; worked closely with the chefs to compile a cookbook and have cooked arguably all of those classic recipes in my home. Those are my stories.
But what I love most about the place are the people who return again and again. It's changed, folks say, but then they remember that it has also stayed the same. The locals still say that for one of the best meals in the state, you must go to Chico Hot Springs. It's a Montana tradition.