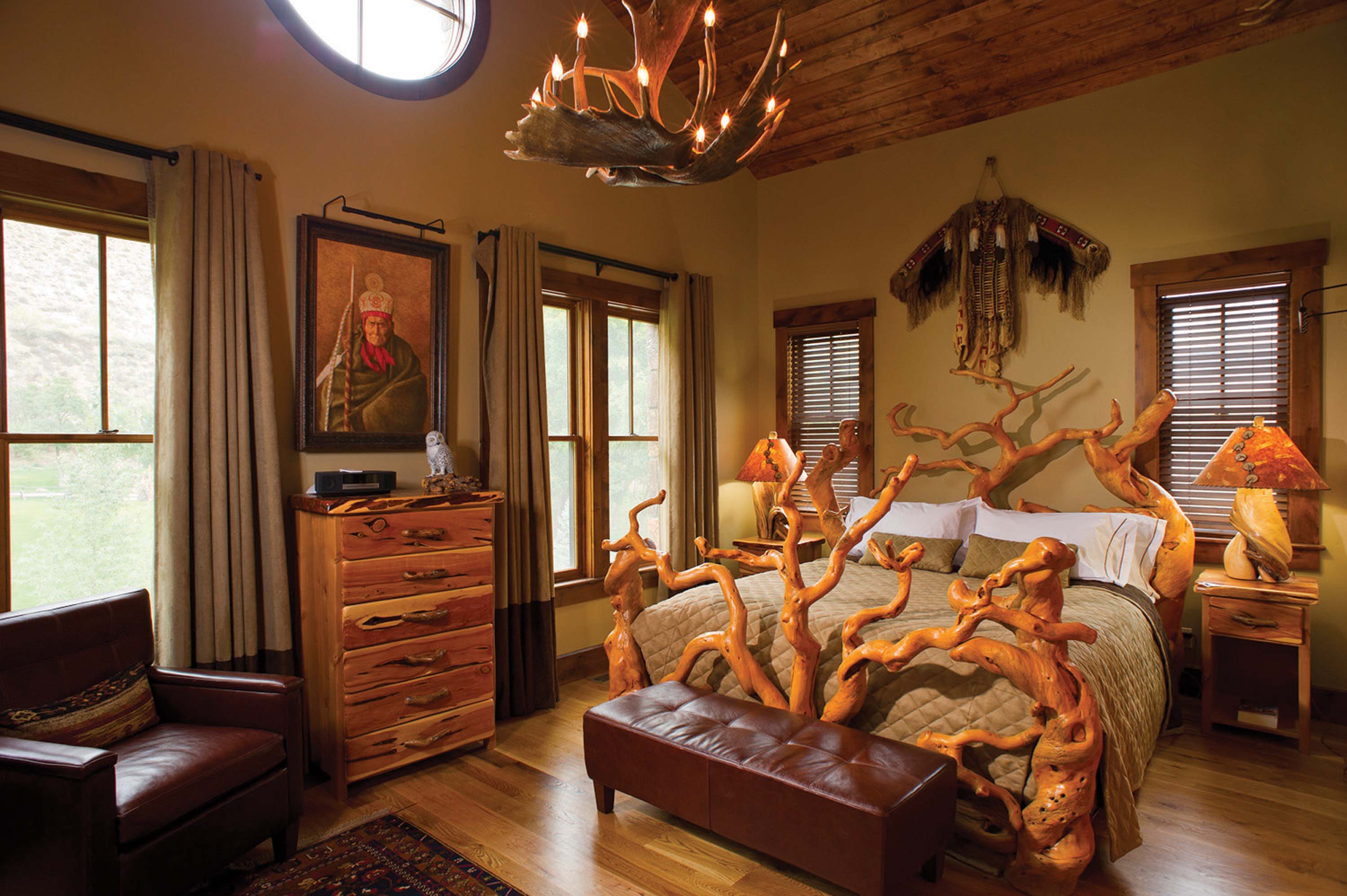 The lodge at Kessler Canyon in Debeque, Colorado, offers a luxurious environment for the art and outdoor enthusiast.
01 Feb

Western Landmark: Kessler Collection
---
Kessler Canyon sits in the western slope of the Colorado Rocky Mountains about 45 minutes from Grand Junction. Nestled against a mesa that changes colors with the setting sun, it's the ultimate luxury retreat for the outdoor enthusiast, with recreational opportunities that range from fly fishing to skeet shooting, and a wildlife-management program that provides a sportsman's paradise for those looking to lay claim to a prize buck.
Originally built as a private ranch for Richard Kessler's family, you feel like a guest in someone's $40-million home. Chef Lenny McNab serenades guests with humor and love songs and serves a seven-course dinner, complete with pheasant that was hunted and retrieved by one of Kessler's trained bird dogs. By nightfall, guests sit in rocking chairs by the outdoor fireplace, taking in the stars peeking overhead and the lake dotted with ripples of rising trout. A large, peaceful bronze bear sits on its haunches and surveys the same expansive view. It's a reminder to slow down and reflect on the grandeur of nature. The sculpture helps tell the story of Kessler Canyon, a story of finding peace of mind in the landscape and appreciating all it has to offer, from a stunning view to a slippery fat rainbow trout.
Kessler Canyon is part of the Kessler Collection, a series of 10 artistically inspired boutique hotels located across the country. Each hotel seeks to tell a story through hand-selected artwork and décor. From an 1888 historic hotel in St. Augustine, Florida, to a cutting-edge downtown landmark in the heart of Orlando's arts district, to an earthy Native American retreat in Taos, New Mexico, and an elite ski lodge in Beaver Creek, Colorado, each hotel claims its own unique theme defined by paintings and sculptures from local, national and international artists.
"To make a property stand out beyond others, I think that artwork is important. People see it and react to it. It creates that warm feeling and they feel more at home. They feel like they're some place special. Hearing [a guest once say] that Kessler Canyon wraps its arms around you, I don't think you'd get that full feeling if it wasn't for all the art and the décor here," says Bob Edwards, manager at Kessler Canyon. Handpicked by chairman and CEO, Richard Kessler, or his family members, the art collection spans more than 5,000 paintings and hundreds of sculptures. Thousands of these works are on display in Kessler Collection properties and about half of these works are for sale, either off the wall or through the Grand Bohemian Gallery. Kessler has also commissioned several artists to paint exclusively for his galleries, including the famed Italian artist best known for his depictions of wildlife, Stefano Cecchini, and French Expressionist-colorist, Jean Claude Roy, along with William Russell Walker, a narrative figurative artist with roots in the Old Masters. Along with enhancing the atmosphere of his hotels, art is also a profitable part of the enterprise, selling more than $2 million annually, says Kessler.
"Art, to me, makes the whole hospitality experience more enjoyable, it gives it depth, it brings up another dimension of entertainment," he says. "To me hospitality is almost synonymous with entertainment. And so what we try to do is build hotels and products that really entertain people, and art plays a key role in this entertainment function."
An art collector since his 20s, Kessler's eclectic collection is guided by quality as opposed to the artists' fame. He likes to discover lesser-known artists and purchases what appeals to him.
"I like color. The use of color is really important to me," he says. "And the sharp details found in figurative work. Between color and figurative work, that's about it. I like large paintings also," he says. "I go through over 100 art galleries a year personally. And then I try to get through several art museums every year, so I think by doing that it keeps polishing up your eye for what good art is all about."
From New Mexico to China, Kessler seeks out art in a variety of subjects. In the span of a week, he purchased four Western paintings from an artist he happened upon while looking at real estate in Santa Fe. Meanwhile, an assistant in Beijing was visiting artists' communities and art galleries to vet possible art purchases for an Asia-themed hotel in St. Petersburg, Florida.
"We'll probably buy about 100 paintings while she is on this trip. We already bought about 40 paintings in the last two days in Beijing. Just some beautiful stuff. She finds the paintings that she likes, and emails me the photos and tells me the price. And I say 'yes' or 'no,' and she buys them, and they'll all be shipped back to America," Kessler says.
With properties under development in Charleston, South Carolina, Santa Fe, New Mexico, and Birmingham, Alabama, and plans for future developments in Denver, Colorado, and Nashville, Tennessee, the Kessler Collection of properties continues to grow, offering inspiring spaces and setting the stage for guests to create memorable stories all their own.