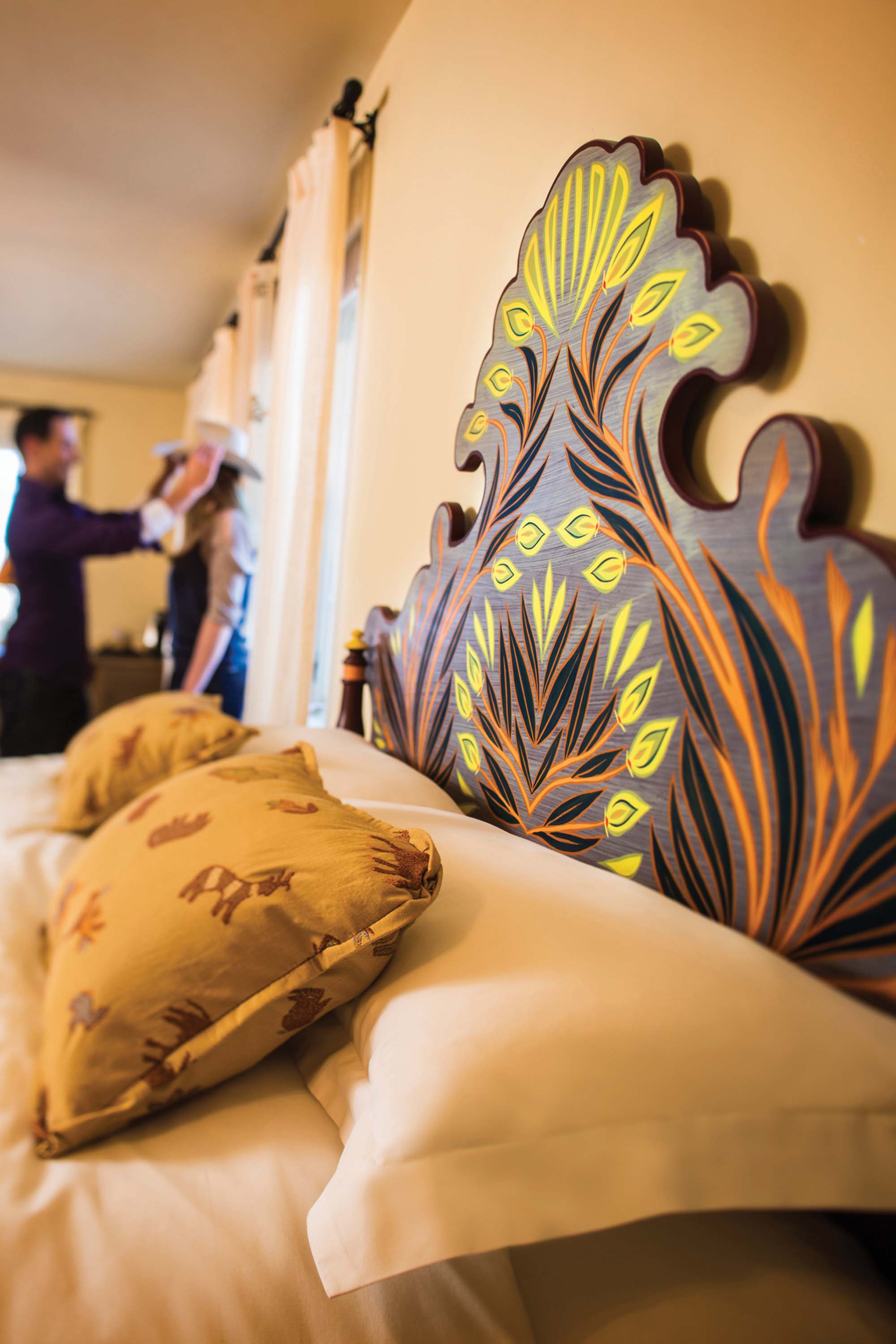 The original beds at the La Fonda were all twins. the renovation incorporated new queen and king headboards based on the old twin headboard styles; all were painted by local artisans and each room has unique headboards. This one was painted by Native American artist warren Montoya (Santa Ana and Santa Clara Pueblos).
04 Aug

Western Landmark: La Fonda
---
The lounge is hopping, the restaurant's packed and tourists, guests and locals wander through the hotel's ground floor, window shopping or admiring art and architecture. La Fonda on the Plaza is sold out for the night, and it's not even peak season in Santa Fe, New Mexico.
Yet that's what people have come to expect in what's arguably the City Different's best known and — no argument here — quirkiest hotel.
Located at the end of the Santa Fe Trail, this five-story adobe structure takes up an entire block in the heart of Santa Fe, and features 179 rooms, a spa, lounge and bar with amazing views, plus a roof-top terrace and 17 boutique shops.
Several fondas (Spanish for inns) have stood on these grounds since … well, that's a question that continues to stump historians. The Exchange Hotel was here back when territorial Governor Lew Wallace was writing Ben-Hur and Billy the Kid was spending time in the city's jail. The La Fonda opened for business in 1922. Three years later, Fred Harvey bought the inn and made it a Harvey House. Harvey also brought in noted architect-designer Mary Elizabeth Jane Colter to reimagine the inn, and Colter's work from 1926 to 1929 redefined La Fonda.
Which is what Jennifer Kimball wanted to emphasize when the hotel partnered with Santa Fe-based Barbara Felix Architecture + Design for an extensive remodeling that was completed late last summer.
"Art has been a part of our history since the 1920s," says Kimball, in her eighth year as La Fonda's chairman of the board, "and it's still close to our heart."
Before the remodeling, however, La Fonda had $250,000 paintings hanging next to framed posters. Felix and Kimball changed that. They not only had paintings restored, but they also hired local artists to recreate La Fonda's whimsical, quirky folk-art heritage.
"It makes us different," Kimball says. "We don't want to be a Marriott or a Hilton."
Barn doors were put in all guest rooms; local artists painted tile murals in guest bathrooms; blanket boxes were converted into tables; ironwork and tinwork were showcased; and drapes, curtains and lampshades were influenced by the Spanish Colonial form of colcha embroidery. And since the original rooms had twin beds (15 original headboards remain), local artists were hired to create new headboard designs.
"We tried to keep the folk art whimsical, and tried to keep everything authentic," Kimball says, "but put a luxurious, modern twist on everything." Skylights were added to brighten the interior, and the fountain was returned to La Plazuela, La Fonda's restaurant.
Most significantly, however, was the restoration and highlighting of much of the original 1920s artwork, including the roughly 400 windows painted by longtime hotel employee Ernest Martinez, the terracotta panels of Arnold Rönnebeck, and the Atchison, Topeka and Santa Fe Railway-commissioned paintings of Gerald Cassidy.
Add not-as-noticeable upgrades (plumbing, wiring, soundproofing, stuccoing, etc.) and it's easy to see why AAA has given La Fonda a Four Diamond rating for the first time.
"This place needs to stand another 90 years," Kimball says.