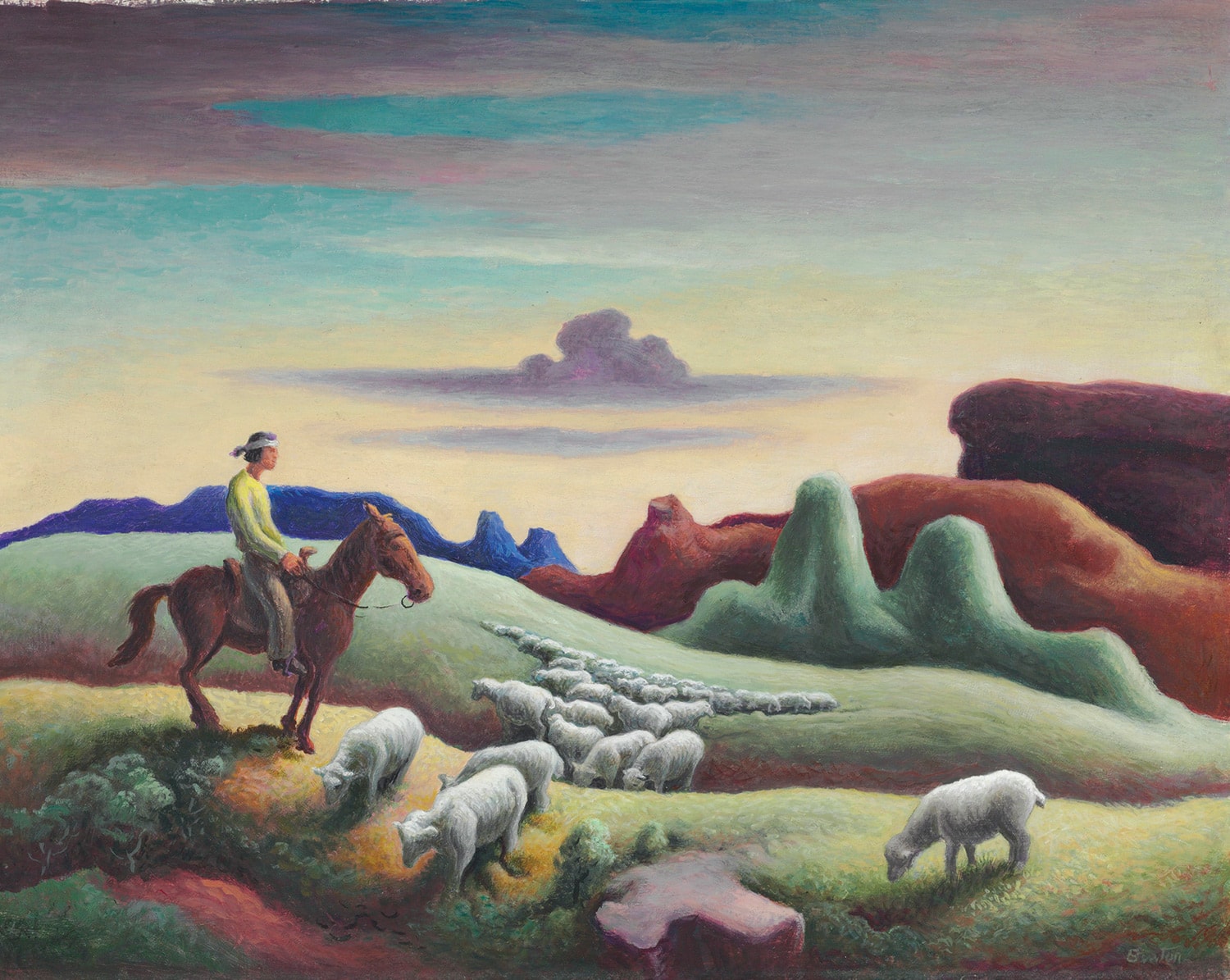 Thomas Hart Benton, "Navajo Sand" | Tempera on Masonite | 8.75 x 23.875 inches | 1926 and 1966 | Estimate: $1,500,000 – $2,500,000 | Sold: $2,652,500
17 Jul

Auction Block: Up, Up, and Away

Singular pieces from high-profile, private collections sold swiftly and well at a series of auctions of American art by Sotheby's and Christie's.

The latter auction house generated buzz with a beautifully rendered painting by Thomas Hart Benton of the U.S. Southwest and its peoples. Navajo Sand ignited the enthusiasm of bidders to drive its price to $2.6 million during Christie's Art of the Americas sale on May 9. The auction, which also saw the sale of an outsized bloom by legendary American modernist Georgia O'Keeffe, represented part of an array of acclaimed works tied to the collection of David and Peggy Rockefeller.

That sale also brought a top price for a painting by Mexican muralist Diego Rivera, with The Rivals fetching more than $9.7 million, instead of the $5 million to $7 million predicted.

Sotheby's and Texas-based Heritage Auctions elicited tidy sums for works by artists whose training and styles were associated with the so-called Golden Age of Illustration in America.

Norman Rockwell and N.C. Wyeth topped Sotheby's sale of American art on May 23, with works by the two artists, best known for their masterful illustrations, mostly exceeding expectations. An early piece by Rockwell, Boy Playing Flute Surrounded by Animals, brought $4.1 million, or millions more than estimated, while Wyeth's Portrait of a Farmer set a new world auction record at $6 million.

Nine Rockwell works, including one from the collection of the late entertainer Debbie Reynolds, realized nearly $4.6 million during Heritage Auctions May sale of American art in Dallas.

In a sign that admirers of Western works won't be denied their day, the opening weekend of the National Cowboy & Western Heritage Museum's storied Prix de West brought an 11 percent increase in art sales. The event's prized purchase award went to Mian Situ for a dramatic painting of workers laboring at high altitudes in precarious positions to lay the groundwork for a railway through the Sierra Nevada Mountains.

The Phippen Museum's Western Art Show & Sale propelled Bill Cramer to new heights, with the Arizona-based artist sweeping three major award categories, including Best of Show, first place in oil painting and the Art of the West award. Cramer's moving, majestic landscape entitled Point in Time was behind both the Best of Show and oil painting honors.

And, in the annals of Indigenous art, Bonhams marked the handsome amount that attended the sale of a historic, ornamented hide shirt likely crafted by the Arapaho. The shirt achieved $225,000, dwarfing its presale estimates.
Brian Lebel's Cody Old West Show & Auction | June 23 – 24, 2018
A saddle ensemble crafted by a legendary maker for a legendary popular culture figure ignited a bidding frenzy during Brian Lebel's Cody Old West Show & Auction at the Santa Fe Convention Center in New Mexico the evening of June 23.
Ornamented in silver, the saddle, bridle, and breast collar that made up the Bohlin rig that adorned Silver, the white horse whose rider was the Lone Ranger, the masked, Western-style hero who marked victories against assorted bad guys and galloped across U.S. television screens from the 1950s on.
N.C. Wyeth, Portrait of a Farmer (Pennsylvania Farmer) | Tempera on Renaissance Panel | 40 x 60 inches | 1943 | Estimate: $2.5 million | Sold: $5,985,900
The ensemble, from the estate of film producer Jack Wrather, brought $130,000, more than two times its high estimate, and applause from an admiring crowd.
And in proof of the principle that the unexpected should be expected during a live auction, bidders vied to gain a hand-painted, tin sign that once hung outside a saloon near where outlaw Billy the Kid killed a pair of deputies working for famed New Mexico lawman Pat Garrett. The 19th-century sign brought nearly $13,000.
Historic firearms also aimed high and delivered, with a pair of Texas Ranger service revolvers going for $64,800, far higher than predictions that ranged between $12,000 and $16,000.
Bonhams: Native American Art Auction | June 4, 2018
A colorful, ornate, and supple hide shirt likely tied to the Arapaho, who historically occupied the prairies of Wyoming and Colorado, went for 10 times its high estimate during Bonhams' early June sale of American Indian art in Los Angeles, California.
The Southern Plains ghost dance shirt, acquired by a member of a California family at the turn of the 20th century, had been predicted to go for anywhere from $15,000 to $25,000 but instead rose to $225,000, with fees, to lead the auction.
The ghost dance shirt is notable for an overall blue hue broken by white opaque stars and green fringe. It is ornamented with images of crows, magpies, and a pair of spotted tortoises found above the hem on both sides of the garment.
The same sale saw a poncho-style war shirt believed to have been fashioned by the Pacific Northwest's Nez Perce tribe fetch $68,750, including buyer's premium. The amount for that shirt fell toward the top end of estimates between $50,000 and $80,000.
Pieces of apparel were not alone in exciting collectors' interest. A pair of silver cuff bracelets were thought to be fashioned by Charles Edenshaw, a chief of the Haida Tribe of British Columbia in Canada and one of the most acclaimed carvers in a Native North American culture that prizes such artistry. Each cuff depicts a pair of cormorants in profile and the bracelets appear to have been crafted during a period when the work of Edenshaw, who lived from 1839 to 1920, had achieved creative maturity. The bracelets brought $87,500, including fees; that compares to expectations ranging from $70,000 to $100,000.
Lastly, a scene of Native American warriors astride charging horses realized $25,000. Many of the riders are wearing full-feathered headdresses in an ink-on-muslin piece that portrays the vanquished on foot and was originally part of the art collection amassed by actor Vincent Price and his wife.
Prix de West: National Cowboy & Western Heritage Museum | June 8 – 9, 2018
Mian Situ grew up in rural China, continents away from the landscapes, historic peoples, and events tied to the American West. Yet Situ's academic training paired with a powerful sense of place have helped bring into focus what was suspected about the artist all along: His talent is all-encompassing.
And confirmation comes with a large reward: the approbation of the community of artists, experts, collectors, and raft of art admirers who annually make the pilgrimage to the National Cowboy & Western Heritage Museum in Oklahoma City to attend the art-based seminars, demonstrations, sale, and exhibition that make up the opening weekend of the much vaunted Prix de West.
Situ received the Prix de West Purchase Award for Blasting a Route Through the Sierra Nevada Mountains, 1865, Central Pacific Railroad, a vertical oil whose narrative is as much about the region's rugged rock walls as the rugged individuals who laid the groundwork for the transportation network that ultimately crisscrossed the American West's high country.
"This is a higher honor than I know how to express," Situ told those assembled at the Sam Noble Special Events Center where the award winner was named on June 9, according to the museum.
The painting, which is to be added to the museum's permanent collection, was purchased for $59,000 amid weekend art sales that tallied $3.45 million — or 11 percent more than last year — and which drew more than 1,300 people.
Other award winners were: Len Chmiel for a display of four paintings (Robert Lougheed Memorial Award); John Coleman, The Healer (Jackie L. Coles Buyers' Choice Award); George Carlson, Winter in Monochrome (Frederic Remington Painting Award); Greg Beecham, Feathers and Dust (Major General and Mrs. Don D. Pittman Wildlife Award); Walter Matia, Two for the Road (James Earle Fraser Sculpture Award); Bill Anton, Who's Got the Cards? (Express Ranches Great American Cowboy Award); Bruce R. Greene, Cowboy Cadillacs (Donald Teague Memorial Award); and Brent Cotton, Under the Tall Cottonwoods (Wilson Hurley Memorial Award).
Phippen Museum: Western Art Show & Sale | May 26 – 28, 2018
Ninety-five of the nation's leading Western artists showcased their paintings and sculptures in an outdoor show that benefits the Phippen Museum and which draws thousands to the small city of Prescott in North- central Arizona.
What distinguished the event this year was the unveiling of a monumental bronze, Cowboy in a Storm, a replica of the final sculpture shaped by George Phippen, co-founder and first president of Cowboy Artists of America. The work, an action piece combining leaping horse, cowboy aiming rope, and bolting calf, now occupies pride-of-place outside the museum's new entrance.
Prescott-based landscape artist Bill Cramer, a perennial favorite at the Phippen's annual Memorial Day weekend celebration of Western art, gained the coveted Best of Show for Point in Time, which offers a sweeping view of the Southwest's rugged canyonlands and which also took the first-place slot in the oil painting category. And Cramer didn't stop there; his Ridge of Light, a masterful rendering of light play on massive rock walls, received the Art of the West Award, bringing the number of formal accolades bestowed on Cramer to three.
Chinese-born artist Wei Tai, a graduate of the Shanghai Fine Art Institute and former assistant professor of art and fashion design for Shanghai College, once again evoked an enthusiastic response from judges for his paintings, Chief, featuring a Native American tribal leader, and Crow Lady, a portrait of an American Indian woman whose face is weathered and whose eyes are fixed on a distant — or perhaps separate — plane. Tai's Chief gained second place in the oil painting category while Crow Lady took third place in the watercolor competition.
A painting also entitled Chief, but whose creator was artist Matt Josef, topped entries in the acrylic segment, with the contemporary work whose subject is an American Indian in profile, and whose dynamism depends on an excitement of brushstrokes.
Christie's American Art: May 22, 2018 | American Art Online: May 15–22, 2018 | The Collection of David and Peggy Rockefeller: Art of the Americas: May 9, 2018
A painting that had posed as an admired example of Modernism revealed itself as a surprise top seller during the May 22 sale of American art by Christie's that tallied more than $32.8 million, including fees.
Milton Avery's spare rendering of the female form in Red Nude brought more than $3 million to defy presale predictions that ranged from $1 million to $1.5 million. It was a satisfying twist in an auction that saw an outsized flower by Georgia O'Keeffe, Hibiscus, sell for roughly $4.8 million, and American watercolorist Charles Ephraim Burchfield's Cherry Blossom Snow set a new auction high of $1.8 million-plus for the artist, a fortnight after one was achieved during Christie's Art of the Americas sale tied to the David and Peggy Rockefeller Collection.
That auction brought nearly $107 million, while the auction house's online sale of American art (May 15 – 22) achieved nearly $2 million. Those figures combined with the live auction of American art on May 22 brought the late spring season grand total for that genre to more than $141 million, according to Christie's.
Diego Rivera | "The Rivals" | Oil on Canvas | 60 x 50 inches | 1931 | Estimate: $5-$7 million | Sold: $9.7 million | Image: Christie's Images LTD.
The offerings by the Rockefellers, sold to underwrite the family's multitude of philanthropic endeavors, included such treasures as Thomas Hart Benton's Navajo Sand, a painting in a class of its own for creating a kind of modernist pastoral scene, composed of sheep, a Native American shepherd, and multihued hills. The amount for the tempera-on-masonite topped $2.6 million, roughly $1 million more than its low estimate. And an O'Keeffe that marries a stillness of sky with the stony shoulders of mountains, Near Abiquiu, New Mexico, climbed to more than $8.4 million in an amount that compares to expectations ranging from $3 million to $5 million.
An auction high was set for the renowned Mexican muralist Diego Rivera with the sale of The Rivals, commissioned by David Rockeller's mother, Abby, for her private collection, and later presented as a gift to him and his bride, according to the auction house. The large, brightly colored oil portrays celebrants amid an annual traditional festival in the Mexican state of Oaxaca. It went for more than $9.7 million compared to predictions of $5 million to $7 million.
Thomas Hill's dreamy Yosemite Valley led lots in the online auction of American art by fetching $93,750 compared to its top estimate of $50,000.
Sotheby's American Art: May 23, 2018 | Thomas Molesworth: Designing the American West – The Ruth and Jake Bloom Collection: May 23, 2018
May 23 proved an exceptional day for Sotheby's, as the combined total for two separate auctions of American art and a collection of Western interior design triumphs by Thomas Molesworth topped $45 million.
Works by Norman Rockwell and N.C. Wyeth, stars among luminaries during the so-called Golden Age of Illustration in the U.S. that spanned the latter half of the 19th century and early decades of the 20th century, headlined the sale of American art.
Rockwell's outsized painting, Blacksmith's Boy – Heel and Toe, sold for $8.1 million and was one of 12 pieces by the famed artist that brought a total of $19.8 million. That amount was bolstered by the unexpected sum brought by Boy Playing Flute Surrounded by Animals, one of Rockwell's early works, which fetched $4.1 million instead of $1.5 to $2.5 million as predicted.
A new world auction record was set for Wyeth's Portrait of a Farmer at $6 million, compared to presale estimates of $2.5 to $3.5 million. The painting had been in the collection of the artist's wife before being offered at auction for the first time — to the mutual delight of a trio of ardent phone bidders.
A Charlie Russell, When Guns Were the Locks of the Treasure Box, sold for $300,000, far higher than estimated for a painting that is notable in part for its startling use of color.
The auction saw The Golden Girl of the West, a painting by Philip Goodwin, who, as with N.C. Wyeth, studied under leading illustrator and teacher Howard Pyle, achieve $137,500, nearly twice its top estimate, while Journey's End, showing the signature barn motif of Nebraska-born painter Dale Nichols, fetched $106,250, with fees, compared to expectations ranging from $40,000 to $60,000.
Mian Situ | "Blasting a Route Through the Sierra Nevada Mountains, 1865 Central" | Pacific Railroad | Oil on Canvas | 48 x 32 inches | Prix de West Purchase Award | Sold: $59,000
The largest offering in two decades of works by Thomas Molesworth, the Western interior design genius, brought $2.7 million, two times its high estimate, during Sotheby's separate May 23 sale of items from the collection of Ruth and Jake Bloom.
To get a sense of how ultimate bids compared to presale expectations, a Molesworth game table with an octagonal top and burled fir base — commissioned in the 1930s for the O.T.O. Ranch in Montana — climbed to $225,000 compared with the $50,000 to $70,000 it was predicted to realize.
Sotheby's was right to sing the praises of Molesworth, credited by the auction house for "his ability to create a Western style that was romantic and unique, yet cosmopolitan, witty, and familiar."
Heritage Auctions: American Art Sale | May 4, 2018
Norman Rockwell's only Saturday Evening Post cover illustration to portray one of the nation's founding fathers went for $762,500 during Heritage Auctions' sale of American art. Ben Franklin's Sesquicentennial was one of nine Rockwell works in an auction that brought a total of nearly $4.6 million. The subject matter and provenance of the piece added to its attraction, with the commission marking the 150th anniversary of the Declaration of Independence, and the painting issuing from the private collection of the late actress Debbie Reynolds. Yet Rockwell, arguably America's most beloved and acclaimed illustrator, carries his own cachet. His reputation has been bolstered in recent years by a mounting interest in art that evokes another time in America and that nostalgia appears to have growing appeal.
"Art lovers of all levels and types can relate to the people in his paintings," said Aviva Lehmann, Heritage's director of American art.
That appeal was translated earlier this year into a landmark exhibit — Norman Rockwell: Behind the Cameras — at the Gilcrease Museum in Tulsa, Oklahoma, that examines Rockwell's study of photographs, drawings, and original paintings.
The Census Taker, Rockwell's comic take on a frazzled American mother seeking to tend to a curious clutch of children while answering questions for the 1940 U.S. census, brought $372,500, topping presale estimates ranging from $250,000 to $350,000.
A Saturday Evening Post cover by Joseph Christian Leyendecker, among the select, highly popular, and widely known artists associated with the Golden Age of Illustration in America, fetched $312,500. Living Mannequin, which drew a host of bidders, was expected to bring between $120,000 and $180,000.
The May 4 event brought new auction records for seven artists, including 19th-century landscape painter John S. Jameson's Grazing Sheep at Headwaters of a Stream, a rarity whose atmospherics cement Jameson's standing among Hudson River School artists and whose charm drove the price to $250,000, or more than four times its top estimate.