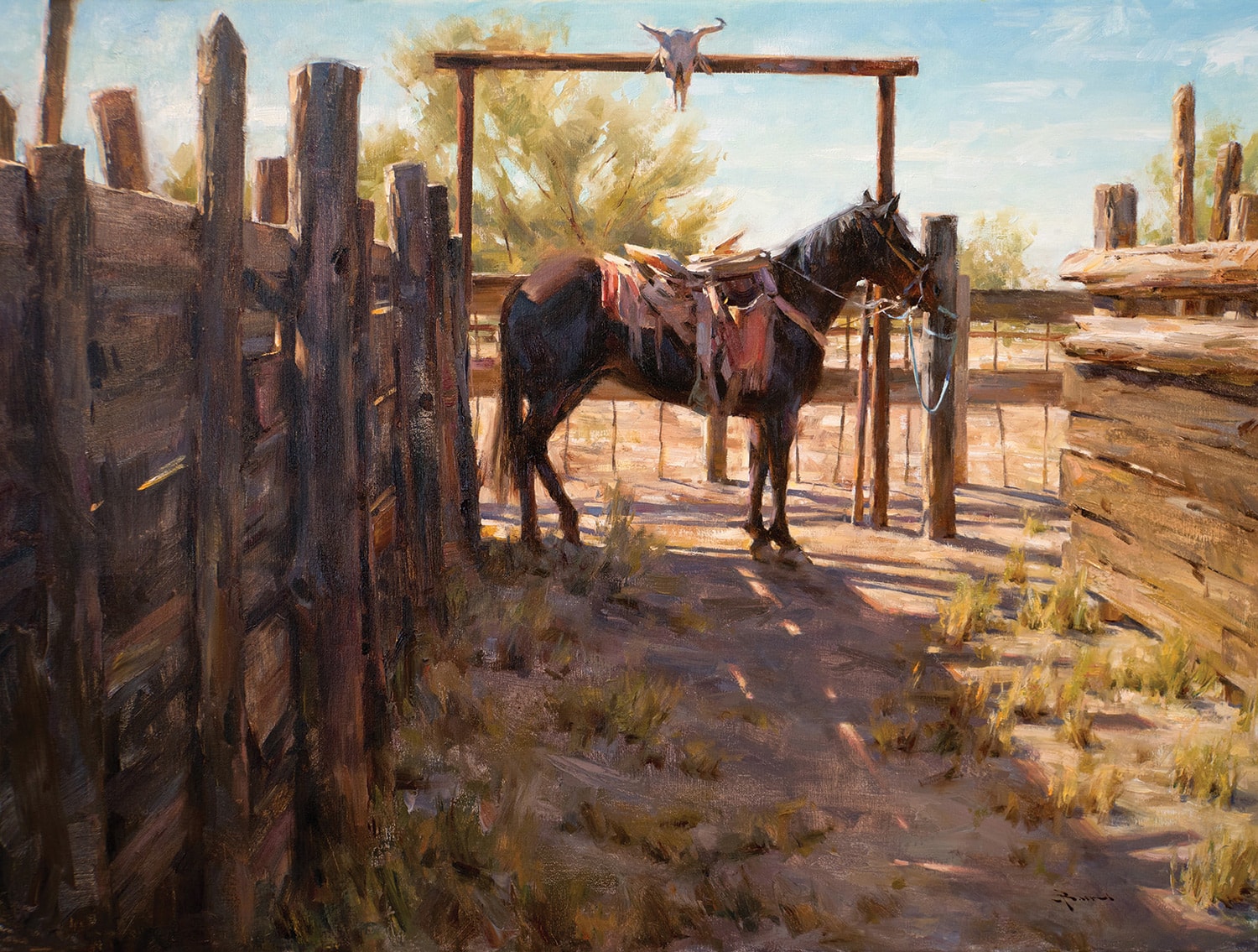 Mitch Baird, "Corral Repose" | Oil | 30 x 40 inches
17 Jul

Collector's Notebook: Wooing Future Generations

Most art collectors remember their first purchase with the same clarity and emotion that they remember their first date with their spouse, or first kiss. Plunking down a wad of cash, which for many young professionals is their first disposable income, for a piece of art that reflects not only their concept of beauty, but also their identity, is transformational, a rite of passage.

After he successfully bid on three paintings at the 2018 C.M. Russell Museum auction in Great Falls, Montana, 28-year-old Graham Moore was euphoric. Having never purchased fine art, and certainly never at an auction, he'd prepared himself well. He even sold his truck, his only vehicle, a Ford F-350, on eBay to be sure he would have enough cash in his pocket to bid in earnest.

Fitting the three oil paintings — all classic 19th-century Western scenes — in the back of a fuel-efficient, rented sedan was a satisfying challenge.

"I was on cloud nine for two weeks after [the auction]," says the software manager, who lives in Bigfork, Montana, and rides bulls on the side. "The works help reconnect me to the cowboy culture, the time of the Old West — which is a generation I wish I was from."

Not every new collector jumps in with both feet like Moore did. Often, first-time buyers get their feet wet with an original print or drawing by an artist they love whose larger works are too expensive. Herbert Kasper, the American fashion designer simply known as Kasper, made his first purchase when he was a 20-something art student in Paris. Now in his 80s, the renowned collector tells the story of his initial purchase with excitement, recalling how he looked and looked, and finally found a drawing he loved by Constantin Guys for $100. Passion stoked, he saved, visited museums, and waited. When his career took off a few years later, he was able to afford a second purchase — another drawing. This one by Edgar Degas. Today Kasper's large collection of Old Master drawings is well known. In 2011, it was exhibited at the Morgan Library and Museum in New York City.
Teresa Elliott, "The Gathering" | Oil | 24 x 30 inches
As tried-and-true collectors and donors of the baby-boomer generation leave the stage, museums, auction houses, and even gallery administrators do not expect millennials to simply pick up the reins.
And so museum and auction house administrators create programs specifically for young professionals, some costly, others affordable or free, all of which offer opportunities to learn, experience, and (hopefully) bring art into their lives.
In 2015, the Coors Western Art Exhibit & Sale created a one-night event for philanthropically-minded Denver residents in their 20s and 30s who, though not necessarily art lovers, were ripe to become art lovers and collectors. Denver resident Chancy Love, 33, grew up in rural Colorado, surrounded by cattle and horses. She bought two paintings that first night and now serves on the Coors' Young Guns Committee, as well as the Young Guns Society, which plans events for emerging collectors throughout the year.
"The Young Guns Show is really what introduced us to purchasing original artwork," said Love, whose owns paintings by Teresa Elliott, William Matthews, and Duke Beardsley.
The art offered at the Young Guns Show are by more up-and-coming artists, and their work is more affordable. The one-night event is also a party, with food, drinks, social networking, and music.
To court a younger generation of collectors, the Los Angeles County Museum of Art's Avant-Garde program costs $1,000 a year to join. That buy-in offers a rich menu for young art enthusiasts and collectors in the area, such as curator-led tours of private collections and edgy downtown galleries, plus after-hours events.
Christies' Emerging Collectors program is designed for those who wish to develop an art collection. It serves to demystify the art market and the auction process, while introducing participants to the vast array of Christies' offerings, from contemporary art to antiquities. It's been particularly successful with Asian art. The program offers pre-auction tours, after work food and drinks, and events — one was a mock auction with as many as 300 people attending in Shanghai.
The Saint Louis Art Museum has a longstanding Young Friends group, but it's the free monthly Slam Underground event that attracts a large, diverse crowd at one time. With cocktails, culturally relevant (read hip-hop) music, and arts activities that tie in with current exhibitions, the museum hopes one of the attendees will be the next Morton May — the businessman and trustee who gave the museum his large collection of Max Beckmanns, for which the museum is now internationally known.
When they look back, veteran collectors see the art on their walls through a lens far more personal than fiduciary. Over time, it becomes a visual autobiography.
Advice to the beginner? It's not complicated: Buy what you love, but be sure what you love is good enough, learn from your mistakes, and as you learn, grow. Keep looking and keep learning. Walk, don't run.