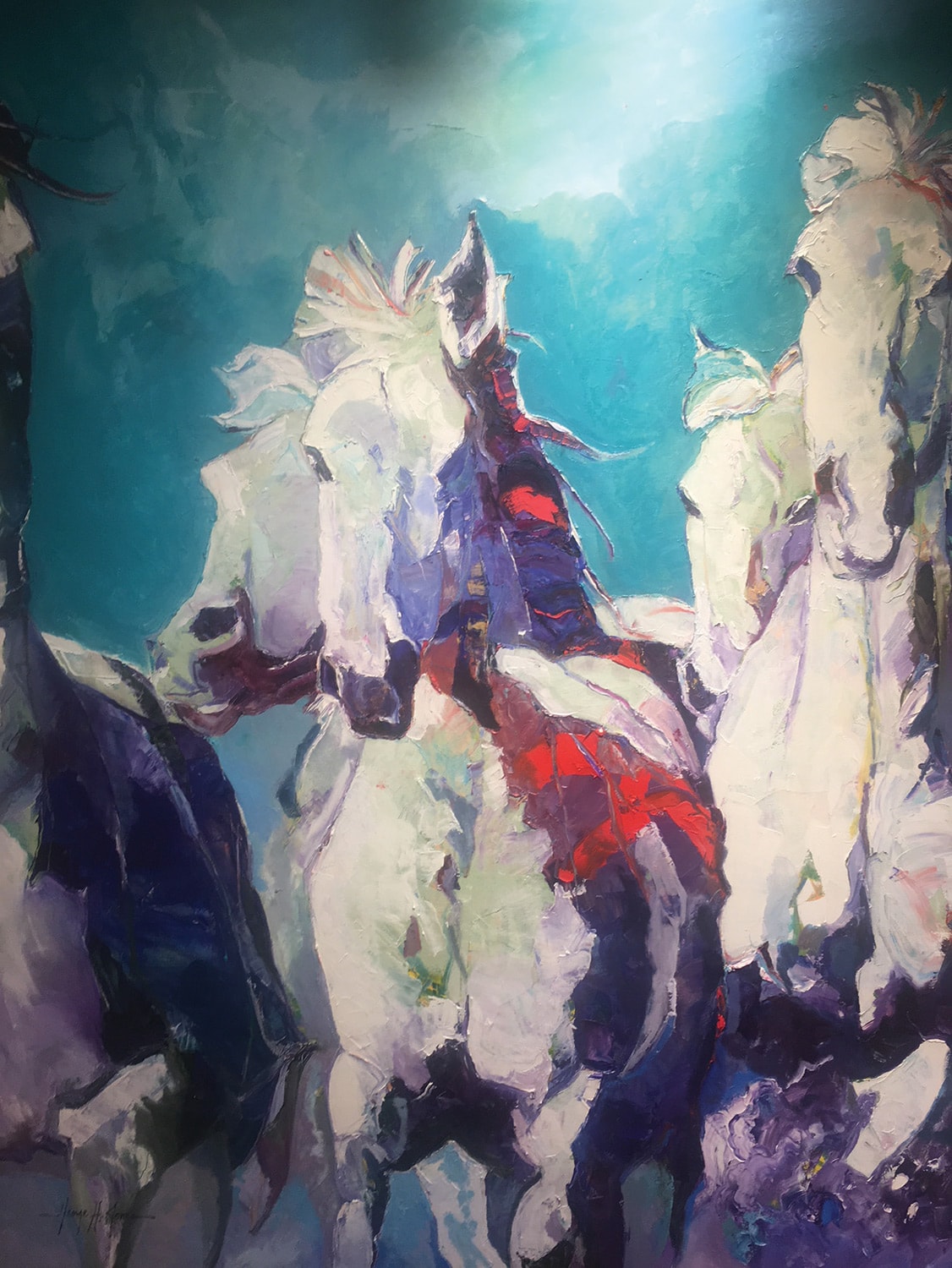 "Splash" | Oil | 60 x 48 inches | Image: The Grand Fine Art
17 Jul

Illuminations: Highlighting the work of artist George H. Jones

George H. Jones paints large and loud. His standard size is 4 by 5 feet. His longhorn cattle, cows, and wildlife from his native Texas fill up a room with wild, loose, bold, lively color and plenty of personality.

"I stand up when I paint to give it a fresher look, keep the motion in it, and the size seems to work for me," Jones says, referring to his 6-foot, 5-inch stature. "It suits my height rather than laboring over a small piece. It's more fun for me."

When starting a piece, he'll spend an hour sketching it out, figuring out the composition. Sometimes, he'll go out into the field to paint. When he does, he always takes his camera.

"I have photographers that will send me images they think will be good for my style," Jones says. "I'll crop those images, and I'll add my colors and my juicy paint to make it uniquely mine."

Attracted to the wide, open ranges, the horses, and the wildness of nature, Jones especially loves capturing horses when they're moving: their manes full of motion in the wind or catching that first splash of water when they run.

"Ultimately, for me, it's about the sunlight … how it reflects off their bodies," he says. "I'm hoping to paint them in a way so what's moving for me is also moving for someone else. I'm trying to show them a little piece of my heart on the canvas. What I see, what's inspiring to me, hopefully it will reach out and touch them as well."

For Jones, it's about color — bright colors that jump from the surface. "I had the realization that I'm going to die, and I didn't want to be known as a floral painter. So I started painting what I wanted to paint, which is the Western subjects. But I kept all the colors."

Jones also incorporates icons of Western culture in his repertoire, including John Wayne and Clint Eastwood, which seem to be popular in the galleries.

"Being creative is all I ever wanted to do," he says.

Jones is represented by L.A. Design in Missoula, Montana; The Grand Fine Art in Jackson Hole, Wyoming; and Milan Gallery in Fort Worth, Texas.