"Shell" | Oil on Canvas | 32 x 86 inches | 2012
17 Jul

Illuminations: Highlighting the work of artist Michelle Osman

Michelle Osman's skyscapes center around the transformational nature of clouds conveying an expansive horizon and the turbulent presence of the unknown.

"I work from photographs, because each painting takes a couple of months, and I love the specificity of the clouds I paint," Osman says. "For me, it's the intricacies, shapes, and forms. I used to keep a camera on me at all times, but now I have an iPhone."

Because it's an iPhone, she can keep shooting, ending up with 50 to 100 photos of cloud formations as they move and change. She also ends up with a wide variety of clouds within a single storm.

"I've never gone out in search of clouds or hunted storms," she says. "But I love the intimacy of finding these clouds as they happen in my everyday life. It adds a personal connection. They jolt me out of whatever I'm doing. I just pull over to the side of the road and take a bunch of pictures."

In this way, she carries her own narrative into the work. The happenstance of letting the weather stop her in her tracks as she goes about her day working or running errands adds a level of serendipity. "These clouds take me out of the mindset of my daily life, and I'm usually giddy for the rest of the day," she says. "It's exciting to have that experience."

She then sorts through hundreds of photographs, printing them all. She tapes them together to get multiple panoramas of the same storm.

"Then, I think about the conversation I'm going to have with the painting," she says, just sitting with them for a while. "It takes a couple of weeks to subconsciously understand what I want. Especially the big ones. Committing to that much time, it becomes an intensely curated moment."

Osman's large paintings verge on the hyper-real. They are depictions of places, but there is something deeper to them. Color, composition, and light all play parts in the underlying narrative. Each one evokes feelings and moods: transparent solitude, overwhelming joy, burgeoning hope, or the devastating human smallness in the face of nature.

Using thin layers of oil paint (in the tradition of Renaissance artists), Osman allows each layer to dry between applications; she can add the subtle, slanting light of a late afternoon thunderstorm and the vibrant electricity that goes with it.

"I start off with a limited palette," Osman says. "By mixing my other paints, I create my own array of grays. Because I've mixed them from all my colors, they simultaneously balance and neutralize the piece at the same time."

Through her exacting technique and style, Osman gives the viewer a fully realized surface. The layers read like slivers of stained glass, comprising both the energy of the subject and the movement of wind contained with the climbing cumulonimbus clouds.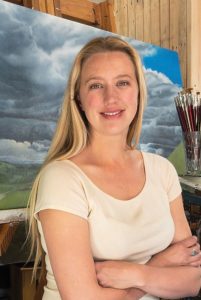 "I project a bit of narrative into the clouds, they're representational and very abstract," Osman says. "I find them to be time translated into color and light. They are a place that allows my mind and my eyes expansive room to exhale, and to stretch mentally and emotionally."
There's also an openness to the clouds, allowing the viewer to bring their emotions to the piece. "Working representationally carries a lot of responsibility. You're saying something more directly than in abstract art, but I don't want to say something small. And you can't do that with clouds. Whatever I pull out of my artistic creativity through the massive orchestra over my head — just trying to translate that — that is my art form."
Osman is represented by Sundog Fine Art Gallery in Bozeman, Montana, and will participate in a show there this November.