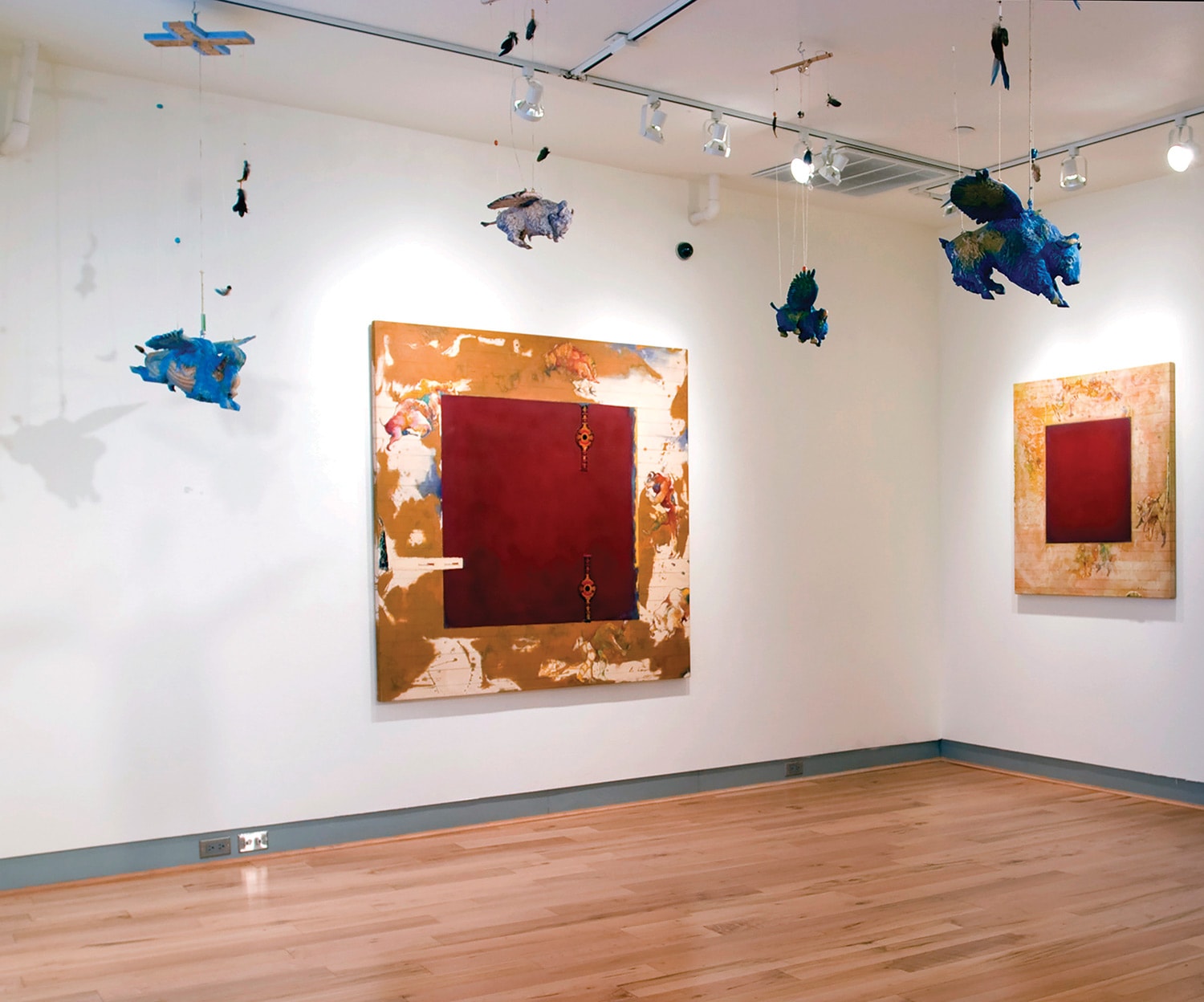 Artworks by Armond Lara at form & concept gallery in Santa Fe, New Mexico.
17 Jul

Illuminations: Highlighting the work of artists Armond Lara

The installation of artist Armond Lara's 75 winged blue buffalo, cast in resin and hand-finished, feels like a lost herd cresting above the horizon, their silenced, thundering voices, muffled for centuries, at last audible to history.

Inspired by his family's experiences, Lara's most recent project speaks to the centuries-long story of enslaved Native American children. Forced into slavery as household servants and field hands, the Pueblo people called these abducted youths "lost bluebirds," a symbol that Lara combined with the buffalo to create a new icon of Indigenous survival. "Buffalo are masters of survival," Lara says. "They're still around today even though we tried our best to kill them all off."

The Santa Fe, New Mexico, artist has depicted buffalo in his drawings, paintings, and sculptures for decades. "A herd of anything has much more impact than one," he says.

Lara's Navajo grandmother was kidnapped as a child and forced into servitude by a Mexican family. Across three centuries of Spanish, Mexican, and American rule, thousands and perhaps millions of Native children were taken as a way to assimilate the children into the dominant culture, the artist explains.

"It's my way to bring people together and understand what's going on," Lara says. "If it helps people get over the stigma of being an orphan or of being mixed-race, then it's worth it. Because that's the first step, I think, over all this racial hatred that's going on."

Lara, born in 1939, studied at The Art Institute of Colorado, Glendale College in California, and the University of Washington in Seattle. In addition, he worked and studied with Mexican-American muralist Pablo O'Higgins, and American painters Richard Diebenkorn, Helen Frankenthaler, and Paul Horiuchi.

"If one aspires toward fulfillment in the pursuit of creative endeavors, one must cling to the philosophy that any creative endeavor is no more than the pursuit of self-enlightenment," Lara says. "The process of this inner search should not be confused with the dogma of academic intellect, but rather, the intellect of that inner-being composed of the soul and the subconscious."

The idea for the flying blue buffalo installation came about when Lara's sister conducted genealogy research and found a list of all the Native American children who had been "adopted" by Mexican families in the Four Corners area. "It dawned on me, whoa, this is really widespread," he says. "That's when I started asking other people about it." He learned about the kidnappings and enslavement of Native American children that took place over the course of several centuries — from the 1600s when the Spanish arrived through the period of Mexican Independence, until the late 1800s under the U.S. government.

A number of Lara's close friends revealed that they, too, had ancestors who were taken.

"I always looked to my grandparents for guidance," he says. "The strongest voice was my grandmother's voice. She didn't talk about it, she just did it. If she needed something, she'd make it. If she needed a robe, she'd weave one. I really admired that quality."

Combining the idea of storytelling with the aesthetics of an art installation, Lara designed the 75 blue buffalo to represent the children who never came home. The installation will be shown at form & concept in Santa Fe from August 17 through November 17. It will include many of Lara's original paintings of flying blue buffalo from over the years, along with stories from New Mexicans whose family history contains similar experiences and historical notes.