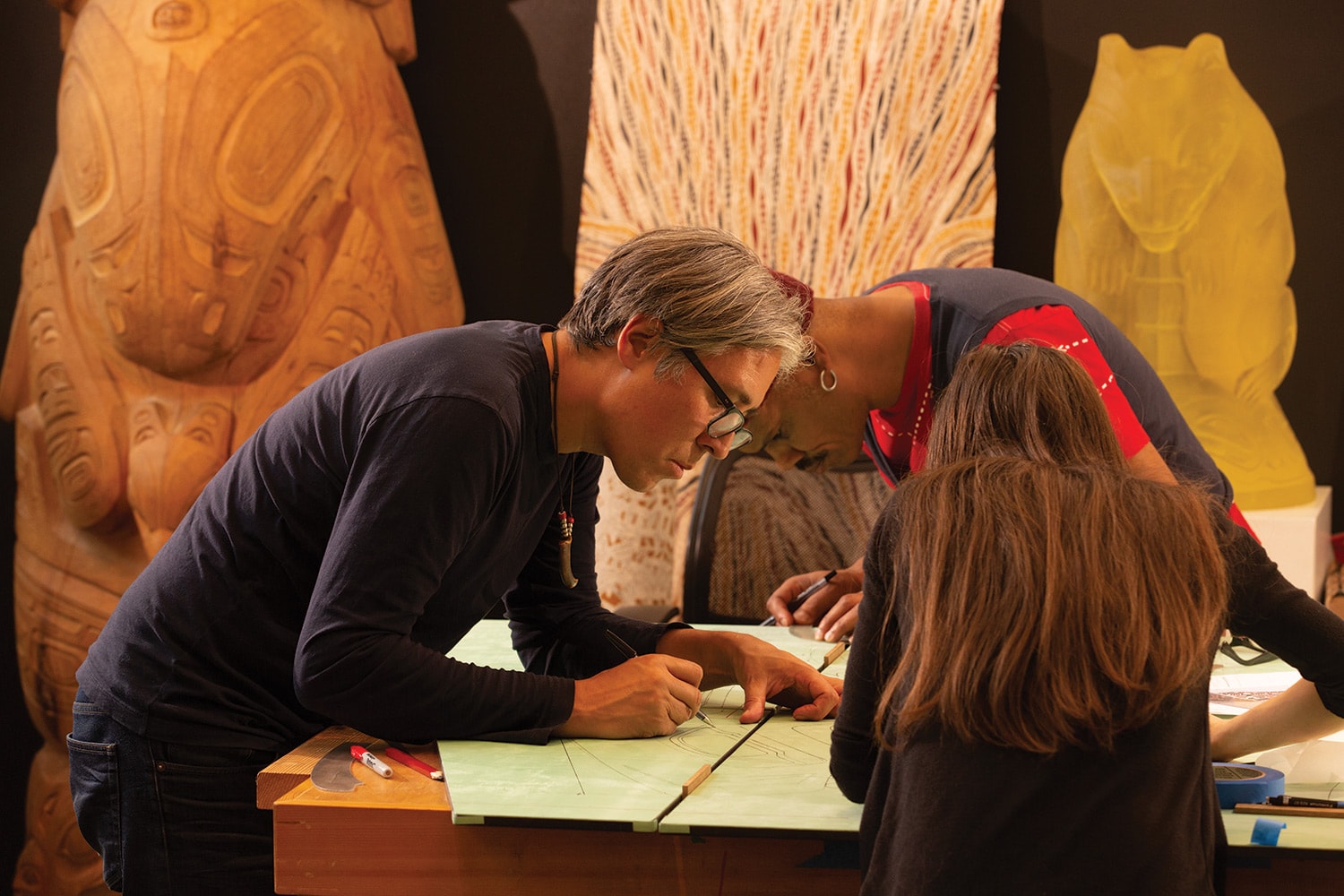 A Tlingit glass artist, Preston Singletary is known for introducing glass to the Native American community and sees himself as part of a continuum in its evolving culture and art. Photo: Russell Johnson
16 Jul

In the Studio: Ambassador of Glass

Lucky is the glass art world for Pearl Jam. It was in the 1990s heyday of the grunge music scene in Seattle, Washington, that a young man named Preston Singletary was trying to make his way playing music. He was blowing glass by day, "as a way to support my music," and gigging at night, "very improvisational stuff, in the Miles Davis, modular-modal style." The way Singletary sees it, it was bad timing, with fans flocking to the likes of Nirvana and Soundgarden instead of listening to the jazz and funk he was laying down.
These days, Singletary still plays, but it's with glass that he's making the loudest noise. His work can be found in galleries and private collections around the world, including the British Museum in London, the Museum of Fine Arts in Boston, and the Smithsonian Institution in Washington, D.C.
Born and raised in Seattle, Singletary draws upon his Tlingit heritage and is known for his innovation. The artist's interests are in both modern art and traditional Tlingit designs.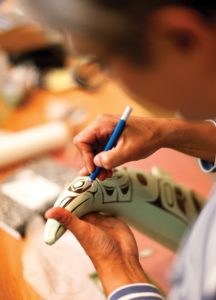 "Anthropology basically keeps [Native artists] in a corral," says Singletary, speaking in his 3,000-square-foot studio, blocks from I-5 in the South Lake Union district of Seattle. "Saying this is traditional — this is not traditional, this is contemporary. But the thing is, that the longer I'm producing work, it becomes part of the tradition."
As a Seattle Mariners baseball game plays on the radio, dozens of Singletary's creations — glass ravens, bowls, lead-crystal totems that seem to glow with a life of their own — look on from the second floor of the split-level studio. Below, one of his assistants applies a rubber stencil to a newly blown piece, then cuts the pattern out with an X-Acto knife. The areas in relief, Singletary says, will be sandblasted to expose the layers of color beneath.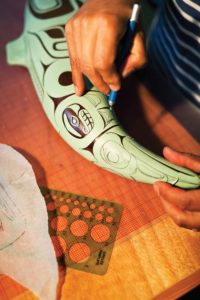 In 1982, Singletary was working in commercial glass blowing, which led him to study glass in 1984 at the Pilchuck Glass School, founded by Dale Chihuly. Singletary's personal creation story coincides with the rise of the contemporary glass art movement and includes such luminaries of the field as Benjamin Moore and Dante Marioni, both of whom he considers mentors. It also includes his aunt, Theresa Sherman, who placed one of Singletary's inverted hat pieces on a pedestal. The light shone through, creating shadows.
"Everyone was gasping," Singletary says, "and at that point, I knew I was onto something — how light played with the material in such a way that it creates this spirit; this form that appears when the light is right."
As with his art, there's a gratifying centeredness to the artist, a calmness he exudes. His shoulders are relaxed, his movements fluid, there's nothing rushed or uneven about his being. A boyish-looking 54, he maintains a gravitas and seriousness of intent, and these qualities transfer to his work, most notably in his lead-crystal totems.
Here, Singletary applies just the right amount of heat to a new piece. Tuesdays and Wednesdays are glass blowing days at the Singletary studio where, "Every day becomes an adventure," the artist says.
In Singletary's Family Totem series, a yellow and blue totem each stand 7.5 feet tall and incorporate 2,000 pounds of glass. Even Singletary describes them as "breathtaking" and "surreal." They tell the story of his great grandmother, who kept a grizzly bear as a pet, "until it got too big to keep around the house." In this case, the work is created in the Czech Republic where there's access to lead-glass crystal, which Singletary says, "is a lot more brilliant than the soda-lime glass used for blowing, it's much softer and ideal for casting."
First, Singletary has the image carved in wood by his "ghost carver," longtime collaborator David Spencer. Then a wax cast is made and plaster formed around it. The wax is melted out and the cast is filled with crystal glass. The glass is heated and slowly cooled, a process that can take up to 10 weeks. The result is a life-sized totem — a story — of luminous, translucent, brilliant, solid glass.
The importance of storytelling in Native American culture is central to Singletary's art, and his current project, Raven and the Box of Daylight, is no exception. The multimedia traveling exhibition opens October 6 at the Museum of Glass in Tacoma, Washington. Singletary says it will examine the raven story, which is the Tlingit creation story — the raven bringing light by way of the stars, moon, and sun. "If you follow the thread of the exhibition," he says, "there's a sort of pathway with sculpture, video, what-have-you."
The what-have-you includes more than 50 of his pieces as well as recorded storytelling in Tlingit and Haida, projected shadows and images, music, and recordings of Pacific Northwest coastal sounds.
In addition to the upcoming museum exhibition, Singletary has also created several public art and site-specific installations; new works will be installed in Anchorage, Alaska, and Seattle, Washington, this year.
Breaking out of the anthropological corral and inviting other Native artists to do the same, Singletary has been dubbed the Ambassador of Glass. "I'm an innovator in one way," he says, "and yet on the other hand, I maintain if I'm successful with my work, I can inspire the next generation to try something new." Drawing upon this cultural heritage, he says, "is what gives me a sense of purpose."