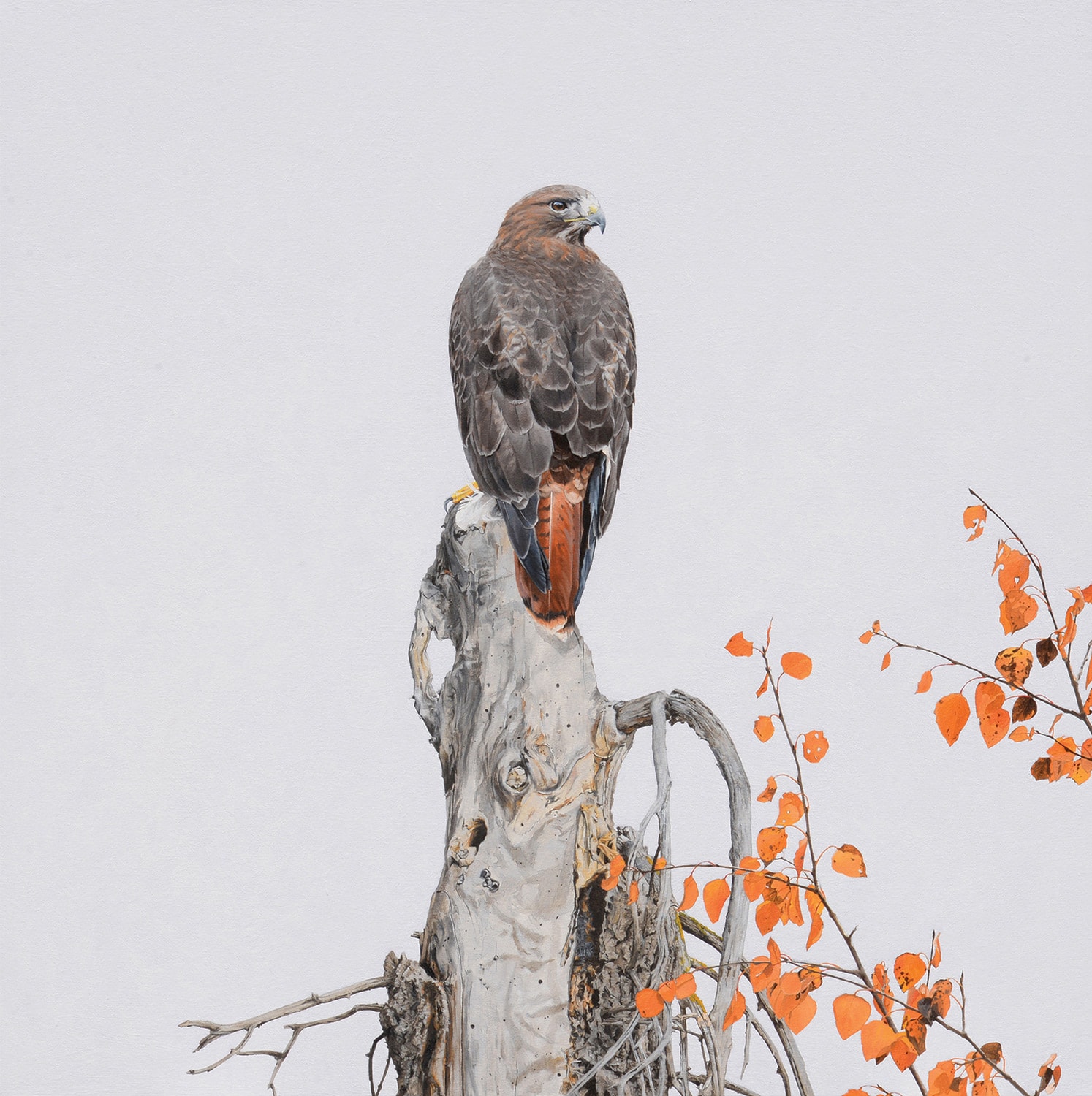 "Red Tail Hawk" | Oil on Canvas | 40 x 40 inches | 2017
16 Jul

Mark Eberhard: Composition and Mood

ON A BRIGHT SUMMER MORNING in his Ohio studio, Mark Eberhard sits at his drawing board, working on an idea for a new painting. Birds flit to and from the feeders in his yard and the day beckons him, as the outdoors often does. Around noon, he pedals his bike along the lush lowlands near the Little Miami, a National Scenic River and tributary of the Ohio River, soaking up the sunshine and open vistas, surrounded by birdsong. Nature is the inspirational foundation for this artist's distinctive work, just as his extensive graphic design background is everpresent in its compositional influence.

Quiet and soft-spoken, Eberhard takes his life as an artist as both a calling and a blessing. "Creating fulfills me — I have a very heartfelt connection to the natural world that brings me deep peace; I hope that translates to my work," he says. "In a philosophical sense, I guess it is what I have come here to do, and I am grateful for the assignment."

Considered by many collectors and institutions to be one of the finest avian artists of our times, Eberhard has become well known for his photorealistic portrayals of birds, as well as other wildlife inhabitants, within striking settings.

His love of birds began at around age 5 when his grandparents — avid bird watchers themselves — gave him a Little Golden Book of birds. "I spent a good chunk of my childhood drawing," he says, "sitting in fields watching birds, butterflies, worms, flowers — and getting chiggers.There is incredible variety in their shapes, sizes, and coloring, and Ohio's four seasons give me unlimited possibilities for paintings."

Beyond Ohio, Eberhard and his wife, Alice, travel annually to Yellowstone and Grand Teton national parks and frequently to Florida's Everglades, Ding Darling Wildlife Refuge on Sanibel Island, and Chincoteague National Wildlife Refuge on the eastern shore. A fall trip to Bosque del Apache in Southern New Mexico to view the arrival of sandhill cranes and snow geese was "a truly awe-inspiring experience," as was a safari to Africa.

"I hope people enjoy looking at my paintings," Eberhard says. "I want to share with them the beauty and humanity I see in nature. A bare tree branch can be just as beautiful and moving as a Grand Canyon vista. It seems to me important to slow down and look not just at the trees in the forest but also the leaves on the trees."
"The Three Ravens" | Oil on Canvas | 20 x 29 inches | 2018
Eberhard graduated from the University of Cincinnati in 1972 with a bachelor of science degree in design and went on to Yale University School of Art where he completed a master of fine arts and refined his understanding of color. Post-World War II Swiss and Japanese design principles particularly appealed to him and have provided a framework evident throughout his career.
When it comes to color, Eberhard's choices are sometimes literal — blue for the sky, dark green to represent a shadowy forest — or he might choose to echo the hues of a central figure. The Three Ravens, for example, has a grayish-purple background, which relates to the iridescent purple in the ravens' feathers. Other times, he says, it's more subjective. If painting springtime blossoms, he might choose colors that reinforce the feeling of spring — pale greens, blues, and yellows — throughout the work. In Red Tail Hawk, you can see he has chosen orange aspen leaves rather than yellow to complement the orange of the hawk's tail feathers, and he has placed his subject on a warm, greenish-brown background to suggest fall.
There is a reflective sense of tranquility and grace in Eberhard's paintings that builds upon his early immersion in graphic design movements. Five Indigo Buntings on a Compass Plant exemplifies the artist's signature style and technical expertise, and is typical of how he develops an original, eye-catching composition. First comes inspiration, followed by thoughtful planning: "During the summer, along the nature trail I ride near our house, there is a spot where compass plants grow and where I've observed the indigo bunting," says the artist. "The compass plant grows up to 12 feet tall and has yellow flowers evenly spaced up its stalk. To emphasize their height, I decided to render only one in a large vertical format and settled on a clear, blue sky for the background. I chose to perch indigo buntings on the plant because the darker value of blue was an interesting addition to the other colors in the composition, and their size related well to the size of the plant's flowers."
Eberhard is a hands-on kind of guy and stretches his own canvases and builds his own frames, all in the service of a final, perfect presentation. Once inspired, his compositions are all designed on the computer, incorporating visual elements of point, line, shape, and color as he imagines the possibilities. This phase is followed with a full-value monochromatic pencil drawing on the canvas and layers of color, each one developed in increasing detail. As can be seen in Five Indigo Buntings on a Compass Plant, the finished painting makes an eloquent statement against the solid azure sky.
"Bohemian Rhapsody" | Oil on Canvas | 16 x 16 inches | 2017
Greg Fulton, owner of Astoria Fine Art in Jackson Hole, Wyoming, knew he wanted to represent Eberhard from the moment he first spotted his work at a show at the National Museum of Wildlife Art. "It was fresh, contemporary, colorful, unique in composition, and showed great technical expertise," he says. "His use of negative space and color especially stands out. While true to his subject matter, his paintings remain very contemporary, making them popular with collectors of both traditional and contemporary art. They fit just as well in a modern loft as they do in a rustic mountain cabin."
Eberhard's work can be found in public and private collections, including the Leigh Yawkey Woodson Art Museum in Wausau, Wisconsin. This September, his work is on view at three Wyoming shows: at Astoria Fine Art during the Jackson Hole Fall Arts Festival; at Western Visions at the National Museum of Wildlife Art; and at the Buffalo Bill Art Show & Sale in Cody.