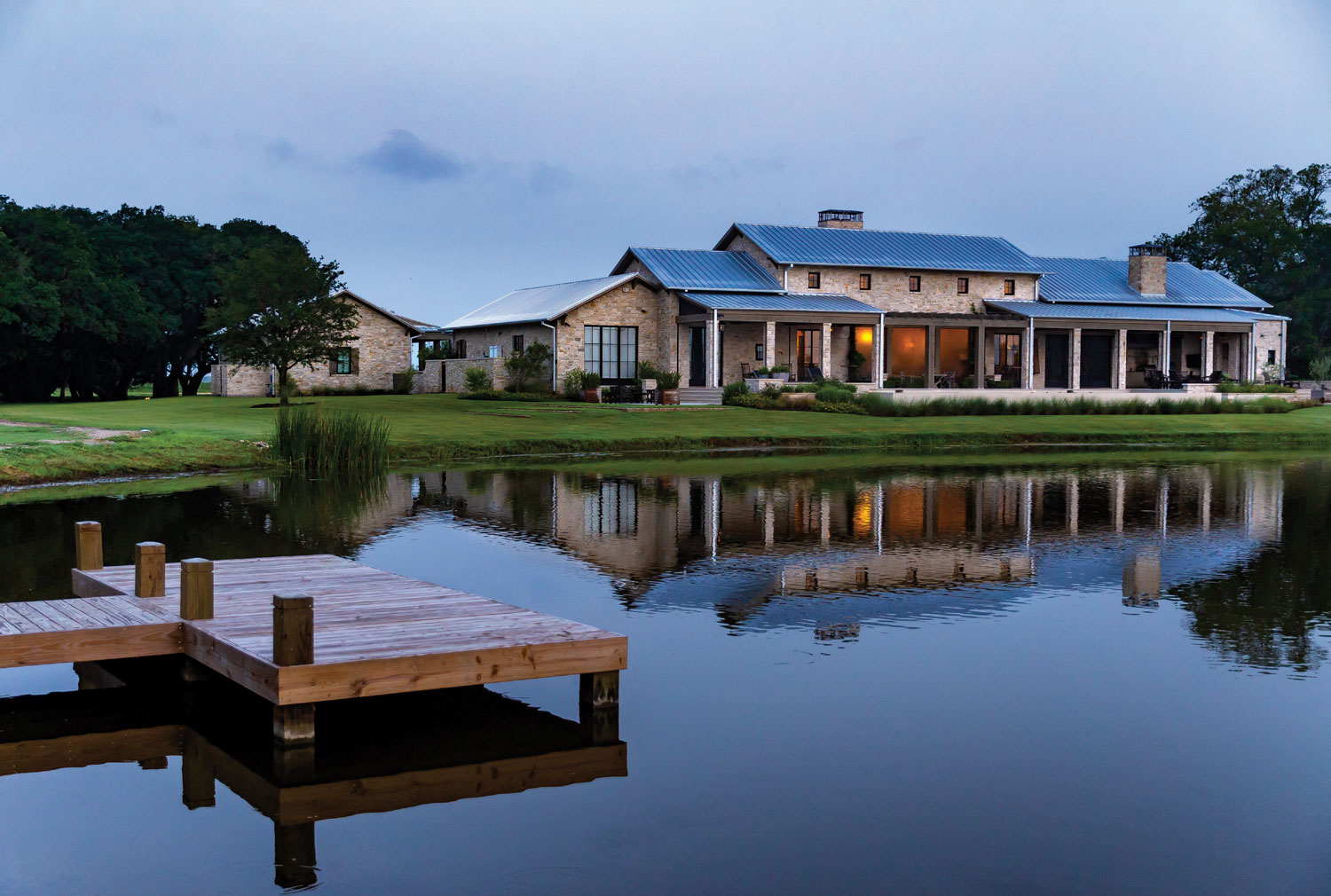 Designed and built by Brandon Breaux Design, the main lodge at Spread Oaks Ranch overlooks a 5-acre lake. Photos by Michael Ciaglo
12 Jul

Western Landmark: Spread Oaks Ranch

Pulling on a pair of borrowed rain boots, I hop into an ATV with Tim Soderquist, land manager of Spread Oaks Ranch. We drive off, splashing through the occasional puddle. It's a foggy spring morning, a little moody out after last night's thunderstorm, and there's a hint of summer's forthcoming humidity. Ceyanne, Soderquist's copper-colored retriever, stands in the back of the ATV, her tail wagging with approval. She knows where we are going, and with as much restraint as she can muster, she shares her excitement.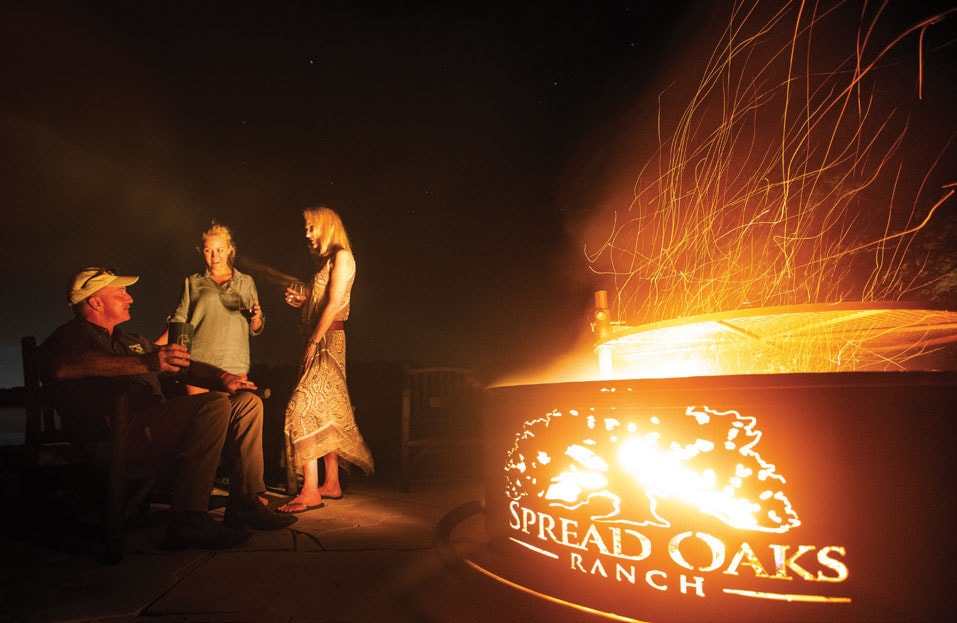 Spread Oaks Ranch sits in Texas' mid-coastal migratory pathway near the Gulf Coast. By fall, hundreds of thousands of wintering ducks, geese, and sandhill cranes will gather in the flooded crops, managed wetlands, and reservoirs located on the property's 5,500 acres, all protected under a conservation easement. Named for the ancient trees on the property, Spread Oaks is a working farm, ranch, guided-hunting service, and natural hideaway — a venerable paradise, just two hours from Houston. 
We park the ATV at the edge of a waterlogged field and meet Rob Sawyer, a hunting guide, author, and semi-retired petroleum geologist. He's already at work, training his black lab Mattie. His commands send the ecstatic retriever flying across the rain-soaked field in a perfectly straight line to where the "bumper" lies. One whistle stops Mattie and hand signals send her left or right to fetch specific bumpers. When she reaches her target, she picks it up and sprints back as fast as she can. Then, sitting behind the toe of his boot, she offers Sawyer her prize.  
"Thank you, dear," he says. 
The retrievers are training for teal season, opening in September. It's one of the many guided hunting opportunities offered at Spread Oaks throughout the fall and winter. 
Soderquist's management of the property ensures that coastal prairie creatures have a habitat in which they can thrive. As the former senior regional director for Ducks Unlimited, Soderquist built nearly 40 ponds on the acreage and designed an extensive tiered irrigation system for crops. Organic corn, soybean, and rice fields are flooded after harvest to create wetlands for shorebirds and waterfowl throughout the fall and winter. After the birds migrate, the fields are drained and planted again. While touring the property, Soderquist points out features of our environment, living things both large and small: native bamboo; a delicate butterfly; a lone Brangus bull the size of a small car; roosting bald eagles; wild foodstuffs for the birds; a green tree frog; the wallow of a feral hog; camouflaged deer; a shockingly red cardinal; wildflowers; potential fields for wildflowers. It's easy to marvel at the complexity of nature here. 
Soderquist grew up 20 miles north of the ranch, and his second hunt as an 8-year-old took place on the property at Jennings Lake. The owner of Spread Oaks Ranch, Forrest Wylie, has a similar history with the landscape. As a boy, he hunted ducks in the area when all he had was a "tennis shoe lease" — meaning, if he and his friends were caught, they'd better run. The wetlands offered an escape, and when the birds migrated north, Wylie spent their absence anticipating the next season. After a successful career in the oil industry, he purchased the property and designed the operation around his mantra, "Find people with passion, and let them go." 
The main lodge offers Texas vernacular elegance, with limestone, reclaimed hand-hewn oak beams, and original art that resonates personally with Wylie. The great room and bar overlook an infinity pool that stretches toward a 5-acre lake, filled with bass and the occasional alligator. There's room for 10 guests, with two master suites in the main lodge, three casitas, and a bunkhouse over the garage. There are plans to build an additional two-story limestone house with eight more guest rooms by summer 2020, but the ranch's lodge operations will remain small to ensure that the experience is custom-tailored to guests. 
"It will become inclusive all on its own because of our standard," says Chef Ric Rosser. "Ranches that become resorts — that's not what this is. And it's not a camp. But it is a duck-hunting lodge, and the property is about agriculture. It's about creating habitat so that the animals come here." 
The lodge feels more like an old friend's home than a resort, and at its hearth is Rosser, who is quick to share his endless culinary curiosities. He frequently forages ingredients, cooks with what's seasonally available or recently hunted, and oversees the planting of the organic garden. "The food in this kitchen is about the whole ranch," Rosser says. "It's an amusement park for both wildlife and avid wildlife watchers."
Admiring the oaks on the property, it's easy to wonder about the things a 300-year-old tree has witnessed, especially as the history of Texas is tied to this land. A member of the "Old Three Hundred," the first group of U.S. homesteaders to receive land grants in Mexican Texas, settled near Jennings Lake in 1826. And the ranch is located in the "cradle of cattle country," where the pioneering former property owner, Abel Head "Shanghai" Pierce, established a herd so large that Texas cattle moving up the Chisholm Trail to Kansas were called "Shanghai Pierce coasters" or "Pierce Sea Lions" by the 1870s.
On a lucky spring evening, you can see a starry array of lightning bugs hovering through the forest and watch an electrical storm illuminate the sky as if someone were flickering the lights on and off above the porch, a chorus of croaking bullfrogs only adding to the theatrics. If Wylie could sum it up, he'd say that nature connects us to both our humanity and humility, and in a place like Spread Oaks Ranch, a simple look around proves his point.